Labor Day weekend marks the last big travel surge of the summer season, but a hurricane making its way toward Florida could upend some travelers' plans.
Tropical Storm Idalia is expected to strengthen to a major hurricane before making landfall Wednesday along Florida's Gulf Coast, according to the National Hurricane Center. Airlines and airports alike are bracing for trouble: Airlines like Delta, American, United, and Southwest are offering waivers allowing anyone traveling through many southeast coastal airports to change their flights for free. Tampa International Airport (TPA) closed on Tuesday morning, canceling all inbound and outbound flights likely through Wednesday.
And abroad, hundreds of flights were delayed or canceled this week after the United Kingdom's air traffic control system went down for several hours, The Associated Press reported. While the system is back up and running now, the British government said flights in and out of the U.K. – especially London-Heathrow (LHR) and London-Gatwick (LGW) – could be disrupted for days.
It could be a bumpy end to what's been a relatively smooth summer of travel – at least compared to the mass delays and cancellations we saw from airlines in 2022. And that's despite it being the busiest summers for travel since before the pandemic, if ever. By most metrics, all aspects of travel – from flights to hotels – were up from June through August compared to last year, according to data from the travel planning tool TripIt. And Labor Day weekend will be no exception.
Here's what to expect if you're traveling over Labor Day weekend – whether you're traveling somewhere in the path of the impending storm or elsewhere.
What to Do if Weather Cancels Your Flight
If you're traveling to Florida over Labor Day weekend (or anywhere in Idalia's path up the eastern seaboard), start keeping tabs on your flight now. Bad weather happens in every season, but there are some things you can do to be prepared.
Check whether there have been any changes to your reservation – if your flight hasn't been canceled already – by checking your airline's app or downloading Flighty Pro, a tool that will send you instant push alerts about any schedule changes, delays, or cancellations to any flights in your queue.
Monitor the FlightAware.com daily dashboard of delays and cancellations to scope out your airline in the days leading up to your departure for potential warning signs. If you're flying on Friday and FlightAware shows your airline is struggling on Wednesday and Thursday, there's a good chance those disruptions are going to continue.
For peace of mind, consider using a weather waiver to reschedule your flight. Several airlines including Delta, United, American, and Southwest have issued advisories to passengers traveling to airports in Idalia's path allowing them to rebook their flights without penalties or fare differences.
If you're flying into one of the following airports in the next few days, you could be eligible for a weather waiver: Charleston (CHS), Daytona Beach, Florida (DAB), Fort Myers, Florida (RSW), Gainesville, Florida (GNV), Hilton Head, South Carolina (HHH), Jacksonville, Florida (JAX), Myrtle Beach, South Carolina (MYR), Orlando, Florida (MCO), Sarasota / Bradenton, Florida (SRQ), Savannah, Georgia (SAV), Tallahassee, Florida (TLH), Tampa, Florida (TPA), and others.
Keep in mind: If an airline cancels (or significantly delays) your flight, you can cancel your reservation and get a full refund – not just a voucher or credit that expires in a year, but your money back. And that in You can use that money to rebook a last-minute flight to get where you need to go or pocket it for a future trip.
See all our tips on what to do when weather causes delays and cancellations!
Prepare for Crowds, Arrive Early
No matter where you're heading this Labor Day, there are some things you should prepare for before you take to the skies.
The Federal Aviation Administration (FAA) expects this Thursday will be the busiest day for air travel heading into Labor Day weekend, followed by this Wednesday, Friday, and next Tuesday, Sept. 4. With remote work allowing more travelers to extend their trips, airlines like United are reporting higher demand on what previously used to be slower days of the week for travel.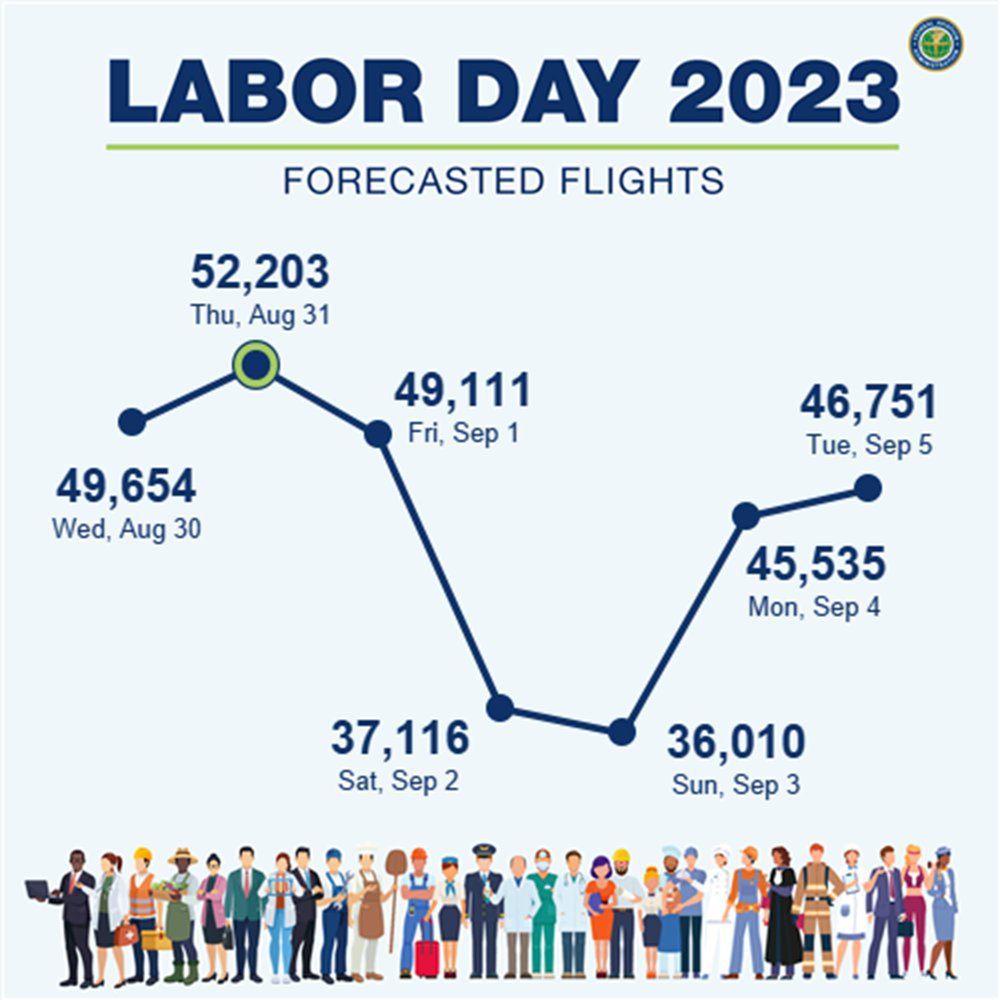 No matter which day you're heading out or returning home for Labor Day weekend, give yourself plenty of time to get to the airport. It's better to have more time at your gate – or relaxing in an airport lounge – than risk missing your flight and ruining your trip.
Airport security checkpoints inevitably get backed up during busy travel periods – and having TSA PreCheck or CLEAR isn't always a guarantee for a speedy trip through security. To be safe, add at least 30 to 45 minutes to your typical airport routine. And if you have to fly on one of the busier travel days, arrive two hours or maybe even two and a half hours before your flight – or more ahead of a big international flight.
Travel with Only a Carry-on Bag
Save yourself even more time at the airport by packing in just a carry-on bag. Queues to check or drop off luggage have been a major pain point lately, and Labor Day weekend is going to be no exception.
Especially during peak travel seasons like summer, opting not to check a bag means you won't have to wait in line to drop it off or wait for it at baggage claim and you won't have to worry about the airline losing your luggage. Plus, by packing in just a carry-on bag, you can easily check in for your flight online. Then, just pull up your boarding pass on your smartphone and head straight for the security line.
Not convinced you can fit it all in one suitcase? Follow our tips for how to pack a carry-on bag for any trip! 
Consider Traveling During Shoulder Season
Don't have a trip planned over Labor Day weekend? Don't lament the end of the summer just yet.
We're getting into what we at Thrifty Traveler tout as our favorite time of the year to travel: Shoulder season. It's the period after Labor Day – from early to mid-September to November – where the weather is still pretty nice, but the crowds are smaller and airfare, hotels, and accommodations are often much, much cheaper. If you're looking to save, especially on an international trip, traveling during the shoulder season is your best bet.
Bottom Line
Labor Day weekend is typically one of the busiest weekends for summer travel, and this year will likely be no exception. With record travel demand and a hurricane headed for Florida, travelers should be on high alert for possible disruptions.
It pays to plan ahead, whether you're simply preparing for busy airports or trying to reschedule your travel plans to avoid a major storm.