You won't believe the bracket busters and blowouts that happened in this first round of voting for the world's best natural wonders! With over 2,400 votes, the results of the first round of voting in our tournament of natural wonders are in.
And what a round it was. Look to see which of the most famous national parks and natural landmarks around the world advanced to round two. And vote below in the quarterfinals!
Don't forget to fill out your own bracket and share it with us on social media! Tweet us, mention us on Facebook, or tag us on Instagram! Click the bracket below for a bigger version to print and fill out.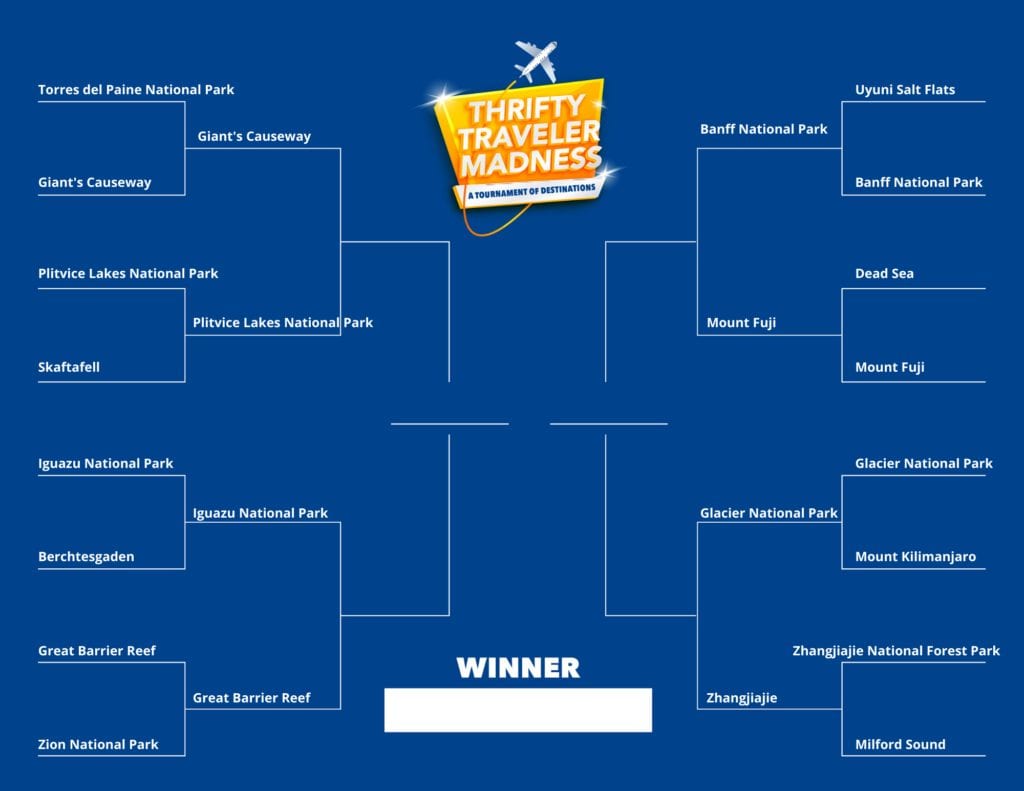 We are truly stunned by some of these upsets from yesterday's first round. Let's take a look at who's in, and who's out!
There were a few very close calls: Glacier National Park just barely beat out Mount Kilimanjaro by less than 300 votes. Similarly, Mount Fuji moves on to round two and we say goodbye to the Dead Sea -Fuji sealed the Dead Sea's fate with a 400-vote edge.
The matchup between China's Avatar Mountains (Zhangjiajie) and New Zealand's Milford Sound was even closer: Zhangjiajie clinched the win by 100 votes!
However, several natural wonders in this first round won by a landslide. We were shocked to see Croatia's Plitvice Lakes knock Iceland's Skaftafell out of the water, tripling the votes. Banff National Park absolutely crushed the Uyuni Salt Flats of Bolivia, garnering nearly five times the votes!
We say a heartfelt goodbye to Berchtesgaden National Park as Iguazu National Park moves onto the next round with double the votes. And Australia's Great Barrier Reef leaves Zion National Park in the dust!
And in perhaps the most shocking upset of all, Giant's Causeway of Ireland has shoved Torres del Paine of Chile's Patagonia out of the running in the very first round! We saw several traveler brackets that had Torres del Paine winning it all, and we received messages from distraught travelers that couldn't believe Patagonia had been voted out. This is why we play the game!
Buckle Up for Round 2
If round 1 was any indication of how cutthroat this tournament to crown the best natural wonder, then we have a lot in store for the next few days. Your vote counts – make sure you cast your votes in today's matchups for your favorite spots. We can't wait to see what will advance next!