Last year, Capital One rolled out a brand new Capital One Entertainment portal, promising travelers with cards like the Capital One Venture X Rewards Credit Card and the Capital One Venture Rewards Credit Card exclusive access to sports, food, and entertainment tickets. And thanks to the bank's partnership with Major League Baseball, there's an incredible deal using your Venture Miles on baseball tickets.
You can book lower-level, dugout box seats to select MLB games for just 5,000 Capital One Venture Miles apiece! After only being bookable through July, Frequent Miler just spotted that this deal is back for games in August and September at many stadiums around the country. Ticket inventory is limited, which means you won't find this deal at every single game – and seats at some venues like Yankee Stadium might be even harder to book before tickets disappear.
So just how good of a deal are these tickets available for 5,000 miles? Really, really good.
A Firsthand Look from the Dugout Seats
When this partnership first launched last year, I booked four tickets at Target Field to watch the Minnesota Twins play the Detroit Tigers at home for 5,000 Venture Miles each. To give some perspective, a few days before the game, seats in this same section were going for around $150 each.
This was the view from our seats.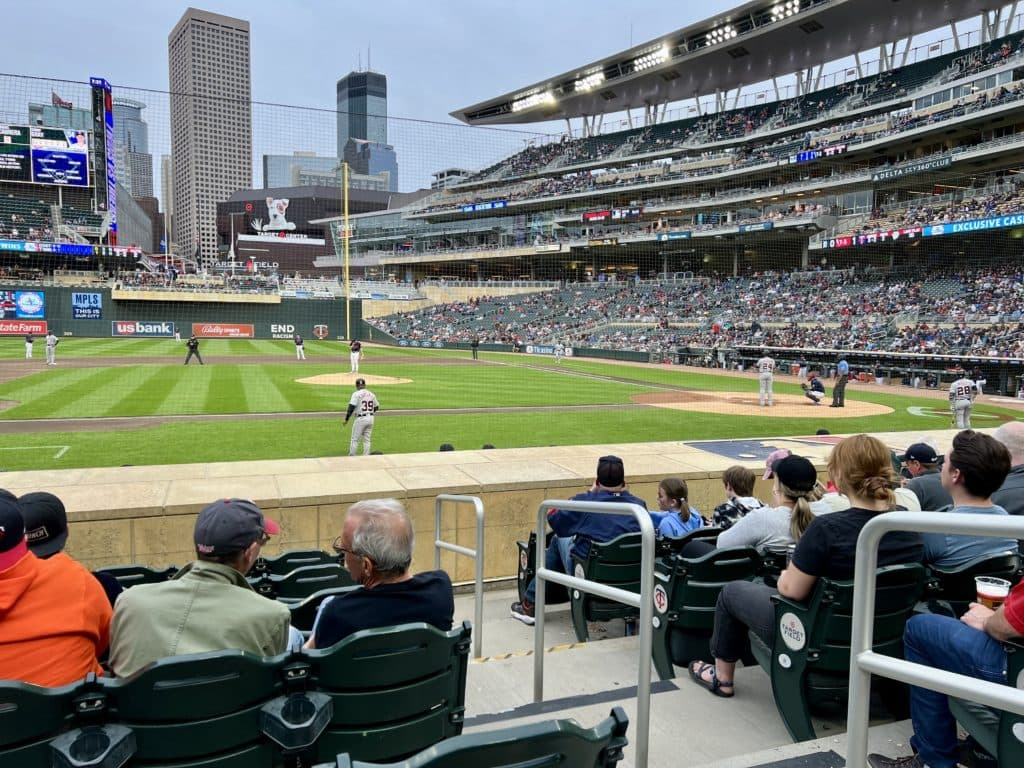 These special seats available through Capital One are some of the best in the house, no matter which stadium you're at. Capital One's exclusive ticket inventory at Target Field in Minneapolis is in the 11th row of section 13 just above the visiting team's dugout.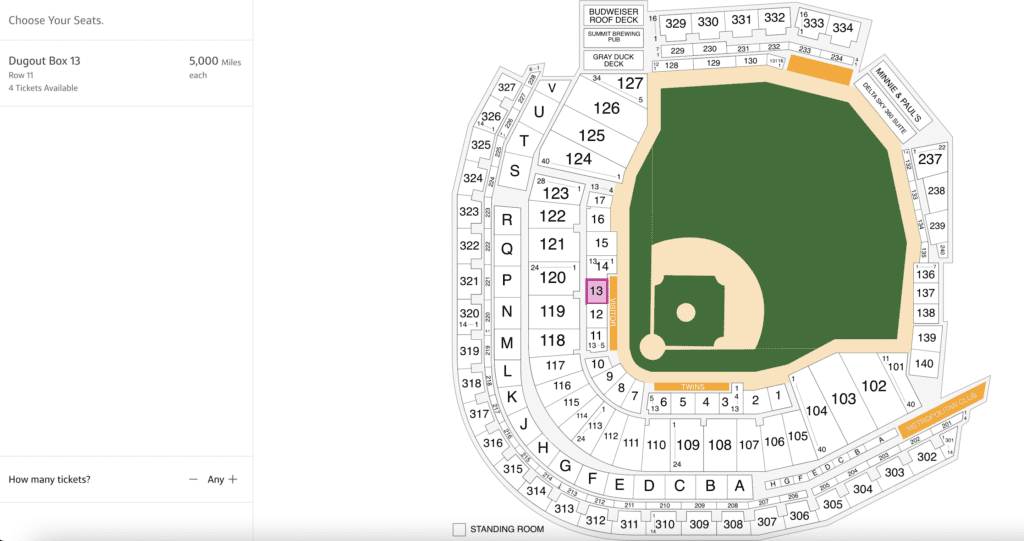 If paying cash for four of these seats, you're looking at a minimum of around $300 … and that's before taxes and fees. You might do a little bit better on secondary markets like Stubhub and SeatGeek, but you're not going to do better than free using Capital One Venture Miles.
If you're not a Twins fan or are located in another city, don't fret. All 30 MLB teams are participating in this promotion. From the Yankees to the Padres and every stadium in between, you can currently book tickets for games in July, August, and early September with your Capital One points.
How to Find Great MLB Tickets via Capital One
As great as this deal is, it won't be available for every game on the schedule. But you'd be wise to search sooner rather than later.
Capital One appears to have just four of these top-notch, lower-level tickets available for 5,000 miles at each game. Once those tickets are sold, you'll see far more options for seats you can book all around the stadium … but at a much worse redemption rate.
To start, you'll need to log into your Capital One online account. Once on the home page, click "View Rewards." From here, you'll want to select "Redeem for experiences." This should bring you to the Capital One Entertainment homepage.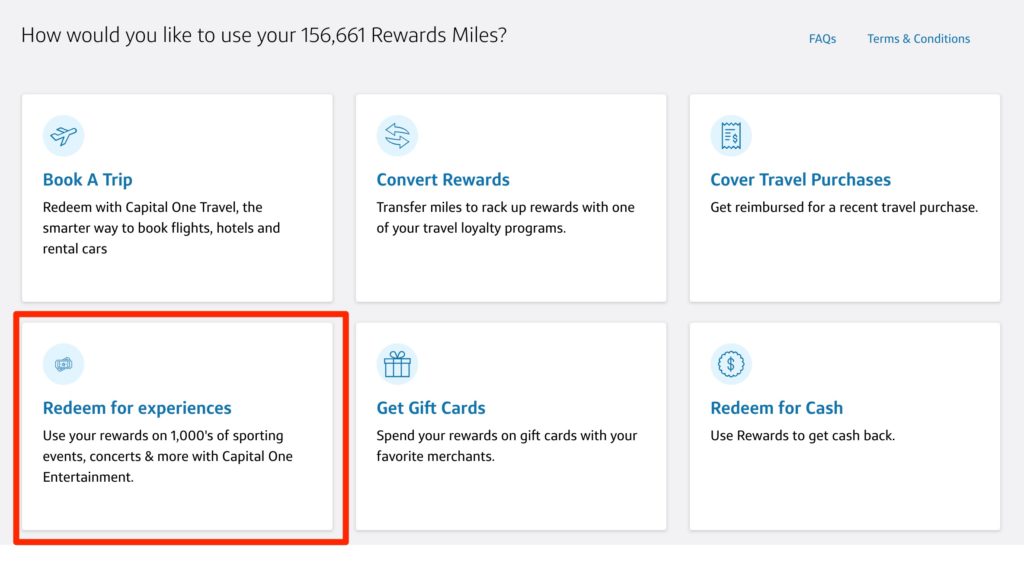 Once you land on the Capital One Entertainment homepage, you should see a section for MLB Single Game Tickets. And once you click on that, you'll be given the option to shop by team. Remember, all 30 MLB teams are available with exclusive Capital One ticket inventory.
I chose the Minnesota Twins and started looking at tickets. Right now, you'll be able to find seats for 5,000 miles apiece through September. Tickets must be purchased in multiples of two.
You won't find these lower-level tickets for cheap at every single game – once they're gone, they're gone. So how do you find games that still have exclusive ticket inventory available? It will take a little bit of trial and error with searching, but here's what you are looking for. Click a game to see what's available.
If Capital One's exclusive ticket inventory is still available for that game, it will be the only option you'll see. These are the tickets you want. As you can see below, the Boston Red Sox vs. Minnesota Twins game on Wednesday, August 30 still has all four of these tickets available.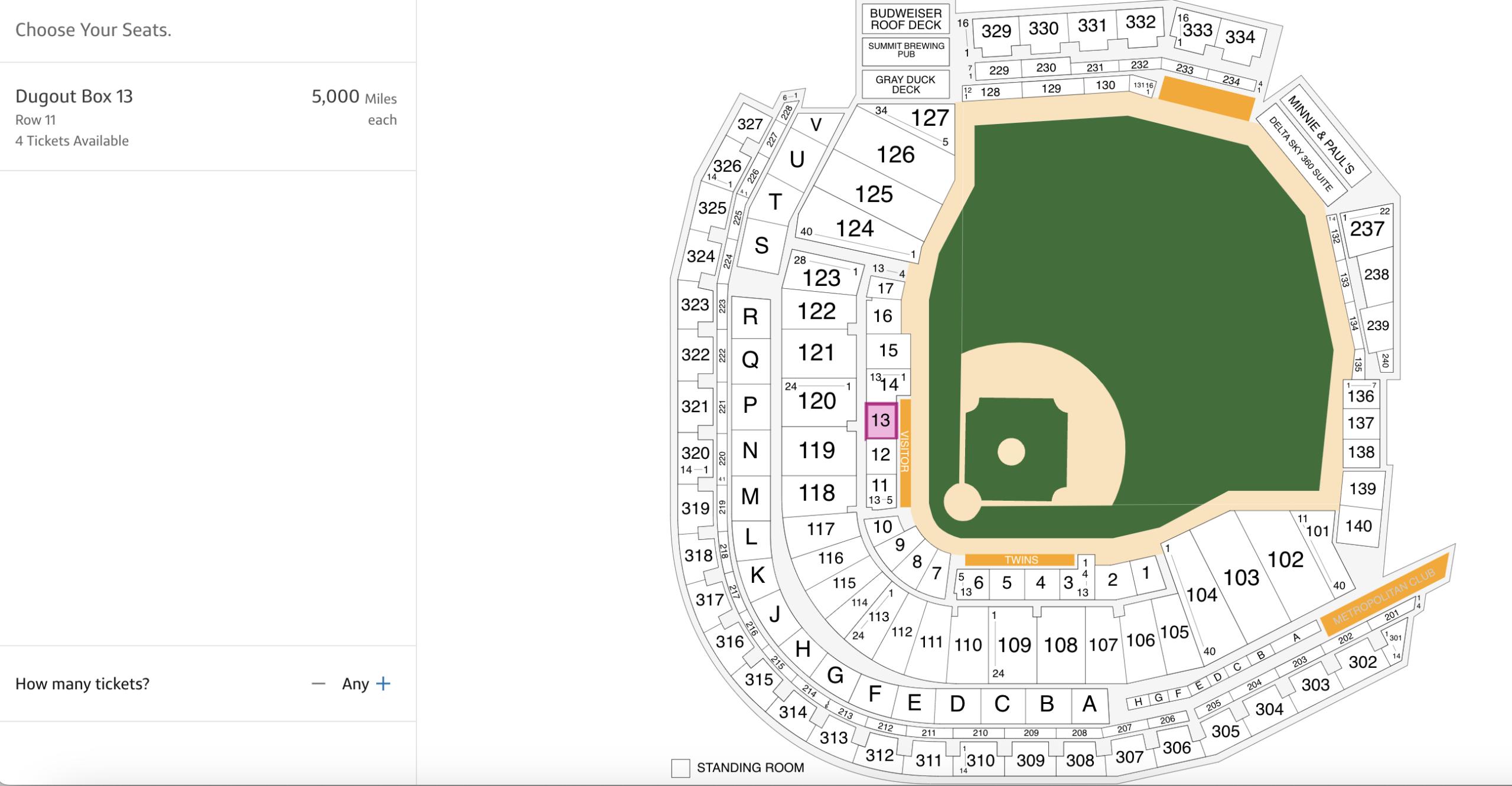 But there are only ever four tickets available to Capital One cardholders – and once they're gone, they're gone: You'll see all the other seats … at a far poorer value. So if you see a screen like this, you'll need to try another date.
After poking around games for a few other teams, there are still plenty of games available for booking at these rates in Capital One Entertainment. It may require a bit of trial and error, but you shouldn't have problem booking two to four lower level tickets at most games this spring and into summer. But don't wait if you find something you want: Those seats could get snapped up by other travelers.
Bottom Line
Baseball fans with Capital One Venture Miles have access to some fantastic lower-level tickets at an insane value! Fans with Capital One cards in their wallets can spend just 5,000 miles per ticket to sit in premium lower-level seats, including dugout seats at all MLB ballparks. It's a bit of an off-the-wall points and miles redemption, but a fun one nonetheless.
This deal is a fantastic byproduct of the MLB-Capital One partnership and it's a phenomenal value for sports fans looking to take in a ballgame this summer.