The pandemic brought about a big win for travelers: Major U.S. airlines did away with change fees, giving travelers unprecedented flexibility to change most flights without fees – or cancel them and get a voucher. Few airlines have made it easier than Delta, which even allows you to rebook a flight when prices drop and pocket the difference as a Delta eCredit.
But over the last few months, we've noticed a new issue with this system that could make it much harder to keep track of those precious credits. Rather than automatically inserting a new Delta eCredit into a traveler's online account, Delta may only issue it via email … and bury the details at the bottom of a lengthy message, to boot.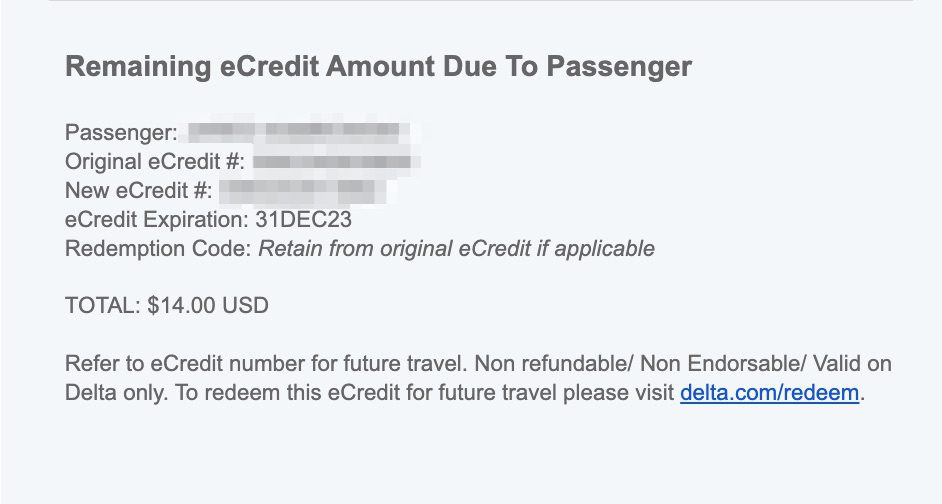 Read our full guide on how to find & use Delta eCredits!
There's a new and relatively easy way to find any missing eCredits that aren't showing up in your account, so keep reading! But this is a big issue for travelers to watch for after changing or canceling flights with Delta.
For example, our founder & CEO Jared recently rebooked an upcoming Delta flight after getting a Google Flights price alert that fares had dropped slightly. But the only record of the new eCredit was at the bottom of an otherwise bland confirmation email with the subject line "Your Flight Receipt."

Normally, any eCredits you earn from Delta should appear directly in your Delta profile, under "Certificates, Vouchers & eCredits." That hasn't been the case for several of our recent re-bookings.

We're not alone. Several Thrifty Traveler Premium+ members have reported an identical issue in our members-only Facebook group.

This hitch makes it a manual process, meaning you'd have to save these nondescript emails with eCredits attached and then remember to enter them yourself at check-out to put them to use.
Fortunately, Delta has given travelers plenty of time: All eCredits don't expire until the end of 2023 … and Delta has suggested they'll eventually make these credits good for life.
It's cropped up mainly when rebooking an existing flight online in order to get a credit after prices drop – not when canceling a flight outright. So for now, it seems like travelers' best bet would be to simply cancel an existing booking, then use the eCredit to rebook the same flight. 
Whether this is a technical snafu or Delta's way of trying to make eCredits harder to keep track of (and therefore more likely to go unused) is unclear. Either way, it's something to be aware of.
Read our full walkthrough on how to rebook Delta flights & save!
How to Find All Your Delta eCredits
Delta eCredits typically show up in your account within 24 hours of canceling a flight, but often sooner.
Keep in mind that Delta will typically issue eCredits separately to each passenger booked on the reservation, rather than issuing one large eCredit to the person who initially booked the flights. So tracking down all the eCredits from a trip may require some legwork, especially if you canceled a family trip.
This relatively new issue makes it a bit trickier yet. But there's a new, easy way to track down any eCredits you've got without going through all your emails from the airline.
Simply head to the dedicated eCredit search page and select the option to search for credits by "Contact Info." Tap in your phone number and last name, hit enter, and voila: The list should appear, whether they're currently showing up in your Delta wallet of credits and certificates or not.


Just keep in mind you may have to repeat this process for every member of your party, as eCredits are attached to each individual traveler.
Read our guide to airline vouchers and travel credits and how to use them! 
Bottom Line
We know loyal Delta fans and readers have saved big bucks by rebooking flights for an eCredit when prices drop over the last few years. This change could put that money at stake – or at least make it harder to keep track of and use.
Fortunately, there's good news. By adding the ability to search for eCredits by name and phone number, it's gotten much easier to track down any missing eCredits you've got from Delta that may not show up in your account.