There were upsets and blowouts, underdogs and favorites. With over 2,400 votes, the results of the first round of voting in our Tournament of Destinations are in.
And what a round it was! Look to see which of the best landmarks around the world advanced to round two, and vote below in the quarterfinals!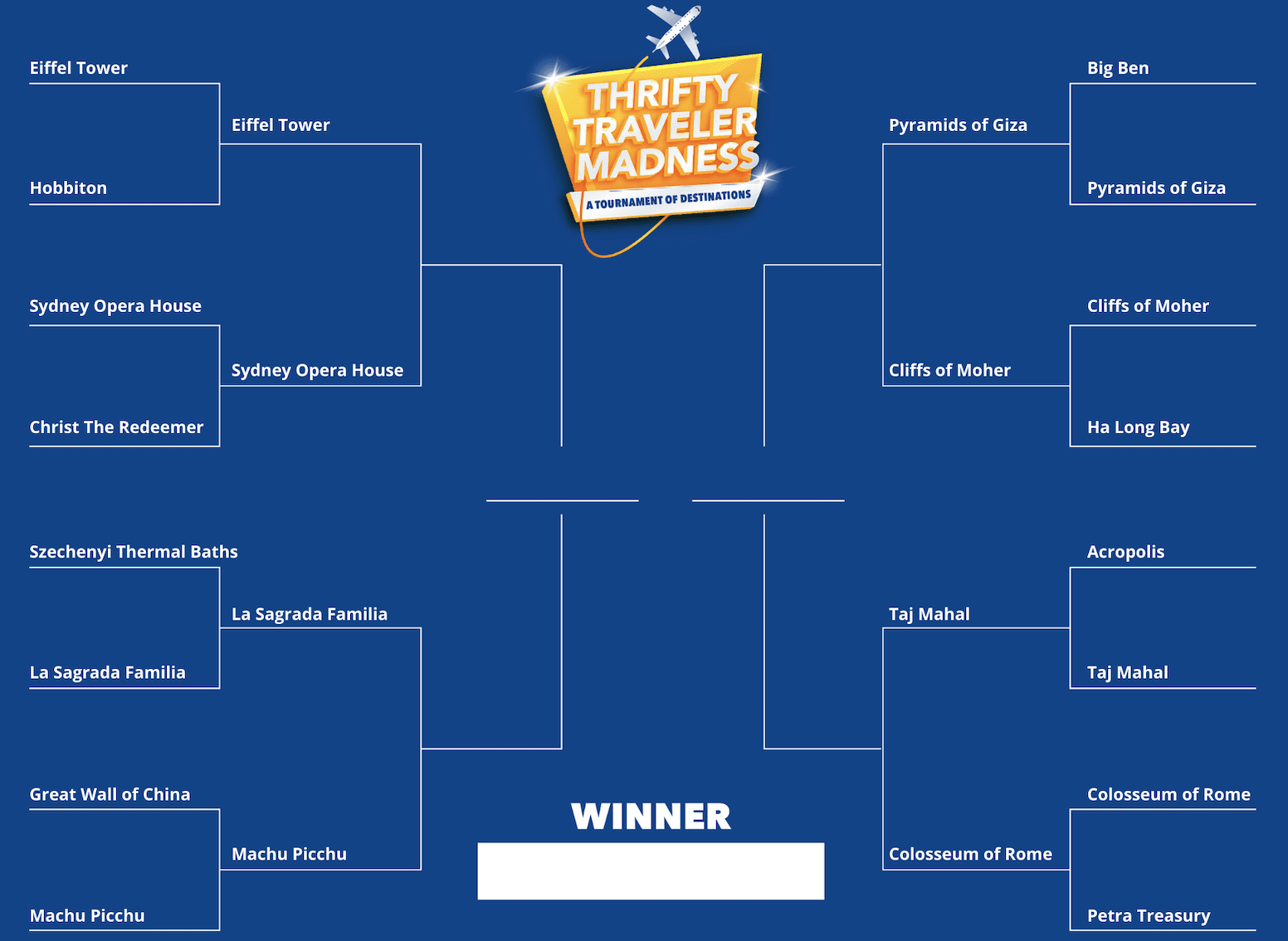 Let's break the results from a jam-packed day of competition down a bit.
Call this one a landslide: Machu Picchu blew away the Great Wall of China, winning nearly 75% of the vote. Clearly, you thrifty travelers want to visit this magical site nestled in the Peruvian mountains. But can Machu Picchu carry that momentum into the quarterfinals against the gem of Barcelona, La Sagrada Familia? 
Paris's Eiffel Tower also crushed Hobbiton, and it turns out that the iconic Big Ben in London didn't stand a chance against the mighty Pyramids of Giza. Both winners had a cakewalk into round 2, winning more than 67% of the votes.
But the results were far closer in the first-round matchup between The Colosseum of Rome and Jordan's Treasury at Petra in what some might call an upset, given how many readers picked the Treasury as their favorite to win it all. The Colosseum edged out the Treasury by just over 100 votes (out of roughly 2,400) to advance to the quarterfinals.
If there was one true upset in round 1, it was between Christ the Redeemer and the Sydney Opera House. Both are icons of Brazil and Australia, respectively – we figured this would be a close competition, and they were neck-and-neck in early voting. But it seems as travel to Brazil has dwindled, the allure of Australia is stronger than ever. The Sydney Opera House beat out the famous Rio de Janeiro statue by more than 400 votes, capturing nearly 60% of the votes.
Buckle Up for Round 2
If round 1 was any indication of how cutthroat this tournament to crown the best destination in the world will be, then we have a lot in store for the next few days. Thank you all for voting, and get ready to vote in the quarterfinals. We can't wait to see what will advance next!