It's been a long time since we've been able to say this, but it just feels right: It's time to put Australia back on your travel list. Heck, it might even be time to book that trip.
Just a few months ago, Australia felt out of reach. Few countries around the globe locked down during the pandemic more than Australia, blocking all international international travel and keeping any hopes of a trip to the land down under at bay. But now there's something big happening.
Australia unexpectedly reopened earlier this year to fully vaccinated travelers – and come later this month, it will get even easier to get in as Australia drops pre-travel testing requirements. If you've been hoarding points and miles for a bucket list trip, you won't find a better way to use them. We've been finding unprecedented award availability to Australia to fly economy, business or first class using your miles. And not just for a shoulder season trip but a visit during Australia's peak summer travel season.
This all feels too good to be true … because it is. Demand for these flights will eventually catch up with the swelling supply, meaning you shouldn't wait if you're looking to travel to Australia this year or next. Take a look at what we've found and start booking your adventure.


It's Open and Easier to Get In
After nearly two years off-limits, Australia welcomed back fully vaccinated Americans and other travelers starting on Feb. 21, 2022. And it's about to get even easier.
Starting on April 17, Australian officials have announced they'll stop requiring pre-travel testing for fully vaccinated U.S. travelers. Currently, you still need a negative COVID-19 test in order to fly back to the U.S. That's right: The hardest part about your trip to Australia could be getting back to the U.S.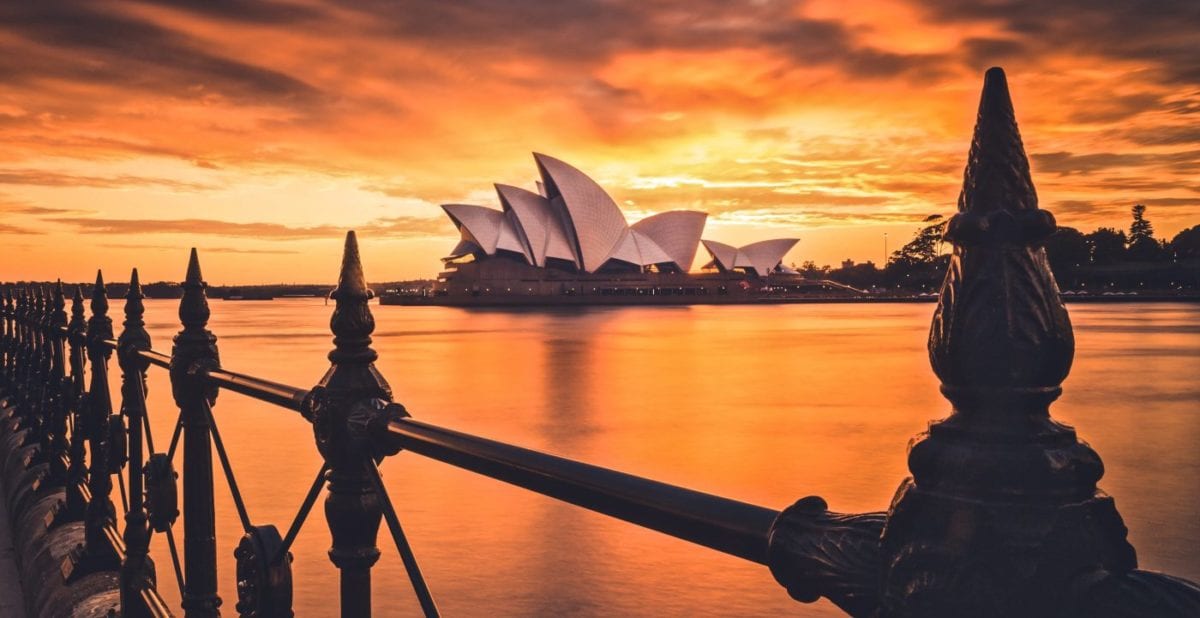 Travelers will still have to apply for an ETA Visa to enter Australia, but the hurdles you have to navigate to get to Australia and back are nearing pre-pandemic levels. When the U.S. drops its reentry testing requirement, traveling to Australia will look much like 2019 – at least if you're fully vaccinated.
That means the existing Australia flights from the U.S. could have tons of empty seats. And there are brand new flights entering the fold.
New Routes to Get There
The airlines were standing ready to expand the service between the all-important U.S. market and Australia once the travel restrictions lapsed.
Recently, Qantas announced new nonstop service between Melbourne (MEL) and Dallas-Fort Worth (DFW) to pair with its existing Sydney (SYD) to Dallas flight. That's another daily, nonstop flight per day between Australia and the United States. Qantas is even offering free changes on flights booked before June 30 for a trip this calendar year, if you want to take advantage of some added flexibility in your trip.

In addition, Delta announced Monday that it would increase its flights from Los Angeles (LAX) to Sydney to 10 times a week starting in December, opening up more space for travelers looking to book award tickets and more supply for those hoping to score a good cash deal, too.
Looking beyond Australia? There's also a brand new (and super long) way to get down to Oceania this year on Air New Zealand. The Kiwi airline announced a brand new, ultra-long route from Newark (EWR) to Auckland (AKL) starting this fall.
We haven't yet seen cash fares to Australia tumble to record-low levels that we saw a few years ago, so you may still be seeing higher fares. But this surge in flights to Australia has us hopeful that the deals are coming as airlines scramble to fill seats.
If not, there's one surefire way to get there for less…
Unprecedented Award Availability
Whether you want to fly in economy or up front in a lie-flat seat, booking flights to Australia using miles is one of the hardest redemptions to pull off – especially in business or first class.
But Thrifty Traveler Premium subscribers know how good the getting is to Australia lately. As Australian tourism gains steam, we've sent multiple award alerts to our Premium members over the last few weeks with great opportunities to flex those points and miles for a cheap trip to Australia.
We pride ourselves on finding sweet spots for our subscribers to book, but right now, it appears that nearly all of the spots are sweet. The craziest part is that we're finding wide-open availability through peak summer in Australia on many of these routes for a trip in December 2022 through February 2023. There's no better time to visit Australia!
Check out this recent Delta SkyMiles flash sale to Australia we first sent to Thrifty Traveler Premium members with flights for 80,000 SkyMiles roundtrip. That's a fraction of what Delta typically charges for these long flights, and it's a comfortable ride in Delta's Airbus A350-900.

But here's the best part: It was available for 80,000 SkyMiles from almost every airport in the country. No matter whether you booked the nonstop from Los Angeles, started from Minneapolis-St. Paul (MSP) or New York City (JFK), or began your journey all the way from a small airport like Fargo (FAR), you could get to Sydney and back for just 80,000 SkyMiles. And flights were wide-open all winter long for a trip to Australia during its summer.


Get more award alerts (plus cheap domestic and international cash fares) like this one sent to your inbox with Thrifty Traveler Premium!
Don't have Delta SkyMiles? No worries. A few weeks ago, we unearthed these AAdvantage awards right after Australia opened, allowing travelers with a stash of AA miles to book these seats through the end of the 2022. And that included an incredibly rare chance to do it in Qantas' excellent business class seats for 80,000 AAdvantage miles each way!

Finding even one seat in business class to Australia using miles can be like pulling teeth. But two seats – or even four seats? That's incredible, especially on the nearly 16-hour flight to Melbourne. Otherwise, we found finding economy seats for 40,000 AA miles or premium economy for 65,000 miles each way was wide-open too.
SkyMiles and AAdvantage deals to Australia are rare, but we were especially surprised to find this Alaska Mileage Plan deal featuring flights flying its partner Fiji Airways. What's better than a trip to Australia? How about a two-in-one trip with a stopover in Fiji on the way to Australia? Plus, if Australia isn't your desired destination, the same fares worked for a trip to New Zealand as well.

There were a ton of ways to make this Alaska miles deal work for you, and it was just another remarkable value to Australia over the last few weeks.
Let's treat ourselves, though, shall we? How does flying first class on the world's best airline on the A380 to Australia sound to you? Is that something you might enjoy?

While 175,000 miles might not feel like a bargain, it's a great deal to fly Qatar Qsuites and then the incredible Qatar Airways First Class on the Airbus A380 – complete with an onboard bar and a layover in the Al Safwa Lounge – is easily one of the most luxurious ways to get to Australia using your points and miles. Plus, with Qatar adopting Avios, these award tickets got much easier to book using points from cards like the Capital One Venture X Rewards Credit Card, the Chase Sapphire Preferred® Card, or the Platinum Card® from American Express.
From an economy seat for 40,000 miles to these 175,000-mile Qatar First Class fares, there are tons of great ways to get to and from Australia right now – perhaps more than ever before.
Go During Australia's Peak Summer
Perhaps the biggest reason why we suggest you shouldn't wait to book your trip is because some of the best values we're seeing are for peak travel season in Australia.
Down under, their peak summer is January and February, and those two months in 2023 are where we're seeing some of the best flight deals to visit. January is home to Melbourne's Australian Open tennis tournament, and could be the perfect reason for a sports fan to visit one of Australia's finest cities. No matter what city or event you're eyeing, summertime in Australia is the best time of year to visit.

So don't get trapped in infinite winter in the United States next year. Instead, take a hatchet to your bucket list and fly to the middle of summer in Australia.
Time to Go Big
For so many of us, that big trip halfway around the world was shelved during the pandemic. At the time, we had no idea it wouldn't be until April 2022 that we could re-book that trip. But now it's here.
For all the reasons we listed above – and because Australia is … well, Australia – it's time to go big and start planning that bucket list trip. Even if it's vaguely on your radar, this is a great time to start kicking the tires on an Australian adventure.
Why? Because we've never seen deals like this, and they won't last long. The savviest travelers are already looking into it and taking advantage of these deals.
You've waited long enough for this trip. Get out ahead of your planning for Australia's summer 2022-23 and start planning now.
Bottom Line
It's time to take your dreams of seeing Australia and make them a reality.
After more than two years with travel off limits, Australia is open – and it's about to get even easier. Plus, we're seeing some of the best availability to use the points and miles you've saved throughout the pandemic to make it happen. And that even includes incredibly rare availability to book a trip during Australia's peak summer months.
These deals can't last long.