Thrifty Traveler Premium, our flight deal alert service, officially turned 4 years old this week. And now more than ever, we're amazed and appreciative of our incredible, passionate, and supportive community of fellow travelers.
After a difficult 2020 for all travelers, we're heading into this new year with overflowing gratitude and excitement for 2021, thanks to the travelers who have signed up to get the cheapest domestic and international flight deals. 
Whether you're an "OG" member, just joined the TT fam for 2021 travel deals, or are on the fence about signing up, here's a walk down memory lane – and what Premium members are looking forward to in 2021.
Premium's Beginnings
Founder Jared started Thrifty Traveler Premium this week back in 2017 with one goal in mind: to help fellow travelers see the world for cheap.
Since that day, we've found some of the best flight deals for our subscribers, helping them save hundreds (and sometimes even thousands!) on airfare. Each and every day, we hear from Premium members about the future trip they just booked with our help. That makes all the work worth it.
But we're not done working. Since launching this service four years ago, we've grown and improved. What started off as Mr. TT's one-man operation is now a team of eight full-time employees working around the clock to find you the best flight deals from your home airport.
And talk about changes in the past year! As travel ground to a halt with the COVID-19 pandemic, we've helped travelers understand their refund rights, how to book risk-free amid uncertainty, and how to navigate this completely new travel landscape of testing requirements and restrictions.
Our community of Premium members and fellow travelers have supported each other with challenging travel-related issues, topics, and questions.
Since last year, we've expanded our list of cities we find flight deals from – we now support travelers in over 200 U.S. and Canadian cities looking to travel for less. And with most international travel on pause, we've started sending domestic flight deals to Premium members, too!
And we've found some of the craziest flight deals for future 2021 travels. But instead of telling you about those deals ourselves, we'll leave it to our Premium members to share.
Where Premium Members are Heading in 2021
We all needed something to look forward to for the last year.
And nothing got our Premium members more excited than the mistake fares we found to Lima (LIM) starting at just $111 roundtrip. More than 200 Thrifty Traveler Premium members emailed and messaged us on social media letting us know they booked a dirt-cheap trip as far out as October 2021.

This mistake fare was definitely worth the hype: It was available from over 50 U.S. cities (including small regional airports!) under $250 – and as low as $111 – roundtrip.
Read more: Cheap Flights to South America are Dropping to Record Lows for 2021
Then came another even hotter mistake fare: $63 nonstop, roundtrip Delta flights to Santiago, Chile (SCL).
More than 80 departure cities nationwide could book these flights, and Premium members definitely took advantage! We heard from Premium members who booked in our members-only Facebook group.
Hawaii during peak season for half the normal price? Mexico under $200 roundtrip? Yep, this is what's on Premium members' agendas for 2021. We found some of the cheapest fares we've ever seen to Hawaii and other tropical destinations:
We couldn't help but get excited for our Premium members, too, with flight prices at an all-time low. We all need some bucket list destinations to look forward to this year!
With Europe off-limits for now, there's been no shortage of future deals to your favorite European cities in 2021.
We've seen some of the cheapest flights ever to Dublin, Paris, Barcelona, and London from as low as $227 … roundtrip. We even found rare availability to high-demand destinations like Greece, Croatia, Czechia, and Eastern Europe for half the usual peak summer price in 2021!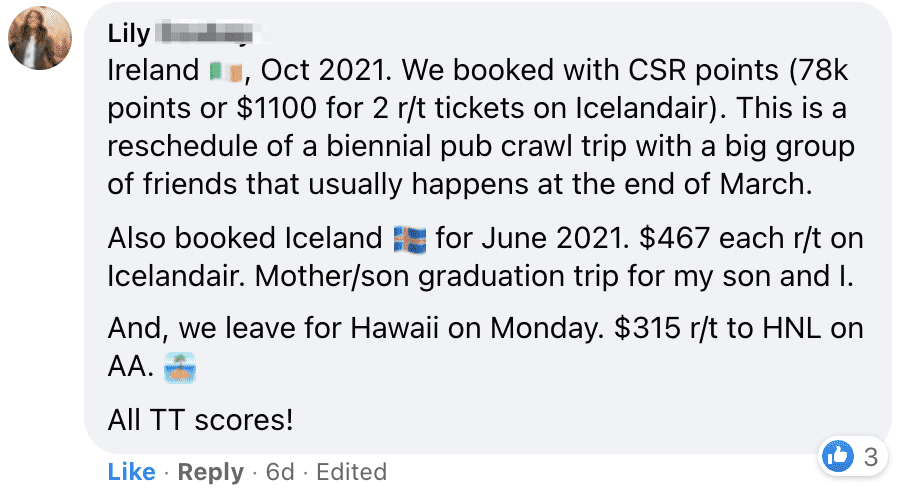 Of course, Europe isn't open yet to American travelers, but we have high hopes that things will change by summer 2021. And these flight prices – paired with the flexibility to change or cancel any flight for free – was enough to convince Premium members to book a trip for next year.

The excitement of our Premium members hopeful for a return to travel this year is what makes celebrating our fourth year of Thrifty Traveler Premium so much fun. We wouldn't be here without fellow travelers like you who are passionate about seeing more, for less.
Not a Thrifty Traveler Premium member yet? Join us for 2021 flight deals: We're already finding $200+ off flights through December 2021.
Thank You!
These last four years have been thrilling and we have you all to thank for it. Whether you've been a member since Premium's inception or are new to the flight deal alert service, we can't thank you enough. Your encouragement, praise, feedback, and excitement over each flight deal alert is what keeps us going. Here's to another four (and more) years of cheap flights!