The last two months have felt like two years. Seriously. Travel was carefree just a short time ago, and now it seems farther away than ever.
So we're reminiscing about some of the funny things we miss that seem to occur on every trip. Just a few months ago, these small parts of your trip might have felt like a nuisance – if you even noticed them. Now, we miss it all.
Booking the Cheap Flight
Whether you booked a cheap Thrifty Traveler Premium deal or used your Google Flights skills to book a sweet fare, there's nothing quite like the adrenaline of booking a dirt-cheap flight. And of course, you brag about it to your family and friends.
And sure enough, you'll get that standard reply from your coworker: "Wow, I can't believe you travel so much! Doesn't it get expensive?" Thanks to your thrifty tools, the answer is always no. Maybe they miss that reminder, too.
Getting Prepared
We're even missing the endless trip research.
You've gone through every YouTube, TripAdvisor review, Lonely Planet article, scoured destination guides, and your favorite travel apps. You've watched every applicable Anthony Bourdain episode and made your Google My Maps itinerary. And you finally finished booking your cheap Airbnb or hotel stay.
Sure enough, you're scrambling again on the night before you leave. Yes, we even miss that sense of panic as you pack everything you can into your suitcase. Too much, gotta take some stuff out. Classic.
Gameday arrives, and as your Uber pulls up five minutes sooner than predicted, you have just enough time to triple-check that your passport's safely stowed and say your goodbyes to home sweet home.
Remember the sheer terror of thinking "I completely forgot something" as you ride to the airport? Yeah, we even miss that too.
Arriving at the Airport
There's no smell quite like the jet fumes outside an airport.
And there's no feeling quite like breezing past the throngs of travelers waiting to check-in with a bag. With your mobile boarding pass and carry-on bag in hand, you can skip it all and head straight to security with a grin on your face.
The same goes for getting in the TSA PreCheck (or CLEAR) lane and beating everyone through. Why did I wait so long to get this? And when will we be able to use it again?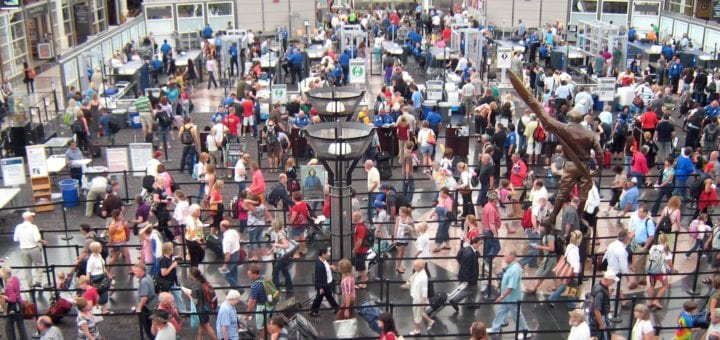 Heck, even us old-school travelers who go through the standard TSA lines miss standing around in line with fellow travelers. That once-familiar routine of taking off your shoes and coat, taking out the laptop. It used to be such a pain, but now…
There's some painful irony here: We're all in a hurry to wait again. It's a common theme in travel.
Lounging Around
If you're like us, you insist on getting to the airport at least two hours before your flight … and make it through security with 1 hour 50 minutes to go. We miss our own short memories.
So it's time for that next step in the pre-travel routine – a drink at the airport. If you're a savvy traveler with the right credit card, that means you head straight for the best airport lounge. No matter how many times you do it, flashing your boarding pass and credit card to get in for free never gets old.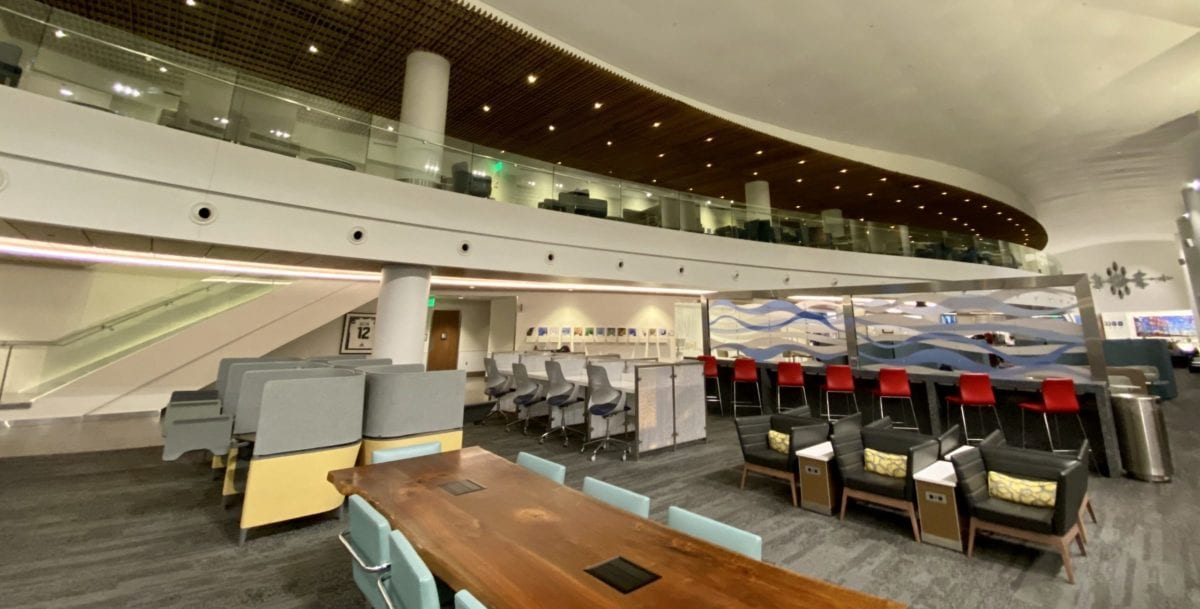 It's not a bad feeling to have so many amenities available at such low costs. And while we miss even the stress of travel, we also miss taking the stress out of travel, too.
Posting Up
Of course, there's nothing wrong with scooting into an airport restaurant for some pre-flight fuel and hydration.
The staff at these stops seem to have seen and heard it all from the thousands of passengers passing through each day. It was great to kick around some small talk with your neighbor or a friendly bartender before your journey. Heck, we even miss paying $16 for an airport Bloody Mary!
After killing an hour or two, that sense of dread strikes: You really need to get to the gate. We miss that feeling, narrated by the constant muffled announcements overhead as you powerwalk to your plane. I'm pretty sure all I understood was my name and final boarding call.
Set the mood with these airport sounds.
At The Gate
No two airport gates are the same. We miss surveying that strange congregation of people, never knowing exactly who's going to join you on your flight.
It depends on the airline and the destination, but we've seen it all. There's the million-mile businessman, the first-time traveler with six items clipped to his bag, and even the Hello Kitty neck pillow owner. These are the people that set the mood for travel. Strange though they may be, we miss them too.
As boarding starts, everyone is in a hurry to wait once again.
Buckle Up
As you sit down, you wonder: "Why am I sitting next to the window again when I know I'm going to have to use the restroom more than once?"
We can't miss that for long, as the thought is interrupted by those familiar, FAA-required safety announcements that you've heard so many times you swear you could recite them at home.
Then the pilot comes overhead with a quick brief on the flight path, peppered with some advanced aviation terms we don't quite understand and a few "ahhhs" and "ummms" interjected. We miss those too.
Wheels Up
Look, we miss ginger ale, alright? No one drinks ginger ale unless they're 30,000 feet in the sky.
For that matter, do you eat anything at home that you get on a plane? Where else do you get teeny tiny bags of pretzels and those tasty Biscoff cookies? Don't you miss Biscoff cookies, too?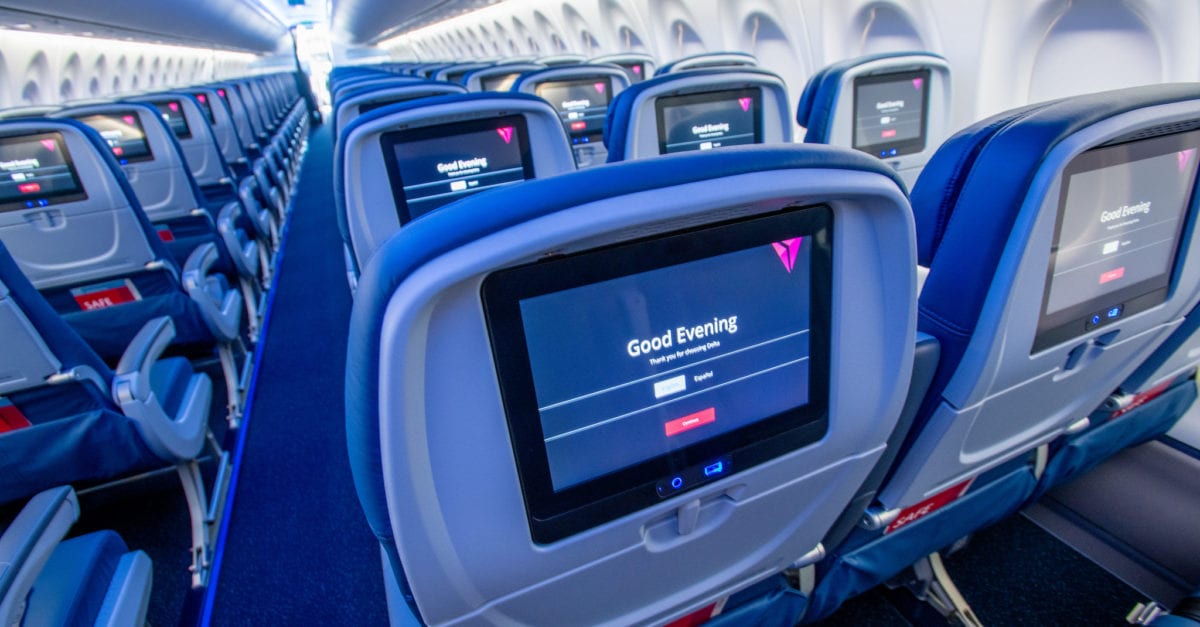 We're all watching a little bit too much Netflix these days. So we miss that feeling of thumbing through the in-flight entertainment selection, wondering which movies or TV shows we can finally watch.
Is it weird to pine for the wordless battles over the armrest – at least so long as you win?
Arriving
Plane clappers are the worst. But we'd still give anything to hear a round of applause after landing right about now.
You know that feeling when you peel your headphones off some slightly sweaty ears as your plane makes its way to the gate?
Oh yes, then there's deplaning. One of our favorite moments of any journey, when everyone is prompted by a ding and immediately unbuckles their seat belt, stands up in the aisle, and hurries to wait again. Are you a sitter or a stander? We don't care, we miss you too.
The Destination
Whether your trip is domestic or international (and thus followed by an inevitable hour wait at customs), you've finally reached your destination.
Remember that feeling as you wait in line at the airport ATM, trying to do the mental math on how much money you need. You always take too much out, right? Us too. Anyway, it's time to hit the ground running.
It could be a much-needed visit to your distant family, a bachelor party, an international journey, or just a business trip. We'd take anything at this point.
No matter the journey, we miss the small moments of humor. Sometimes it's a funny cab driver giving you the ins and outs of his or her city, or an excited Airbnb host sharing their local insider information. The people you meet and the laughs you share usually fall into the top highlights of your trip.
Bottom Line
Travel can be exhausting, fun, annoying, enriching, stressful, energizing, and all of the above. We miss it all.
What will travel look like in the near future? It's tough to tell. But one thing won't change: travel is the only thing you can buy that will make you richer.