Bilt Rewards, the first award program that allows travelers to earn points on rent, runs a "Rent Day" promotion on the first of every month, and the company's Feb. 1 promotion is a boon for anyone thinking about a Hawaii trip in 2023.
In the past, Bilt Rewards has run 100% transfer bonuses to various award programs, allowing travelers with Bilt points to double their points totals when transferring to a hotel or airline partner. Bilt recently ran a 100% bonus to IHG Hotels in December.
This month, they've partnered with Hawaiian Airlines to offer the same 100% transfer bonus, meaning you can double your Bilt points when you transfer them to Hawaiian. But make sure you're on the ball: This transfer bonus only works today, on Wednesday, Feb. 1.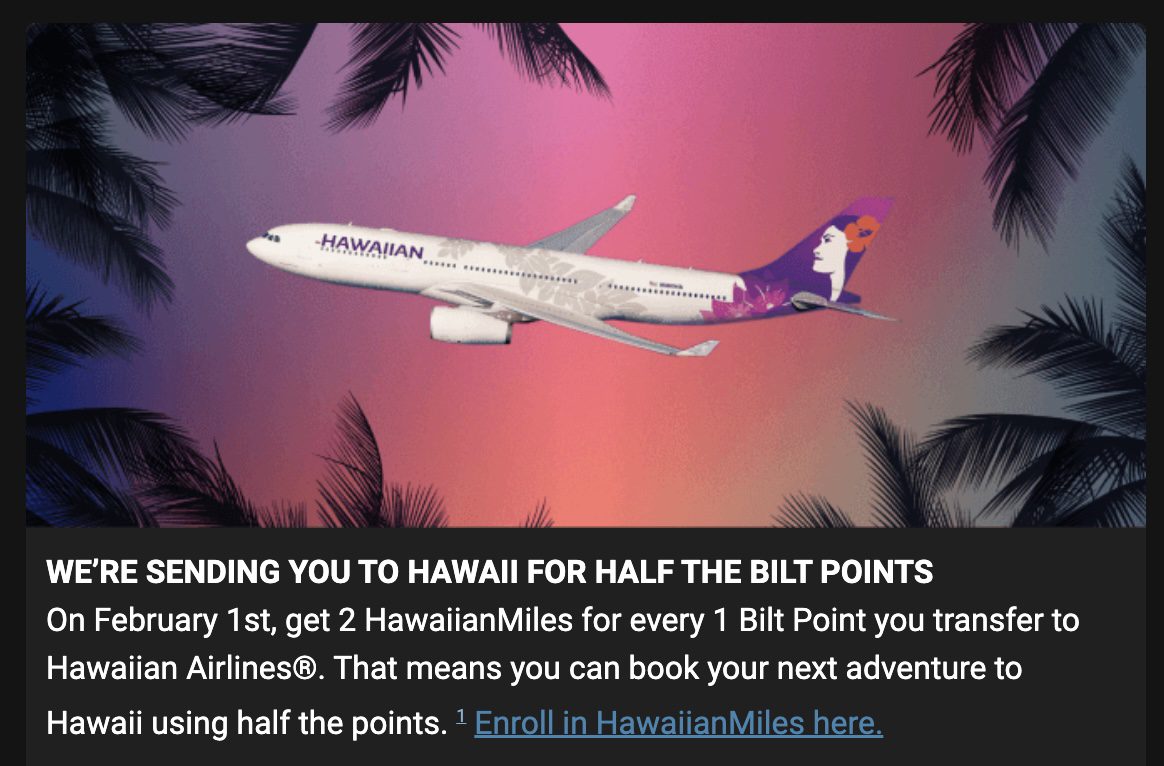 We love transferable points currencies at the normal 1:1 ratio, but 100% transfer bonuses are rare and especially lucrative.
In this case, award flights on Hawaiian Airlines from the West Coast to Hawaii start at 20,000 miles each way, meaning you only have to transfer 10,000 Bilt points to book a one-way ticket to paradise. The roundtrip will cost you only 20,000 Bilt points (if transferred today, Feb. 1) from the West Coast.
Hawaiian doesn't just fly from the Pacific Coast, however. The airline runs long-haul flights from destinations like Boston (BOS) and New York (JFK), too. To fly nonstop from either of those destinations, you'll need 30,000 HawaiianMiles, or 15,000 Bilt points if you transfer them today, Feb. 1.
Already have a Hawaii flight on the books for 2023, but want to maybe see another island or two? Flights within the Hawaiian Islands start at just 7,500 Hawaiian Miles (or just 3,750 Bilt points transferred today, Feb. 1!), so you can use this transfer bonus to augment your previously booked Hawaii trip as well.
Looking for a little luxury on your trip? You can book Hawaiian First Class one-way tickets starting at 40,000 Hawaiian miles, or just 20,000 Bilt points with the transfer bonus for a one-way fare. Additionally, you can upgrade your ticket to a First Class ticket starting at just 25,000 Hawaiian miles, or 12,500 Bilt points if transferred on Rent Day.
Hawaiian publishes its full award chart on its website, so you can see exactly what it would cost you to book your trip in HawaiianMiles. Then do a little simple math to figure out how many Bilt points you'll need.
To transfer your points, make sure you link your Bilt and HawaiianMiles accounts in the Bilt app. You can do so on the "Rewards" tab under "Travel." The transfer is simple and easy from there.
HawaiianMiles don't expire either, so if you're not ready to pull the trigger on a Hawaiian flight quite yet, it might still make sense to take advantage of the Feb. 1 transfer bonus.
Other Feb. 1 Rent Day Promos from Bilt
On Rent Day, Bilt always offers double points earnings, meaning if you hold the Bilt Rewards Mastercard® you'll get 6x points on dining (usually 3x), 4x points on travel (usually 2x), and 2x points on other purchases (usually 1x).
In addition, Bilt gives three lucky winners their rent paid for the month, up to $2,500 each.
But with Hawaii on the mind, Bilt added an extra little sweepstakes to the Feb. 1 festivities. Namely, five travelers will get roundtrip tickets to Hawaii for themselves and a companion.
To enter the contest, you have to solve a riddle in the Bilt app today, Feb. 1 and you must submit your answer to this form on Bilt's website. Bilt says it will be offering clues to the riddle on its Bilt Rewards Instagram page.
Bottom Line
If you have Bilt points and a desire to go to Hawaii in 2023, today is your day.
Bilt is offering a phenomenal 100% points transfer bonus to Hawaiian Airlines, meaning a roundtrip flight to Hawaii could cost you just 20,000 Bilt points if you make the transfer today.