The words "Maldives" and "cheap" just don't go together: The country known for its iconic overwater villas is one of the most expensive destinations on the planet. Here's your chance to change that by booking one of the most affordable resorts in the Maldives using Marriott points.
We just found wide-open award availability to book the Le Méridien Maldives Resort & Spa for as low as 41,600 points per night – the lowest rate we've seen since this resort first opened and since Marriott transitioned to dynamic pricing. You'll find the lowest rates from April and especially May through June 2024: not quite peak season in the Maldives but still a great time to visit, especially April and early May. But no matter where you go, you can easily score a free night for under 55,000 points per night.
It gets even better. Since Marriott offers a fifth-night free on award stays booked using Bonvoy points, you could book a five-night stay for the price of four, bringing the nightly rate as low as roughly 33,000 points. That's an incredible deal.
Read our full review of the Le Meridien Maldives!
Our team has personally stayed at this resort and can attest it's easily worth the points to pull off an otherwise pricey trip to the Maldives – especially at this price. The property first opened back in September 2021, with superb rooms, beautiful views and beaches, and an incredible onsite spa.
Marriott's dynamic award pricing means nightly rates are all over the map, from under 50,000 points per night to as much as 70,000 over Christmas and New Year's. But this is the cheapest we've seen it in several years to book one of our favorite – and arguably the most budget-friendly – resorts in the Maldives on points.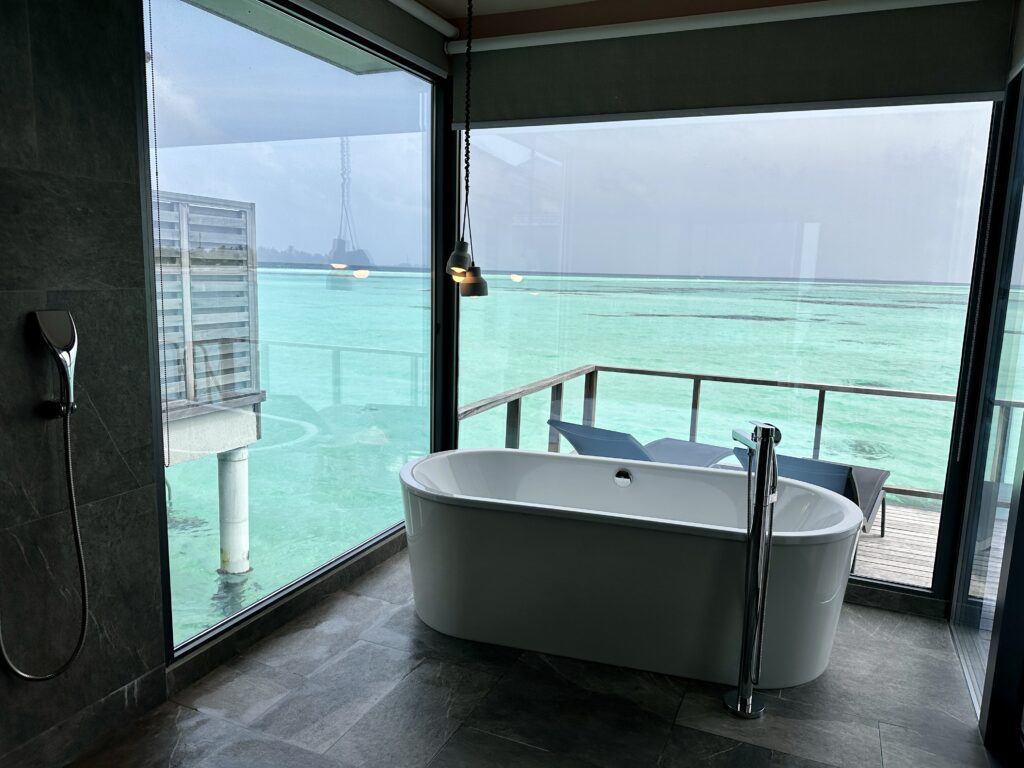 And there's a quirk: We're seeing the return of Marriott PointSavers, discounted nightly rates when using points. These special promo rates largely disappeared back when Marriott ditched its award charts last year.
These discounted PointSavers rates aren't eligible to use a Marriott free night certificate, sadly – trying to apply one will automatically bump you up to the full-priced award rate. But if you've got the *marriott bonvoy brilliant*, you could tack on one more night and pull off nearly a week at the Le Méridien Maldives!
The lowest rate rate books you into a beach bungalow room. If you want to book one of the overwater villas that are synonymous with the Maldives, expect to pay roughly 20,000 more points each night … or, if you're willing to kick in a small amount of cash ($50 each night) , you can book the overwater villas still using as low as just 52,000 points nightly.
Compared to most properties in the Maldives that will run you 85,000 points to 100,000 points or more per night, this is an absolute steal.
Aside from the expensive food and drink costs in the Maldives, the one thing your points won't cover is the unavoidable (and exorbitantly pricey) seaplane transfer from the main airport in Malé (MLE) to the resort. The Le Méridien Maldives charges $515 per person roundtrip for adults and $258 for children 2-11, while infants are free. Those charges are applied at the time you book. 
Thrifty Tip: The *marriott bonvoy brilliant* provides automatic Marriott Bonvoy Platinum Elite status, which provides you with free breakfast and a potential room upgrade during your stay. Trust us: Free daily breakfast for two in the Maldives will save you a ton of money.
Don't have all the Marriott points you need to book? In addition to the slew of Marriott cards, Marriott is both a Chase transfer partner and an Amex transfer partner, too. While we wouldn't normally transfer points from cards like the *chase sapphire preferred*, or the *amex gold card* to get the final points you need to pull off this booking could be well worth it.
With a 50% transfer bonus to Marriott available through Sept. 30, transferring Chase points is a strong option to get the final points you need.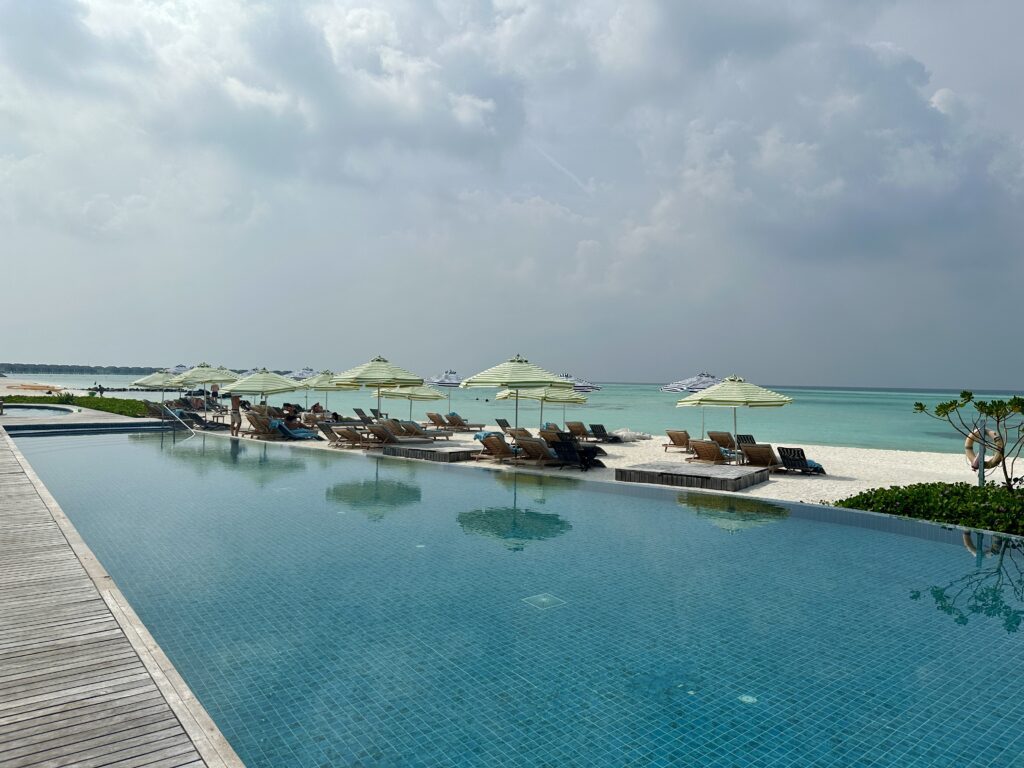 Current Le Méridien Maldives Availability
Thanks to Marriott's dynamic pricing, exactly how many points you'll need per night varies wildly from month to month and even day by day. But we're seeing plenty of cheap availability later this year into mid-2024.
You'll find the best and cheapest availability from April through June 2024. Nightly rates are a bit higher around the holidays but otherwise booking for 55,000 points – or much less – is a cinch. Just beware that monsoon season in the Maldives typically starts around mid-May, so that's when you may start to see more rain.
Scan through the calendar (make sure you select "my dates are flexible" when entering your dates at Marriott.com) and you'll see the bookable dates. Here's a look at what's bookable as of publication.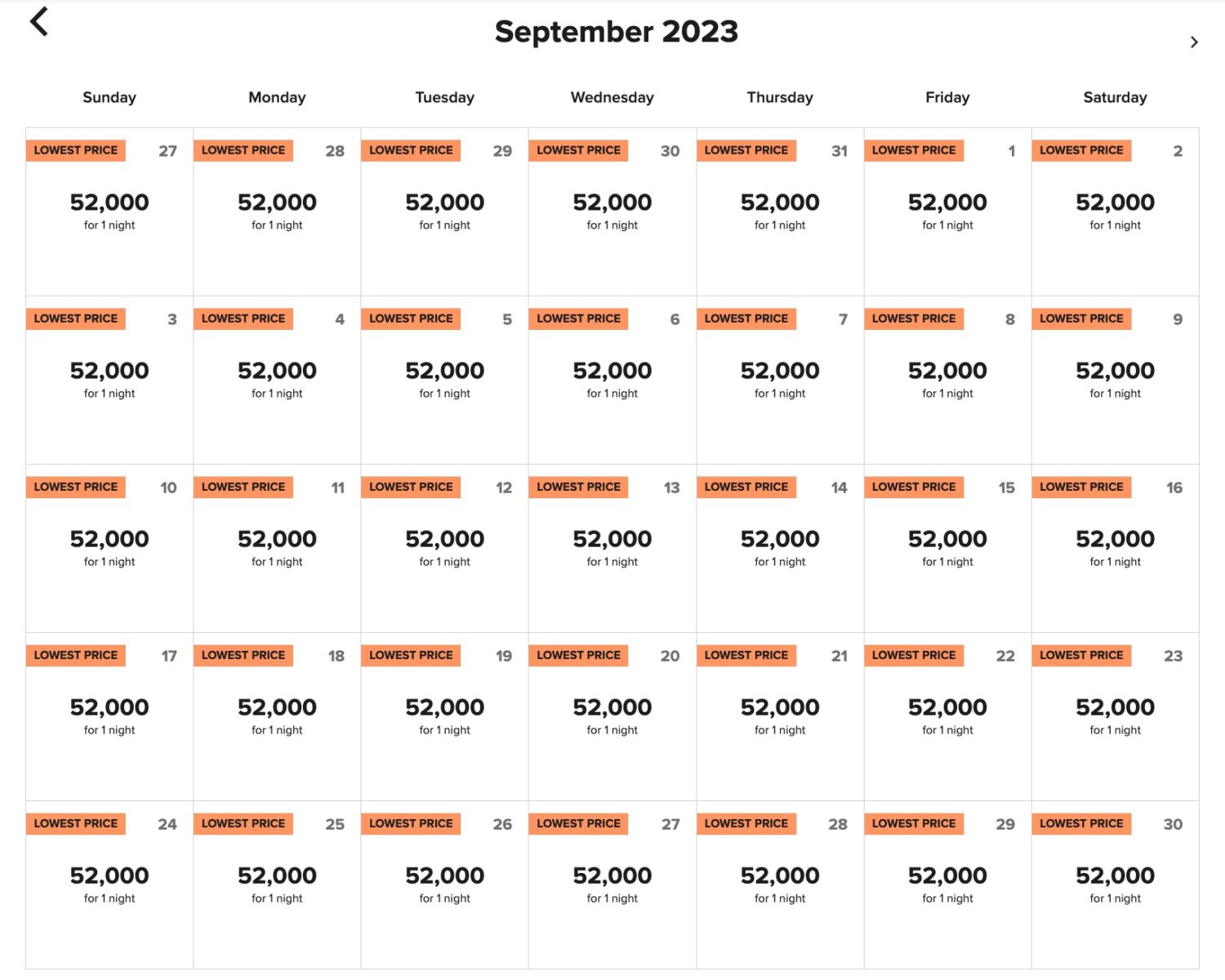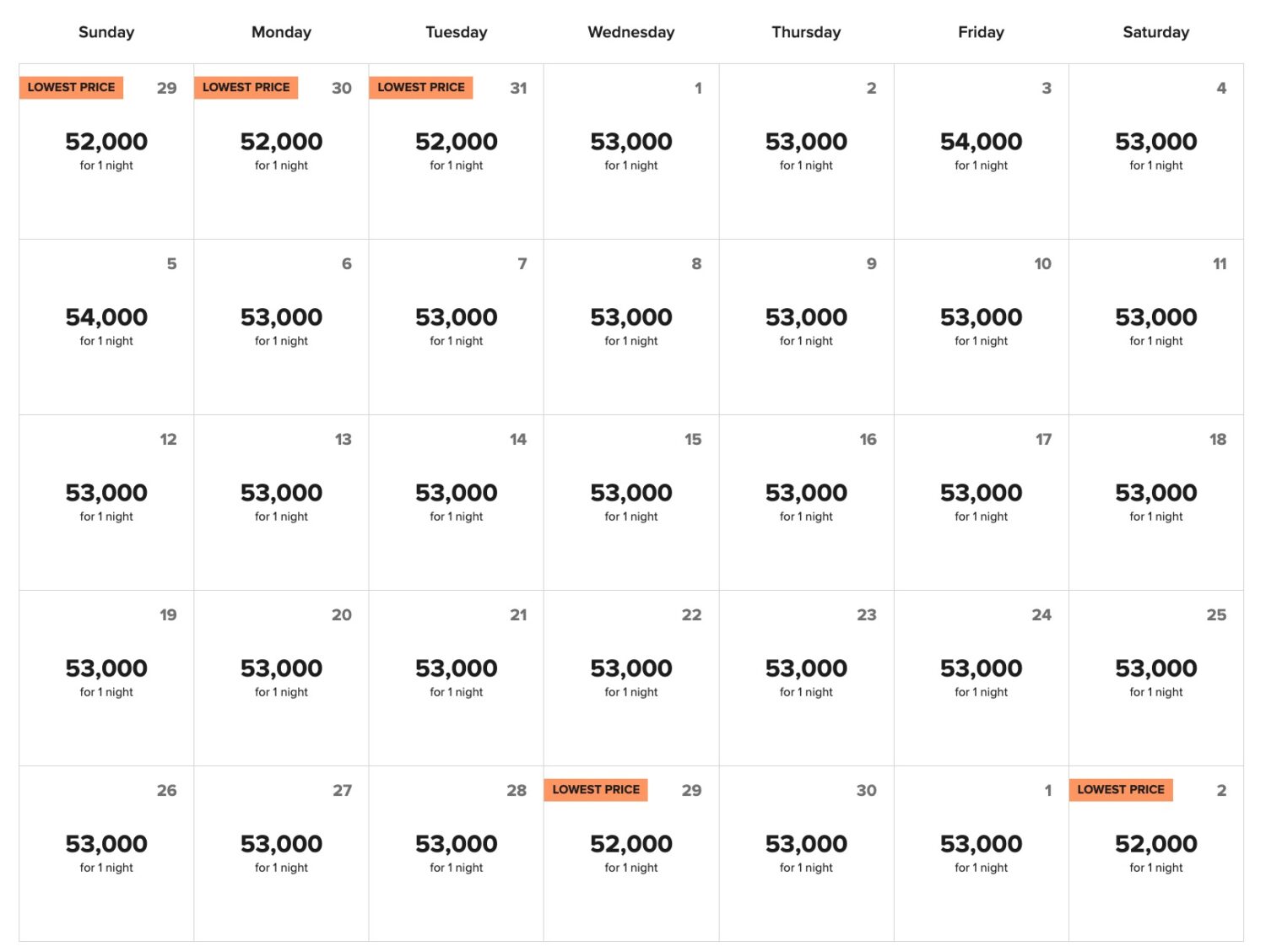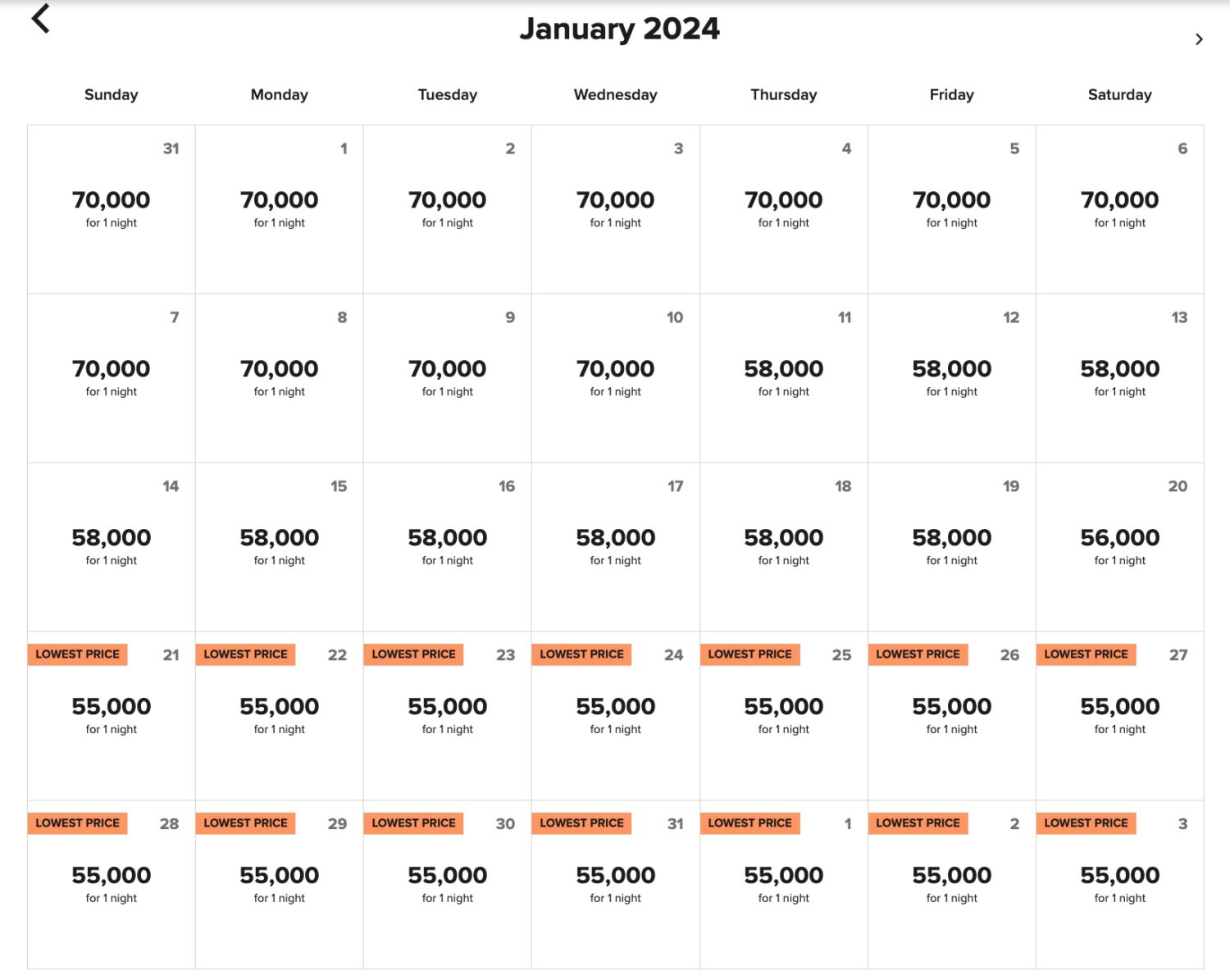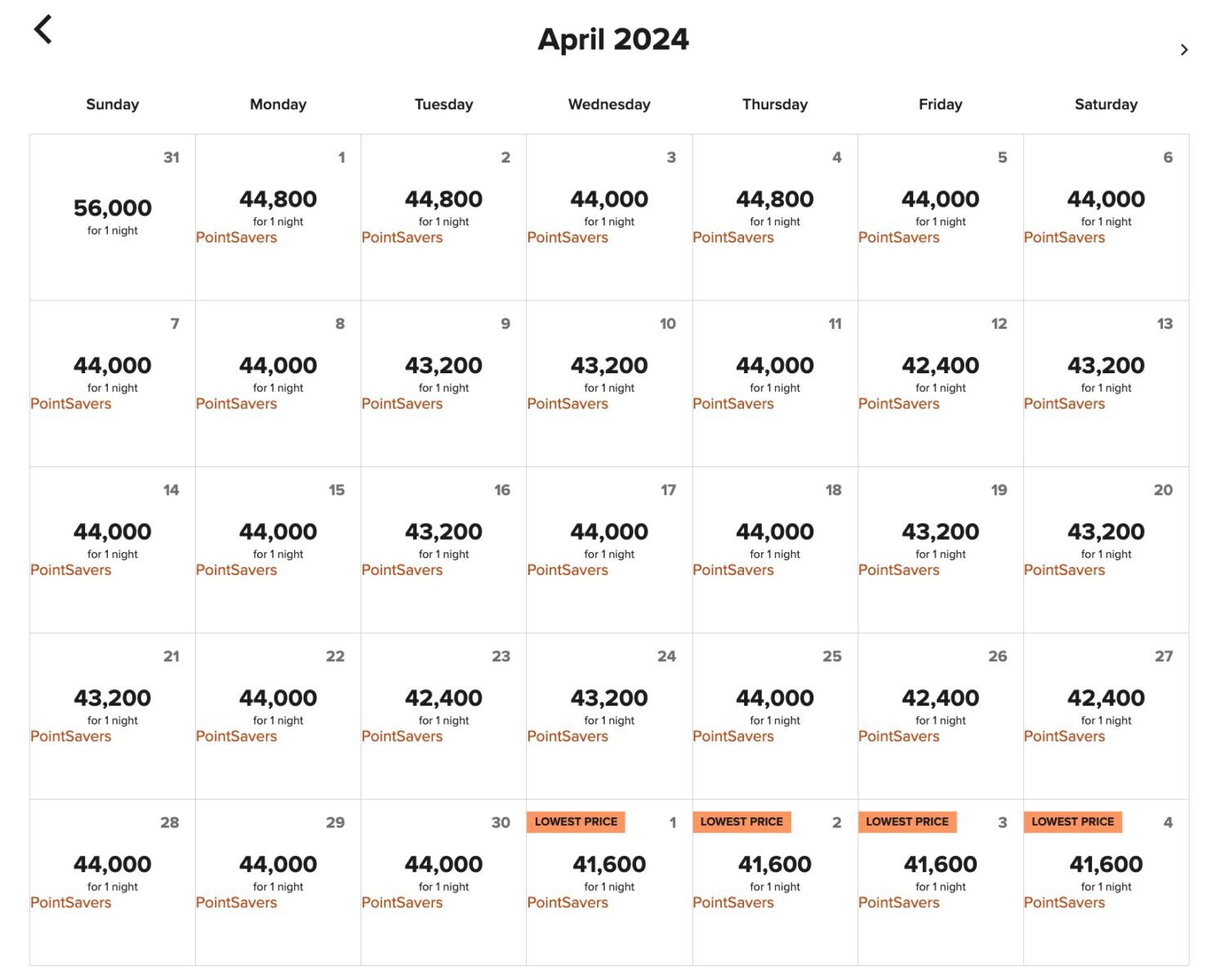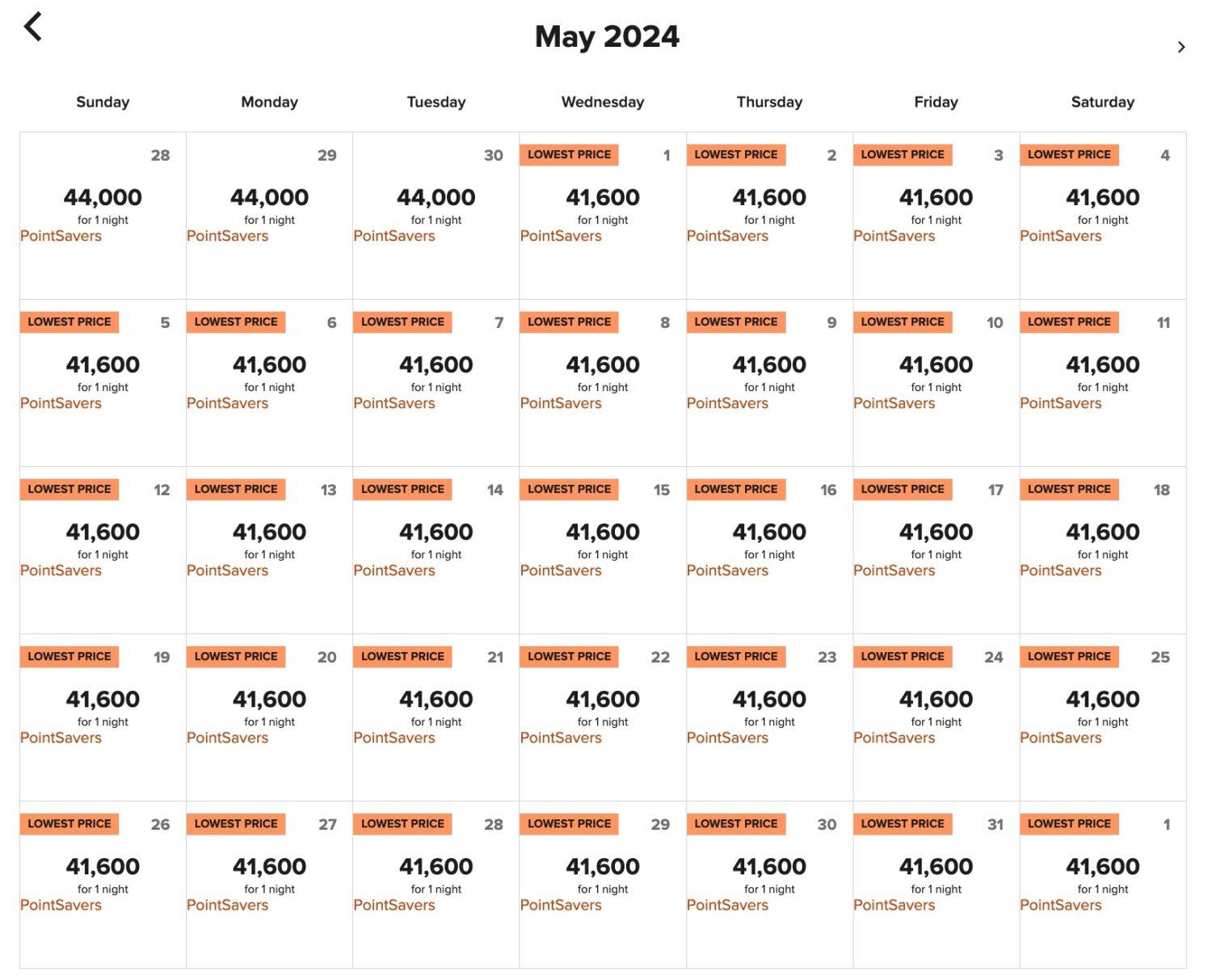 How to Book the Le Méridien Maldives
You can book award stays at the Le Méridien Maldives for as low as 41,600 points per night from now through mid-July 2024 – or less if you book five nights for a fifth-night free benefit!
Head to Marriott.com and search for the Le Méridien Maldives, selecting "Use Points/Certificates" before starting your search.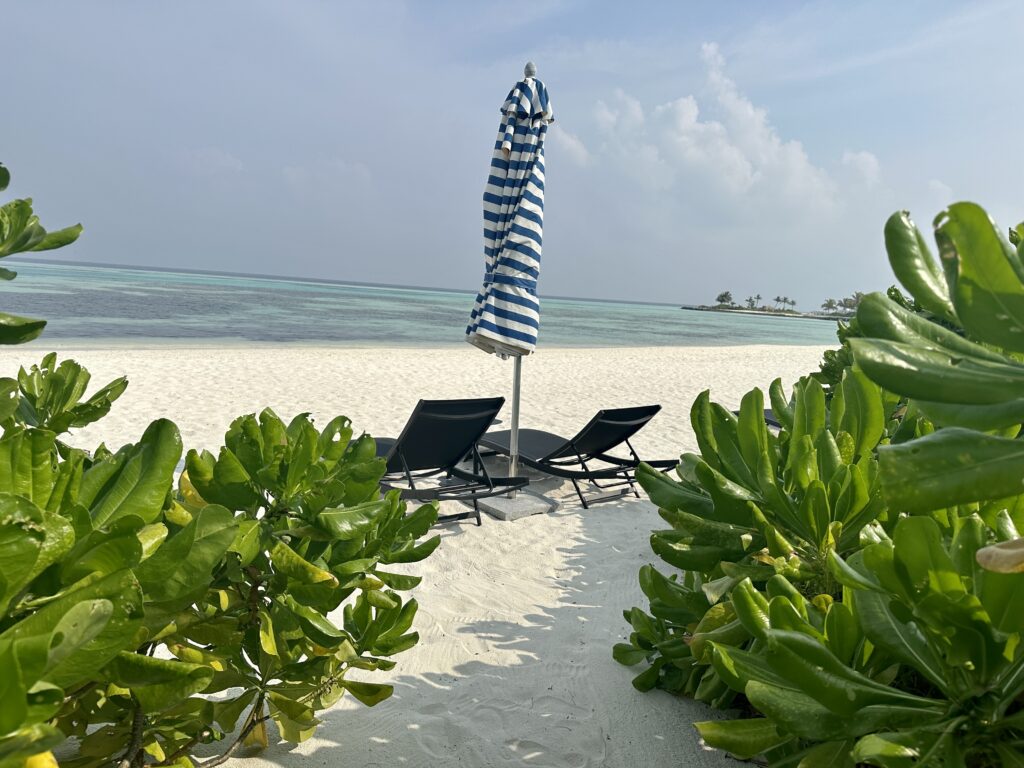 Bottom Line
This is about as good as it gets for booking a great and affordable resort in the Maldives. And this is some of the best, cheapest award availability we have seen at this property in quite some time.
It's a great deal if you've got plenty of Marriott points and the Maldives on your bucket list. But don't wait: This Le Méridien Maldives availability is sure to disappear fast.