When it comes to all-inclusive resorts, Hyatt just does things differently … and that's a good thing. Better yet, Hyatt keeps expanding its network of Ziva and Zilara all-inclusive resorts. And the Hyatt Ziva Cancún Riviera is its newest addition.
Located just 20 minutes or so south of the Cancún (CUN) airport, Hyatt took over the abandoned Secrets Silversands Riviera Maya, which closed in 2018. After a major renovation, it officially opened for business in early September 2021.
And it's a fantastic resort. Between the incredible service, beautiful facilities, amazing food and drinks, nice rooms, the easily accessible location, and how easy it is to book, it is easily one of my new favorite all-inclusive resorts in Mexico.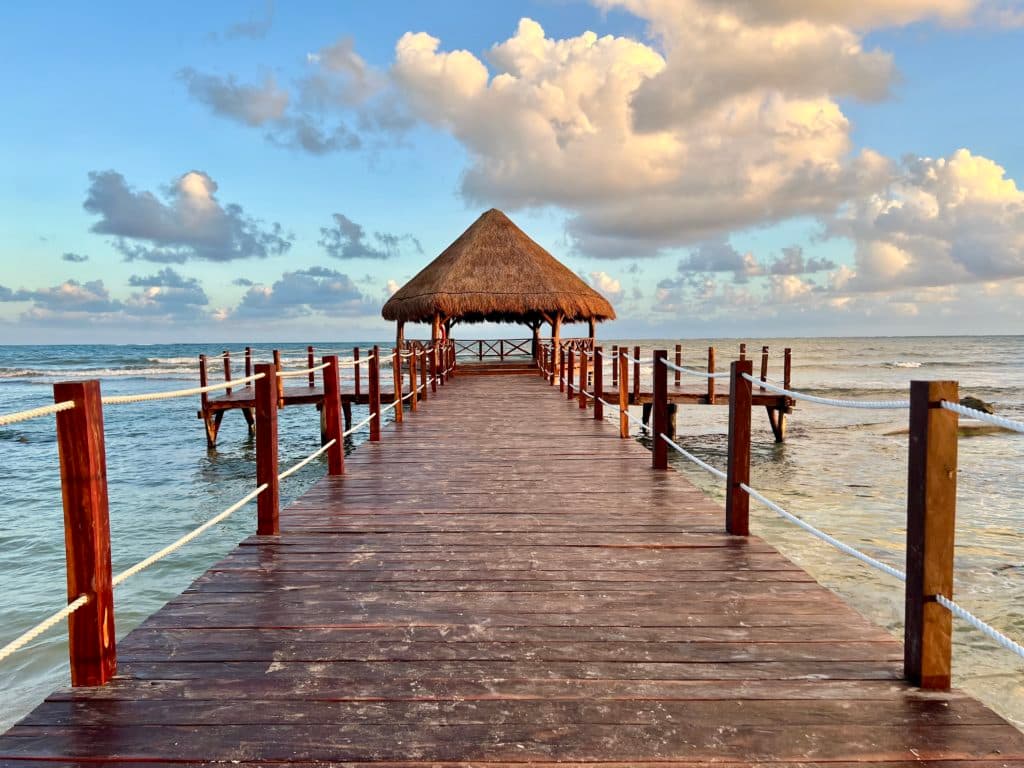 If all-inclusive resorts are your thing – and even if they're not – I can't recommend the property enough. Read on for a full review of the property and everything you need to know before your next visit to the Hyatt Ziva Riviera Cancún.
Booking the Hyatt Ziva Riviera Cancún
One of the things we love most about Hyatt Ziva and Zilara all-inclusive resorts is that you can book them with World of Hyatt points – and better yet, the rates are very reasonable.
It will generally cost just 25,000 World of Hyatt points each night. Now that Hyatt has implemented peak and off-peak award pricing for stays starting March 1, 2022, it could cost more (or fewer points). Expect to pay as much as 29,000 points a night during peak times – or as few as 21,000 points per night during off-peak times.

Amazingly, that rate includes your lodging, all your food, drinks, and most amenities the resort has to offer. Think of it this way: Book your flights with miles and your stay with Hyatt points, and you can easily spend less money on your vacation than you would by sitting at home.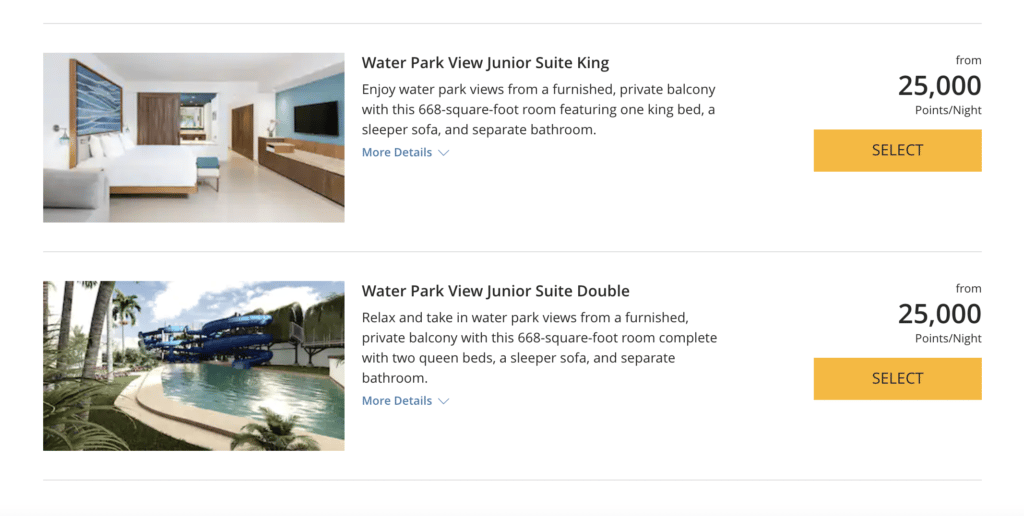 If you don't have World of Hyatt points in your account already, Hyatt is one of the best Chase transfer partners. A stash of 50,000 Chase points gets you 50,000 Hyatt points, enough for two free nights at this property.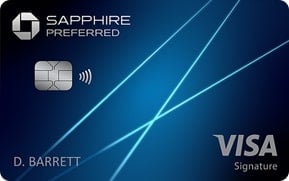 Click Here to learn more about the Chase Sapphire Preferred Card. 
Otherwise, cash rates are typically pretty reasonable as well. Depending on the time of your stay, you can expect to pay anywhere from $300 to $600 a night for a stay at the property. Again this will include your room rate, all your food and drinks, and many amenities at the property.
Hyatt Ziva Riviera Cancún Location
The Hyatt Ziva Riviera Cancún is located between Playa del Carmen and the city of Cancún, just north of the small town of Puerto Morelos. It was a quick 20 to 25-minute ride from the Cancún airport (CUN).
Don't confuse this property for the Hyatt Ziva Cancún or the Hyatt Zilara Cancún (adults only) which are located about an hour north in the famous Cancún hotel zone.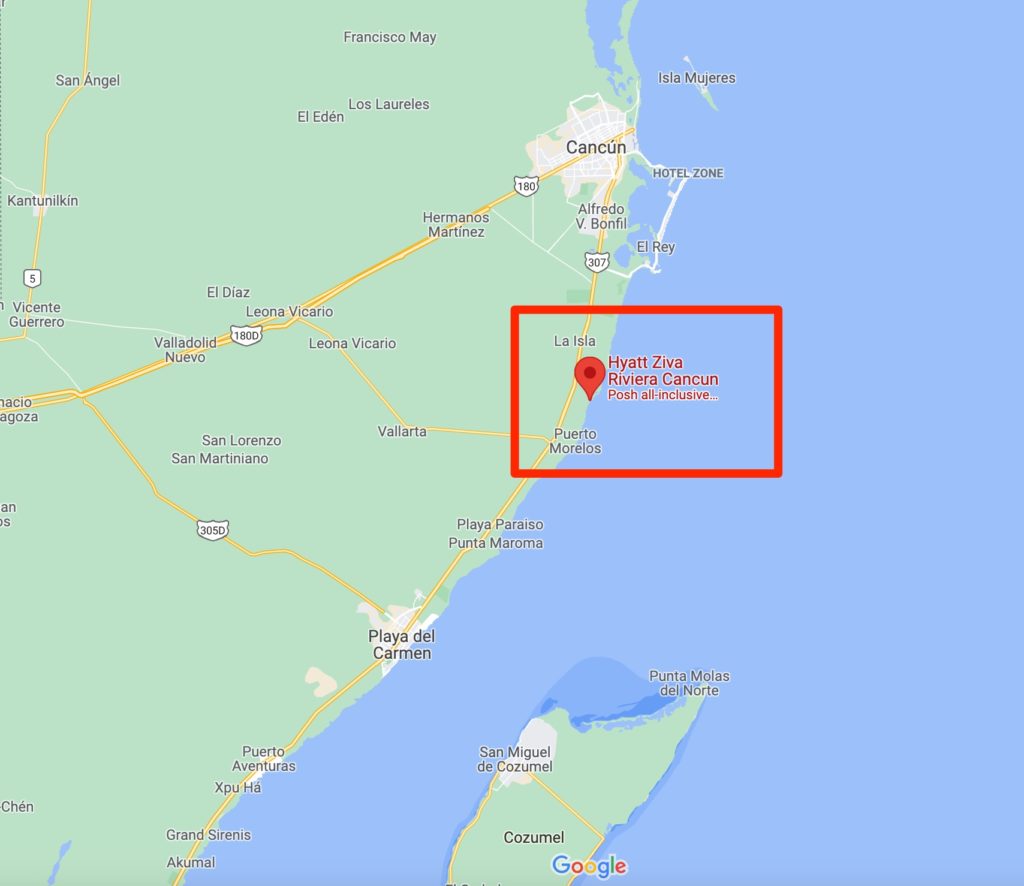 Hyatt Ziva Riviera Cancún Airport Transportation
One of the best things about the Hyatt Ziva Riviera Cancún resort is its proximity to the Cancún airport (CUN). It's just a short 20 to 25-minute drive away, and you shouldn't hit the traffic you would encounter going to the busy and popular Cancún hotel zone.
Hyatt does not offer airport transportation to and from the resort, but booking a private transfer (or even taking a taxi) is very easy and fairly cheap.
We used USA Transfers and had a great experience. For the four people in my party, our rate for round trip transportation was $75 (plus tip) total. The service was well organized and on time. They even have a mobile app to keep your reservation and confirmation numbers handy.
Ziva Riviera Cancún Lobby & Checking In
From the moment you walk into the resort, you'll be wowed by the expansive and impressive open-air lobby. We were immediately greeted by the warm and welcoming staff who took our luggage and escorted us to the main check-in area.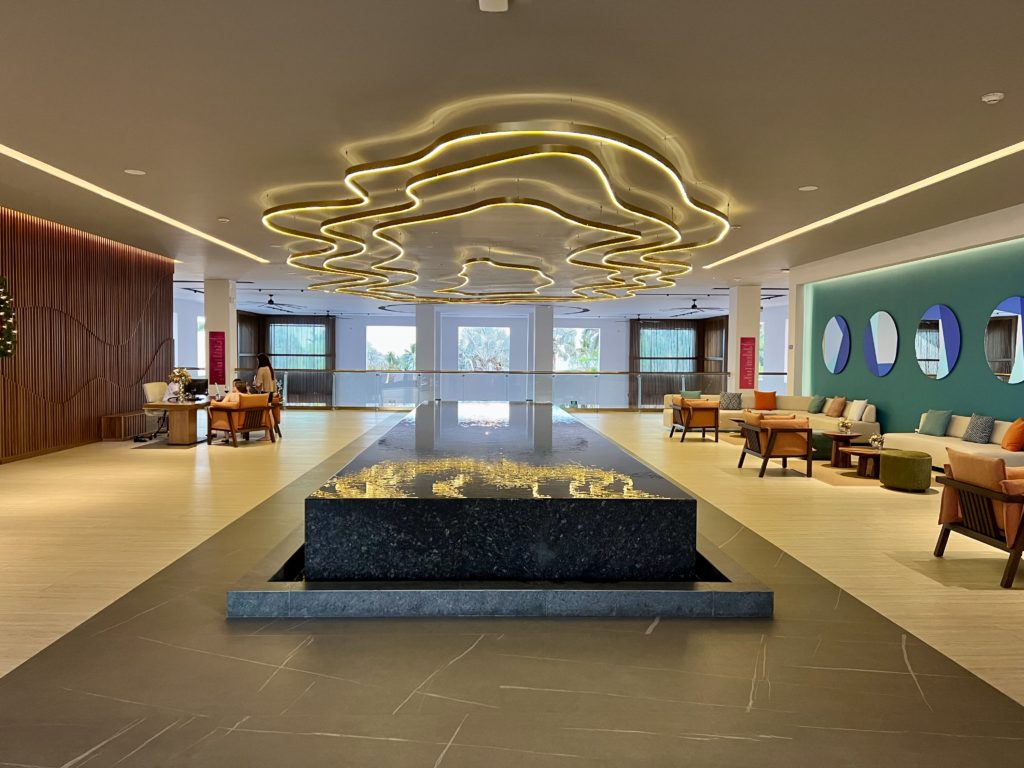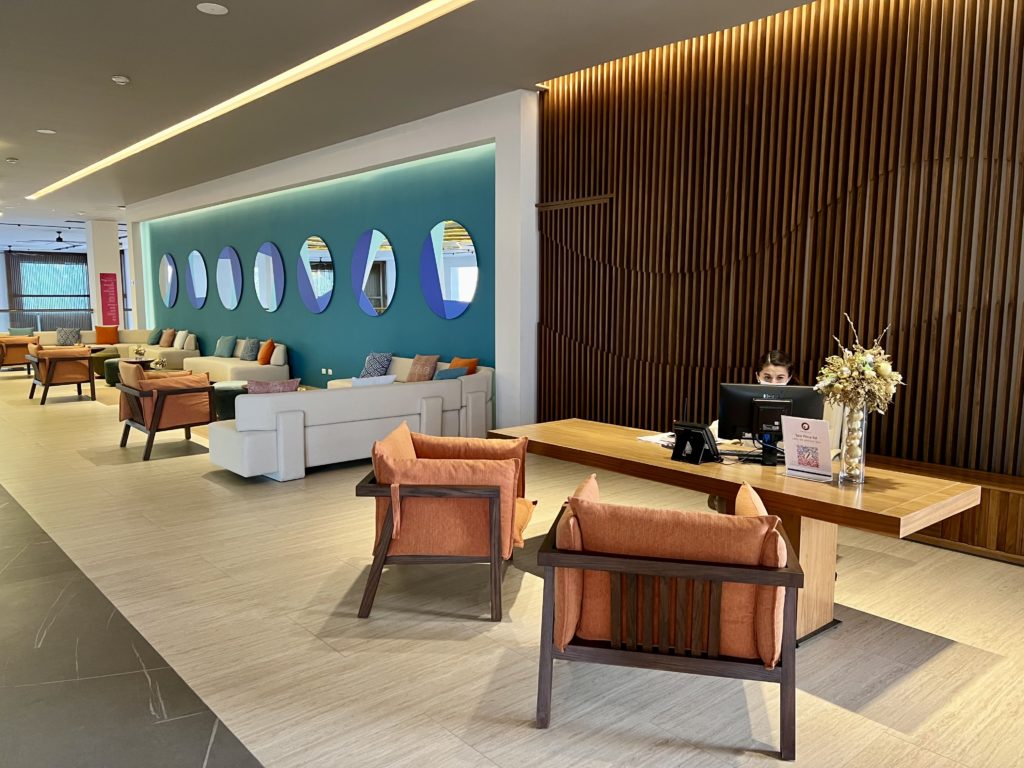 It was pretty evident from the moment we arrived that the resort wasn't very full. During our trip, one of the bartenders in the swim-up bar indicated that they were at about 10% occupancy during our stay. This wasn't surprising given the situation with COVID – not to mention a recent spree of cartel violence that has made headlines in the state of Quintana Roo, where both Cancún and the nearby port town of Puerto Morelos are located.
It did get notably busier throughout our stay, which was nice to see.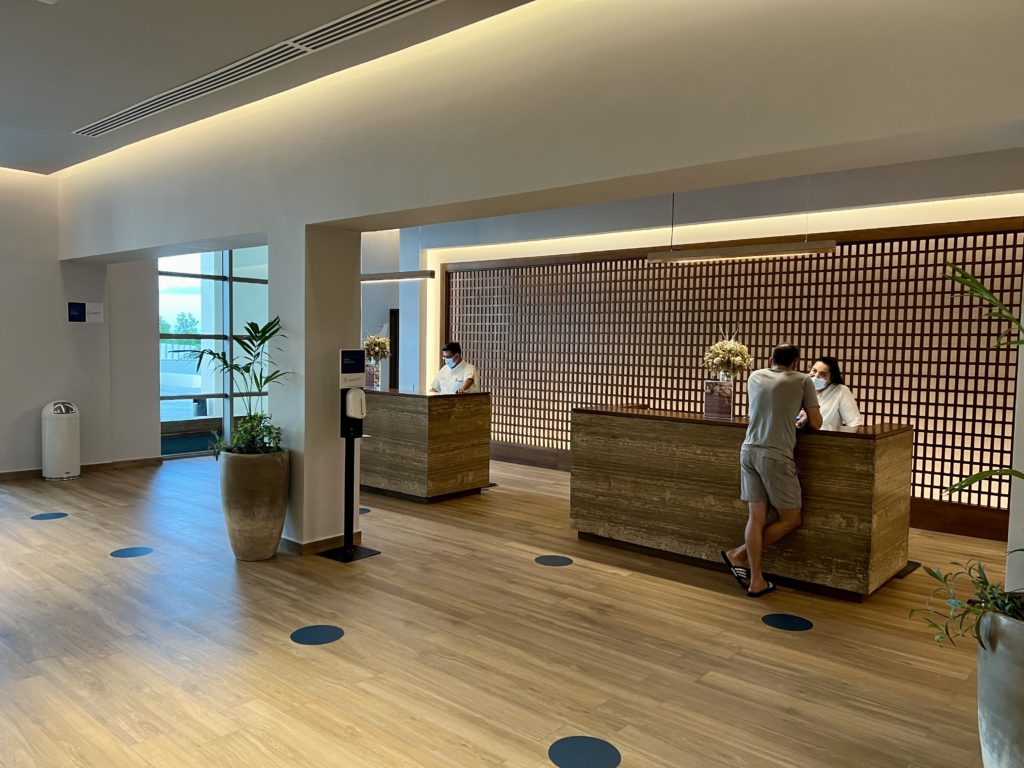 Since I hold World of Hyatt's Globalist status, once we got to the main check-in area, we were ushered into a room reserved for World of Hyatt Elite members.
Here, we were offered sparkling wine, water, and other snacks as our check-in documentation was being prepared.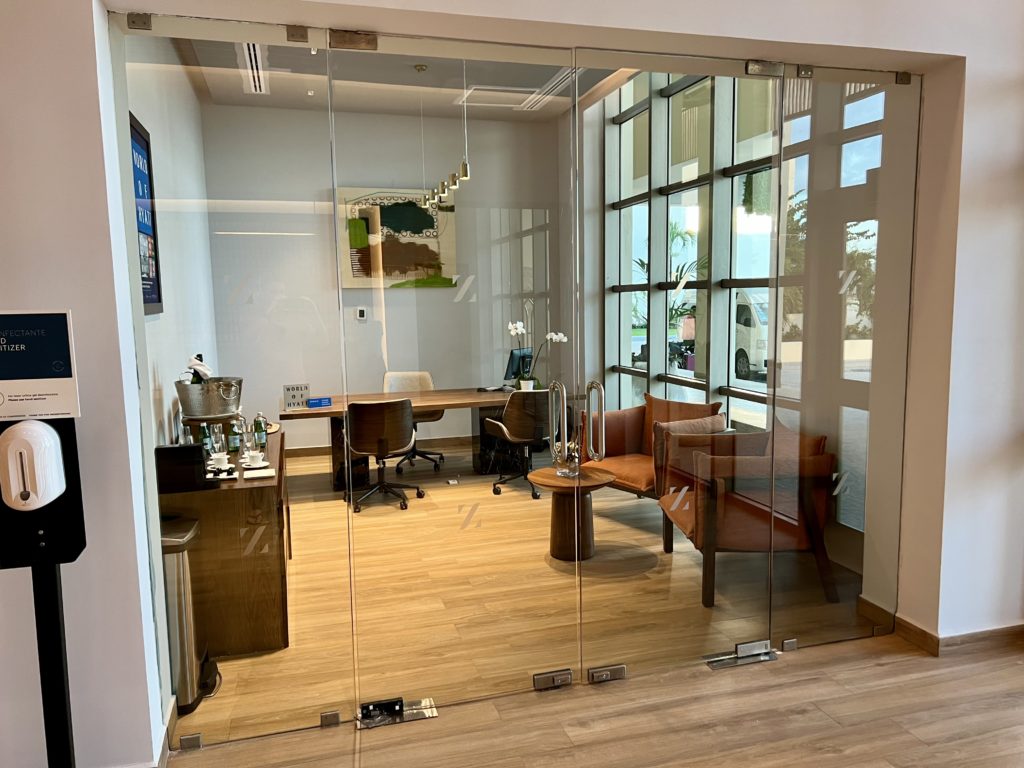 We were also notified of the new COVID-19 testing requirements to re-enter the United States. As of early December, you now need to produce a negative test the day before your return flight to the United States, regardless of your vaccination status. Previously, travelers could test up to three days before their flight.
We were given a slip of paper informing us to head to room 4104 that Sunday – the day before our return flight home. Any time on the calendar day before your scheduled departure will satisfy the testing requirement.
Our check-in host also informed us that if we tested positive, we would be required to quarantine at the property for 14 days.
We were also offered an insurance policy that would cover all additional expenses (including lodging) of up to $10,000 in the event of a positive test. It cost just $34 per person, total, though it was unclear if this was being offered by the Mexican government or from the property itself.
This seemed like the logical choice, and everybody in our party opted for the $34 coverage.
Related: What It's Like Getting Tested to Return from a Mexico Vacation
Hyatt Ziva Riviera Cancún Rooms
Being the property was recently renovated and opened for business in September 2021, the rooms felt brand new and quite nice.
When we first got to the room, there was a label on the door indicating the room had been cleaned and sanitized as part of Hyatt's Global Care & Cleanliness commitment during the pandemic.
There are 12 buildings in total across the resort. Both of our rooms were in building seven.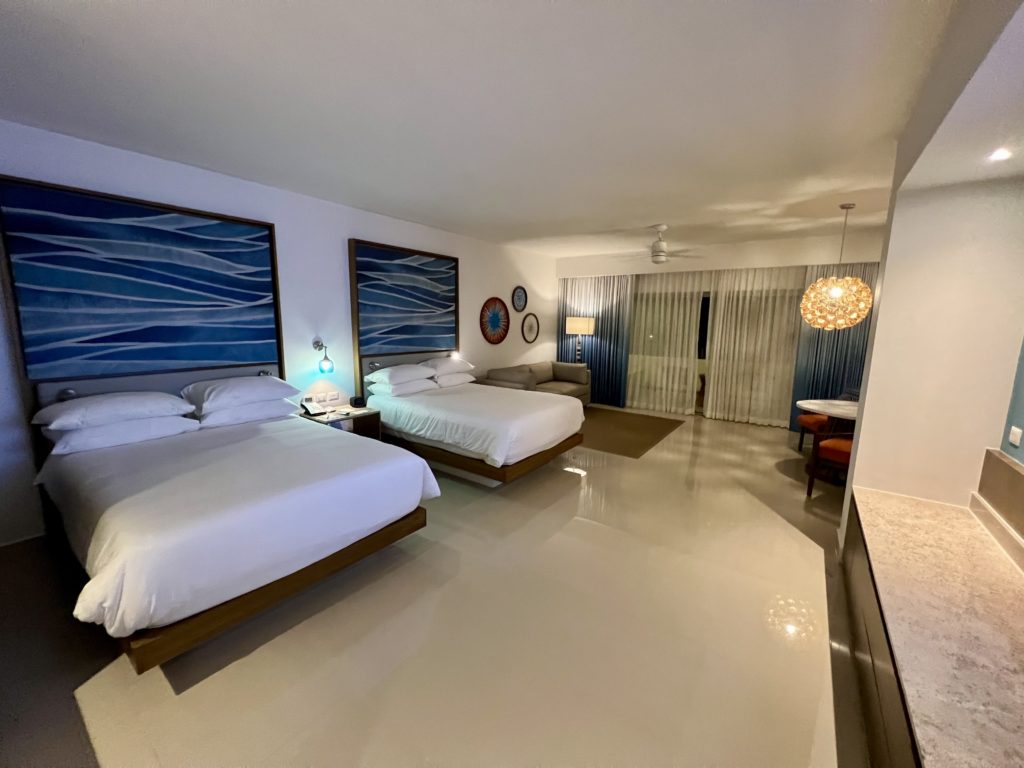 The room was roughly 700 square feet and equipped with everything you would expect at a higher-end resort. This included a fully stocked minibar – also included as a part of the all-inclusive rate.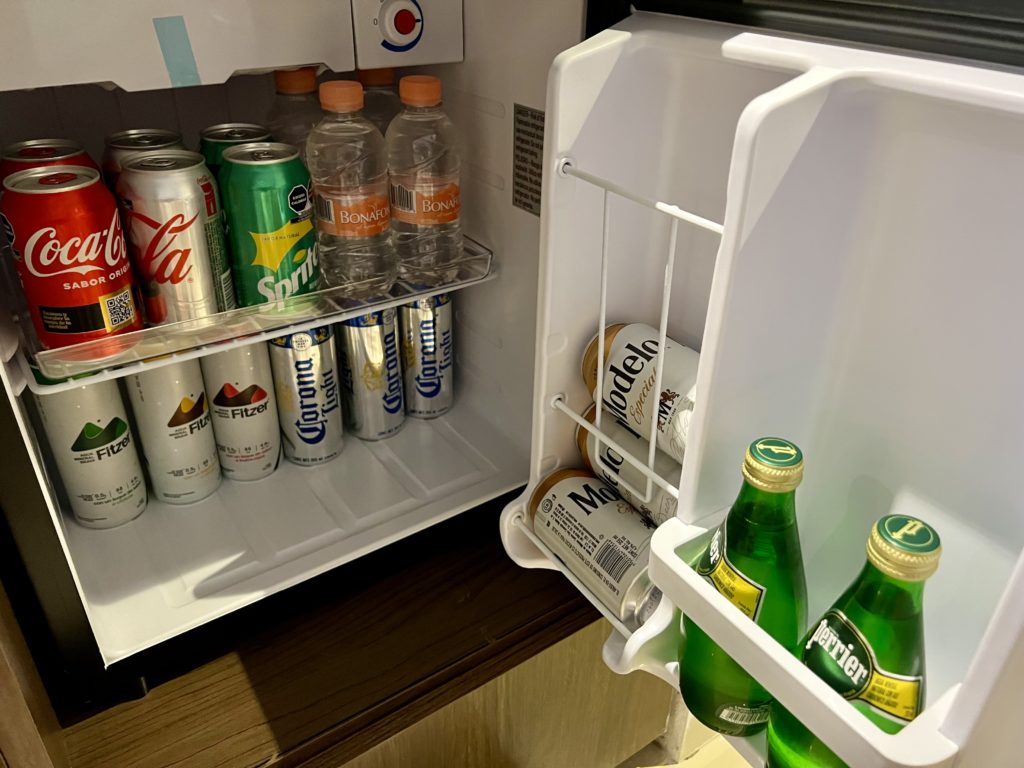 The mattresses were brand new and I found them to be very comfortable. However, they are a little on the firm side, in case that isn't your preference.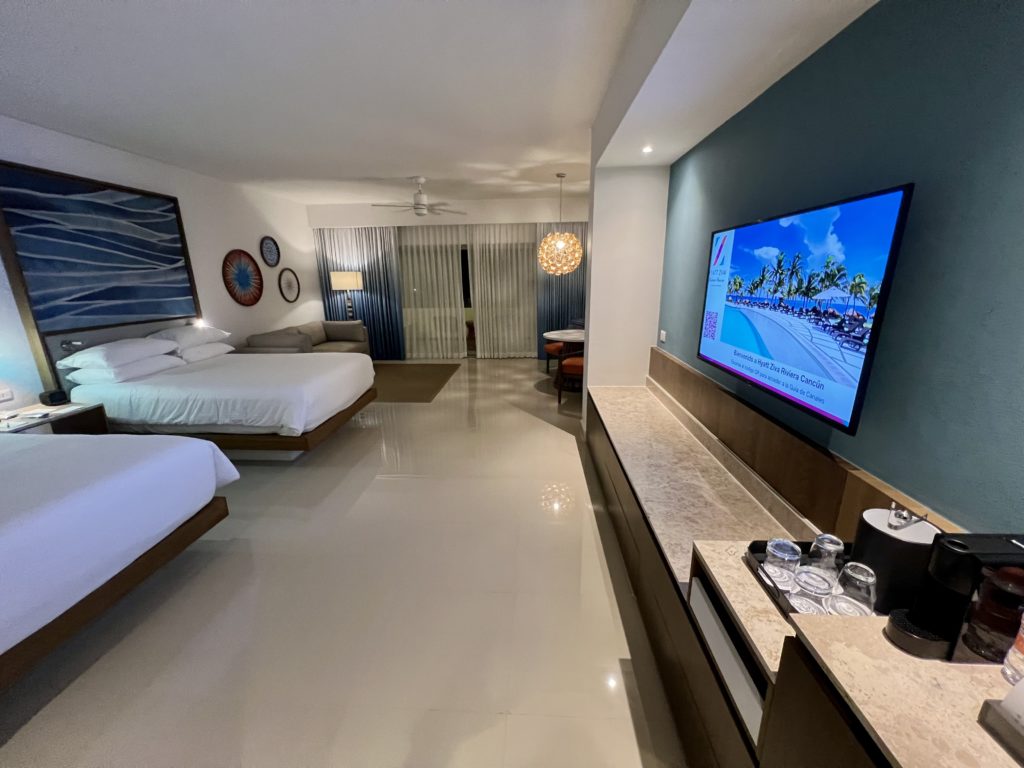 The bathrooms are massive and each room is equipped with a jacuzzi and a big walk-in shower. Again, the recent renovations felt fresh and modern.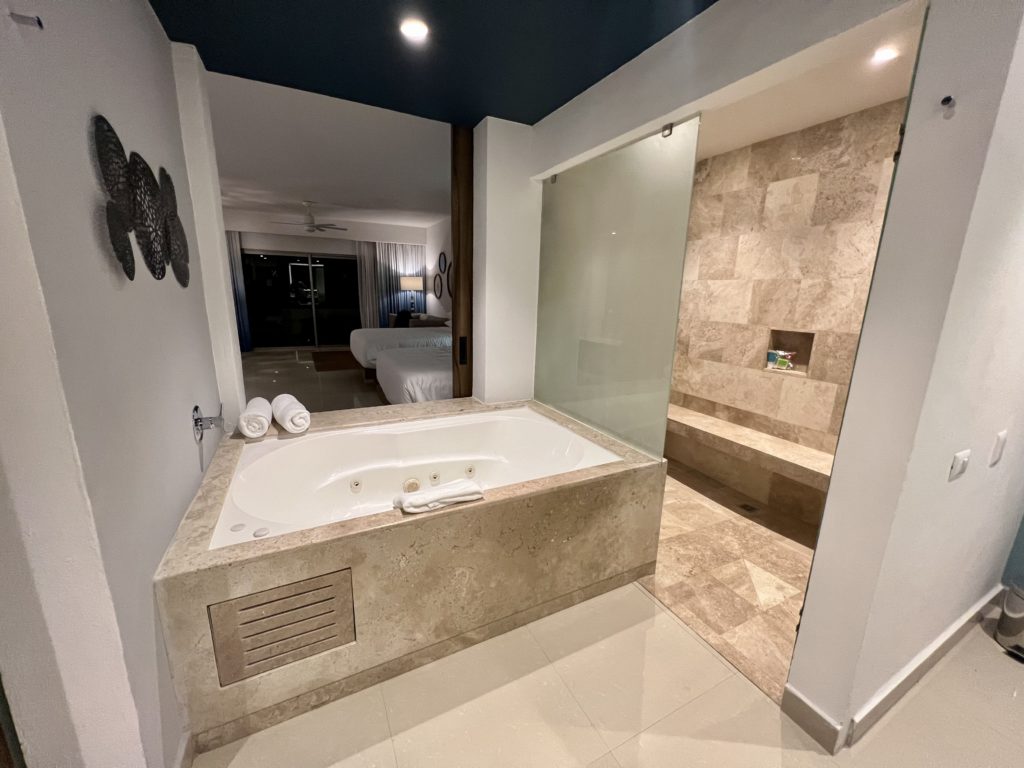 When you book a room at the Hyatt Ziva Riviera Cancún with World of Hyatt points, you will only be able to book a room with what the resort labels as a "Water Park View." Thanks to my Hyatt Globalist status and the fact that the resort was only about 10% full, one of our rooms was upgraded to an ocean view.
And the view from the balcony was fantastic.
Even our other room, which was technically a water park view room, still had a great view. Yes, the water park (more on that later) was in view, but so was one of the many pools and the ocean.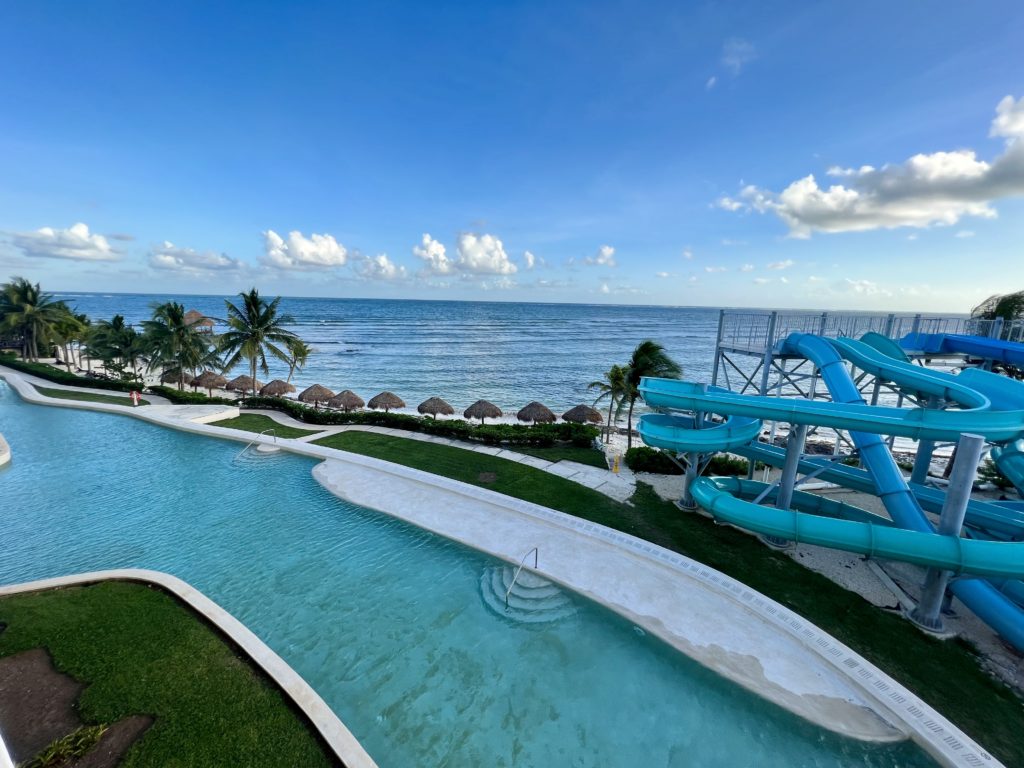 As for the balconies themselves, they were fantastic. All rooms at the property have a balcony. They have plenty of space and all of them come equipped with a cafe-style table and chairs as well as a couch. It was a great place to take in the sunset each night and have a drink before heading down for dinner.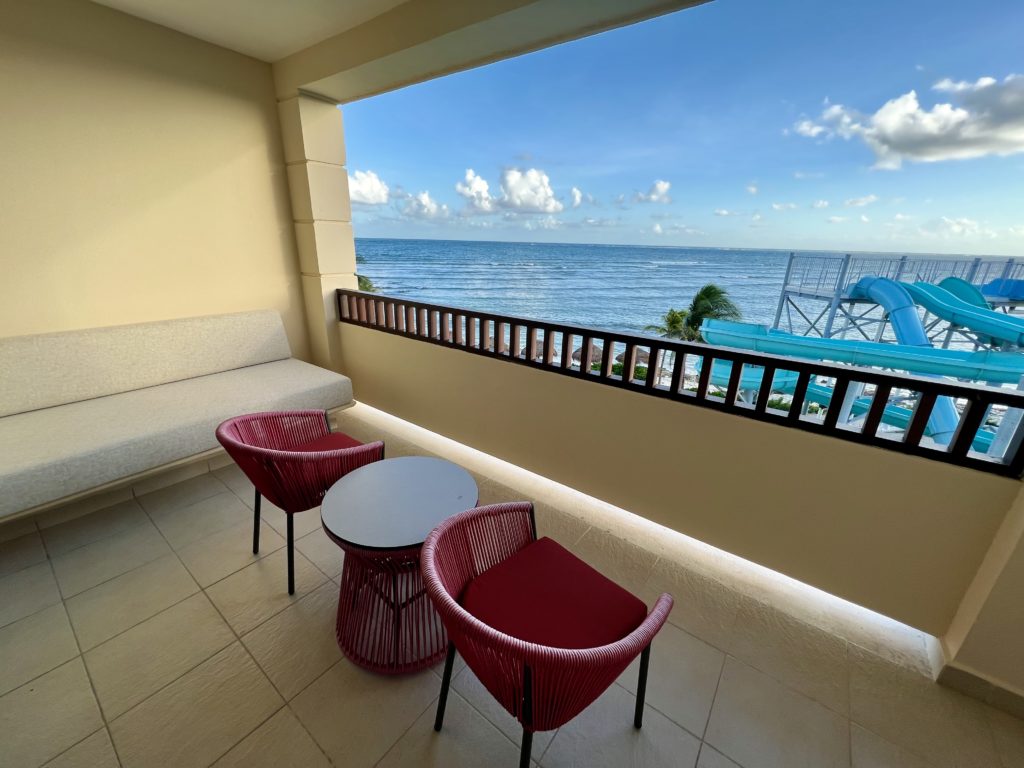 Some of the rooms are adjoining. This is a great feature if you are traveling with family and want a room that is connected.
Overall, our room was very nice, comfortable, and clean.
Hyatt Ziva Riviera Cancún Facilities & Amenities
The Hyatt Ziva Riviera Cancún has multiple pools, a water park, a spa (one of the few amenities not included as a part of your all-inclusive rate), a great fitness center, a Kidz club, and a few beachfront activities each day.
Ziva Riviera Cancún Pools
Throughout the resort, you will find a total of nine different pools. While that might sound excessive, all of them get sunlight (and shade) at different times of the day, so you shouldn't have any problems finding either.
Most of the action takes place at the main pool. Here, you will also find poolside cabanas (which are available for an upcharge) and a swim-up bar.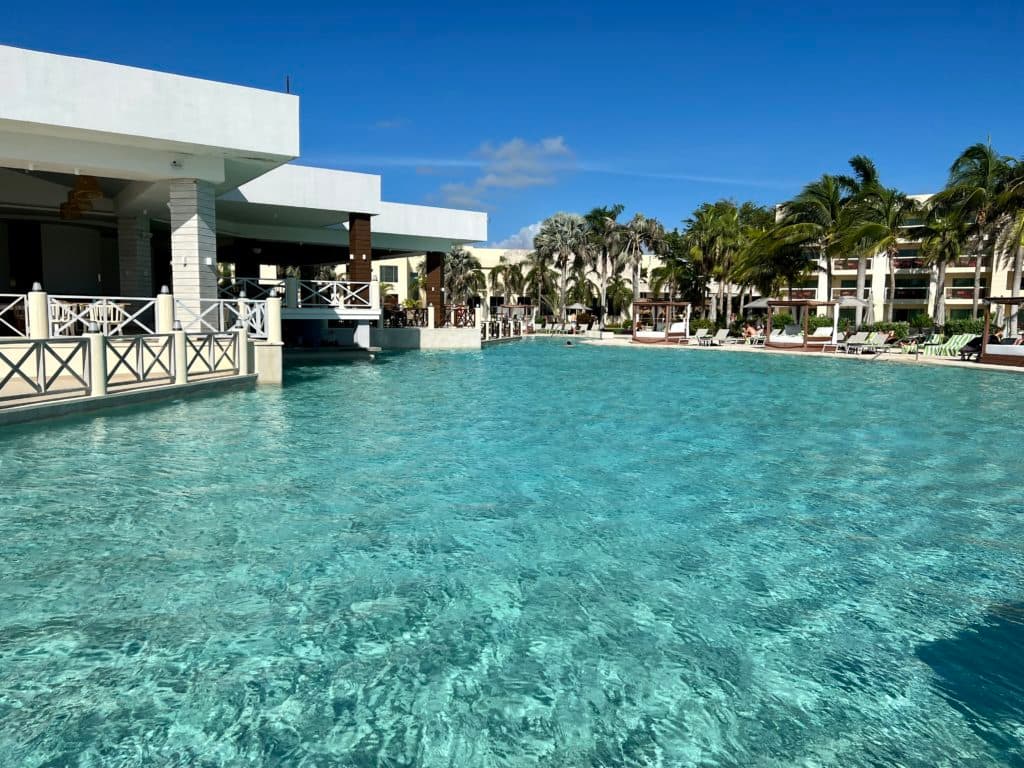 This is also where you will find the resort's entertainment staff. On the first morning of our stay, there was a spin class offered in the pool, as well as different games and activities for guests throughout our stay.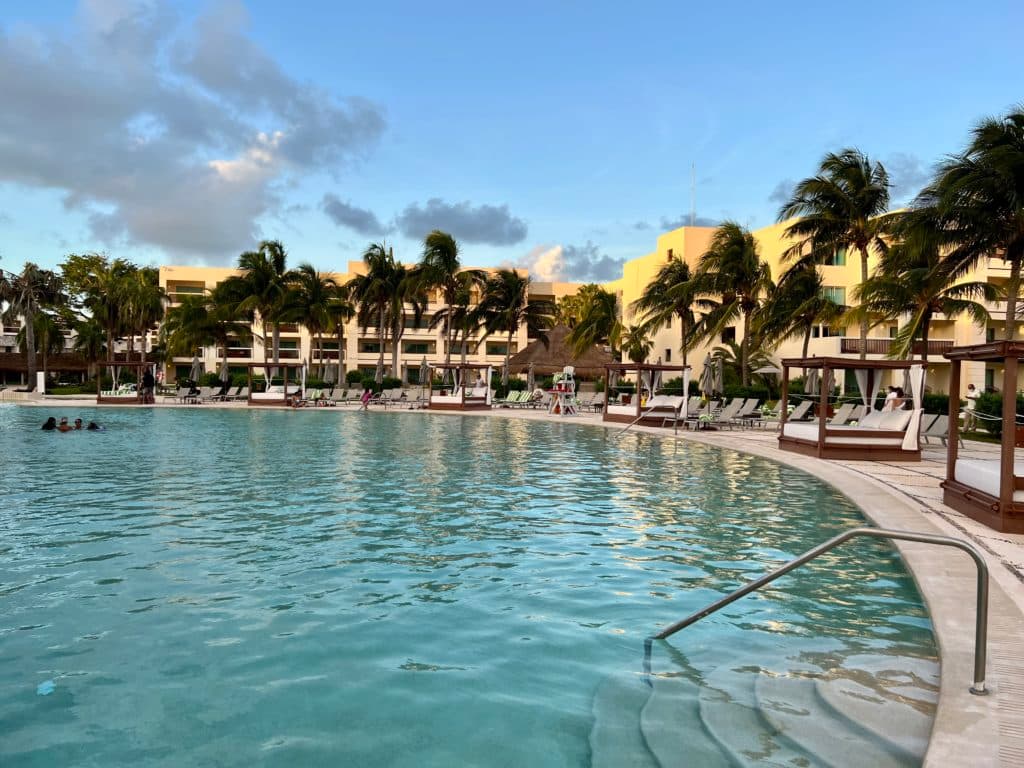 One thing you won't find is a hot tub. If that's your thing, the only place you'll be able to find one is in the Zen Spa. And you'll only be able to access it if you have purchased a treatment.
Ziva Riviera Cancún Water Park
Water park might be a bit of an aggressive name as it is really just two large waterslides, but it's there. And it's included in your all-inclusive rate.
We saw a few families using the facility during our stay, but I didn't check it out myself.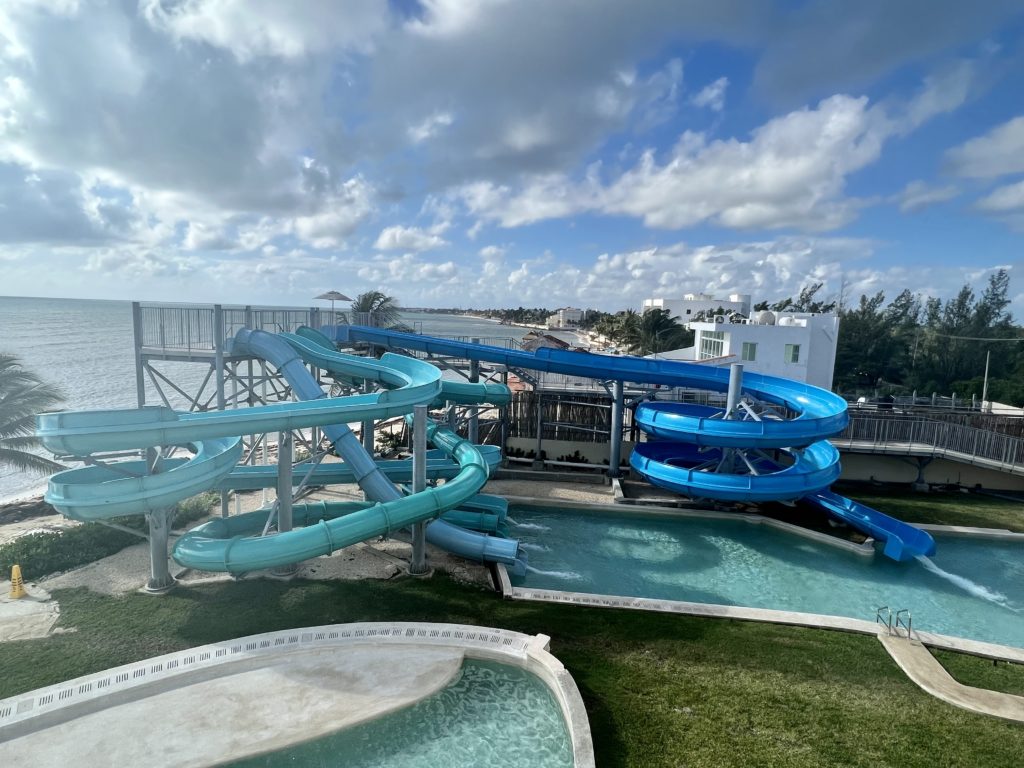 For younger guests, there was also a smaller water playground just off to the side of the main water park area.
The Ziva Riviera Cancún Zen Spa
While not included in the all-inclusive rates, the spa offers an onsite oasis for guests of Ziva Riviera Cancún.
The brand new two-story spa offers a variety of treatments, a hydrotherapy pool, sauna, and a eucalyptus steam room. As long as you book a spa treatment, you'll have access to these amenities after your massage.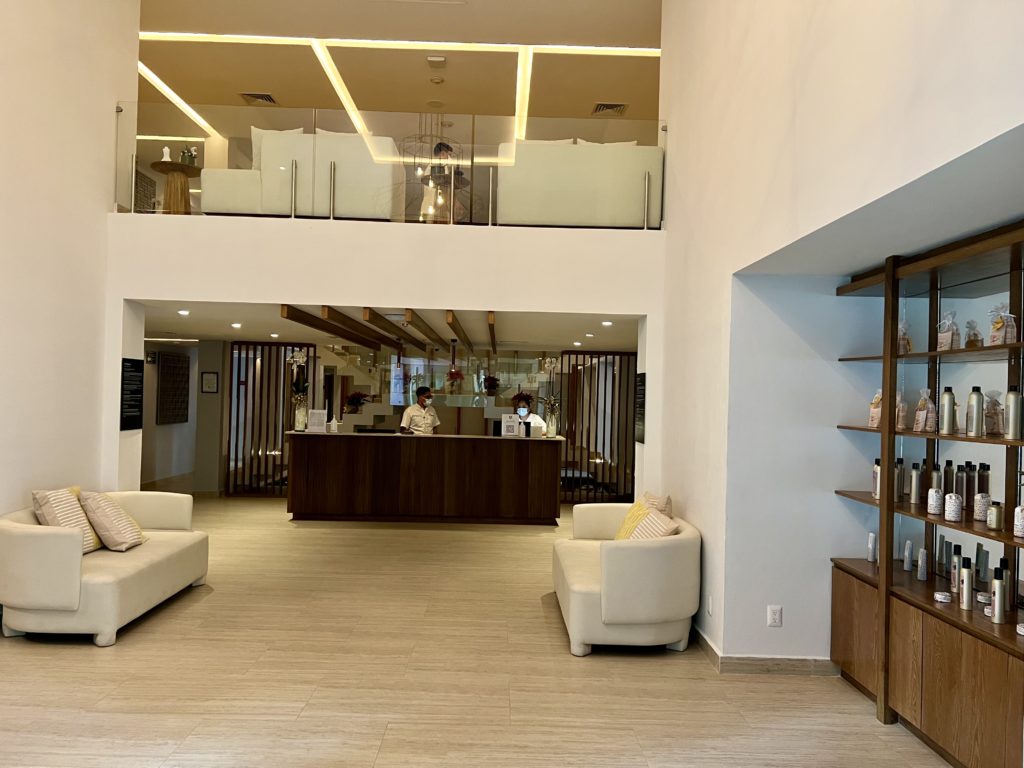 The spa prices were reasonable compared to what you can expect to pay for a massage at a resort. Services range from around $50 up to $250. I booked an 80-minute massage for around $200 (plus tip). I had a Chase Offer for 10% back at Hyatt Ziva and Zilara Resorts, so I billed this to my room and got $20 off.
The Fitness Center
While working out might not be at the top of your mind for a relaxing tropical vacation, the Hyatt Ziva Riviera Cancún does have the facility to make it happen.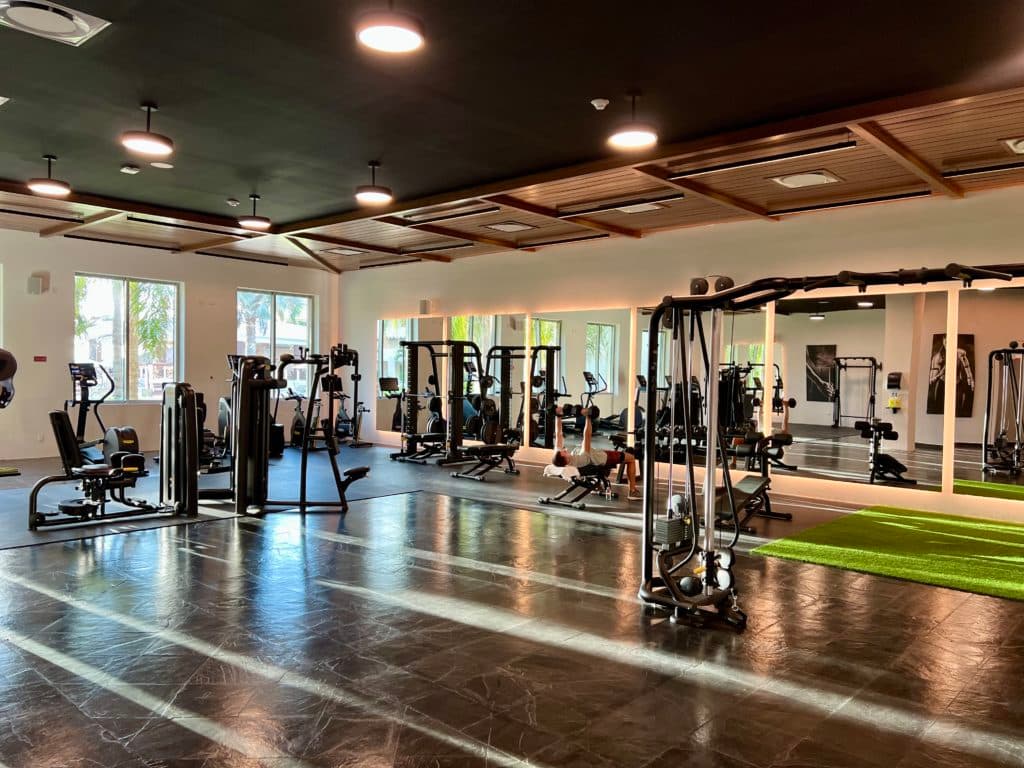 While it certainly isn't as impressive as the gym at the Hyatt Ziva and Zilara Cap Cana in the Dominican Republic, it's perfectly adequate. There is a full rack of dumbbells, a few cable machines, and a wall full of cardio equipment. All of the equipment also appeared to be brand new.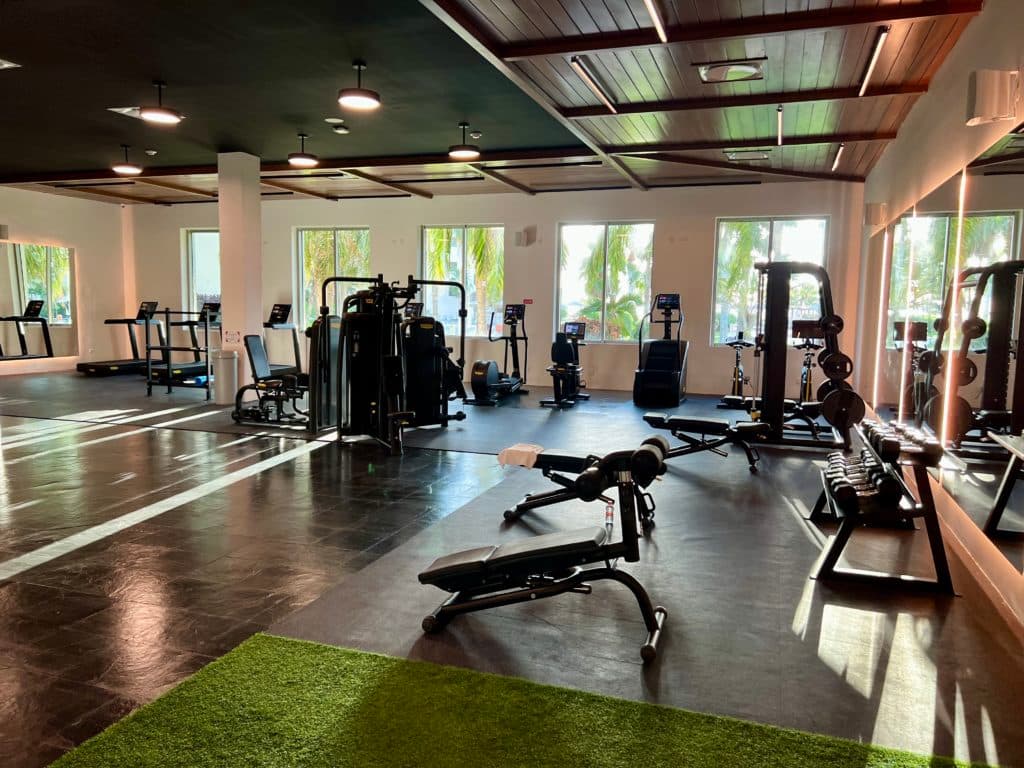 There were also daily yoga classes offered out on the beach and water aerobics available in the main pool.
Hyatt Ziva Riviera Cancún Kidz Club
As is typical at all of the family-friendly Hyatt Ziva resorts, the Ziva Riviera Cancún has a Kidz Club which offers supervised beach sports, arts and crafts, games, and other activities. The Kidz Club is free for kids ages 4-12.
We weren't traveling with any children on this trip, so we didn't use the Kidz Club during our stay.
Ziva Riviera Cancún Restaurants
There is all-inclusive food … and then there is Hyatt Ziva and Zilara all-inclusive food. In my opinion, that's what sets Hyatt's all-inclusive resorts apart from the pack.
I have stayed at other Hyatt Ziva and Zilara resorts throughout Mexico and the Cap Cana resort in Punta Cana, Dominican Republic, and I am continually impressed by the food. Consistently, it's far above average – and much better than the food I have had at any other all-inclusive resort.
All said, there are nine restaurants, a full buffet, four bars, and a coffee and ice cream shop on-site at the Hyatt Ziva Riviera Cancun. There really is something for everyone.
Due to the occupancy at the resort, not all of the restaurants were open each night. The main buffet – called Afthonia – and one of the restaurants were open for lunch and dinner each night. Because we were at the property from a Friday to a Monday afternoon, there were a few restaurants we weren't able to try during our stay.
Afthonia
Afthonia is the main buffet at the property, which serves classic breakfast, lunch, and fresh Mediterranean cuisine for dinner. It's open each day for breakfast from 7 a.m. to 11:30 am. It opens for lunch from 1 p.m. until 4 p.m., and then again for dinner from 6 p.m. until 11 p.m..
We only ate breakfast here and found it to be a solid spot with tons of different options.
The dress code is listed as dry casual for breakfast and lunch. Leave your wet swimming suit in the room.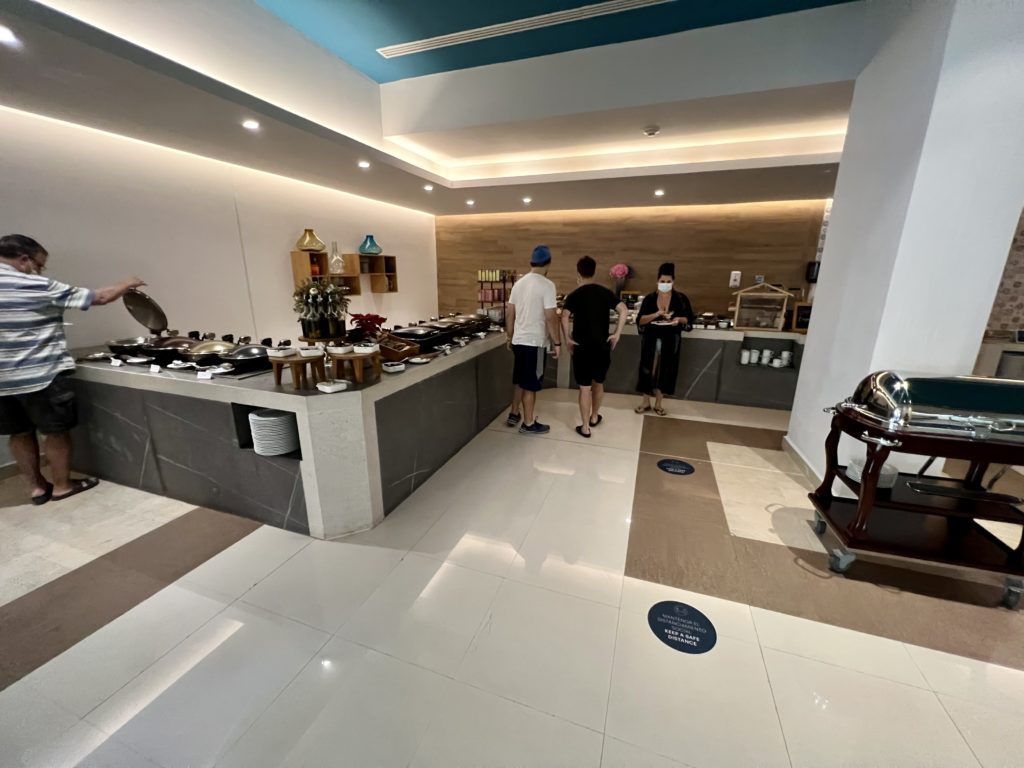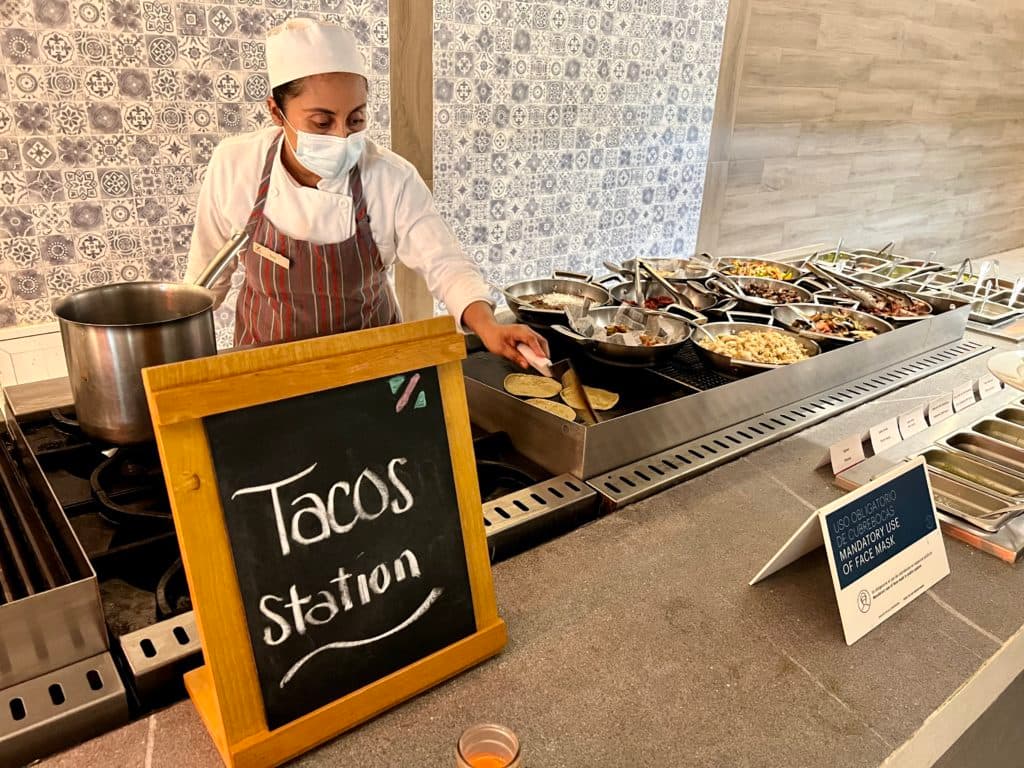 While we were eating breakfast, a mimosa and bloody mary bar cart was making rounds. Twist my arm.
Miyako
Miyako is the Asian restaurant at the property which has a number of Thai, Chinese, and Japanese dishes. It also has a full Teppanyaki grill, which we didn't try. It was open for dinner one of the nights of our stay. And it was honestly one of my favorite meals of our trip.
When it's open, it operates from 6 p.m. to 11 p.m., and the dress code is listed as casual formal. We all wore jeans and a t-shirt and had no issues getting in. We started our meal with some egg rolls and a few different sushi rolls to share. Both were excellent.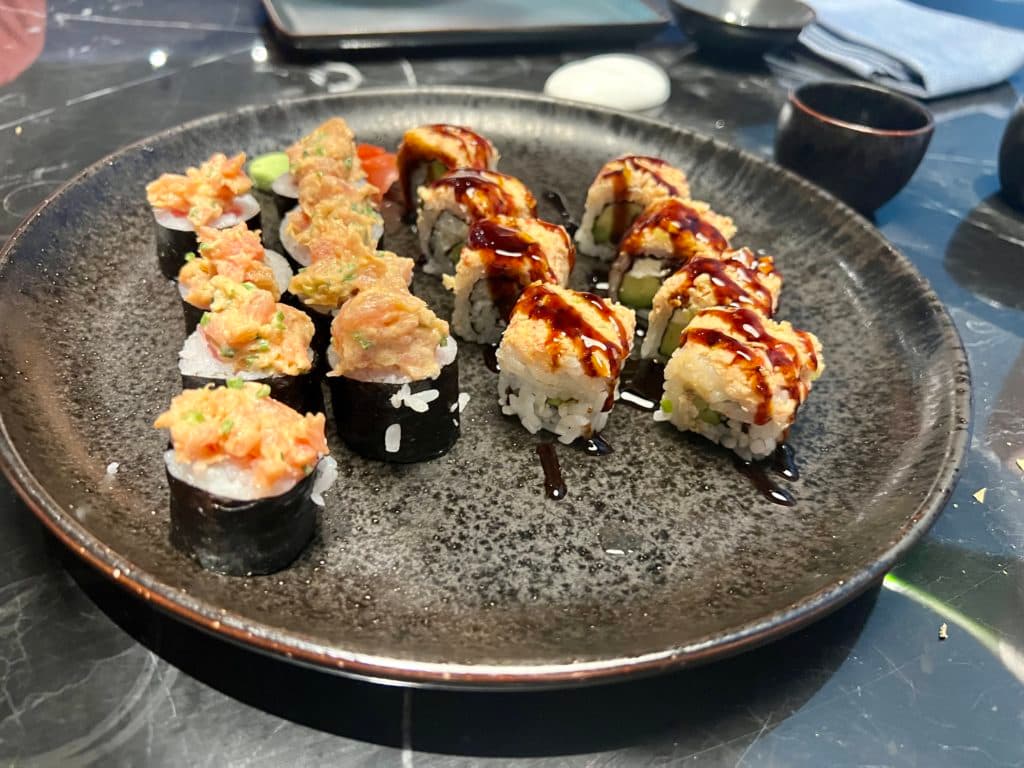 Then it was onto a few plates of fresh tuna, salmon, and sea bass nigiri, all of which were fresh and tasty.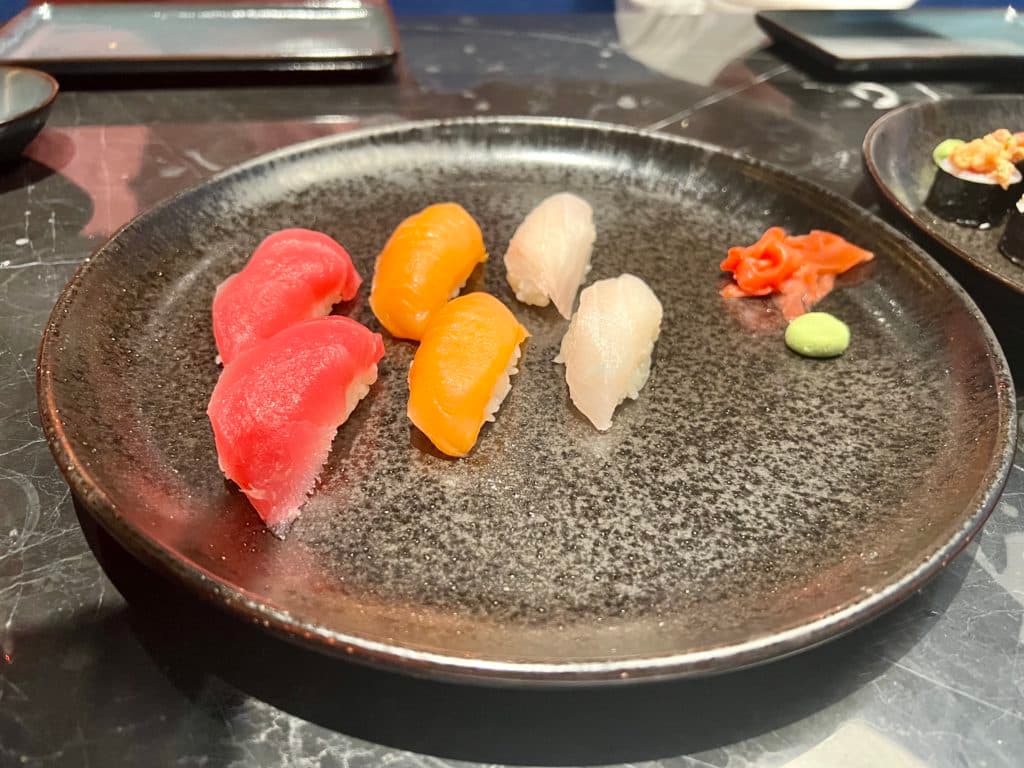 The main event was a fried rice dish containing beef, chicken, and shrimp. While it was a little salty, it was delicious.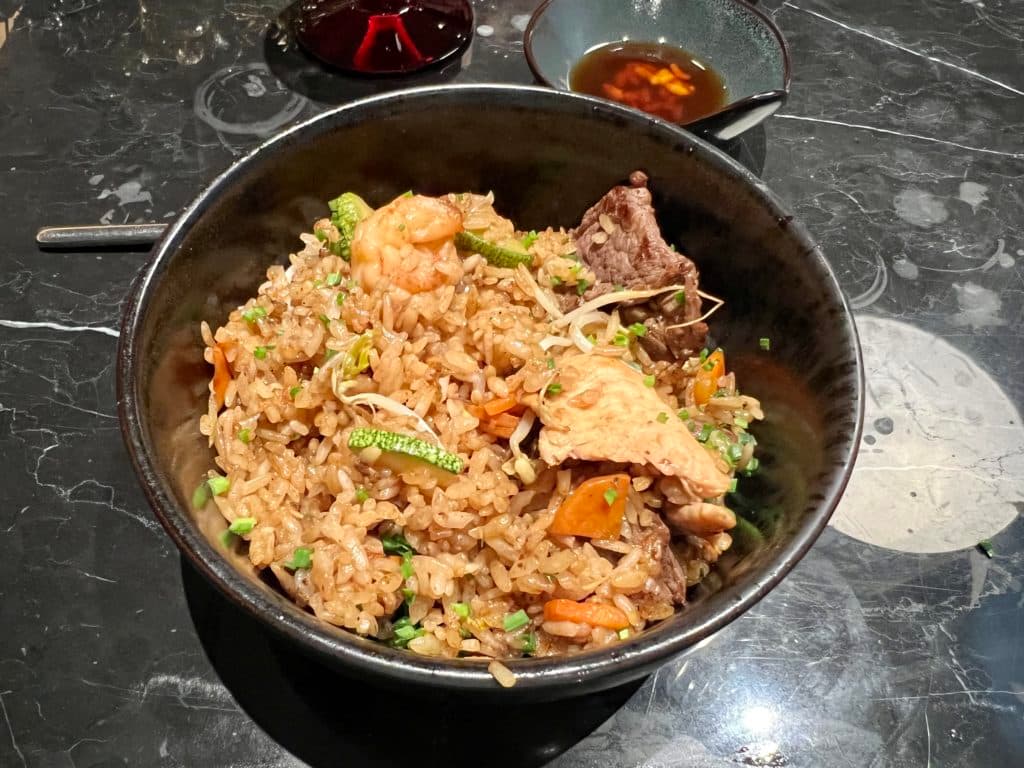 They have a number of curries, ramen, and stir fry dishes which all looked delicious as well.
Habaneros
Habaneros was my favorite restaurant during our stay. It's usually open for lunch each day from 11 a.m. to 5 p.m. – but it was only open for two of the days of our stay.
The restaurant is right on the beach and has a menu full of delicious ceviches and tacos, as well as a full cocktail list with tasty drinks.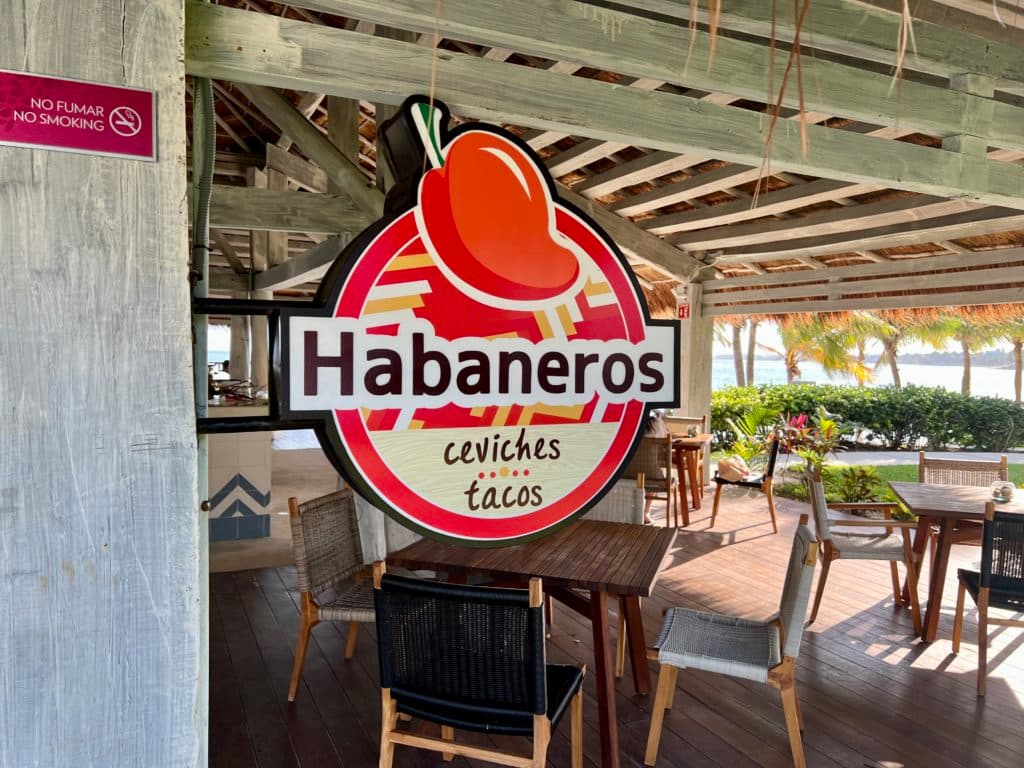 The classic ceviche was my favorite ceviche on the list.

And the shrimp tacos (which are available on either corn or flour tortillas) were also very tasty.

On top of the ceviches and tacos, they had a list of cold tostadas that were also very good.
Balik
Balik is described as an alfresco restaurant serving up fresh seafood with Caribbean-infused flair.
It's located just above the main pool. It's open from 11:30 a.m. until 5 p.m. and again for dinner from 6. p.m. until 10 p.m. Like most other restaurants on the property, they require you to have dry swimsuits to enter. We ate here for lunch on one of the days of our visit.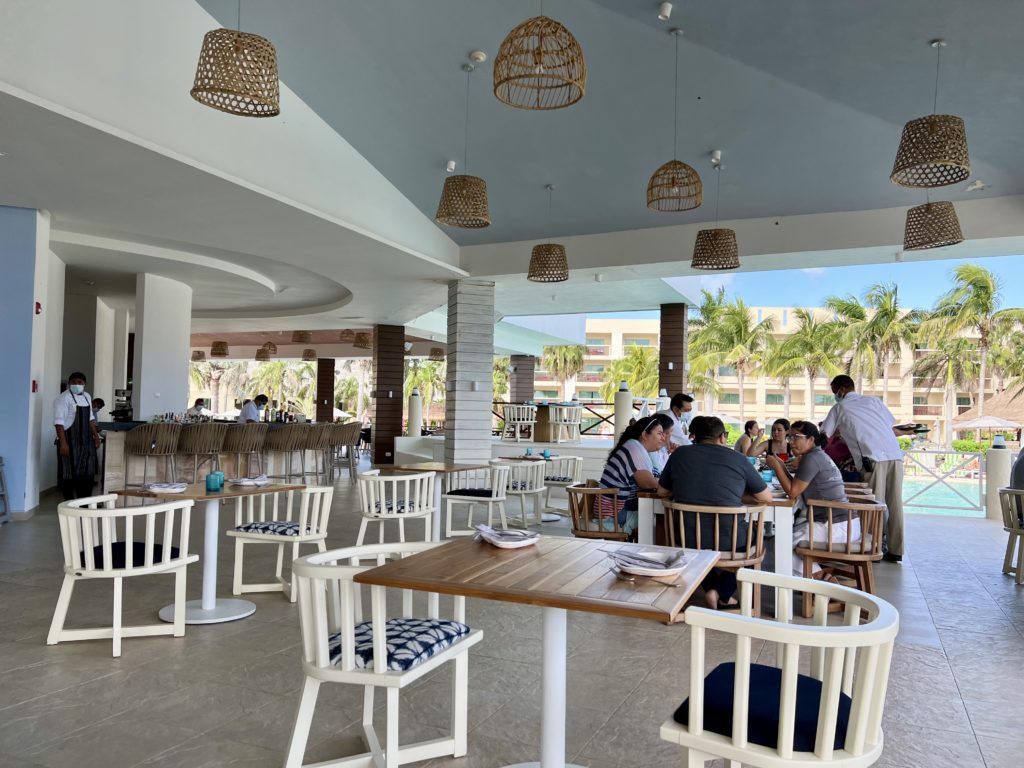 First, we started with some delicious smoked marlin tacos.

Next was a fancy tuna tartar –  again, delicious.

Finally, we had some seared tuna that was fantastic.

Rue De Rivoli
Rue De Rivoli, is the French restaurant at the resort and also the only restaurant that is designated as adults-only. However, during our stay they only had one restaurant plus the buffet open each night, so I don't think this was being enforced. We noticed a few families with kids eating while we were there.
The dress code is a bit more formal: We were told that shorts were not allowed.
The food was great, but unfortunately, I forgot to take photos before we devoured our meals. We ordered a bunch of smaller plates and a few desserts. No complaints whatsoever.
La Parrilla
La Parrilla is in the same space as Balik described above and is described as an outdoor restaurant serving up beautiful cuts of meat and vegetables. We ate here on our first night at the Ziva Riviera Cancún and it was the only meal that was a dud.
Two of us ordered the New York Strip and the other two ordered the chicken breast fillet. The New York Strips were tough and just generally not very good. The same was true of the chicken breast.
Vivace
Vivace is the Italian restaurant at the property. However, during our short stay, it wasn't open for dinner so we never got to try it out.
Ki
We also missed out on Ki, a traditional Mexican restaurant with a modern twist. It didn't open for dinner until the day we left, so we never got to check it out.
As the resort gets closer to capacity, I am sure they will have more than one restaurant open each night.
Roots
Roots is a great spot with a menu of healthy foods and juices. We had breakfast here on our last day.
I had a glass of fresh juice and an acai bowl. Both were fantastic.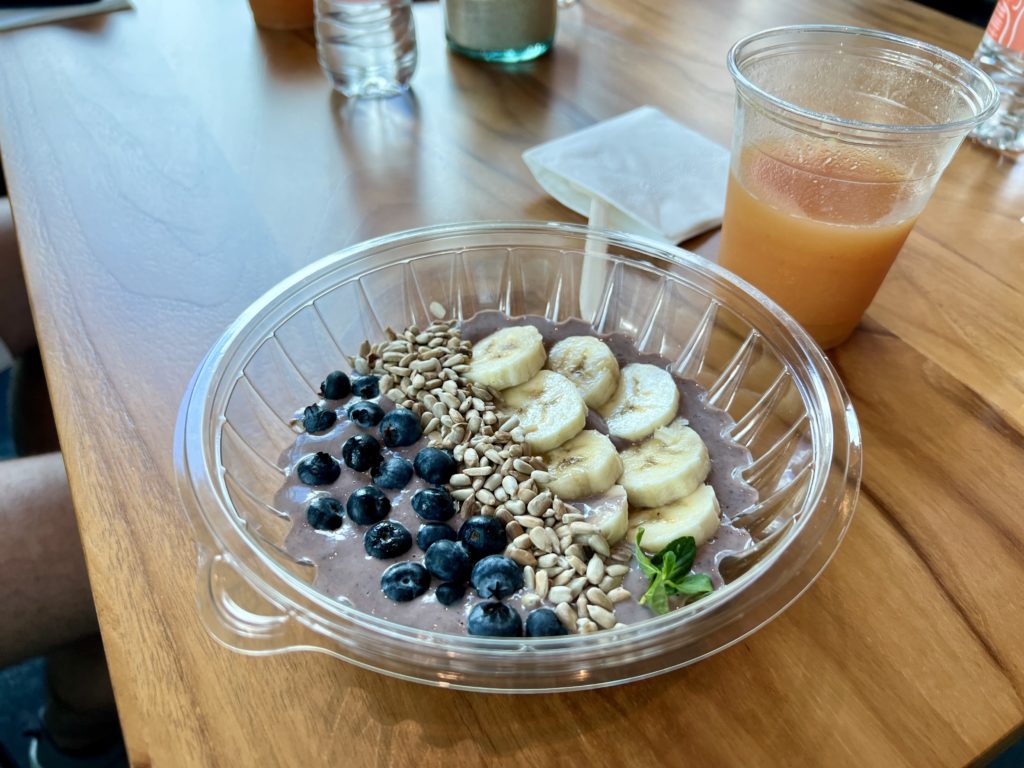 The Corner
The corner is located in the main pool area and serves up classics like pizzas, burgers, hot dogs, and more. We ordered a few pizzas poolside on two different occasions and on both days they were excellent.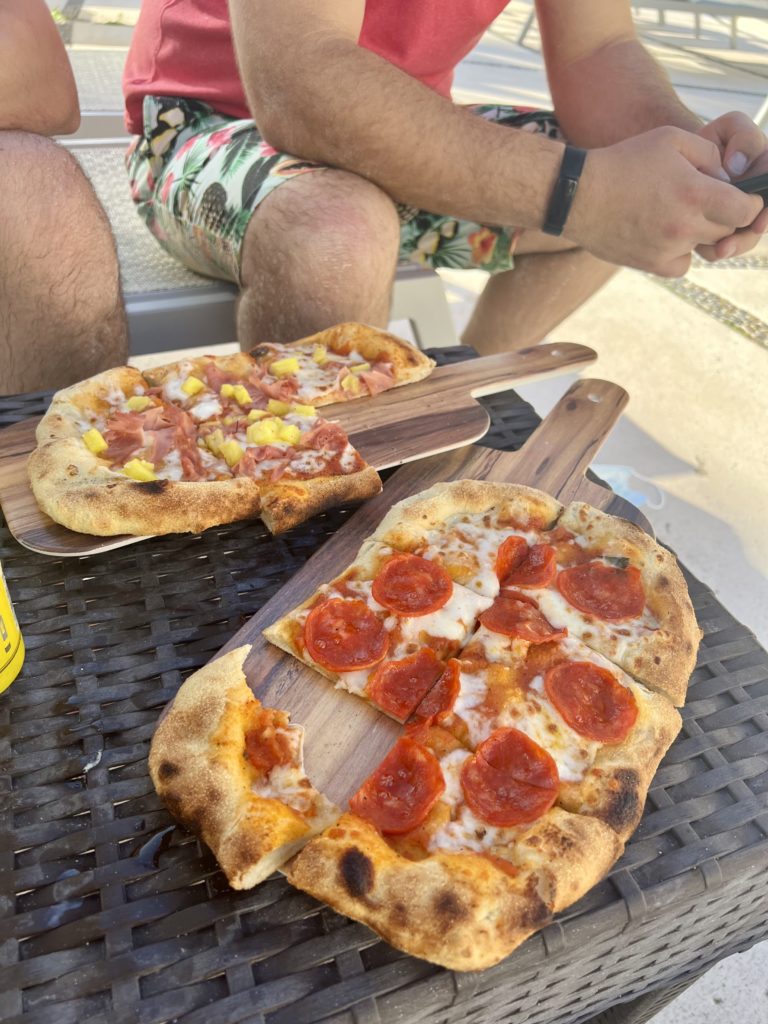 Casa del Café
Casa del Café is the coffee shop on the resort and opens each day at 6 a.m. You'll find all your favorite hot and iced coffee shop classics as well as croissants, muffins, and a handful of other pastries.
Try the almond croissant. You won't be disappointed.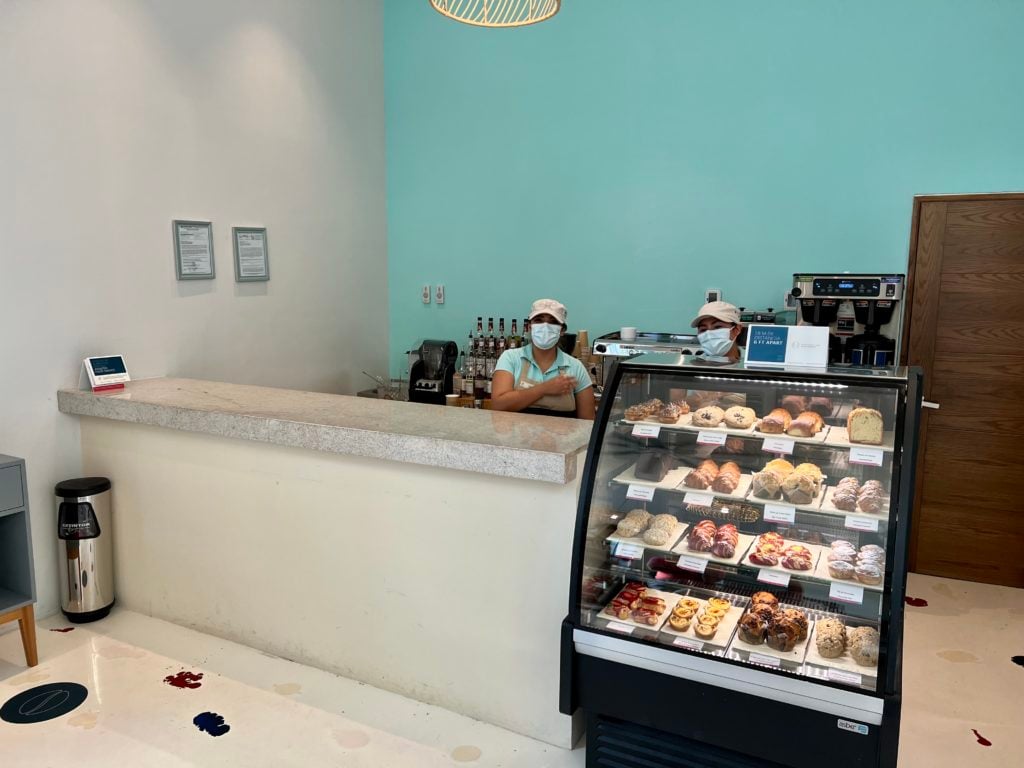 Directly opposite the coffee bar, you'll find the gelato bar. Sadly, I didn't try out the gelato during our stay.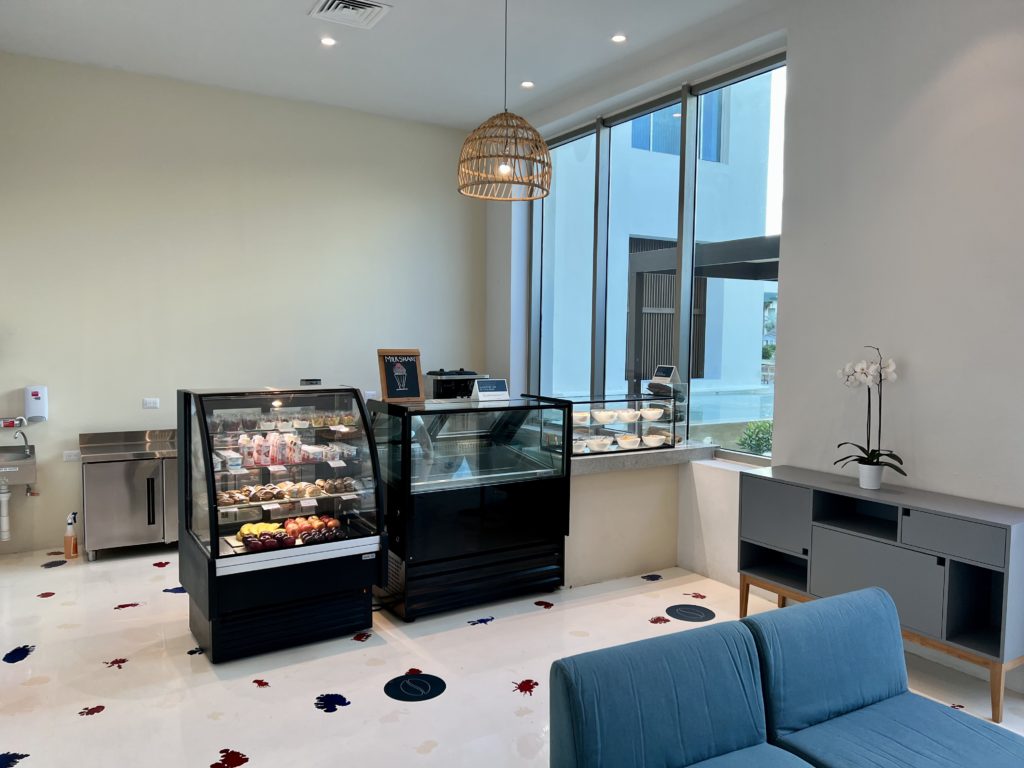 Ziva Riviera Cancún Bars
Breeze
Breeze is the main outdoor bar and hands down our favorite bar at the property. It was a great spot to enjoy a cocktail before heading to dinner, and most nights we ended up back here after dinner as well.
The bartenders were wonderful and really provided a fun atmosphere.
If you are a fan of mezcal, you have to try the Coyotl on the Breeze cocktail list. It was my favorite drink I had at the resort during our stay: think spicy margarita with a modern twist.
Infusions
Infusions is the main indoor lobby bar not far from the Breeze outdoor bar. You'll find a similar setup to Breeze, only indoors. We didn't spend really any time here as it was beautiful at night and we opted for the Breeze bar.
Off Court
Last but not least, Off Court was the sports bar on the resort. Inside, you'll find numerous TVs, a foosball table and all the sports bar fare you would find in the U.S.
It was a great spot to catch a few football games on the Sunday of our stay.

Hyatt Ziva Riviera Cancun Beach
If there is a negative of the Hyatt Ziva Riviera Cancún, it's the beach.
If you spend most of your time at resorts on the beach as opposed to the pool, this may not be the best fit for you. You may want to opt for the Ziva or Zilara Cancún, located in the hotel zone instead.
By no means is the beach bad. It's just rather small and there is a lot of seaweed on both the shore and in the water.

If you have stayed at some of the other Hyatt Ziva and Zilara properties, the beachfront at the Hyatt Ziva Riviera Cancún may leave something to be desired.



Ziva Riviera Cancún Service
I cannot say enough good things about the service at the Hyatt Ziva Riviera Cancún.
Each and every employee we interacted with was genuine and warm. They were happy to welcome us and even thankful that we ventured down to the resort. We felt very well taken care of in all aspects of our stay. Service at each and every restaurant and bar we visited was exceptional and we were all impressed.
When we were enjoying a drink in the pool or at the beach, the servers did their best to not let our glasses get empty – always remembering what we were drinking, to boot.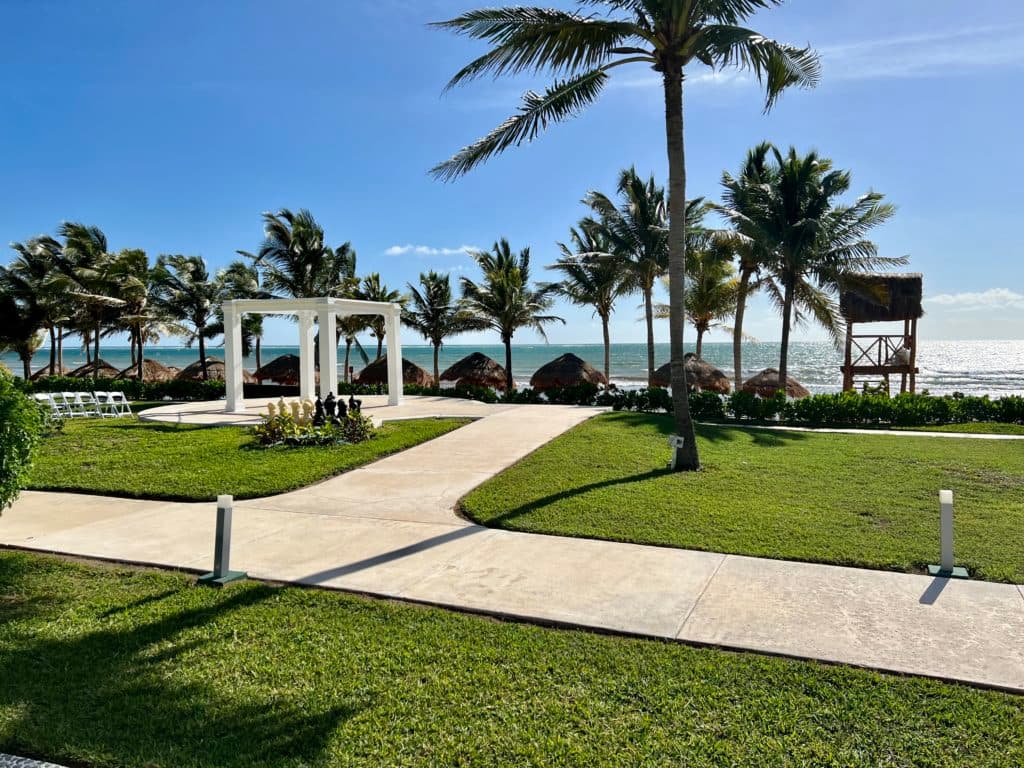 Additionally, one afternoon, one member of our group dove for a ball during a beach volleyball game and got a pretty gnarly cut from a piece of coral on his knee. It was evident pretty quickly that he was going to need stitches.
We couldn't have been more impressed with the medical team at the resort. The lifeguards assessed the situation quickly and then brought him to the doctor's office where he was stitched up. The onsite doctor had him stiched up within an hour or so, and what could have been a much more serious ordeal was handled smoothly and efficiently.
COVID Testing to Return to the U.S.
The U.S. threw a major wrench in international travel earlier this month by requiring all passengers flying to the U.S. to present a negative COVID-19 test no more than one day before departure. And yes, that includes fully vaccinated Americans heading home from abroad.
The Ziva Riviera Cancun made this pretty easy and painless. We were given a slip of paper informing us to head to room 4104 on Sunday – the day before our return flight home. On that day, we headed to the testing room, went over some quick paperwork, and got a test right onsite.
Once we were done with our testing, we were told that the results would be sent via email by Monday morning, the day we were leaving Mexico. Sure enough, we all received our results as we were having dinner that night. And thankfully, everybody was negative which was our ticket to get back to the United States.
Overall, the process was well organized and pretty painless.
How to Earn World of Hyatt Points
Don't worry about earning Hyatt points to cover your all-inclusive stay. You don't need to be a road warrior to rack up enough points for the Ziva and Zilara properties.
There are a few different credit cards that make earning Hyatt points relatively simple and straightforward. The first is obvious: the World of Hyatt Credit Card. Just for opening the card and spending $3,000 in the first three months of card membership, you will receive 30,000 World of Hyatt points. You'll also earn 2x points per dollar spent on up to $15,000 of spending in the first 6 months of card membership. That's 60,000 points total – enough for two free nights at any of the Zilara and Ziva properties, including the Hyatt Ziva Riviera Cancún.
The card has a $95 annual fee which is not waived for the first year of card membership. But starting in year two, it offers an annual free night certificate to be used at any Hyatt category 1-4 property. Unfortunately, none of the Ziva and Zilara hotels are eligible for the free night certificate. Still, it's reason enough to justify the annual fee.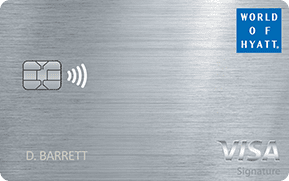 Click Here to learn more about the World of Hyatt Credit Card.
But you can also earn Hyatt points by transferring Chase Ultimate Rewards points to your Hyatt account. Because Hyatt is one of the airline and hotel transfer partners of Chase's Ultimate Rewards program, you can transfer Ultimate Rewards points into your World of Hyatt account at a 1:1 ratio – 1,000 Chase points gets you 1,000 Hyatt points.
And if you don't have Chase Ultimate Rewards points, they can be earned from a number of personal and business credit cards. Our favorite option: The Chase Sapphire Preferred® Card, which is currently offering a welcome offer bonus of 60,000 points after spending $4,000 in the first three months of card membership. That's enough for another two free nights at the Hyatt Ziva Riviera Cancún resort, with some points left over.
This card also has an annual fee of $95 which is not waived in the first year of card membership. However, the welcome offer bonus alone is worth at least $750, and oftentimes much more. If you book two to three nights at one of these Hyatt all-inclusive properties, you could easily get more than $750 out of these points.
Read More: How to Book Hyatt's Incredible All-Inclusive Resorts for Free with Points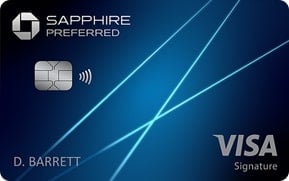 Click Here to learn more about the Chase Sapphire Preferred Card. 
Bottom Line
Simply put, the Hyatt Ziva Riviera Cancún is a great resort and much more relaxed than what you will find in the Cancún hotel zone. It has a little something for everybody and I can't wait to return.
Best of all, it's a truly excellent use of points and miles to book your all-inclusive stay for free.