Back in May, Hyatt Hotels announced their plans to add yet another Ziva all-inclusive resort south of Cancún, with plans to open Sept. 1, 2021.
Reservations opened a while back, but it hasn't been possible to book a stay at this upcoming property with World of Hyatt points. And booking these all-inclusive stays with points is a bargain, as it costs just 20,000 to 25,000 points per night, depending on where you're staying.
But that's changed. As of this week, the new property is now bookable starting at just 25,000 World of Hyatt points each night. It's an incredible deal, and one of the best you'll find for an all-inclusive resort in either Mexico or the Caribbean.
Read on for everything you need to know about this exciting new property from Hyatt.
What to Know About the New Hyatt Hotel in Cancun, Mexico
The Hyatt Ziva Riviera Cancun will be Hyatt's third all-inclusive resort in the area after the Hyatt Ziva Cancun and the adults-only Hyatt Zilara Cancun. However, just recently, Hyatt has yet another new all-inclusive resort coming to the area – the Hyatt Zilara Riviera Maya which will likely open sometime next year.
The new Hyatt Ziva Riviera Cancun property will likely be the preferred choice for family travelers because it is situated outside the busy Hotel Zone.
And the property will have 438 rooms, situated between Playa del Carmen and the famous Cancun Hotel Zone. This resort will be closer to Puerto Morelos, approximately 20 to 30 minutes from Cancun International Airport (CUN).
Hyatt is taking over the site of the former Secrets Silversands Riviera Maya. This means the property is a rebrand of an existing hotel and not a brand-new property like the new Hyatt Ziva and Zilara Cap Cana in the Dominican Republic.
The Hyatt Ziva Riviera Cancun will offer a variety of amenities including several restaurants, multiple swimming pools, the Zen Spa inspired by pre-Hispanic Mayan culture with 12 indoor and eight outdoor treatment rooms, a fitness center with state-of-the-art amenities, and ocean views of the Caribbean Sea and the lagoon of Bahia Petempich.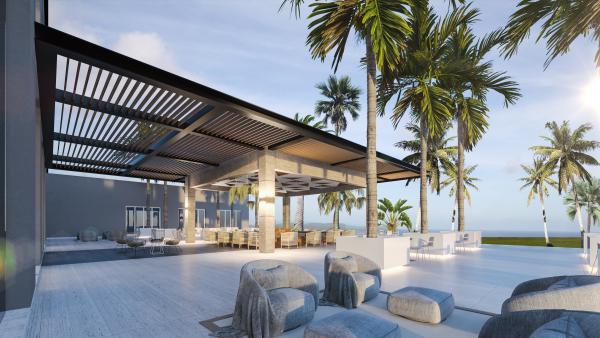 Additionally, the property will offer more than 15,000 square feet of meeting and event space ideal for weddings, anniversary celebrations, and a variety of gatherings.
Where are the Other Hyatt Ziva & Zilara Resorts Located?
The Ziva & Zilara Hyatt all-inclusive resorts are scattered throughout Mexico and the Caribbean. See below for a breakdown of the locations.
Mexico:
The Caribbean:
What is it Like Staying at a with Hyatt Ziva and Zilara Resort?
When it comes to all-inclusive resorts, Hyatt just does things differently. In our experience, the on-site restaurants offer quality food and drinks (not typical at many all-inclusive properties), the facilities are always clean and the staff goes above and beyond to make your stay more enjoyable.
If you are booking your stay with points, it is very possible to spend less money on your vacation than you might at home. That's because everything is included. 20,000 or 25,000 World of Hyatt points each night covers your lodging, meals, drinks, and many other activities on the property.
We recently visited the new Hyatt Ziva and Zilara Cap Cana in the Dominican Republic and put together a video of the experience. And make sure to read our full review of the Hyatt Ziva & Zilara Cap Cana.
How to Book the Hyatt Cancun Ziva Riviera
The main reason we love these properties is that they are some of the best all-inclusive resorts in the world that you can book with points. Not only is it possible to book them with points, but it's also an incredible value.
As of this week, stays at the property can be booked starting at 25,000 points each night for a standard room.
Looking for a bit more luxury? You can book either a rooftop ocean-view suite or an oceanfront suite for 40,000 World of Hyatt points each night.
One thing to note: Hyatt will be introducing a new peak and off-peak award chart in October of this year. Once this new award chart makes its debut, you will start to see the new pricing for stays starting in March 2022. That means it could cost more (or fewer) points for your stay, depending on when you go.
The Hyatt Ziva Riviera Cancun is considered a category 2 all-inclusive resort. That means the standard rate for a standard room will be 25,000 points each night. During off-peak times, that rate can drop to 21,000 points each night. During peak times, you can expect to pay a bit more at 29,000 points each night.
Hyatt Ziva Cancun Rates: All-Inclusive Standard Room vs. All Inclusive Standard Suite

Paying cash? You can expect to pay between $200 to $500 a night depending on the time of year and potentially other factors. That's generally the pricing you will find at the existing Hyatt Ziva and Zilara properties.
Read More: How to Book Hyatt all-inclusive resorts with points
Ready to Starting Planning Your Trip to Cancun?
Hyatt will be opening the new Ziva Riviera Cancun all-inclusive resort in September 2021. And as of this week, it can now be booked with World of Hyatt points.
It's exciting to see Hyatt continue to grow their all-inclusive footprint throughout Mexico and the Caribbean. They are some of the only all-inclusive resorts you can currently book with points and they are an incredible value.
You can visit Hyatt's new website for the property here.