Capital One has officially launched its portfolio of top-rated hotels called the Premier Collection, hoping to coax cardholders with the Capital One Venture X Rewards Credit Card to book with perks like on-property dining credits, complimentary upgrades, and free daily breakfast.
The bank first unveiled its plans for its own collection of luxury hotels last fall, aiming to launch by the end of 2022. By early Wednesday morning, the Premier Collection is finally up and running, as first noticed by Doctor of Credit.
Just log into your account and head for the Capital One travel portal, where you'll now see the option to search for Premier Collection properties in addition to flights, hotels, and rental cars. Sorry, travelers with the standard Capital One Venture Rewards Credit Card – only those with the souped-up Venture X Card get access.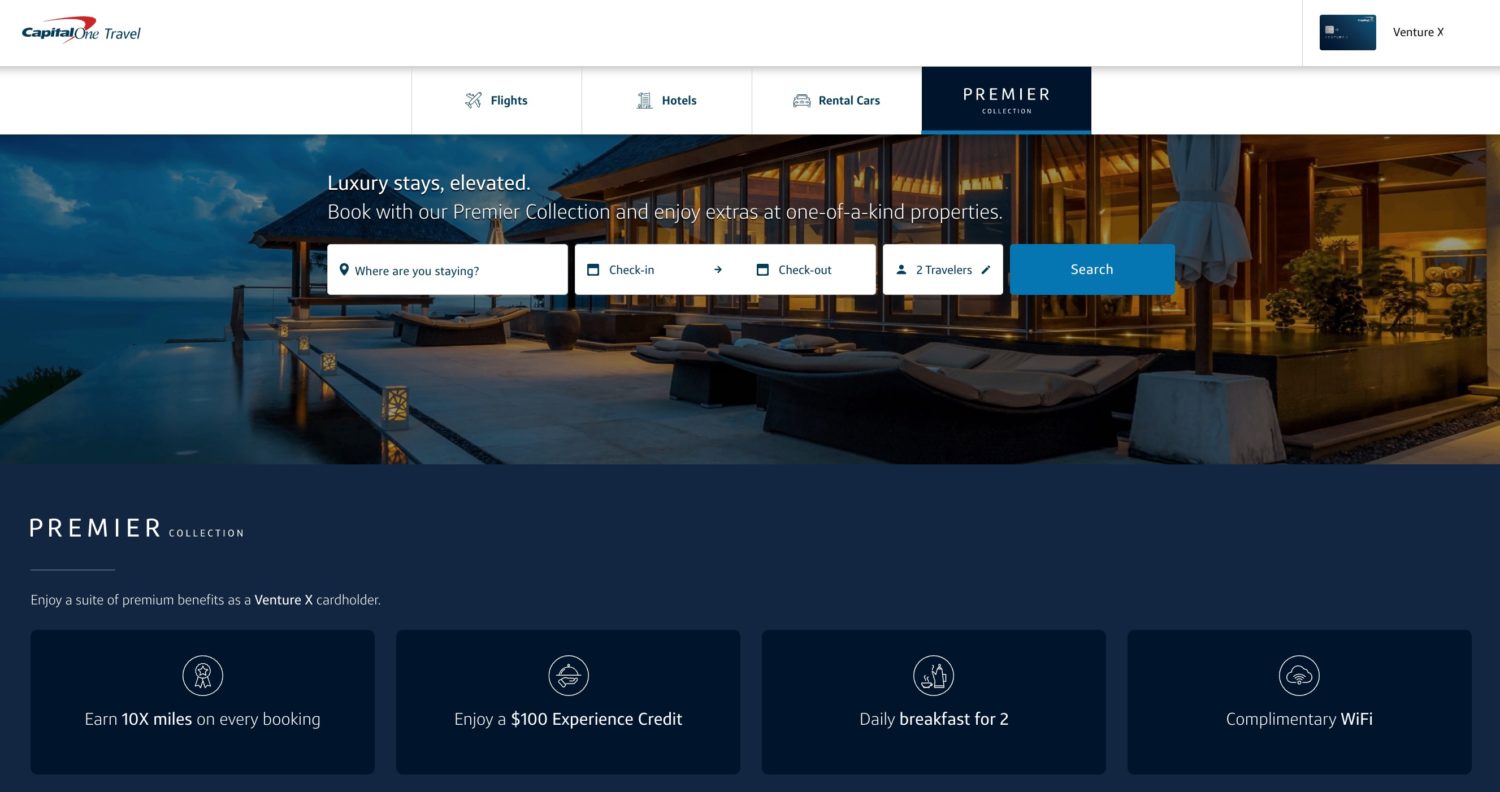 It's not just glamorous hotels and resorts that Capital One hopes will draw travelers in, either. Every Premier Collection booking unlocks a handful of additional perks that match (or exceed) the top levels of hotel status, including:
Free breakfast for two every morning
A $100 credit for dining, the spa, or other experiences on the property
Free Wi-Fi during your stay
Room upgrades, early check-in, and late check-out when available
Earn 10x Venture Miles per dollar on every booking
You can use your Venture X Card's $300 annual travel credit for these hotel bookings
In a statement to Thrifty Traveler, Capital One confirmed it had "soft launched" its Premier Collection portfolio on Wednesday.
Capital One isn't exactly reinventing the wheel here. It's a near-carbon copy of American Express's Fine Hotels + Resorts Program, giving travelers with The Platinum Card® from American Express elite-like perks on hotel bookings. Unlike American Express, Capital One isn't guaranteeing late checkout on Premier Collection reservations.
But Capital One also lags its competitor in one even more crucial respect: There just aren't many hotels and resorts available within the Premier Collection at launch.
Capital One has declined to put a number on it, saying only that there would be "hundreds" of properties at the start with plans to continue adding more and more. But for now, you won't find many options via the Premier Collection. Consider this:
Las Vegas is one of the most popular destinations within Amex's Fine Hotels + Resorts program (and a great way to use the Platinum Card's $200 hotel credit) … but there's currently not a single Las Vegas resort in the Premier Collection
There are five Premier Collection properties available in New York City compared to nearly 30 Amex Fine Hotels + Resorts (and another 20 Hotel Collection properties)
In Paris, Capital One has four properties you can book compared to more than 20 via Amex Fine Hotels + Resorts
Several destinations that initially show up in the search bar for the Premier Collection don't even have properties you can book yet including Austin, Playa Del Carmen, Santorini, and many more
These are higher-end properties so it's not a huge surprise, but we aren't seeing many locations bookable for less than $500 a night via Capital One
Of course, stacking Capital One up against American Express isn't exactly fair as this Premier Collection program is just getting off to the ground while Amex has been at it for years. But until Capital One builds out this portfolio, Venture X cardholders simply may not see what they're hoping to find.
"This is just the beginning – we look forward to growing the collection in a thoughtful way that opens the door to new experiences and destinations for our customers," the bank said in a statement.
This new luxury hotel portal comes a year after Capital One introduced the Capital One Venture X Rewards Credit Card, its first foray into the premium travel card market. And making things even more "premium" is the entire point: From credit card companies to airlines and hotel chains themselves, the travel industry is leaning hard into premium travel experiences and benefits as travel bounces back to a new normal.
Bottom Line
Capital One Venture X cardholders have a new way to book luxury hotels with some excellent, elite-like perks – plus put that annual $300 travel credit to use.
But until Capital One beefs up the number of properties available through this new Premier Collection, travelers may not have many hotels to pick from.