Today, we get to be the bearer of good news: The tide is turning and cheaper flights are on the horizon.
For several months, travelers have seen some sky-high airfare prices – a shocking turn after two-plus years of steep pandemic bargains. Cheap flights didn't disappear altogether … they just got much harder to find.
But we spend all day, every day searching combing through airfare to find deals to send to our Thrifty Traveler Premium members, and we've noticed a shift in the last few weeks: We're seeing flight prices drop, with lower prices and more deals promising cheaper airfare on the horizon. 
Sub-$200 domestic airfare – and in some cases, under $100 – has made a comeback recently. Plus, we're seeing more and more airports get in on the action with cheaper fares, making it much easier for travelers across the country to find cheap fares than it has been in months.
Here's a look at what we're seeing – and what it means for travel this fall and beyond.
Where are Flight Prices Going?
There's no doubt about it: The spring and summer brought some huge spikes in flight prices.
Data released by the U.S. Bureau of Labor Statistics' Consumer Price Index last month showed an 18.6% increase in airfare from March to April 2022 – the largest one-month jump in recorded history. Airfare is up 33% in 2022 when compared to this time last year. That means, on average, Americans were paying a third more for flights than they did a year ago.
Domestic flights were the hardest hit, where to your friend's bachelorette party in Scottsdale, your cousin's wedding in Montana, or to your family reunion in Kansas City could easily clock in at $500 or more roundtrip.

Read more: Why Are Flights So Expensive Right Now?
It wasn't just you seeing these prices. Data from online travel agency Hopper showed record-high domestic airfare this summer climbing into the Fourth of July weekend. Airfare for that weekend peaked at $437 per roundtrip domestic fare – 45% higher than the same weekend in 2019.
But those big-picture numbers never told the full picture: Cheap flights didn't disappear altogether. From $222 flights to Lima (LIM) to $591 roundtrip fares from Minneapolis-St. Paul (MSP) all the way to Cape Town (CPT) in south Africa, there were still incredible deals internationally.
And now, we're increasingly seeing signs that the peak in airfare is past us.
The latest federal inflation report showed average airfare actually dropped by 1.8% from May into June. Hopper's data team also says airfare peaked in May and actually started to fall a little bit last month under $400 on average for a domestic, roundtrip ticket.
So what's going on now? And what does it mean for your next getaway?
Why is This Shift Happening?
Short answer: The peak summer travel season is more than halfway through, and that means travel demand is starting to plateau.
According to the online travel agency Kayak, flight search volume has come down a bit since the beginning of July.
After major spikes in May as Americans made summer travel plans and again in June following the Biden administration's announcement that travelers no longer have to test for COVID-19 to return, travel demand has clearly started to plateau.
That's not unusual. By mid-July, most Americans have already locked in their summer travel plans and are setting their signs on back-to-school season and the impending holidays. It may be that airlines pushed travel-hungry Americans to their limit, who finally said "no" to the high fares.
So, what does this mean for airfare? Dropping demand and lower fuel prices may be bringing those flight prices back down to earth.
Or at least that's what we've been seeing lately…
Prove It! Is Airfare Really Getting Cheaper?
Like I told you, we search for airfare all day, every day – from 200-plus U.S. and Canadian cities – for our Thrifty Traveler Premium. The trend is undeniable: Flight prices are dropping, and deals are becoming more and more prevalent. 
Let me show you, looking at a high-demand destination like Las Vegas (LAS). For many months starting this spring, Vegas fares were skyrocketing, regularly eclipsing $400 or more roundtrip. We occasionally saw the odd $300-ish trip to the Strip, beating national averages at the time. But now, even these lowest fares are dropping further, with more dates available to flyers.
Check out this Google Flights calendar view for fares from Minneapolis-St. Paul (MSP) to Las Vegas (LAS). As you can see, it's not hard to book flights for $198 roundtrip later this summer and into the early fall.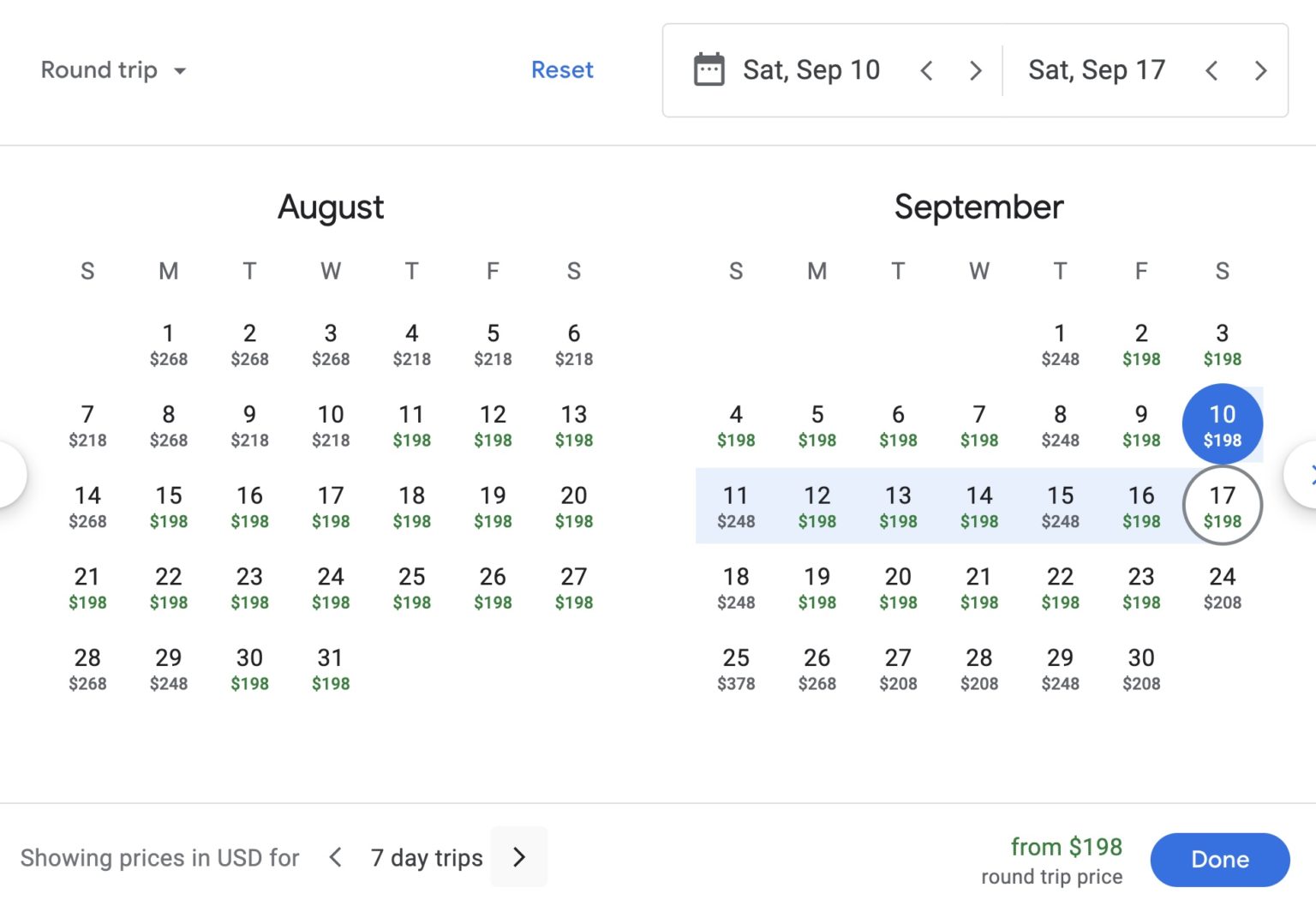 Is $198 a record-breaking cheap fare to Las Vegas? Not even close – but it's substantially down from where those prices had been for months. And that's worth pointing out.
The savings are all over the country, too – not just in the desert. Look at these flights from New York City (JFK) as well as New York City-LaGuardia (LGA) to Charleston, South Carolina (CHS) from a deal we sent out last month.

These were decent fares and, again, well below the national average. But look at those same fares today: They're nearly half the cost at just $98 roundtrip!

Let's do one more for good measure. This is your final boarding call for Nashville (BNA).

We loved to see these fare after months without cheap flights to Tennessee. But again, they've gotten even better!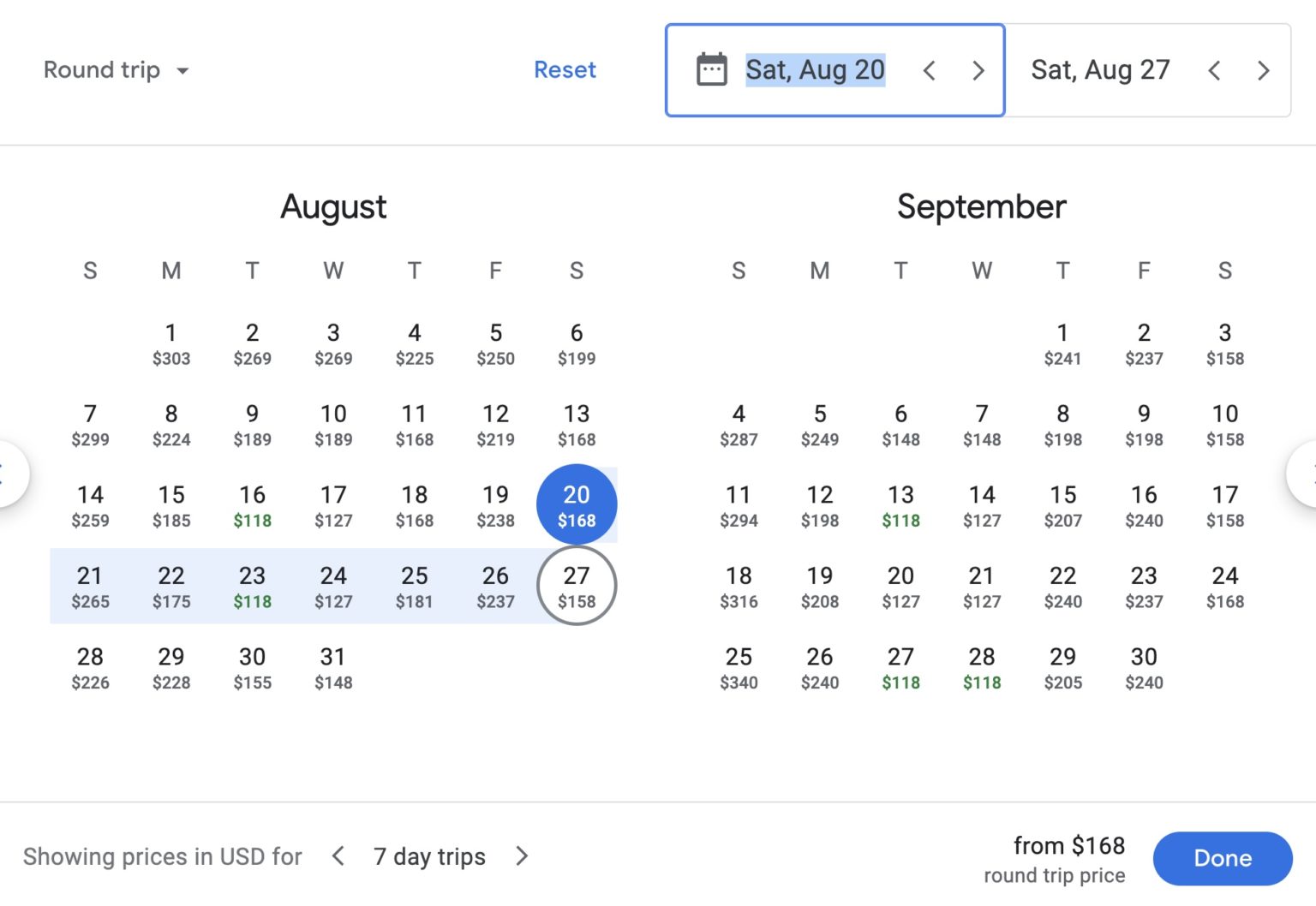 The Chicago (ORD) to Nashville (BNA) fare we featured in the previous deal was $239 roundtrip. Today, that fare is as low as $118 roundtrip, more than $100 cheaper!
And speaking of Chicago, this deal to the Windy City shows that the fares aren't just getting lower –  they're getting spread to more airports, too. Just a dozen or so airports benefitted from sub-$200 fares to Chicago earlier this summer.

But fast forward to this past week, and we're seeing far more airports with a chance to get to Chicago and back for a bargain.

It seems like everyone got in on the action with this one. From El Paso (ELP) to Chattanooga (CHA), cheap flights to Chicago are far more plentiful than they were a month ago. And that's just the latest bit of evidence
Bottom Line
The fever might have finally broken on expensive airfare. With any luck, this trend will continue and we'll see even more cheaper flights on the horizon.
Summer has peaked and (fingers crossed) so have both travel demand and fuel prices. That's a surefire recipe for cheaper flights ahead.
We're seeing more, cheaper airfare at Thrifty Traveler Premium and things are getting better every day!