Chase has long offered Hyatt loyalists a co-branded credit card to make their hotel stays more rewarding: *World of Hyatt*. But if you're a small business owner, you might be better suited for the *world of hyatt business* … and the extra perks that come with it.
This card comes packed with travel benefits like automatic Discoverist elite status, annual Hyatt credits, and travel insurance – making it a winner for any Hyatt fan. On top of that, you can earn 60,000 World of Hyatt points after spending $5,000 in the first three months with the card's current welcome offer bonus.
Considering off-peak free-nights start at just 3,500 World of Hyatt points, you'd have enough points for more than two weeks of Hyatt stays from the current bonus offer alone.
Just remember: Credit cards are serious business. While a big bonus is great, all those points aren't worth it if you dig yourself into debt in order to earn them.
Think you're not eligible for small business credit cards like this one? Think again: You just might be.
Read on for everything you need to know about the World of Hyatt Business Credit Card and this exciting new offer.
Learn more about the *world of hyatt business*.
Full Benefits of the World of Hyatt Business Credit Card
Welcome Offer Bonus
You can earn *world of hyatt business bonus offer*
Earn More Points with Adaptive Points Accelerator
Hyatt and Chase have made earning bonus points for business expenditures on the *world of hyatt business* incredibly easy with something they call the adaptive accelerator.
Cardmembers earn 2x bonus points for every $1 spent in their top three spending categories each calendar quarter through Dec. 31, 2024.
But there's no cap on the amount of bonus points cardholders can earn each quarter. Chase will automatically work out which categories are used most frequently and award bonus points accordingly in the following eight spending categories:
Dining
Airline tickets purchased directly with the airline
Car rental agencies
Local transit and commuting
Gas stations
Internet, cable, and phone services
Social media and search engine advertising
Shipping
For example, if I spent $10,000 combined on shipping, dining, and airline tickets in the fourth quarter of 2023, I would earn a total of 20,000 World of Hyatt points. Although these categories typically earn just 1x point per dollar, the accelerator would give me another point per dollar at the end of the quarter.
Other World of Hyatt Points Earning Categories
World of Hyatt Business Credit cardholders will also earn 9x total points on Hyatt stays.
You will earn 4x points per dollar spent on the card at Hyatt hotels and resorts, including participating restaurants and spas. You will also earn 5x base points from Hyatt for every $1 spent at Hyatt hotels and resorts just for being a World of Hyatt program member.
Next, you will also earn 2x points per dollar spent on fitness club and gym memberships.
Automatic Discoverist Elite Status
Just for holding the *world of hyatt business*, you'll automatically earn Hyatt's Discoverist Elite status. Earning Discoverist status typically requires 10 tier-qualifying night stays or earning 25,000 World of Hyatt Base Points.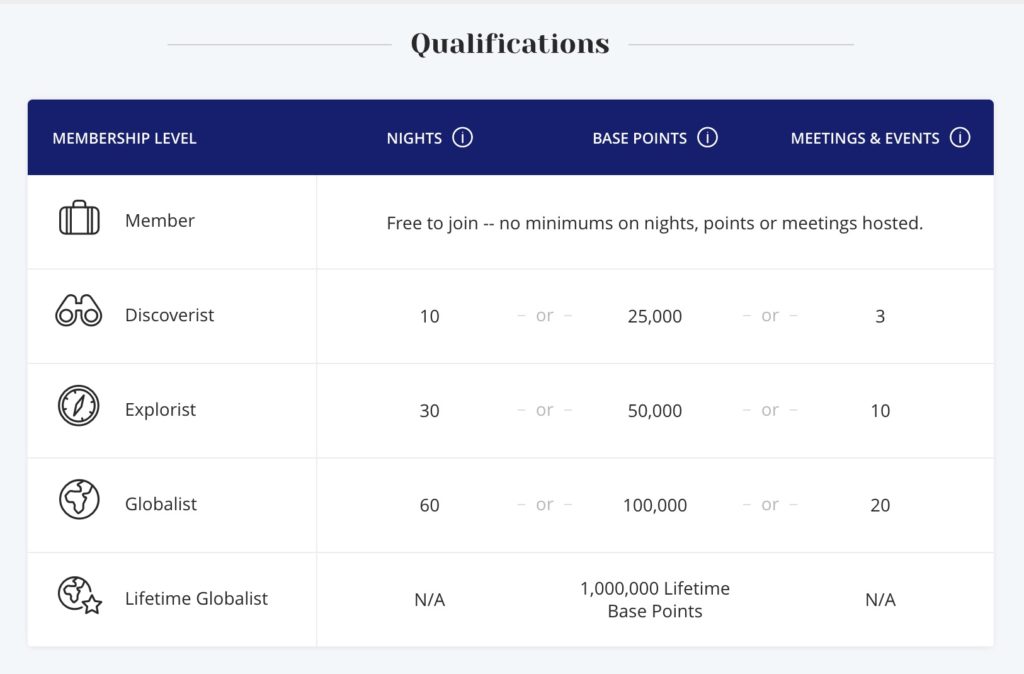 Discoverist status isn't too much to get excited about but at least you'll have some level of elite status as you climb the ranks to more meaningful status. With Discoverist status, you'll get premium internet access, bottled water, a space-available upgrade to a preferred room (within the room type booked), and a 2 p.m. late checkout (when available).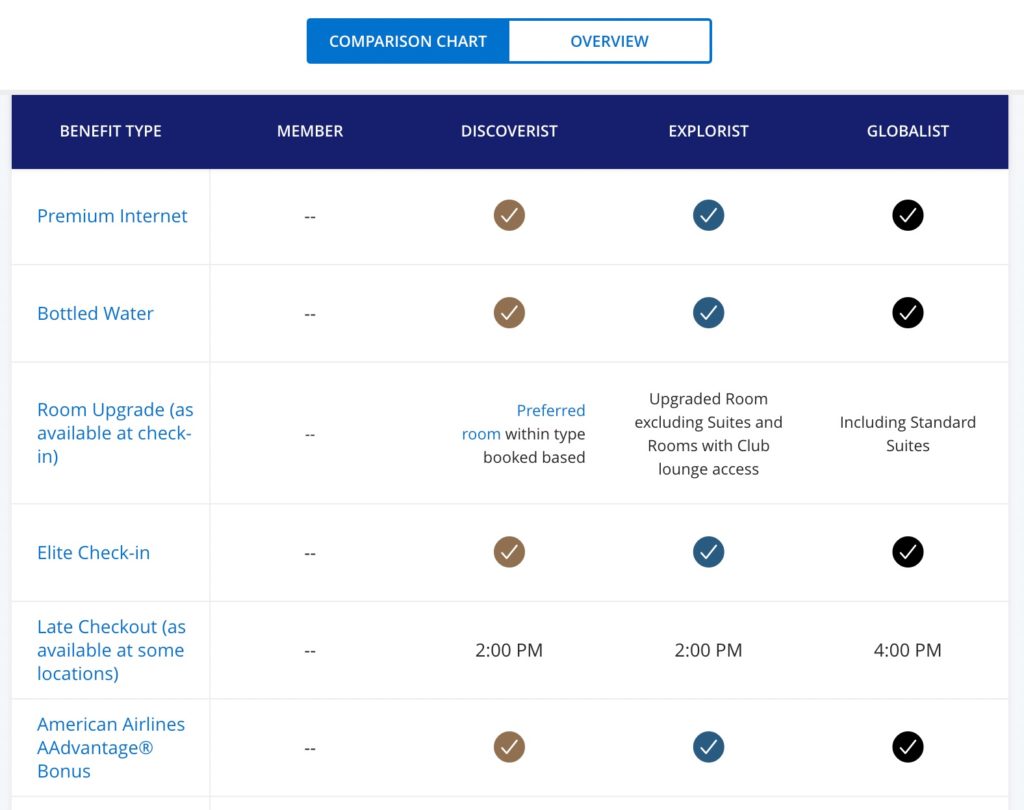 Gift Discoverist Status
Not only will you get Discoverist status for yourself, but you can also gift Discoverist status to up to five company employees. And there is no requirement that those employees be authorized users on the card.
This is a nice perk for employees who spend a handful of nights per year on the road but don't travel enough to earn status on their own.
Spend Your Way to Higher Elite Status
With the World of Hyatt Business Credit Card, you'll earn five tier-qualifying night credits for every $10,000 you spend on the card in a calendar year.
Hyatt's top-tier Globalist status can be earned by staying 60 nights at Hyatt hotels. That means spending $120,000 on the card each year would earn you enough tier-qualifying nights for Globalist elite status. While that's a lot to spend, trust us when we say that Hyatt's Globalist status can easily be worth it – in fact, it's a big reason why we think that World of Hyatt is the best hotel rewards program.
10% of Redeemed Points Back after Spending $50k
Not only will spending on the card earn you tier-qualifying nights towards elite status, but you will also receive a 10% rebate for your redeemed points after spending $50,000 in a calendar year.
Let's say you spent the minimum $50,000 needed to earn this benefit and then redeemed 60,000 points for a two-night stay at the Park Hyatt New York. In that case, you would get a rebate of 6,000 World of Hyatt points.
These rebates are capped at 20,000 points back each year, which gives you plenty of room to earn points back from award stays.
Earn $100 in Hyatt Credit Each Anniversary Year
Unlike *world of hyatt personal*, you will not earn a free anniversary night certificate each year upon card renewal with the World of Hyatt Business Credit Card. Instead, you'll get $100 of Hyatt credit each year you renew your card.
This credit will be issued in $50 increments for any stays at a Hyatt property up to two times each year. Simply pay for your stay with your Hyatt Business Card and you'll automatically get $50 back.
Other Card Benefits
No fee for employee business cards
No foreign transaction fees
Complimentary roadside dispatch
Primary rental car collision damage waiver
Extended warranty protection
Purchase protection
Trip cancellation/travel interruption insurance
Travel and emergency assistance services
Access to Hyatt Leverage, Hyatt's global business travel program that offers special rates to qualifying small and mid-sized enterprises at participating Hyatt hotels worldwide
Annual Fee
The Chase World of Hyatt Business Credit Card has an annual fee of $199.
Learn more about the *world of hyatt business*.
Why the World of Hyatt Business Card is Worth It
When this card first launched in 2021 there was a lot of hope that it would be a premium card packed with elite benefits for Hyatt loyalists and everyday travelers alike. That obviously didn't happen and as a result, the card hasn't received a ton of attention since. But that lack of attention certainly doesn't mean the card should be overlooked.
Aside from the huge 60,000-point welcome offer bonus, holding this card is all about earning Hyatt's elite status. Sure, many of the benefits on the card are solid. But arguably, if earning Hyatt points is your ultimate goal, you can get a better return on some of your business spending with the *chase ink preferred*.
The Ink Preferred Card technically earns Chase Ultimate Rewards points. But Hyatt is a Chase Transfer partner – meaning you could transfer those points directly into your world of Hyatt account on a 1:1 basis (1 Chase point equals 1 Hyatt point).
With an annual fee of only $95, the Chase Ink Preferred is also a more economical option. But what these cards won't provide is automatic Hyatt Discoverist status … and a way to spend your way to Hyatt's top Globalist elite status.
Though the World of Hyatt Business Credit Card has a $199 annual fee, if you regularly stay at Hyatt hotels, you can recoup up to $100 of that easily with the $100 Hyatt credit benefit starting in your second year with the card.
Who is Eligible to Open the World of Hyatt Business Credit Card?
Like all Chase credit cards, you'll need to be under the Chase 5/24 rule to get approved for the World of Hyatt Business Credit Card. However, because it is a business card, getting approved for the card will not add to your 5/24 total. If you are not familiar with the 5/24 rule, watch our YouTube video below.
If you already hold the personal World of Hyatt credit card, no worries. There is no restriction that would bar you from also getting the World of Hyatt Business Credit Card.
Using World of Hyatt Points
The World of Hyatt program has some of the best rates to book nightly stays using points of any hotel program, period.
While Hyatt's footprint is smaller than the likes of Hilton and Marriott, that is slowly changing. And thanks to partnerships with luxury and boutique brands, they have some amazing properties scattered all around the world that you can book using Hyatt points – including a luxury resort in the desert and a private island in the Carribbean.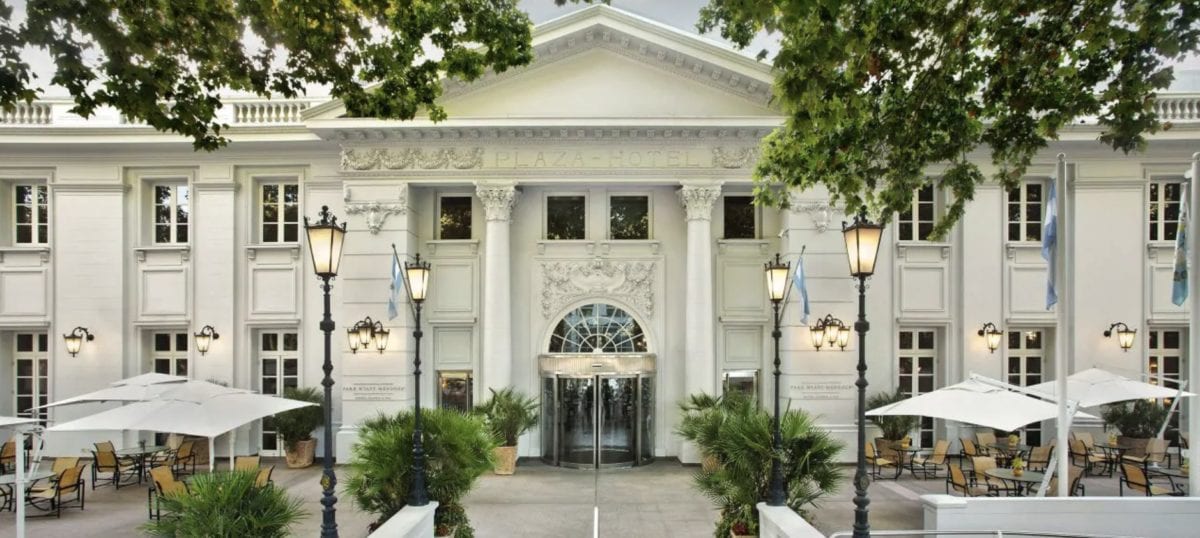 Standard Hyatt award nights start at just 5,000 points per night for Hyatt Category 1 properties, and up to 40,000 points for Category 7 hotels like top-tier Park Hyatt locations in New York or Tokyo. A handful of top properties and small luxury resorts around the world are considered Category 8, which cost 40,000 points per night.
Here's a look at Hyatt's full award chart. With the implementation of peak- and off-peak pricing, your next stay could cost you more (or fewer) points than these standard rates.

| Hotel Category | Standard Room Points Per Night | Standard Suite Points Per Night | Premium Suite Points Per Night |
| --- | --- | --- | --- |
| 1 | 5,000 | 8,000 | 10,000 |
| 2 | 8,000 | 13,000 | 16,000 |
| 3 | 12,000 | 20,000 | 24,000 |
| 4 | 15,000 | 24,000 | 30,000 |
| 5 | 20,000 | 32,000 | 40,000 |
| 6 | 25,000 | 40,000 | 50,000 |
| 7 | 30,000 | 48,000 | 60,000 |
| 8 | 40,000 | - | - |
Hyatt has a ton of amazing values in its portfolio of properties that you can use points to book. This includes some of our favorites, the Hyatt Ziva and Zilara all-inclusive resorts (and a growing number of other brands like Secrets and Dreams) that are scattered throughout Mexico and the Caribbean. If all-inclusive properties are your thing, these are some of the best resorts in the world that can be booked with points.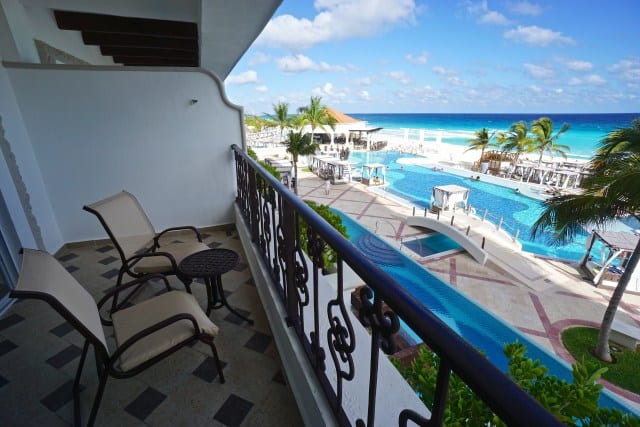 Hyatt handles the award chart for its all-inclusive properties a bit differently. As its portfolio of resorts has grown, Hyatt has introduced a whole new award chart for booking these resorts using your points.
The standard Category 1 through Category 8 award chart you'll find for Hyatt's regular hotels doesn't apply here. Instead, Hyatt uses Category A through Category F to price these free nights at all-inclusive locations. Award rates range from 15,000 points to as much as 50,000 points per night standard night stay. Here's a look.
Of course, the top-of-the-line Park Hyatt hotels scattered throughout the world are a favorite as well, starting as low as 12,000 points per night depending on the location.
Hyatt also gives members the ability to book suites online using points, which opens up some massive value.
Bottom Line
The *world of hyatt business* is an excellent choice for any business owner who frequents Hyatt properties.
Not only does the card come with travel perks, like elite status and yearly hotel credits, but you can also earn a bonus of 60,000 World of Hyatt points after spending $5,000 on the card in your first three months of card membership.
Learn more about the *world of hyatt business*.