Capital One Shopping compensates us when you get the Capital One Shopping extension using the links we have provided.
If you aren't using online shopping portals, you are leaving tons of cash – or points and miles – on the table. There are tons of options out there, and many have handy internet browser extensions that make it easy to automatically earn bonuses or find deals and discounts.
But one of our favorite online shopping assistants is Capital One Shopping (formerly Wikibuy). It's a popular internet browser extension and mobile app that helps find better deals when you are shopping online. And it's free. All you need to do is add the free browser extension to get started.
We'll give you the full rundown on Capital One Shopping and help you determine if the service is right for you.
What is Capital One Shopping?
After you add the free internet browser extension, Capital One Shopping will automatically compare prices as you shop online, and even help you find a coupon code to save even more money.
Let's say you're in the market for a Nest Thermostat, pictured below for sale on Amazon. After adding the Capital One Shopping browser extension, you'll see a green box under the item if Capital One Shopping has identified a cheaper place to purchase the item.
In this instance, the exact same item is for sale on eBay for $214.47 (after shipping), saving you almost $37 on the purchase.
Even when you're buying something via Amazon, many sellers may offer the same products at different price points. Capital One Shopping will help you identify the cheapest seller to make your purchase within Amazon.
It gets better. After you put an item in your cart at thousands of online retailers, Capital One Shopping will automatically scour the internet to find coupon codes that might apply to your purchase. It is a quick and easy way to save money on shopping you are already doing.
Capital One Shopping is available for Google Chrome, Mozilla Firefox, Microsoft Edge, & Safari. The extension can not be added on a mobile device.
Use Capital One Shopping Featured Offers & Trending Deals
Another great feature of Capital One Shopping is the featured offers and trending deals sections you will see when you visit capitaloneshopping.com.
There are always a number of trending deals for different retailers. Capital One Shopping offers loyalty credits at Amazon, Walmart.com, and thousands of other retailers, which can be redeemed for gift cards.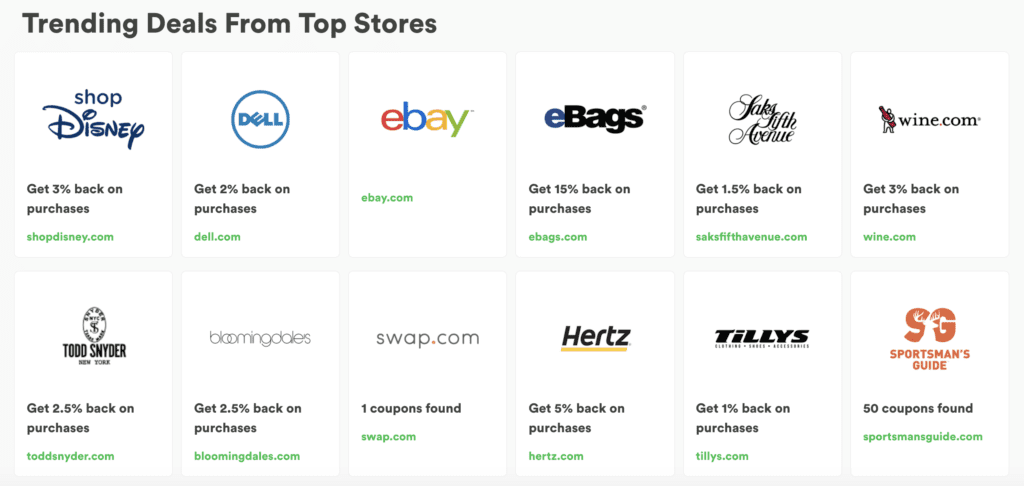 Of course, Capital One Shopping isn't the only online shopping assistant that alerts you to potential discounts for your purchases. Another one of our favorites is Rakuten (formerly named Ebates). And since both platforms will have different offers for different stores, we always suggest starting your online shopping at Cashback Monitor.
Cashback Monitor will give you a quick and easy look at the best options to earn cashback or additional points and miles for your purchase.
Read more: CashBack Monitor: The Key to Maximize All Your Online Shopping.
Using Capital One Shopping Coupon Codes
One of the biggest benefits of using Capital One Shopping is that the service will automatically scour the web and search for coupon codes while you are shopping. Once another Capital One Shopping user finds and uses a new coupon code, that code will automatically be made available for millions of other users.
It's a great way to make sure you don't leave cash on the table by finding coupon codes – and it does the work for you. Once you make it to the checkout page, Capital One Shopping will just give you the option to try coupon codes to see if any are available for your order.
It takes just a few seconds and it is a great way to if a lower price might exist out there.
Capital One Shopping Price Drop Alerts
Another great feature of Capital One Shopping is the ability to get alerts for price drops on specific items. If you are on the hunt but aren't ready to pull the trigger, you can simply add the item to your watchlist and you'll be alerted if and when the price goes down.
It's a quick and easy way to keep on top of price changes if you know what you want to buy but want to see if a lower price might be available.
Bottom Line
Capital One Shopping is a great free tool to help you save money on your online shopping. All you need to do is add the free Capital One Shopping Chrome plugin to get started today!