Chase has announced new categories for their popular Pay Yourself Back benefit effective today, Oct. 1, 2021, that will run through March 2022.
Chase Sapphire Preferred® Card and Chase Sapphire Reserve® Cardholders can now redeem Chase Ultimate Rewards points at Airbnb and for purchases with Away Luggage. Sapphire Reserve cardholders will continue to have access to dining transactions as a Pay Yourself Back benefit as well.
Airbnb and Away Luggage will replace home improvement stores and grocery store purchases which have been available since the benefit launched back in May of 2020.
Chase Ultimate Rewards Points will continue to be worth 25% or 50% more when redeemed on these new categories, depending on which card you've got.
Related Reading: Chase Sapphire Reserve vs. Preferred: Which is Best for You?
How Does Chase Pay Yourself Back Work?
In addition to using your Chase Ultimate Rewards points with Chase transfer partners or through the Chase Ultimate Rewards travel portal, Pay Yourself Back allows you to use them to remove purchases made directly with Airbnb, Away Luggage, and at restaurants (for Sapphire Reserve cardholders).
So let's say you have a stash of 100,000 Chase points. Those points would be worth $1,250 towards these categories.
At its core, it works like this: Put your Airbnb or Away Luggage charge on your Sapphire card, then go back and cover the charge with points. If you are familiar with the Capital One Purchase Eraser feature, this Pay Yourself Back feature from Chase works much the same.
After making a purchase in one of the select categories, you can simply log into your Chase Ultimate Rewards account on desktop or through the Chase mobile app and select "Pay Yourself Back" from the drop-down menu.
From there, you will be able to select from recent eligible transactions up to 90 days prior to the purchase and choose to redeem points for all – or just a portion – of the purchase.
Since I hold the Chase Sapphire Reserve®, my points are worth 1.5 cents each. If I held the Chase Sapphire Preferred Card®, my redemption value would be 1.25 cents for each point. As mentioned, this is the same value that they have through the Chase Travel Portal.
After selecting a transaction (or multiple transactions), you'll be given the option to use points to cover all or part of the transaction. Once you make that decision, just hit "Confirm & Submit."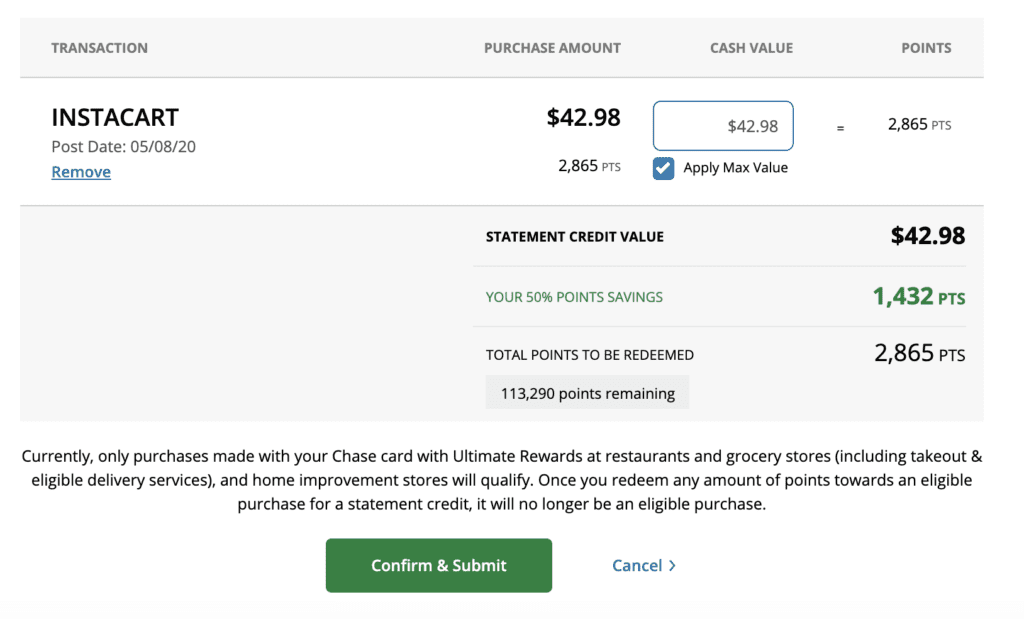 And just like that, your points will be deducted from your balance of Chase Ultimate Rewards points and you should see a statement credit on your card account within a few days to cover the charge. You can even use points to cover the annual fee on your card if you choose to do so.
Our Analysis
Last May when Chase first introduced the Pay Yourself Back benefit, travel was largely off the table. And consumers were spending on home improvement projects and at grocery stores. So those Pay Yourself Back categories largely made sense and kept cardholders from getting rid of their travel cards.
As more cardholders are getting back to travel, it is clear that Chase is adjusting the categories to meet cardholders where they are at. There is no question that using Chase points on grocery store spending was an extremely valuable and easy way to use them as most cardholders spend regularly in that category.
But cardholders who frequently use Airbnb should love this update, as this has now become the best way to use credit card points for an Airbnb stay (you can use them for Airbnb Experiences too).
While it is possible to use Captial One Venture Miles through the Capital One Purchase Eraser feature for an Airbnb stay, your Chase points will simply go further with this new Pay Yourself Back option.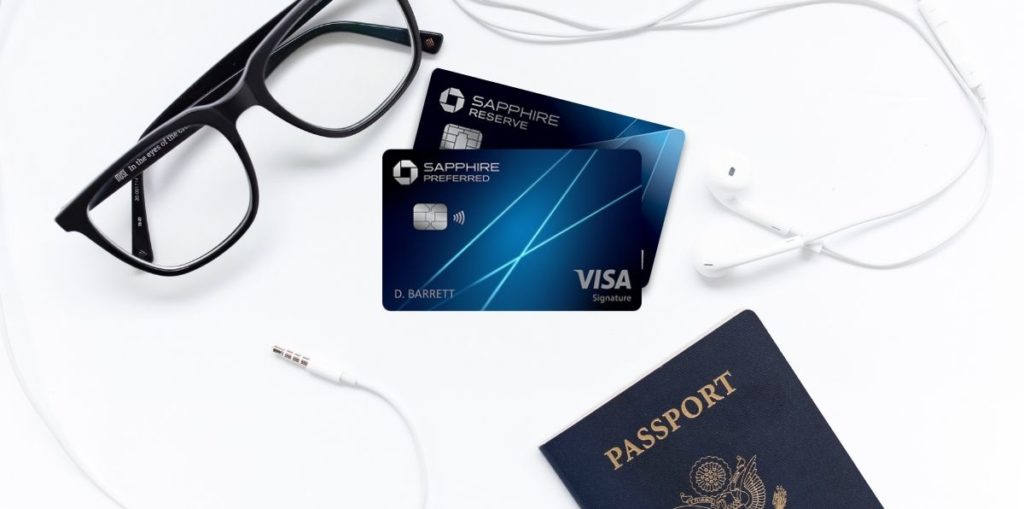 If you hold the Chase Sapphire Preferred Card, your Chase points will be worth 25% more (1.25 cents each) when you use them at Airbnb, Away Luggage, or dining. With the Sapphire Reserve card, they will be worth 50% more (1.5 cents each).
That means if you were to book an Airbnb stay that cost $500, you could use 40,000 Ultimate Rewards points to remove the charge with the Sapphire Preferred Card (or 33,333 points if you hold the Sapphire Reserve).
These new Pay Yourself Back redemption categories are in place through March 31, 2022.
But a Chase spokeswoman says "Pay Yourself Back is intended to be an ongoing redemption option within Ultimate Rewards to give cardmembers another choice in how they can redeem, with categories and redemption values that will continue to evolve over time."
Bottom Line
Starting today, Friday, Oct. 1, 2021, Chase has added new Pay Yourself Back categories. You can now use Chase points through Pay Yourself Back at Airbnb, and on Away Luggage purchases through March of 2022. Chase Sapphire Reserve cardholders will still have the ability to erase dining transactions via Pay Yourself Back.
The Airbnb and Away Luggage categories will replace home improvement stores and grocery stores which have been in place since the benefit initially launched in May 2020.