American Express has been busy over the past few months adding new benefits to their travel credit cards, trying to keep customers around when travel is on hold. But one change to the Platinum Card® from American Express sticks out above the rest.
As travel unraveled last spring, American Express added a brand new $200 travel credit for purchases through Amextravel.com, Amex's travel portal. This is different (and much easier to use) than the Platinum card's existing up to $200 annual airline fee credit.
Platinum cardholders can use this brand-new credit to book flights, hotels, and more through Amextravel.com. It's available for many cardholders who renew their accounts through March 2021. And it's eligible for travel purchases from Aug. 1, 2020, all the way through Dec. 31, 2021 – so there's no rush to use it. Just put the charge on your Platinum card and it should kick in automatically.
But not so fast: Not every single Platinum cardholder will automatically get this credit. It's unclear why some cardholders make the cut and others don't, but American Express has made clear that only "select" cardholders will get the credit. It's possible that some cardholders who accepted a massive retention offer of points or cashback won't get this additional travel credit upon renewal.
"Select U.S. Consumer Platinum Card Members can earn up to $200 in statement credits when they book through Amex Travel and make eligible travel purchases between August 2020 and December 2021. Eligible Card Members will be notified if they are eligible for this offer upon their renewal," an Amex spokeswoman said in a statement.
If this new Amex Travel credit is available, you should see it on your homepage after logging into your Platinum Card account. And you may see it when you log into Amextravel.com, too – just check this link to see if your travel credit is live.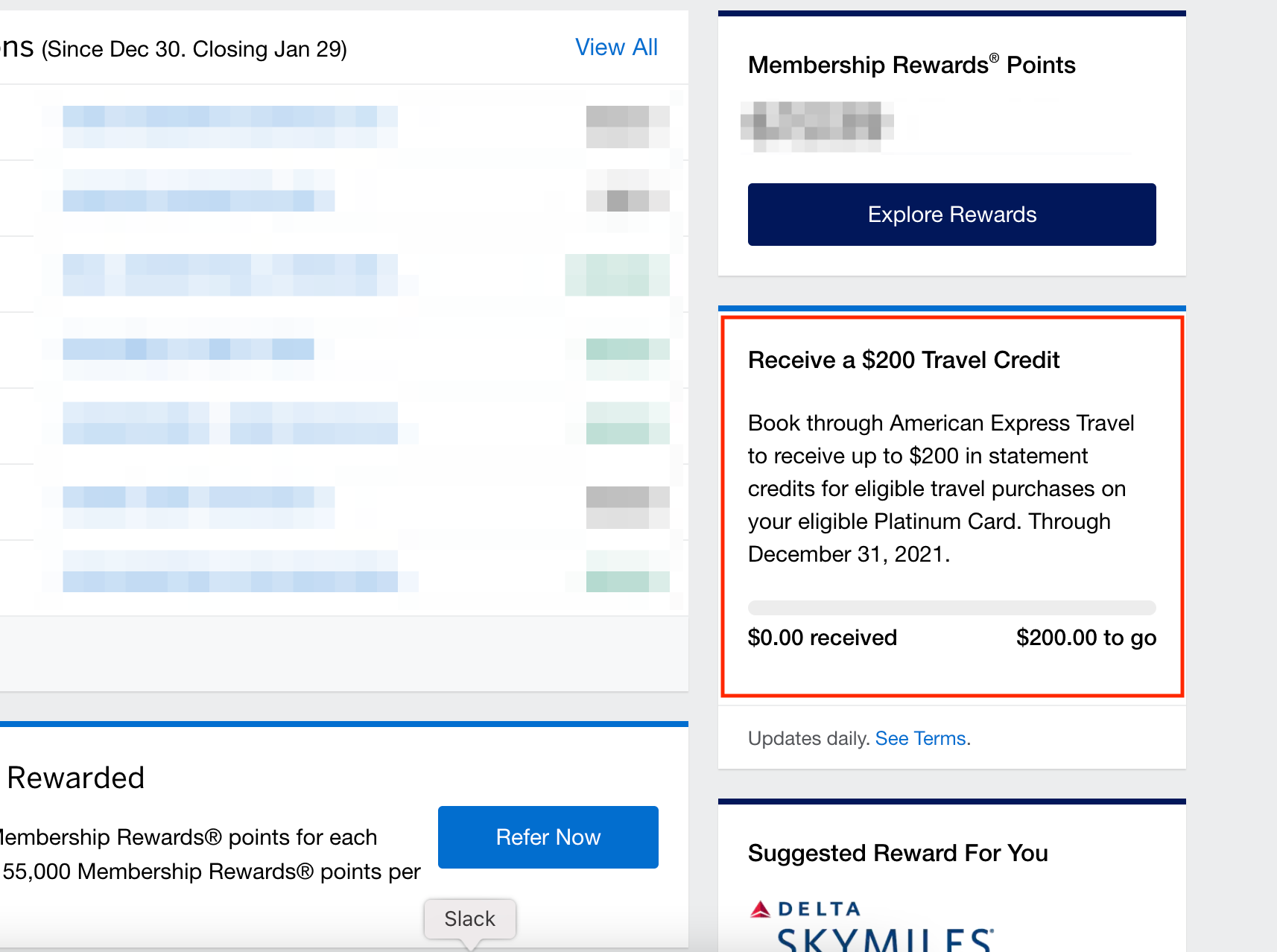 Otherwise, just fire up a chat in your Amex account and confirm with an agent that the new $200 travel credit is attached to your account.
In many ways, this is like the $300 annual travel credit on the Chase Sapphire Reserve Card. There are some strings attached to this new credit: Unlike the Chase travel credit, you must make your purchase through the Amex Travel portal. But that's much easier to use than the convoluted Amex airline fee annual credit, which has only gotten harder to use over time.
Read more: Will the Amex Platinum Card's New Travel Credit Become the New Standard?
What This New Amex Travel Credit Means
This is just another way to try to convince cardholders to keep their accounts open when many of the perks that come with Amex Platinum card benefits – lounge access, airline credits, etc. – aren't usable. And American Express has been doing a lot of that lately.
Many of those new perks have focused on non-travel benefits: Amex offered $20 monthly credits for both streaming services and cell phone coverage to the Platinum card through 2020, then replaced that with a $30 monthly PayPal credit through June 2021. Amex offers for shopping at Dell, Best Buy, Home Depot, and other retailers just sweeten the deal with more value.
But even with most travel still on pause, it's clear American isn't giving up on travel for the Platinum Card. And this new $200 travel credit makes that obvious. Separately, American Express also added potentially lucrative offers to book select hotel stays through the first half of the year.
"We have a great core travel proposition, that is not going to change," American Express CEO Steve Squeri said. "Consumers are dying to travel, they're banking points, attrition is at an all-time low."
Read up on how American Express pivoted in 2020 – and what it has up its sleeve in 2021. 
The best part about this new one-time credit is that it's good all the way through 2021. Together with all the other credits and Amex offers, Amex has added more than $600 in value to the cards. Stacked against the $695 annual fee (see rates & fees), it could make sense to keep the card open.
Read more: Why You Should Have the American Express Platinum Card
Bottom Line
Amex is doing a lot to entice customers to keep their travel rewards credit cards open at a time when travel isn't possible. And this new credit for Amex Travel is an extension of that.
This credit is far more straightforward than many of the new and existing benefits on the Amex Platinum card. It's now eligible for cardholders to use to make travel purchases through Amex Travel. And it's good all the way through December of 2021.