At Thrifty Traveler, we love nothing more than hearing about the life-changing trips our Thrifty Traveler Premium members take thanks to a cheap flight alert. And when cheap flights to Dubai come around, you never know where the adventure could take you.
Take it from Megan, who had no plans to head for Dubai until the right deal popped into her inbox. Now, she calls it a favorite trip of her life.
That may have something to do with a big surprise awaiting her in the deserts of Dubai. But Megan's story (plus her tips and photos) may still reignite your wanderlust and put Dubai firmly on your travel wish list.
When The Flight Deal Hits…You Book!
Thrifty Traveler Premium members swear by this maxim: The hotter the deal, the shorter it lasts. So when cheap flights to Dubai hit her inbox, Megan knew what to do.
"We booked the Thrifty Traveler Premium deal you sent out for nonstop flights to the UAE," she said. "We booked that flight the day you sent it out, so we were quick on the draw!"
In all, Megan and her boyfriend paid just $761 each for the flight – half the cost of a normal flight to the United Arab Emirates.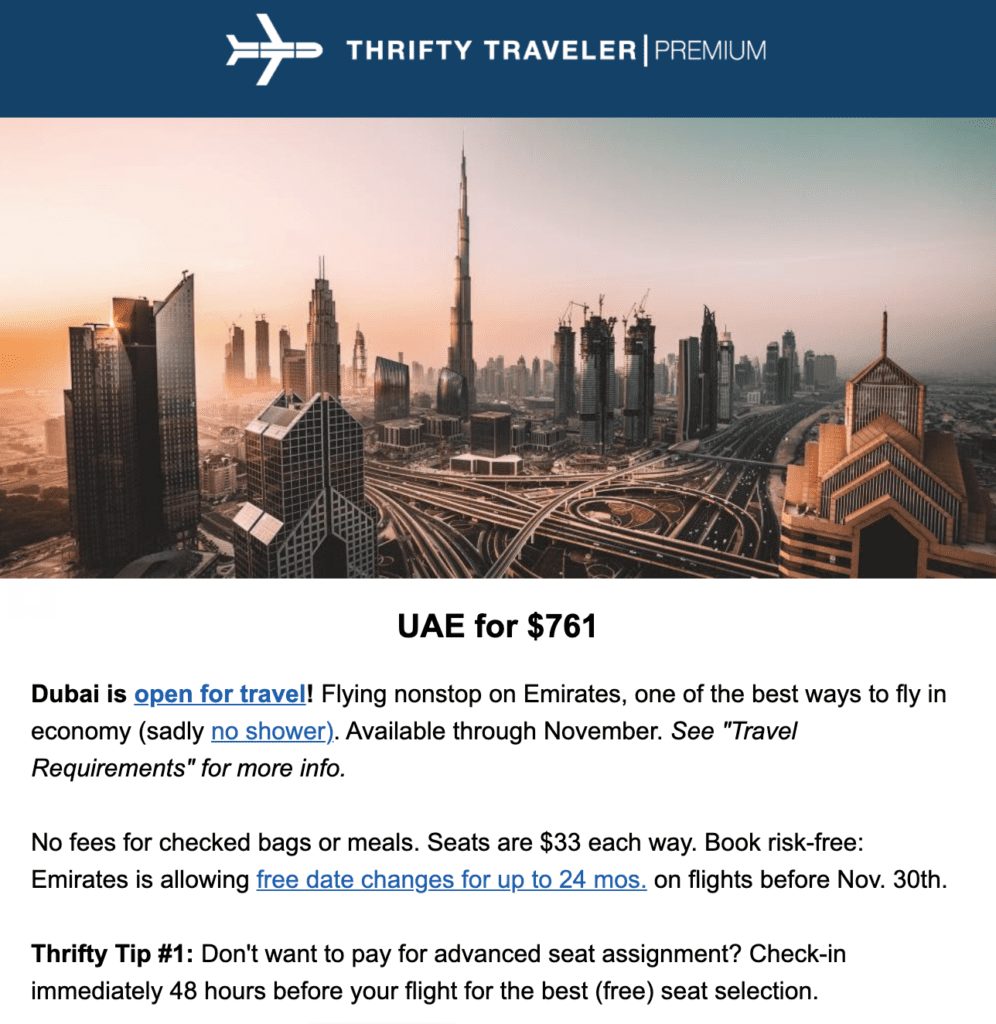 Want flight deal alerts like this one sent to your inbox? Sign up for Thrifty Traveler Premium!
So was Dubai always on their radar? Or was the flight deal just too good to pass up?
"We choose Dubai for a couple of reasons. We originally booked a TT Premium deal to go to Thailand, but due to COVID it was canceled. We were on the lookout for something that was safe, open and that was a good deal," Megan responded. "We saw the email from you and decided the price and time was right."
Dubai did happen to be on our bucket list already, so that was an extra win," she continued. "However, if it isn't on someone's bucket list, I'd argue it should be. It was my favorite trip of my life!"
Flight deal? Check. Now, time to explore Dubai. And Megan was in for a surprise…
Exploring Dubai Thrifty Traveler Style
For accommodations, Megan and her boyfriend stayed at the Shangri-La Hotel, where she said the service was unlike anything she's ever experienced at a hotel. But Megan's recommendations didn't stop there.
Go to the top of the Burj Khalifa … on a Groupon. It's half-price of what you'll pay directly on the Burj's website. Megan recommends going up right as the sun is about to set for both daylight and night views.

Around the city, visit the spice, gold, and textiles souks then go for a walk by the Dubai Creek. Check out the Dubai Fountain. Again, use a Groupon to get on the floats on the water – it was just $8 for the two of them.
For dining, they enjoyed The Palace's restaurant Thiptara, the restaurant that overlooks the Burj and the Dubai Fountain. And spend an afternoon at a spot like Al Baht at The Palace. They have a great outdoor patio overlooking the Burj to have a few drinks and some shisha, too!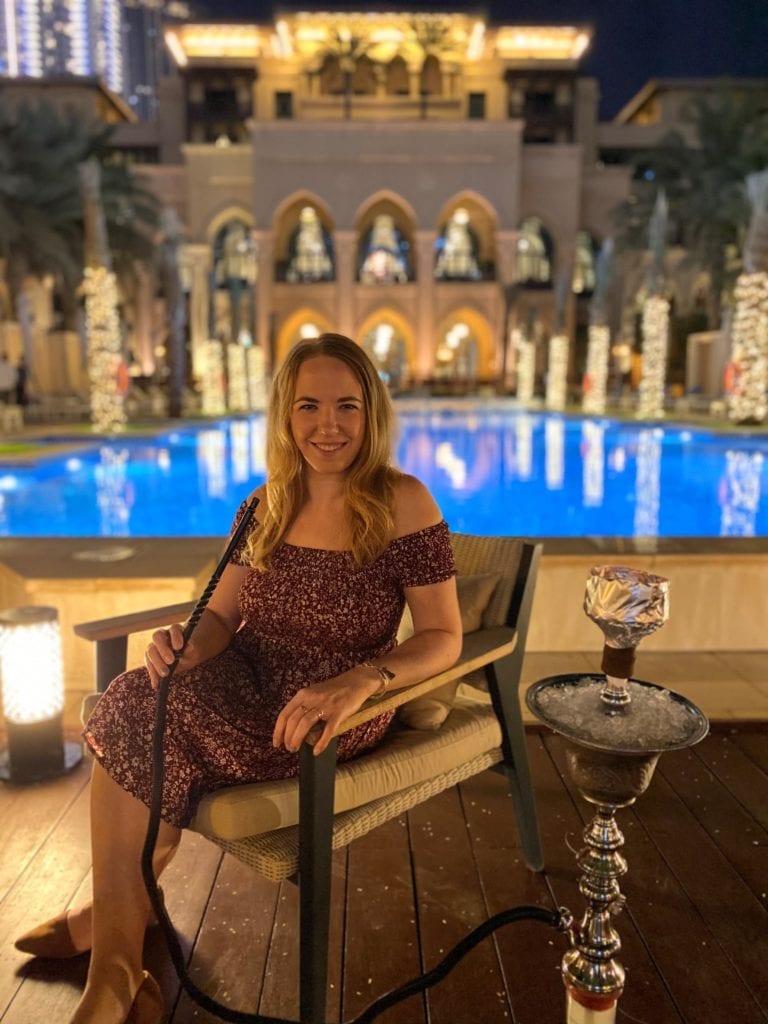 Beyond the city, Megan suggests a few more must-sees. Take a hot air balloon ride! They were stunned by the views from above.
Book a desert safari, a must-do in Dubai! But the best view during their desert tour was one Megan hadn't planned…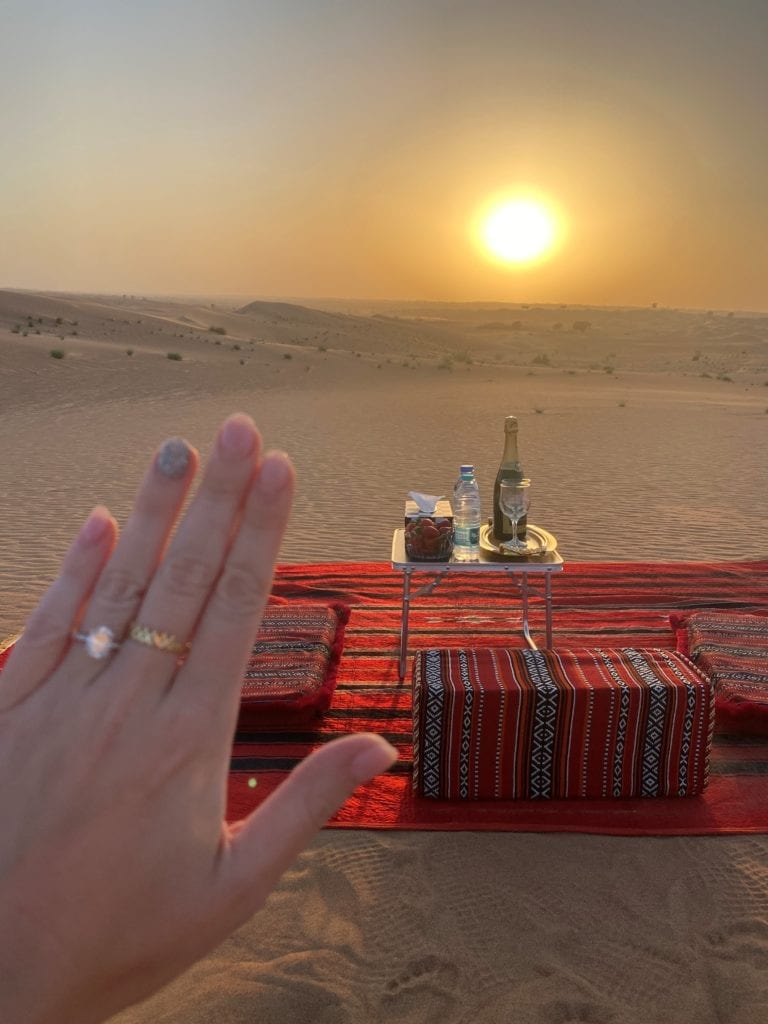 Megan's (now) fiancé proposed while overlooking the sunset, promising to keep knocking off bucket-list travel items off their list together forever. They capped off their engagement with dinner at a Bedouin camp with dancers, a camel ride, shisha, and henna.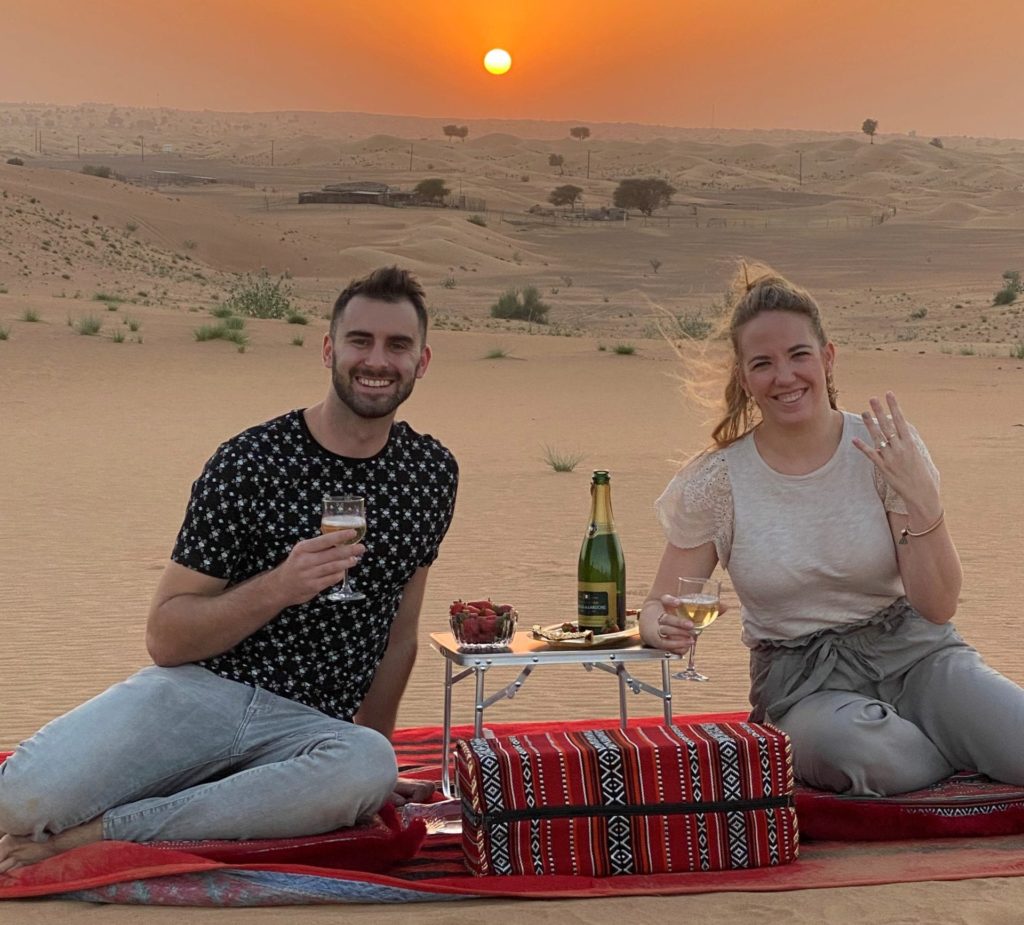 With a Dubai desert engagement under their belt and wedding plans in the works, they're on the lookout for the next cheap flight deal to spur another adventure.
"I am so thankful to you and the TT team for making this experience a possibility and I'm looking forward to more adventures and memories in the future!" Megan said.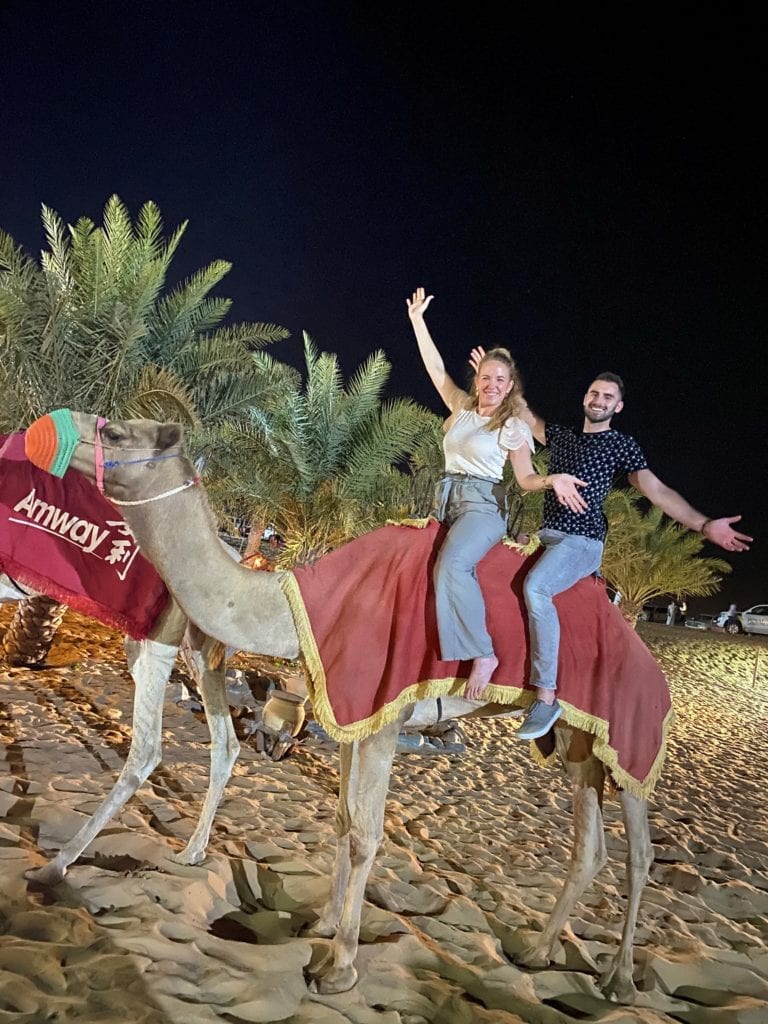 Congratulations to these two on the trip – and proposal – of a lifetime! There's nothing we love more than hearing the stories and unforgettable memories travelers make together. And it all starts with a cheap flight.