And just like that, our Tournament of Natural Wonders has come to a close! We saw upsets and close calls, bracket busters and landslide wins. But which of these favorite natural destinations takes the crown?
We've Got a Champion
And the winner is … drumroll, please …

Banff National Park! 
Congratulations to this deserving winner! Banff National Park in Calgary, Alberta is definitely a favorite among Thrifty Traveler readers and subscribers. If you haven't been yet – or are hoping to return soon – check out our guide to visiting  Banff National Park.
Our most recent flight deal to Calgary, Alberta (YYC) was a nationwide flash sale we sent to our Thrifty Traveler Premium members. This flight deal included over 100 U.S. airports (yes, even small regional airports!) to Banff's hometown. All fares were under $297 round-trip! This flight deal was available from peak summer through the winter holidays.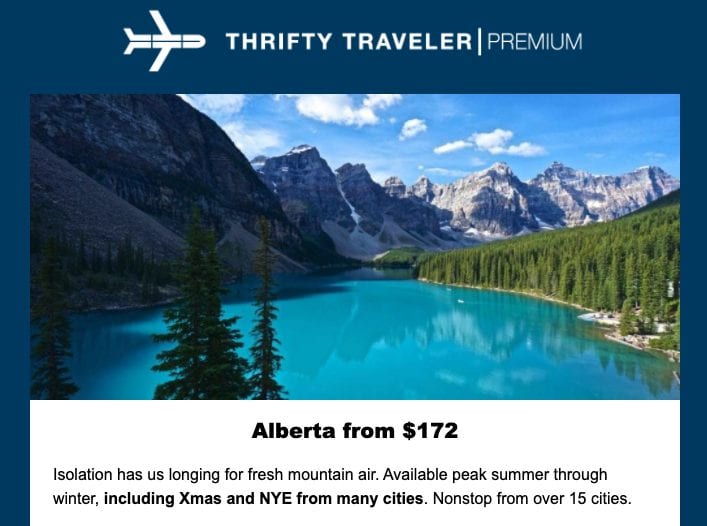 A Look Back at the Tournament
This was quite the tournament, with plenty of upsets and shocking results. If you kept a perfect winning bracket, you should be proud!
To pay homage to those who didn't make it to the end, let's take a look back at the tournament competitors: some of the most famous and loved natural wonders in the world.
In the first round, we said a heartfelt goodbye to Berchtesgaden National Park  – one of the TT team's favorite national parks in Europe. Iguazu National Park beat out Berchtesgaden in the first round, but couldn't keep the momentum going.
Poor Zion National Park was shockingly left in the dust on the first round: Australia's Great Barrier Reef was too strong. The Great Barrier Reef made it all the way to the finals, but lost in the end to Banff.
And in perhaps the most shocking upset of the whole tournament, Giant's Causeway of Ireland shoved Torres del Paine of Chile's Patagonia out of the running in the very first round! We saw traveler brackets that pegged Torres del Paine winning it all, and got messages from distraught travelers that couldn't believe Patagonia had been voted out. What an upset!
Other matchups were much closer calls. Glacier National Park just barely beat out Mount Kilimanjaro by less than 300 votes in the first round, knocking out one of the most recognized mountains in the world. Glacier made it all the way to the semifinals, where it went head-to-head against Banff.
We said goodbye in the first round to New Zealand's Milford Sound: this fan-favorite proved to be no match for China's Avatar Mountains (Zhangjiajie). We were very impressed that Zhangjiajie and Croatia's Plitvice Lakes, perhaps lesser-known natural wonders, made it so far in the competition!
We said goodbye early on to Mount Fuji, the Dead Sea, Iceland's Skaftafell, and the Uyuni Salt Flats. Though these natural wonders didn't get their day in the sun, hopefully, it put these amazing destinations on your travel radar.
Thanks for Playing!
This tournament was fueled entirely by 10,000-plus traveler votes, and the people have spoken! Banff National Park is the best natural wonder of the world.
Thank you all for participating in this friendly competition in honor of Earth Day this week. We hope this brought you some joy, made you think back to trips past and daydream about future ones, and smile about the truly stunning world in which we live.