American Express Centurion Lounges are second-to-none in the United States. Their decor, seating, food and drink offerings put others to shame.
However, the secret is out, and these lounges are getting harder and harder to get into – or find a seat in. So maybe that's what the company had in mind when one of its executives suggested they would soon start allowing cardholders to check in via its app.
Josh McKay, the credit card company's vice president and general manager of global benefits and services, told Business Traveller in an interview that they plan to launch such a feature sometime in early 2019. "They're all very popular, but we want our card members to have access. It's something we think about all the time," McKay said of Centurion lounges.
Just a day later, the credit card company walked it back. Amex told Doctor of Credit that it's merely considering allowing users to check on whether there is space available at its Centurion lounges.
We continuously consider various ways to manage capacity in our Centurion Lounges, like the idea that one day you could potentially use your mobile app to check lounge availability or space (not reserve a spot). This was mentioned in discussion as an example potential improvements we consider, but there are no actual plans to implement this so at this time or in the near future.
That's a pretty big discrepancy from what McKay said, so who knows what's happening here. Monitoring available lounge space could be great, but a basic feature. But the prospect of booking lounge visits in advance is interesting if it's actually in the works.
Just how this check-in feature might work remains surrounded by questions. Will reservations be mandatory, or can cardholders still walk in? How might this affect access for cardholder guests? Could American Express use this to cap the number of guaranteed lounge visits?
American Express has been trying to ease congestion in their lounges by limiting cardholders to two guests and expanding existing lounges. The latest expansion in Dallas (DFW) just opened, adding 3,000 square feet.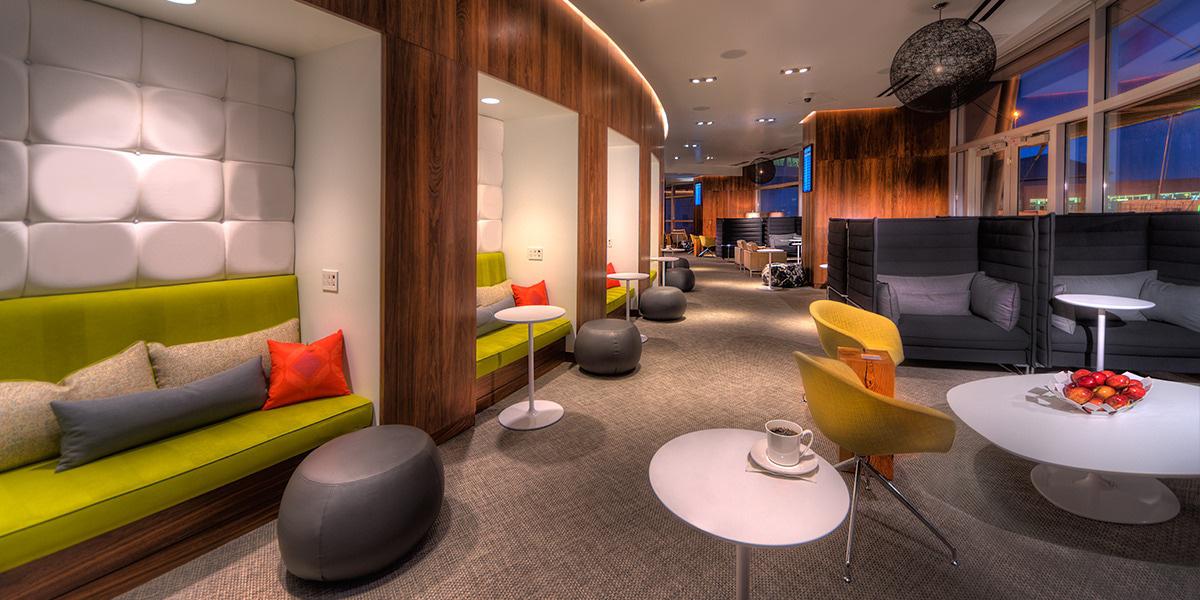 There are currently eight Centurion lounges in the U.S., at DFW  Houston-George Bush International (IAH), Las Vegas (LAS), New York-LaGuardia (LGA), Philadelphia (PHL), Miami (MIA), Seattle (SEA) and San Francisco (SFO). Plus there's one international Centurion lounge, at Hong Kong (HKG). And more are on the way.
New Centurion lounges in Los Angeles (LAX), Denver (DEN) and New York City-JFK (JFK) are expected to open in 2019. The upcoming JFK lounge will be American Express's largest yet, at 15,000 square feet.
It remains to be seen whether these additions and expansions can keep pace with the growing popularity of Centurion lounges and Amex's premium credit cards. "Premium card members tell us lounge access is the number-one benefit of membership," McKay said.
You can only get into Centurion lounges with the Platinum Card from American Express or Centurion cards. And we love the American Express Platinum because it offers the richest set of travel perks in the world of miles and points. Beyond Centurion lounges, you get a free Priority Pass membership, granting access to more than 1,000 lounges worldwide. You can also get into some other lounges like Minneapolis-St. Paul (MSP)'s wonderful Escape Lounge.
There's also $200 in annual airline credits, $200 for Uber rides each year, $100 off at Saks Fifth Avenue each year, free Global Entry or TSA PreCheck, instant hotel status and more. The list goes on.
Our Analysis
Centurion lounges are crowded for a reason. They're great, and in almost every case, the best option by far in any airport if you can get in. So guaranteeing cardholders access to these lounges with an app-based check-in could be great. It's the details behind how this process will work – and whether it will be paired with other measures – that could be concerning.
And of course, if Amex is merely planning on displaying lounge capacity, that's potentially useful information. But it won't begin to touch the problem of overcrowding.
There's no denying a need to control crowding at Centurion Lounges. American Express will need to walk a fine line to ease that problem while not cracking down on one of the most treasured benefits of their premium credit cards.
Bottom Line
Only time will tell whether this new check-in feature for Centurion lounges will be a benefit or a downgrade for Platinum and Centurion cardholders. Stay tuned.
Lead Photo Courtesy of American Express