Travelers' ears perk up any time you drop the words "mistake fare" – and we can't blame them. What's not to love about capitalizing on an airline's error and booking a flight to Chile for $63? Or a business class ticket to Southeast Asia for $560 roundtrip?
Well, United isn't having it anymore. The Chicago-based airline quietly updated its contract of carriage – the legal document you're technically signing anytime you purchase a ticket – to say it reserves the right to cancel tickets "inadvertently published for sale" when the price is clearly too good to be true. The Points Guy was the first to notice the change.
Ouch, right? On the surface, it seems this would put an end to any hopes of hopping on a mistake fare sold by United. But is anything really changing here?
Not exactly. Any traveler who has ridden the emotional roller coaster of booking a mistake fare knows this is par for the course. You book that unbelievable flight deal ASAP … and then you wait. It's always a coin flip as to whether the airline will let you fly – or abruptly cancel your ticket. It's been that way for years, even as the steady stream of mistake fares each year has all but disappeared. United's latest change simply puts in writing what they've been doing all along.
So what's actually afoot here? Let's take a deeper look at the current landscape of mistake fares at United and across the airline industry.
Not sure what we're talking about? Read our complete guide to finding and booking mistake fares!
What's United Doing With Mistake Fares?
Mistake fares are just what they sound like.
For one reason or another, airlines sell tickets at a cheaper price than they intended. If you see a plane ticket that looks too good to be true, it could be a mistake fare. These often involve an error in converting different currencies. Sometimes, it can be as simple as an employee hitting the wrong number or missing a zero as they enter a fare.
On paper, it certainly looks like United is putting an end to them. Take a look at the new entry in the airline's contract of carriage.

Let's go line by line through some lowlights:
"UA does not intend to file tickets priced at zero or close to zero fare": While we see one round price tag when booking flights, prices are actually comprised of a mix of mandatory government taxes and fees, additional surcharges, and the cost of the fare itself. United is giving itself an opening to cancel tickets when that final fare component is at or near zero.
"If an erroneous fare or a fare that is reasonably apparent as erroneous is inadvertently published for sale … UA reserves the right to cancel the ticket purchase": What's "reasonably apparent" to United is probably quite a bit different from what's "reasonably apparent" to you and me. There's lots of wiggle room here for United…
"UA will also reimburse any reasonable, actual, and verifiable out-of-pocket expenses incurred by the purchaser in reliance upon the ticket purchase": The silver lining! The mantra when booking mistake fares for years has been to book ASAP and then wait for a week or more to book any nonrefundable expenses like hotels until you know your ticket will be honored. United is putting themselves on the hook for some of those expenses if they eventually cancel a ticket – though, once again, the word "reasonable" could be trouble.
But here's the thing: Airlines selling tickets in the U.S. aren't legally required to honor these errors anyway – they haven't been for years. They all know it. And airlines have regularly exercised that right by canceling many mistake fares over the years. 
It all comes down to guidance from the Department of Transportation. After a few years of requiring airlines to honor the tickets they sell, no matter the price, the department backtracked in 2016 and gave airlines the all-clear to cancel tickets if they prove it was sold in error. So long as they fully refund the cost of the ticket, these mistake fares can be canceled.
So whether it's United or any other airline, it's still up to them to decide – as always. And that often comes down to a question of finances versus protecting the brand. Is it better to honor their mistake and generate goodwill with customers? Or are the financial losses from selling flights 98% cheaper than they intended so great that they need to cancel those fares?
We've seen U.S. and foreign airlines go either way over the years, including:
Hong Kong Airlines won accolades (but lost a ton of money) when it announced it would honor $560 business class fares from the U.S. to Asia it mistakenly sold for a few hours in 2018
Air New Zealand honored a $1,500 business class fare from the U.S. to Australia in 2019 that should have cost $7,000 or more, despite canceling some $328 roundtrip economy fares the year before
One of our favorite mistake fares lately got travelers from across the country down to Peru and Chile for as little as $63 on Delta, which never canceled the fares
Air Canada wound up quickly scrapping some $350ish roundtrip fares to Australia in April 2020
Brazilian carrier GOL canceled some mistake fares from Miami (MIA) to Fortaleza (FOR) – $132 apiece was just too cheap, it seems
A $238 roundtrip fare all the way from a dozen U.S. cities to Croatia went through without a hitch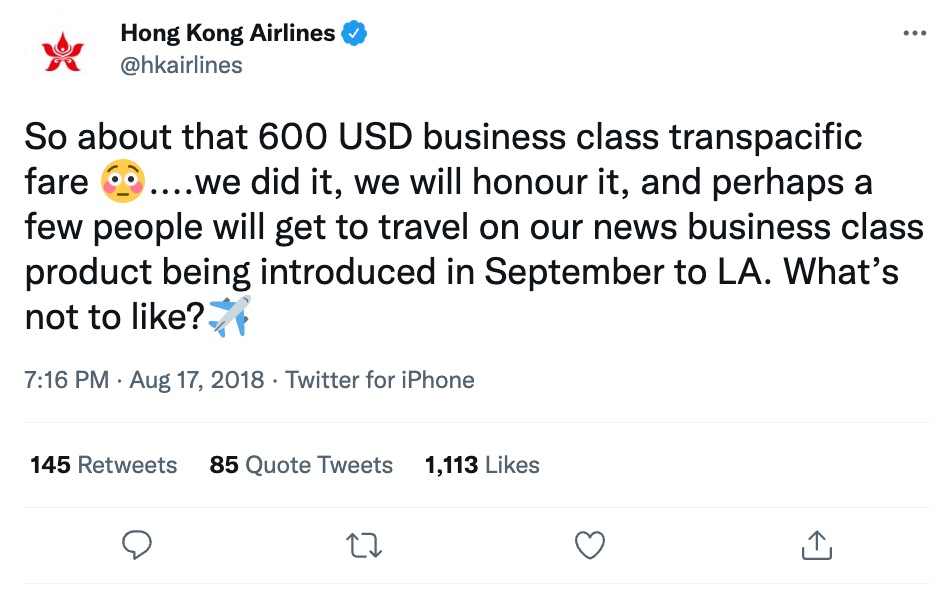 Mistake Fares Are Disappearing, Anyway
Any legal crackdown on mistake fares might be much ado about nothing. The landscape for these once-in-a-lifetime deals has changed over the last few years.
In 2018, there were mistake fares flying Cathay Pacific first class for under $1,000; that famous Hong Kong business class whoops; and dirt-cheap flights to the land down under. The year 2019 brought mistake fares to New Zealand, South America, and Australia. And as airlines' systems went haywire with the onset of the pandemic, we saw an unprecedented surge in these mistakes in 2020.
It's too early to bury mistake fares altogether … but it's clear that these already-rare deals are becoming even harder to find.
The steady stream of two to three mistake fares a year or more has slowed down to next to nothing. That's particularly true among the major U.S. carriers like Delta, American, and United, from whom we haven't seen a mistake fare in several years.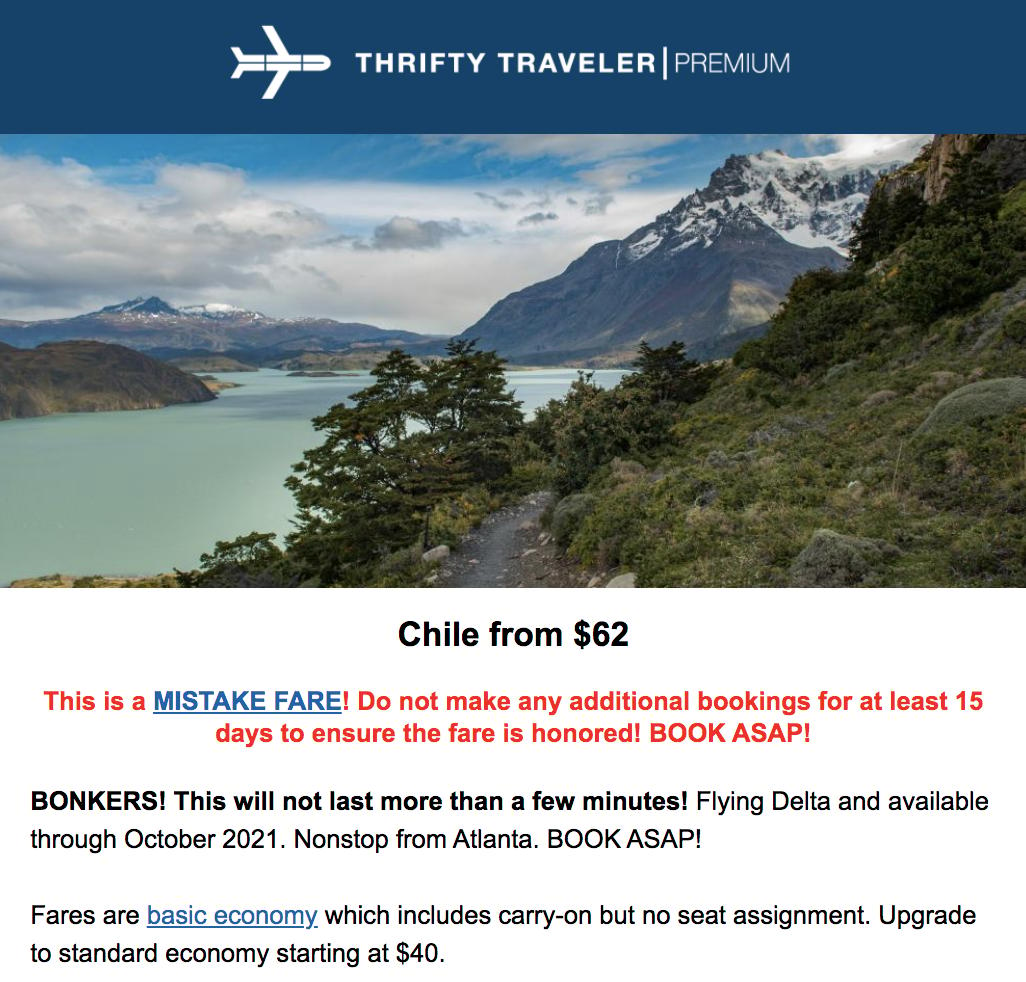 Airlines have wised up, tightening their backend systems and investing in new technology to root out these errors before many – if any – eager travelers can gobble them up. They were always unpredictable, but now you just can't count on mistake fares, period.
But that doesn't mean you should rule out getting incredible flight deals…
But, Unbelievable 'Unicorn Fares' Are Still Out There
What's a mistake fare and what's just a too-good-to-be-true, incredibly rare, book-it-as-soon-as-you-can-and-ask-questions-later flight deal? Our answer: Does it really matter?
Was the alert we sent to Thrifty Traveler Premium+ members roundtrip flight to London-Heathrow (LHR) in British Airways' new business class suites for $1,000 roundtrip (or about $800 after using the British Airways AARP discount) a mistake? Honestly, probably not. But it's an incredible deal nonetheless – and one you'd want to book ASAP.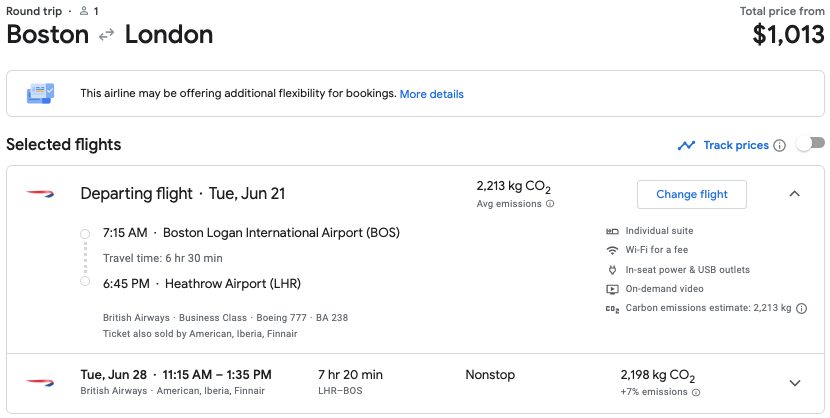 The same goes for $1,200 business class fares to Chile, flying to Europe in premium economy for $517, and ultra-rare award space to use your points and miles to book ANA First Class to Tokyo or lie-flat seats to Australia on Qantas.
We call them Unicorn Fares. Just as with the next mistake fare, every second matters with these deals because they can disappear within minutes.
That's why we added a new feature to our Thrifty Traveler Premium+ service, allowing members can now get instant text alerts for all these rare unicorn fares so they never miss an amazing deal. Thrifty Traveler Premium+members can log into their accounts and opt-in for these text alerts, be it a dirt-cheap cash fare or an ultra-rare award space alert to use your points and miles like this one.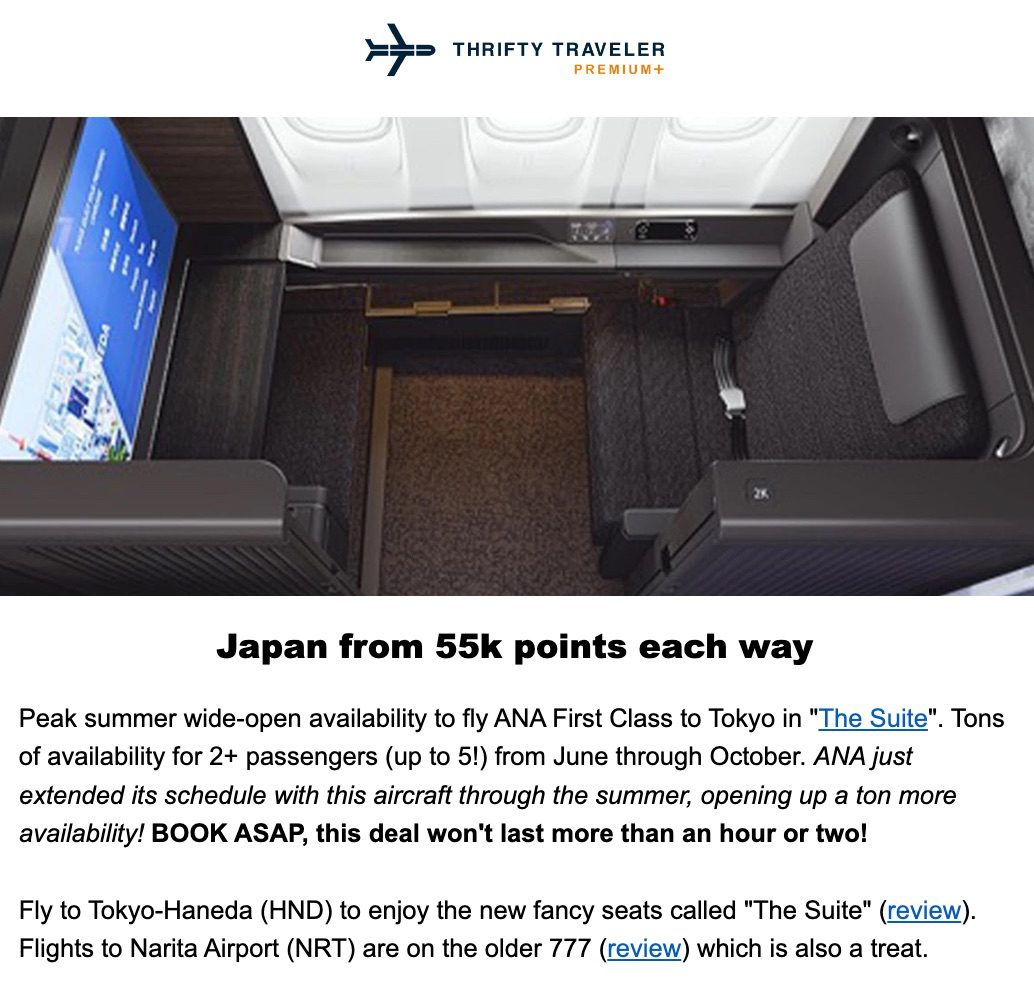 These first class seats to Tokyo got gobbled up within hours – get the next rare award alert with Thrifty Traveler Premium+!
Mistake fares might be a thing of the past, but unicorn fares are here to stay.
Bottom Line
On paper, United Airlines appears to be stamping out mistake fares for good.
In practice, nothing is really changing. United is simply putting down on paper what it has been doing for years. And while mistake fares were already on their way out the door, that doesn't mean unbelievable bargains on flights are disappearing for good.