Airports are full of travelers dragging Away suitcases from gate to gate these days, but United business class and Premium economy customers flying overseas will soon be seeing Away co-branded amenity kits at their seats, too.
United on Wednesday announced a new collaboration with the uber-popular luggage company, bringing Away amenity kits to United's premium cabins starting today – including cute hardshell cases available exclusively for travelers flying United Polaris business class on long-haul international flights.
It's Away's first partnership with a major airline, and it could be a boon for both companies. Hardshell amenity kits from the likes of other luggage brands like Rimowa and Tumi are borderline collectors items.
Just what kind of Away amenity kit you'll get flying up front on a United flight will depend on where you're going.
United Polaris business class flyers on long-haul international flights will get Away's "Hard Pod," designed to look like Away's popular hard-shelled suitcases. In fact, they're a dead ringer for Away's Mini accessories, which retail for $45 a pop.

Flyers sitting in United Premium Plus – the airline's name for Premium Economy seats – on long-haul international flights will get a simpler "Sports Pouch." But this one features branding from both Away and United.

Meanwhile, business class flyers on premium transcontinental flights – think flights between Newark (EWR) and San Francisco (SFO) – will get a "Zip Case," which United calls an "ideal solution for storing liquids and moving quickly through airport security lines."

The contents of these kits aren't changing much – just the case or bag itself with the new Away partnership. Each amenity kit contains earbuds, an eye mask, and a dental kit inside. Kits will also include Sunday Riley skin-care products, face creams, cleansing cloths, hand creams, and lip balms. Though let's admit it: The "Airplane Mode" eye mask is a cute touch.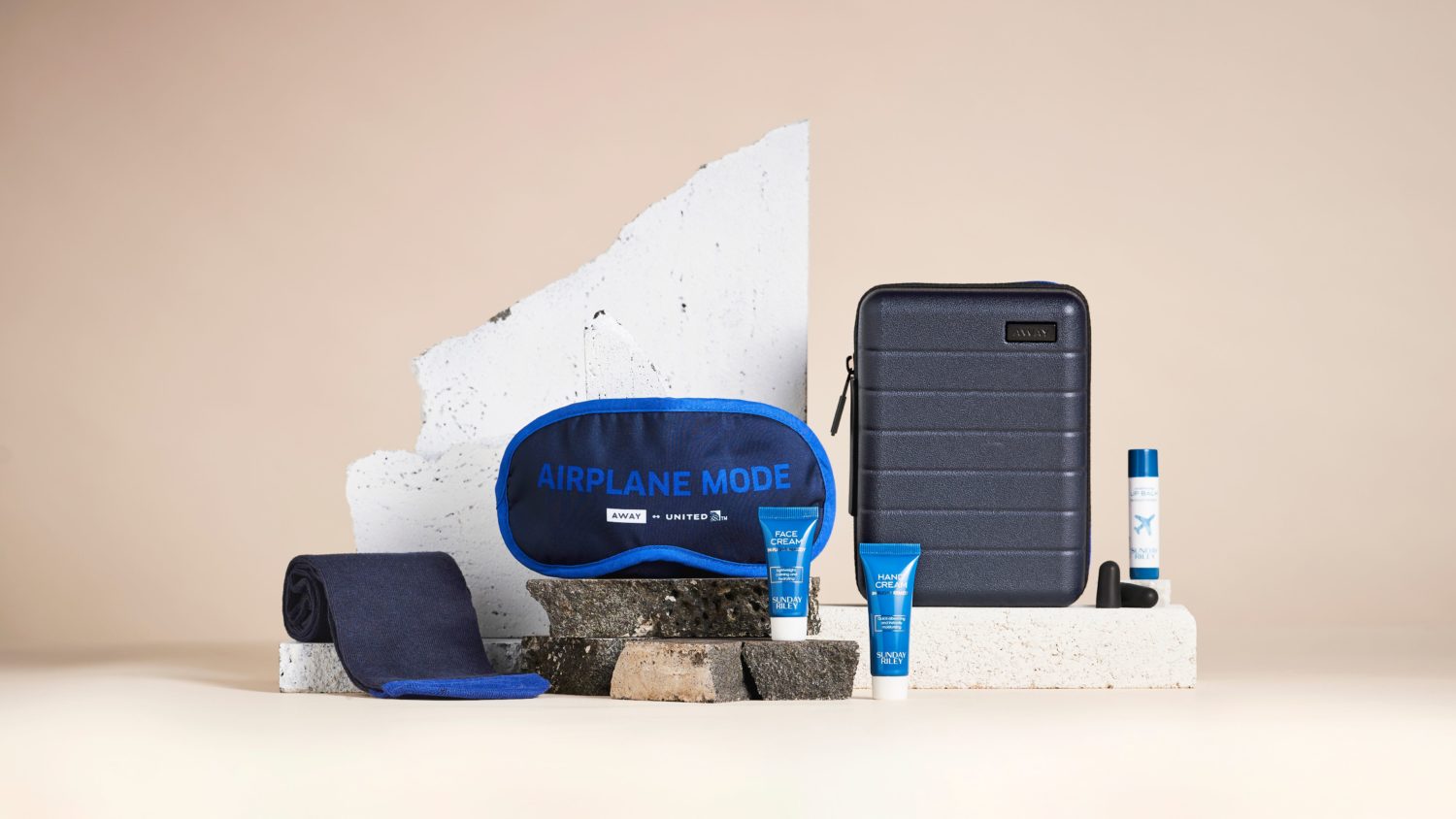 Having an Away carry-on bag has become something of a status symbol in the travel world since its launch in 2016 – you can't walk more than few feet without seeing one in almost any North American airport. Their suitcases and travel accessories are a staple of Thrifty Traveler's annual Holiday Gift Guide, and are commonly seen all over North American airports.
In a press release announcing the partnership, United said Away's sleek, modern look matches what it strives for in United Polaris and other premium cabin classes. While we're not sure if this kit measures up to the stellar United Polaris Lounge Newark (EWR), the hardshell kits are definitely a big step up over what you get on many other airlines.
Bottom Line
Away's suitcases and travel accessories have become mainstays in travel. Now, you'll get some of their gear flying up front with United.
This is Away's first formal partnership with a major airline, and it's a fun one. Watch for these new kits if you're flying United Polaris business class or even Premium Plus seats starting Wednesday, June 1.
Lead photo courtesy of United