Sun Country raised some eyebrows last week when it unveiled more than a dozen new routes for summer 2023 flying in and out of Minneapolis-St. Paul (MSP), going head to head with Delta on all but a few of them.
That was no accident. It's all part of the airline's vision of continuing to grow at its Minneapolis hub, eventually turning the airport into what CEO Jude Bricker in an interview called "a two-airline market" – with Sun Country flying more and more of the cost-conscious everyday vacationers.
"We're trying to turn Minneapolis into a two-airline market," Bricker said last week during an interview with Brian Sumers at the Skift Global Forum. "If you pay with your own money, you fly Sun Country. If you fly on a corporate contract, you fly Delta."

Sun Country has been a household name in Minnesota for decades and has firmly established itself as the second-largest airline in Minneapolis-St. Paul. But Delta is the leader … by a long shot.
Delta carried more than 54% of domestic passengers flying out of Minneapolis in August, the latest month for which Bureau of Transportation Statistics data is available. Fold in Delta's regional partners, and the airline commands more like 70-plus percent of the market.
Sun Country, by comparison, flew just 10.7% of passengers this past August. But that's up from just 7% of market share in August 2019 before the pandemic. Even through a pandemic that decimated travel, Sun Country is growing faster than ever.
That hasn't been easy. The airline faced some headwinds from its transition from a beloved hometown carrier to a low-cost carrier with slimmer seats and fees for bags, seats, and snacks. Its reputation is clearly still hurting from a 2018 episode in which it stranded hundreds of travelers in Mexico and subsequent operational snafus.

But Bricker told Skift that becoming a true budget airline – catering to leisure travelers with lower fares and higher fees – was crucial to "remove the competitive nature of Sun Country to Delta." Translation? A different business model would allow Sun Country to flourish without threatening Delta.
"There's a really valuable place in my community for Delta Air Lines. I want them to be hugely successful. I want Minneapolis to stay a Delta hub because it brings in Fortune 500 companies," Bricker said. "But I also want to bring access to low cost travel for more Minnesotans."
Along with taking the airline public in 2021, it's put the airline on a new course so that making Minneapolis a genuine two-carrier market is in sight. The airline has some even more audacious goals far in the future: In an interview with Thrifty Traveler this summer, Bricker raised the prospect of eventually acquiring widebody jets like the Boeing 767 or Airbus A330 and flying them to Europe.
There's a "near 0% chance we do anything like that in the next three years," Bricker told Skift last week, saying that would sacrifice precious pilot time to retraining that the airline can't afford right now. So their focus is largely on growing in and out of Minneapolis.
That's where their recipe works best: Flying Minnesotans south somewhere warm in the winter and east or west from Memorial Day through Labor Day each year. Plus, it's much easier for Sun Country to expand out of Minneapolis than look elsewhere, Bricker said, pointing out:
Minnesotans already know the Sun Country brand
Getting enough pilots in cockpits is every airlines' biggest challenge right now, and having them fly out of Minneapolis and back home is the best way to maximize a precious resource
"Minneapolis is the best thing we have going for us right now," Bricker said.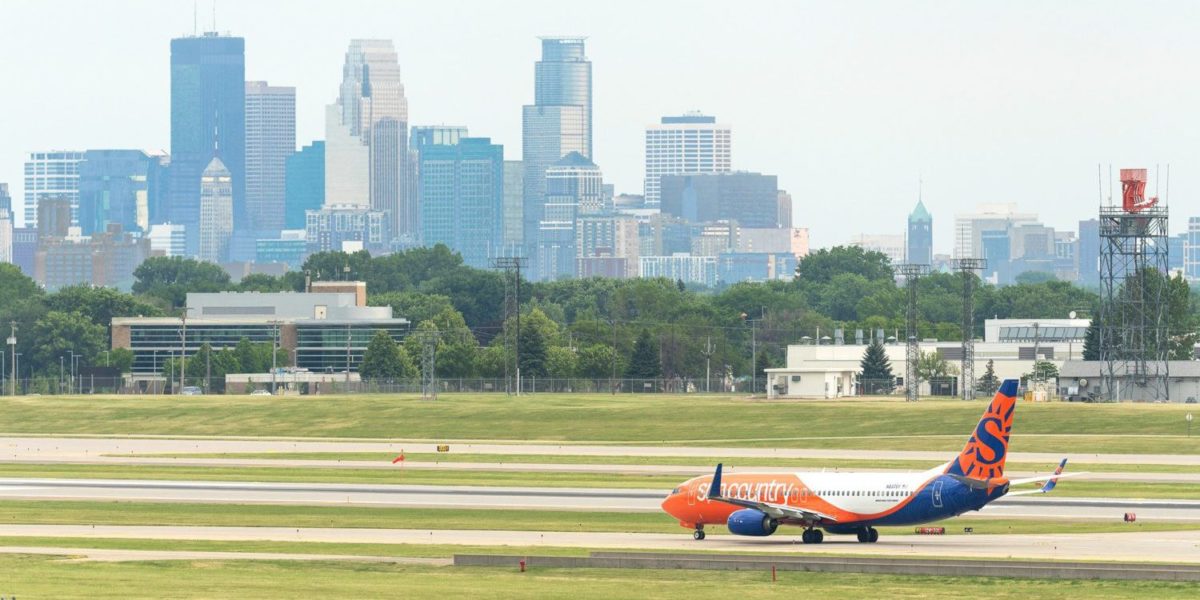 But will Delta let that happen without a fight? The airline industry is about as cutthroat as it gets: Carriers don't look kindly on competitors encroaching on their home turf, especially on prized hub-to-hub routes like Sun Country's upcoming additions from Minneapolis to New York City (JFK) and Detroit (DTW).
Delta has responded to Sun Country's new routes over the years by matching some of the airlines' new routes to destinations like Asheville (AVL), Destin (VPS), Charleston (CHS), and Myrtle Beach (MYR) – often at dirt-cheap fares in a bid to poach some of Sun Country's would-be customers. Sun Country is ratcheting that up yet again.
Asked if he's seen a competitive response to their latest route expansion, Bricker quickly quipped: "Not yet."
Bottom Line
Grab your popcorn, this could be interesting.
Sun Country has even bigger plans for Minneapolis-St. Paul (MSP), hoping it can thread the needle to grow at its home base without upsetting Delta. Will Delta see it that way? It's hard to say.
But if there's one thing we know for certain, it's that any competition between airlines is almost always a win for travelers … in the form of cheaper fares.