Delta SkyMiles are some of the easiest airline miles to earn – and there's a new way to earn even more when you rent a car thanks to Delta's partnership with Hertz.
On Monday, Delta announced SkyMiles members who link their accounts to Hertz can now earn up to eight miles for every dollar they spend with the rental car agency.
All SkyMiles members will earn at least four miles per dollar they spend at Hertz. But if you have any Medallion status with Delta, that multiplier grows.
Silver Medallion members earn 5x SkyMiles per $1 spent at Hertz
Gold Medallion members earn 6x SkyMiles per $1
Platinum Medallion members earn 7x SkyMiles per $1
Diamond Medallion members earn 8x SkyMiles per $1
As part of Monday's announcement, Delta said Silver Medallion members will now also get Hertz Five Star status, something previously only awarded to Gold Medallion Members and above.
Diamond and Platinum Medallion members get Hertz President's Circle status which allows you to skip the rental car counter and get a guaranteed car-class upgrade.
Read Next: All About Our Favorite Way to Save on Rental Cars: AutoSlash
In addition to earning bonus SkyMiles on Hertz car rentals, SkyMiles members can also earn four miles per dollar with Thrifty and Dollar car rentals – both subsidiaries of Hertz.
How to Link Your SkyMiles and Hertz Accounts
It's fairly simple to link your SkyMiles and Hertz accounts – if you haven't already – and start earning bonus miles on every rental car purchase.
Log into your SkyMiles account. Under "My Profile," select "Other Loyalty Programs," scroll down to "Car Loyalty Programs" and enter your Hertz Gold Plus Rewards account number (or your Thrifty Blue Chip or Dollar Express ID number). Don't have a Hertz Gold Plus Rewards account? It's free to sign up.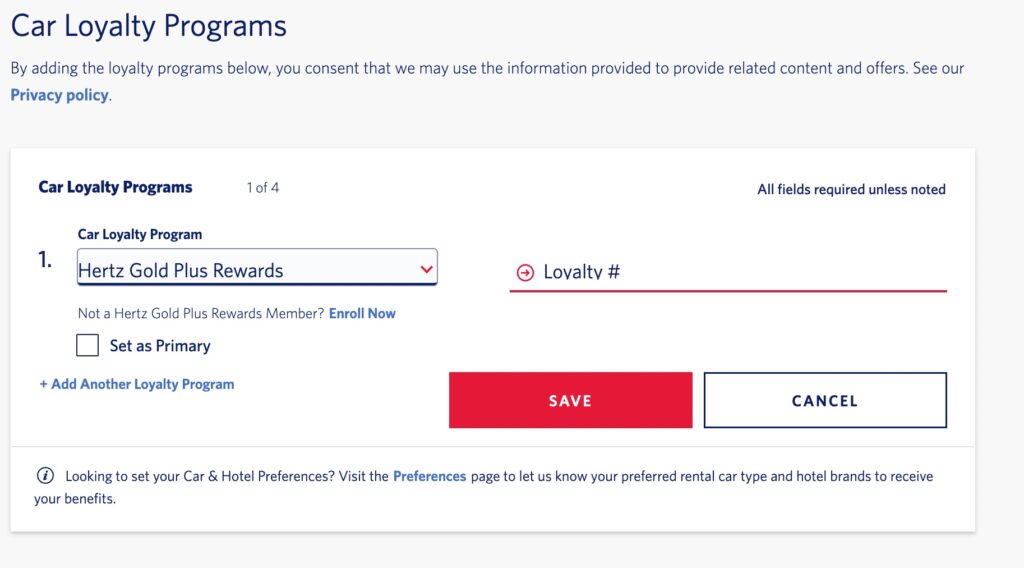 Delta's latest foray into non-aviation rewards partnerships is just the latest way the airline is trying to lure consumers into its SkyMiles program with some enhanced earnings. The airline has recently added partnerships with brands like Starbucks, Lyft, Turo, and many more to help bring people who don't necessarily fly Delta all the time into the airline's rewards program.
As a result, Delta SkyMiles are some of the easiest airline miles to earn, and there are tons of great ways to spend them, too!
Read Next: The 16 Best Ways to Earn Delta SkyMiles in 2023
Bottom Line
Delta and Hertz's new partnership allows SkyMiles members and Delta Medallion Status holders to earn bonus points on every rental car purchase.
Starting at four SkyMiles for every dollar spent and escalating all the way to eight SkyMiles for every dollar for Diamond Medallion members, SkyMiles members can bolster their earnings when they book with Hertz.
Plus, Hertz has extended its status match program to Delta Silver Medallion travelers, giving them Five Star status when they connect their accounts.