On Wednesday morning, Delta Air lines announced a new nonstop route between Detroit Wayne County Metropolitan Airport (DFW) and Daniel K. Inouye Honolulu International Airport (HNL). The new route will be serviced by a Boeing 767-300ER aircraft equipped with 25 fully flat-bed seats in Delta One, 29 seats Delta Comfort+ and 171 seats in the Main Cabin.
This new route will be available for booking on Saturday, Sept. 29th, and flights will operate on the following schedule beginning on June 29th, 2019.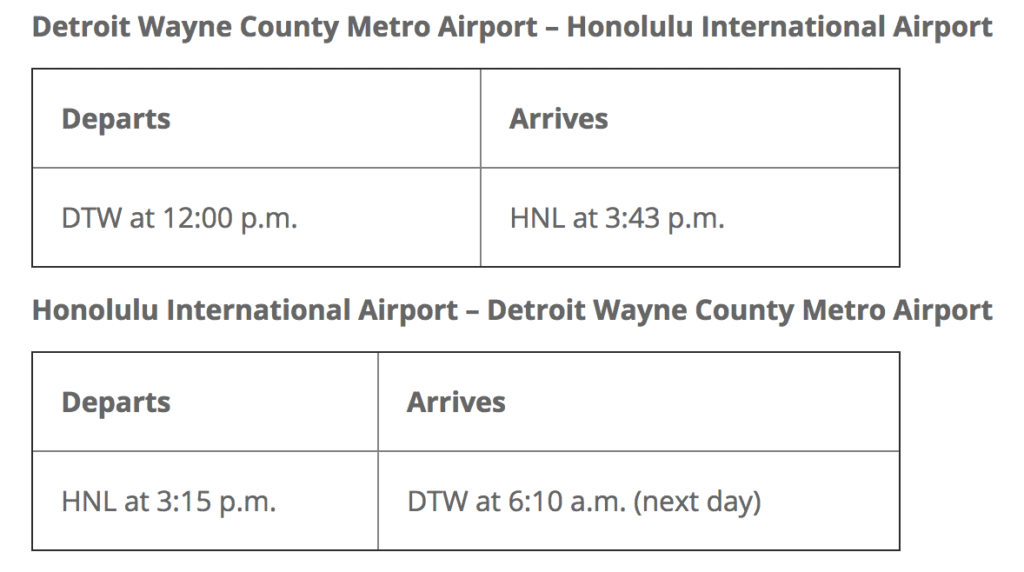 "We're pleased to add a nonstop link to Hawaii from our Detroit hub as we know it's a destination our customers in our hub city and beyond have asked for," said Ed Bastian, Delta's Chief Executive Officer. "It will also bring convenient, one-stop connections to Honolulu for many customers in dozens of other cities we serve in the Upper Midwest and Northeast U.S."
The new Detroit service will be Delta's ninth U.S. gateway to Honolulu, joining Atlanta, Los Angeles, Minneapolis, Salt Lake City and Seattle in addition to seasonal service from New York-JFK, San Francisco and Portland.
Our Analysis
As we say with all new routes, more competition only bodes well for travelers as it should ultimately drive prices down. Fares to the Hawaiian islands have been incredibly cheap in 2018. With Southwest Airlines expected to announce their service to the islands soon, and Hawaiian Airlines adding nonstop service, this is a trend we see continuing well into 2019. Unlike many other domestic routes, Hawaii is dominated by leisure travelers who are much more price sensitive than those traveling for business.
"Nonstop service to Honolulu is wonderful news for Detroit Metropolitan Airport," said Wayne County Airport Authority Interim CEO Chad Newton. "Until now, Honolulu was our third largest market without nonstop service from Detroit. It is a destination that our customers repeatedly ask for on social media, so we are excited to offer direct access to such a beautiful place."
Bottom Line
It is great to see Delta add a new route to Hawaii. As Delta CEO Ed Bastian alluded to, the service will bring a lot of destinations in the Upper Midwest and Northeast U.S. within one quick connection. This new route will all be bookable come Saturday, September 29th, 2018.
Lead photo courtesy of Chris Lundberg via Flickr.