JetBlue was among the last of the major U.S. airlines to roll out a basic economy fare, but its so-called "Blue Basic" fare wasn't as punishing as many carriers: Travelers could still bring a carry-on bag and even pick some seats for free. Soon, that will change.
Starting next week, travelers buying JetBlue basic economy fares will no longer be allowed to bring carry-on bags onboard for flights on or after July 20, 2021. USA Today first reported the change.
That move instantly shifts JetBlue's basic economy fares from among the most generous to among the most punitive. It puts the New York-based carrier in line with United, which has always banned carry-ons for basic economy, as well as budget carriers like Spirit and Frontier that charge for all bags separately.
The additional restrictions on basic economy make the upsell to a more-inclusive standard economy fare even more tempting – and that's the whole point. These no-frills fares are designed to lure in travelers with cheap prices, then convince them to pay more to avoid it. Airlines don't want you to buy them.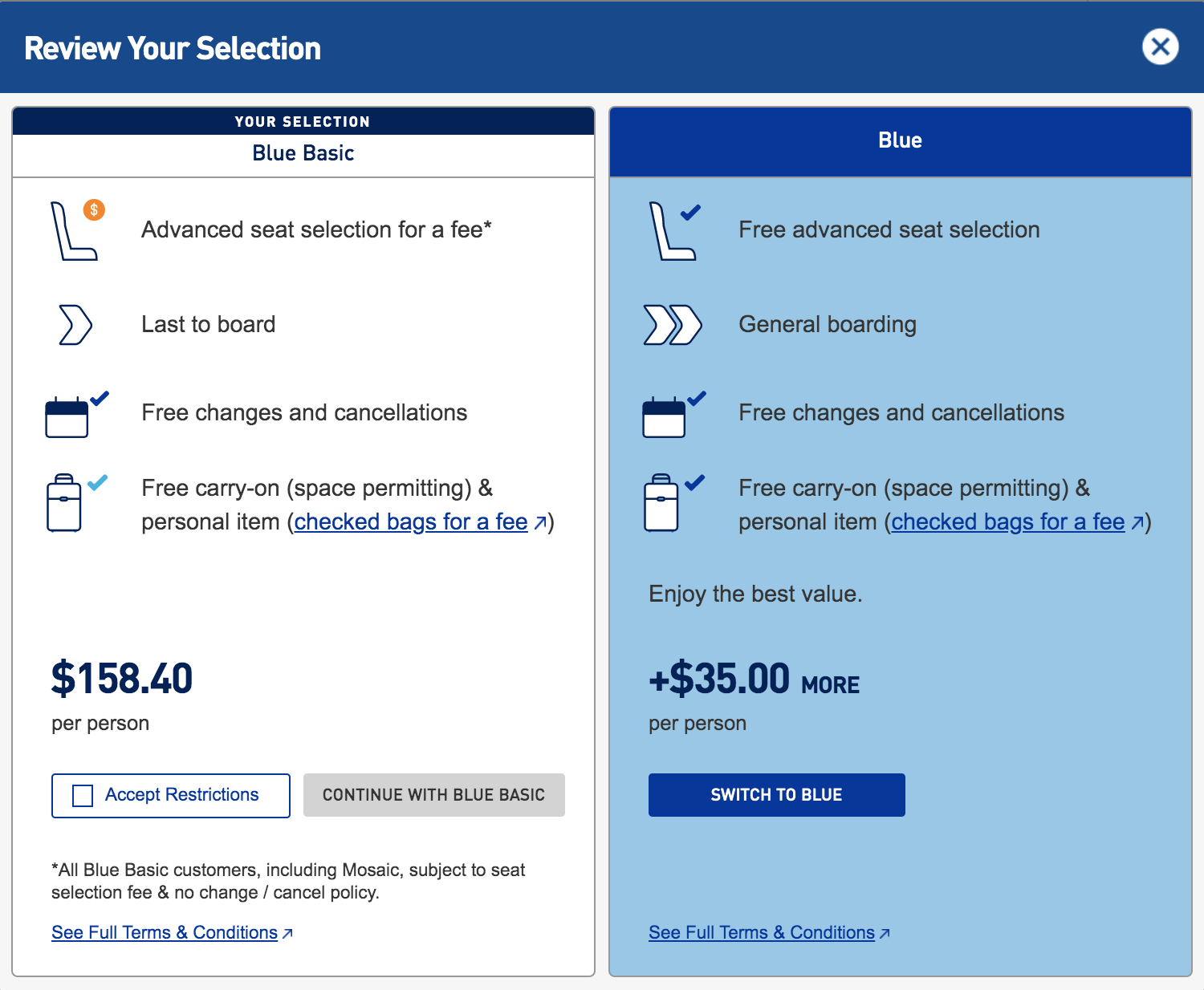 JetBlue isn't being shy about that. The airline is touting the change as a positive for standard economy tickets: They'll now guarantee flyers with an economy ticket space in an overhead bin for their carry-ons. At the same time, JetBlue announced Tuesday it will join major U.S. carriers in ditching change fees altogether – except for on basic economy fares, which can pay $100 to $200 to change a ticket.
JetBlue's pitch to upgrade is about to get much stronger.
"We're really excited to be offering this … first-of its-kind in the United States carry-on bag guarantee," said Dave Clark, JetBlue's vice president of sales and revenue management, told USA Today. "We think that makes our (standard economy) Blue Fare really strong."
As a result, JetBlue has said it will lower Blue Basic fares to compete more with budget airlines. But we'll believe that when we see it.
Airlines have always argued that introducing basic economy allows them to lower fares. In reality, basic economy fares have taken the place of more-inclusive main cabin economy rates, which increase. You pay the same as you used to – but get less. It's a price hike disguised as a good deal. 
Read more: No, Airlines' Basic Economy Fares are Not Cheaper
Back when it launched Blue Basic fares in late 2019, the airline insisted it could do basic economy different – more humanely. Executives said they would "take better care of (travelers) than other airlines do."
Just over a year later, they changed their minds.
This is a developing news story, check back for more updates.