Delta's website and smartphone app appeared to be back to normal Monday afternoon after technology issues left flyers worldwide unable to log in to their accounts for several hours.
The outage appeared to begin sometime around 12 p.m. CST. While some functions like searching for fares were still available, users reported they were unable to log in to their accounts either via smartphone or at Delta.com. Several members of the Thrifty Traveler team experienced the same problems Monday afternoon. Roughly two hours later, log-in functionality returned.
Delta's Twitter was flooded with comments from flyers trying to check in for flights only to get an error.
In a statement on its website, Delta acknowledged the issue and insisted it wouldn't affect flights.
"We are addressing a technology issue that is impacting the ability for customers to log-in to their SkyMiles account on Delta.com and the Fly Delta app," the airline said. "There is currently no impact to flights or airport operations. Customers can continue using both channels as a guest, including checking in for a flight or shopping for a new flight. We apologize for the inconvenience as we work quickly to correct this issue"
More than an hour after the outage started, Delta agents at the Sky Club location in Austin (AUS) announced they would have to print paper boarding passes due to server issues.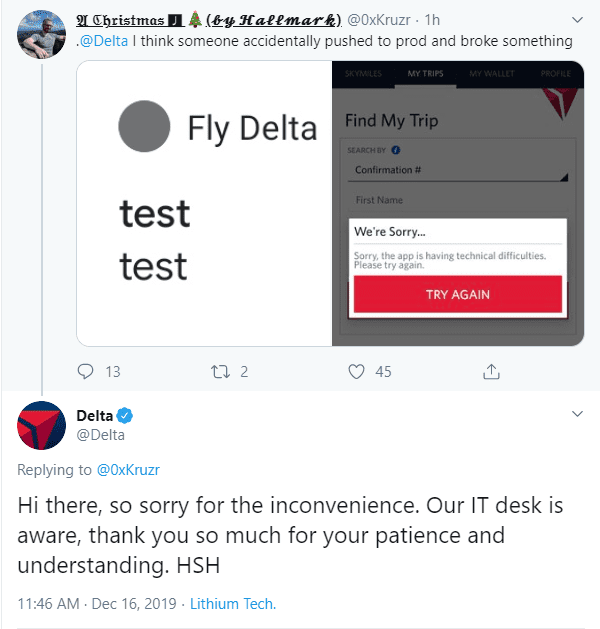 Hours before the outage began, many Delta flyers with the Fly Delta app received an erroneous "test" notification from the app.
This is a developing news story. Please check back for more updates.