Delta rolled out a novel subscription service last fall called Delta SkyMiles Select. Pay $59 a year, and you get free priority boarding, eight free in-flight drinks, and a special bag tag.
It's unclear how successful this program was, but it was a shrewd move. It targeted the occasional traveler who likes a drink or two during the flight or the travelers who don't have Delta Medallion status and can't bring themselves to open a Delta co-branded credit card for free baggage and priority boarding. It gave those travelers a reason to keep flying Delta.
But then coronavirus hit, bringing the travel industry to its knees. And as of Wednesday, April 1, Delta has stopped selling SkyMiles Select memberships altogether.
"This offer is no longer available for purchase. Members that purchased SkyMiles Select before April 1st, 2020 can continue to enjoy benefits for one year after the original purchase date," its announcement reads.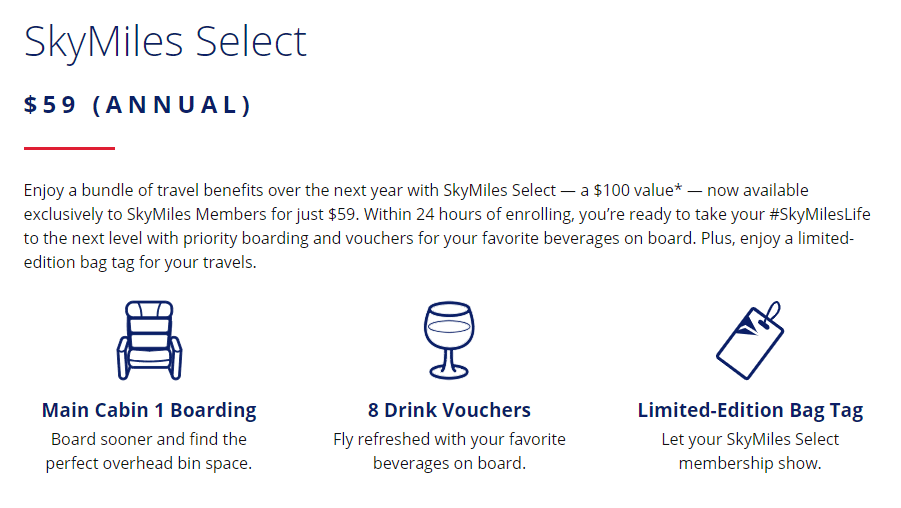 In a statement, Delta indicated it would look to bring back SkyMiles Select in the future.
"Due to decreased demand of these travel-related benefits and as we look to reduce costs to focus on our core business, SkyMiles Select will be suspended starting April 1. We've received great feedback from customers on this test and we're sorry for the inconvenience," the airline said.
It was clearly a victim of bad timing. For starters, no one is flying right now – and for good reason. Travel has dropped to record lows: Just 146,000 travelers moved through U.S. airports Tuesday, as compared to more than 2 million the same day in 2019, according to TSA data.
And then there's the fact that Delta has stopped serving all drinks except bottled water as many airlines scale back in-flight service to combat coronavirus. The eight free drink tickets were clearly the most valuable benefit of SkyMiles Select. Considering a beer on a Delta flight starts at $8 while wine and cocktails are at least $9, using all those drink vouchers could easily offset the $59 membership cost.
But that's just not possible right now. So it would be foolish for Delta to continue selling these subscriptions when no one is flying – and you can't use the perks even if you still are.
Bottom Line
This just makes sense. Only time will tell whether SkyMiles Select subscriptions will return when the airline industry comes back to life.
Lead photo courtesy of Delta