Delta launched a brand new paid membership option for SkyMiles members on Wednesday called SkyMiles Select, a $59 annual membership that gets travelers unlimited priority boarding, eight free onboard drinks every year, and a special bag tag.
So far as we can tell, this new paid membership is the first of its kind – at least among U.S. airlines – allowing flyers to pay extra for a few perks year-round.
Delta pegs the value of its SkyMiles Select memberships at over $100. And there's undoubtedly some value here for travelers.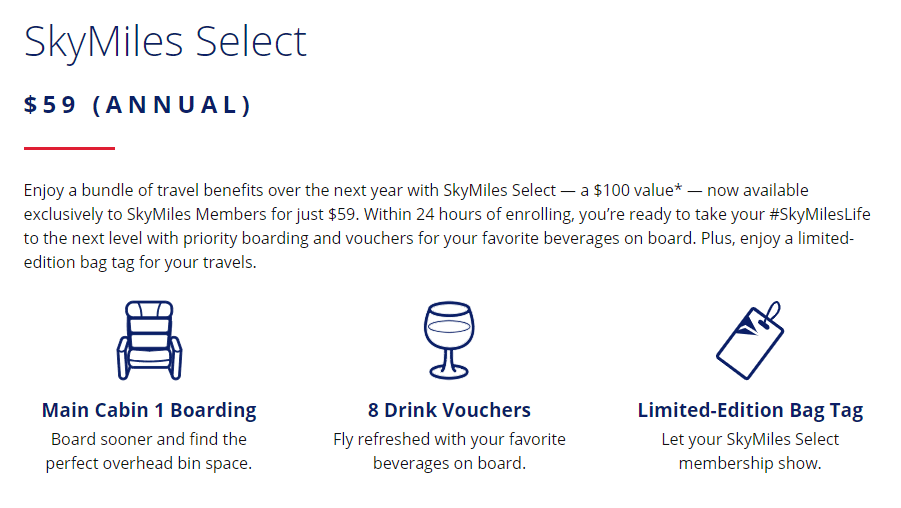 Chief among them is the eight free drinks. Considering a beer on a Delta flight starts at $8 while wine and cocktails are at least $9, using all those drink vouchers could easily offset the $59 membership cost.
SkyMiles Select members will board in Delta's Main Cabin 1 boarding group, regardless of whether they're on a standard economy ticket or flying Delta basic economy. This can help ensure there's still overhead bin space for a carry-on when you board. And that benefit passes down to as many as eight other travelers booked under the same reservation.
But that's the exact same boarding benefit you get with each of Delta's co-branded American Express credit cards. Better yet, all of those cards – including the Delta SkyMiles Gold American Express Card – get you and up to eight others on your reservation a free checked bag on every flight. This SkyMiles Select membership comes with no such baggage benefit.
And finally, SkyMiles Select members will get a "limited-edition bag tag" for their luggage, shipped directly to the address listed in their SkyMiles account. It's similar to what big-time Delta Medallion status holders get.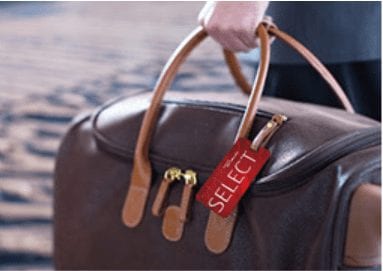 Bottom Line
This new Delta SkyMiles Select membership is certainly novel. As to whether it's worth the money, that depends.
Some of the best benefits here overlap with what you can already get by holding one of Delta's Amex credit cards. So really, it comes down to whether you fly (or drink) enough to make use of those drink certificates. Just how many
But I can't help but feel like Delta may have made a brilliant move here. They're not targeting frequent flyers or business travelers with SkyMiles Select, but the occasional traveler who likes a drink or two during the flight. The travelers who don't have Delta Medallion status and can't bring themselves to open a Delta co-branded credit card.
With this new offering, the airline gets a quick shot of cash. But more importantly,  they get those free agent travelers to keep coming back for Delta flights because they want to use these new benefits.