Delta's new premium economy cabin, dubbed Premium Select, is a great middle ground product with perks that make it worth the extra cash over an economy ticket. However, it appears a disappointing downgrade is on the way.
We recently reviewed the Delta Premium Select seats on Delta's new Airbus A350 planes for long-haul international flights and declared it a winner. Beyond the roomier seat and upgraded food, Premium Select passengers were placed in First Class for any connecting domestic flights.
That was a great perk and one that Delta's competitors don't offer. But as first reported by Renés Points, Delta Premium Select passengers are now only booking into Delta Comfort Plus for connecting domestic flights.
When you search for flights on an A350 route, you'll notice that a Premium Select fare specifically books you into Comfort Plus for the connecting flight.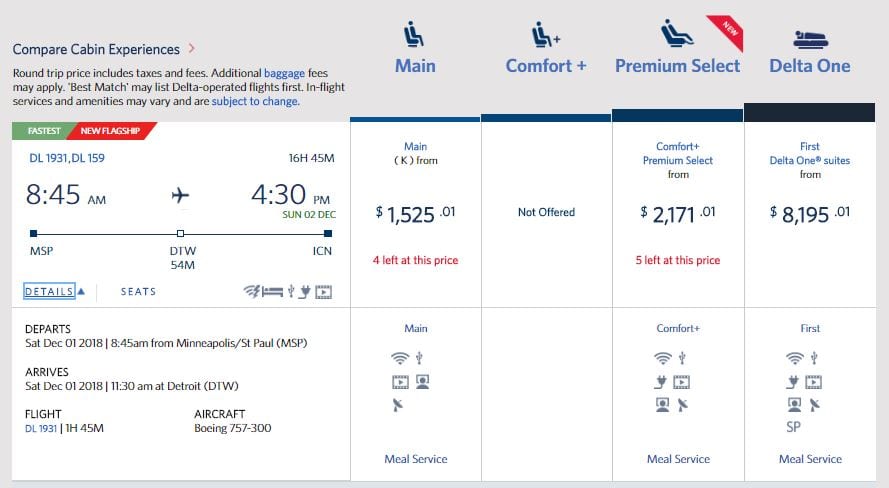 To be clear, Comfort Plus is still a step above economy. You get 3-4 inches more legroom than a standard main cabin seat and early boarding. But there's no spinning this as anything other than a downgrade. First Class seats are far wider. And the service is a big step above what you can expect elsewhere in the plane.
This decision puts Delta in line with American Airlines, the only other major domestic carrier that currently has a premium economy product for long-haul flights. It's unclear how United will handle this situation for its own Premium Plus product. That is starting to roll out over the summer and fall.
Our Analysis
Delta was generous by offering a First Class seat to Premium Select passengers, but this is still a disappointment. A seat in first class on your connecting flight made the journey seamless. Delta's premium economy seat is pretty similar to the big domestic first-class recliners. While Comfort Plus is still an "upgrade", it's basically a glorified economy seat.
Delta launched its Premium Select product with its first A350 flight in October of 2017. Delta should have at least 25 of these planes within the next few years. And the airline is also equipping its refurbished Boeing 777-200s with this premium economy cabin, the first of which was delivered just this month.
Bottom Line
A seat in Comfort Plus isn't the end of the world when you're connecting to/from a Delta Premium Select flight. But this downgrade still stings.