For many months, Delta has been the only U.S. airline still blocking middle seats to give passengers more space onboard its flights. Delta has extended that policy time and time again, most recently through April 30. But those days are ending soon.
Delta confirmed on Wednesday that it would stop blocking middle seats and sell flights up to 100% capacity as of May 1. The decision comes as travel picks up across the country even as public health experts caution Americans to put off nonessential travel amid rising COVID-19 cases and variants.
It's a sea change moment in the air travel industry and for Delta, which has held up its decision to continue blocking middle seats long after its competitors stopped doing so. Delta has made safety the cornerstone of its pandemic playbook, and blocking seats was the driving force. The airline repeatedly said the guarantee of extra space was driving more customers to book with Delta throughout the pandemic.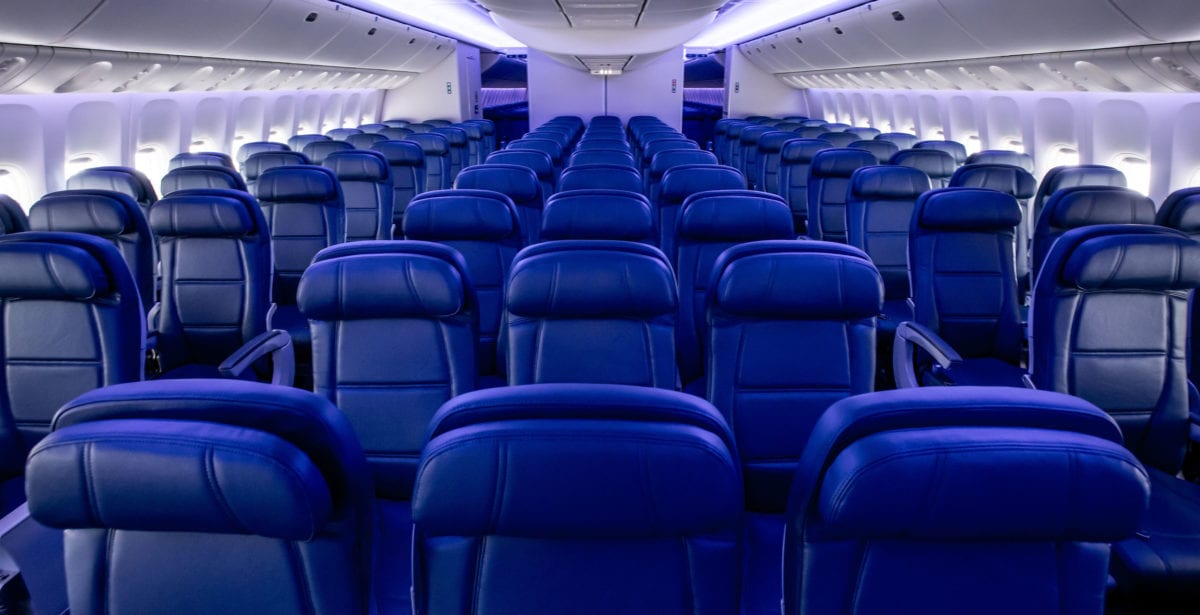 Delta painted the decision to start selling middle seats again as part of a turning point in how the airline responds to the pandemic. After months of serving only prepackaged bags with snacks and water, Delta will begin a streamlined food and drink service in mid-April.
"Every action we're announcing today, from unblocking the middle seat to starting to bring back on-board food and beverage, is in response to our customers," CEO Ed Bastian said in a statement. "Don't confuse these actions with a return to 'normal.' We're still operating in a pandemic, and many of the changes we've made over the past year, such as strengthening our cleanliness protocols and eliminating change fees, will be permanent."
Delta was the sole holdout still blocking middle seats. American Airlines began selling flights to capacity way back in July 2020 – and United never blocked seats. Southwest Airlines stopped blocking seats in December. And then in January, both JetBlue and Alaska began selling flights to near-capacity, too.
Why Now?
Delta had previously hinted that it may extend blocked middle seats further into the spring. Selling middle seats starting later this spring is sure to upset some flyers who have come to expect an empty seat next to them on Delta.
But empty middle seats were never going to last forever. And travel is gaining steam, pandemic or not.
As millions more Americans are vaccinated each day, people are gaining confidence to book travel once again. Bookings started to pick up in late February and have only gained momentum since then. After multi-billion dollar losses in 2020 and early 2021, Delta expects to be profitable once again by the end of the year.
"In the past six weeks, we've seen that bookings that are beyond 60 days out are almost flat to 2019 levels, just down a few points," Delta President Glen Hauenstein said at a J.P. Morgan event earlier this month "That's a very different situation from where we've been in the last year."
It was always easy for Delta to block middle seats when travel was low. Now that it's rebounding, the airline has decided it's time to fill those seats again.
That's a difficult calculation for any airline. While it may rub flyers the wrong way, investors will love it. Delta can drastically increase the amount of available seats as travel rebounds without the cost of adding more planes back to the skies.
Wednesday's announcement was part of a slew of news from Delta as the airline grapples with blowback from its involvement with a controversial new Georgia voting law. Delta also finally confirmed it is extending nearly all travel credits through December 2022, launched a lucrative new promotion to earn Delta Medallion status faster, and extended companion certificates by another six months or more, among other news.
Bottom Line
It was only a matter of time. Starting May 1, you'll no longer be guaranteed an empty middle seat next to you flying Delta.
Delta made its blocked middle seats the core of its strategy to get through the pandemic, hoping the extra space would convince more flyers to book with Delta – and stay loyal after the pandemic.
Deciding not to extend that policy is perhaps the clearest sign yet that Delta sees travel coming back.