Airlines across the world are in an arms race to improve their business class cabins. Seats are getting more spacious, more private, and more luxurious – often at the expense of the everyday economy flyer.
Delta's answer has been its Delta One Suites, complete with better catering and your own door to shut out the rest of the plane. Launched just last year, these suites are light years better than Delta's other business class offerings. The airline started off putting these suites on its brand new Airbus A350s before beginning to overhaul its Boeing 777s with the same seat.
These planes also have Delta's new Premium Select seats, an excellent middle ground between the often pricey business class and standard economy, offering more legroom and better food than in the back of the plane. And while the competition is cramming more seats per row in economy, Delta's decision to resist that move on its 777s means it has the most spacious economy seats you'll find on ultra-long international flights.
Apparently, these moves have been a success for the airline. Because Delta's not done.
Delta has confirmed it will install Delta One suites and Premium Select on an upcoming order of 35 Airbus A330-900neo planes. Expect to start seeing these planes on international routes after Delta gets its first of these planes next year.
And Delta CEO Ed Bastian has also indicated many of the airline's Boeing 767s will get the same treatment, according to View from the Wing. These birds are the backbone of Delta's international fleet, and what you'll find most often flying between the U.S. and Europe.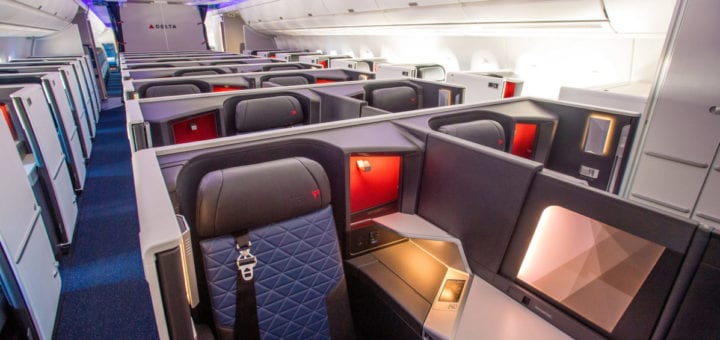 Our Analysis
Let's start with the bad news here. These new suites take up more space, which means there will be fewer business class seats on each plane after the new product takes flight. That means it's likely to get harder to book them, whether you're using cash or booking with SkyMiles.
But we can't understate how much of an upgrade this will be when these new, overhauled planes take flight. Delta's Premium Select seats are a new beast entirely, and a solid premium economy offering all around.
Delta's business class seats onboard its current 767s are, in a word, sad. While flying business class is always a treat, these seats are cramped and outdated. A refresh is well overdue, and Delta One suites will be a massive upgrade.
There's no firm timeline on when Delta will even start modifying its 767s, nor are there any details on what those suites will look like. When the time comes, we're pretty confident Delta will only put three Delta One suites in each row of the 767. The 767 is simply too narrow to fit four seats across, as Delta does on both its A350s and 777s.
Book Delta One for Cheaper
It's no secret that Delta SkyMiles can be unpredictable. Prices can be sky high – it's not unusual to see a one-way flight in Delta One to Europe or Asia for 200,000 or 300,000 SkyMiles.
Our solution? Use Virgin Atlantic Flying Club, the U.K.-based airline's frequent flyer program. This is one of our favorite workarounds in the world of miles and points and a great way to save some serious SkyMiles.
The airlines are close partners, so you can often easily snag a Delta flight by booking with Virgin Atlantic miles. Better yet, these miles are insanely easy collect as you can transfer directly from Chase, American Express and Citi.
Read our guide on using Virgin Atlantic miles to book Delta flights. It can require some patience, but the end result is that you can book a flight in one of these posh new Delta One suites for 50,000 to 60,000 miles when Delta wants to charge several times that.
As more Delta One suites hit the skies, we're cautiously optimistic this great workaround will get even easier to employ.
Bottom Line
The timeline is uncertain, but more Delta One suites are on the way.