Long after other airlines brought back coffee, drinks, and other goodies back onto planes after pandemic cutbacks, Delta is finally gearing up to ramp up in-flight service next month. But it won't look quite like you remember it.
Come April 14, Delta will launch a modified in-flight service with more food and drink options returning, according to a Tuesday memo to flight attendants first obtained by Thrifty Traveler. Yes, you'll soon be able to buy booze on-board again. And Delta confirmed on Wednesday, March 31, that hot meals will return in Delta First Class and Delta One starting as of early June – but only on transcontinental flights.
For nearly a year, Delta has given economy passengers only prepackaged bags with a few snacks, a bottle of water, and cleaning supplies – with limited additional options even for first class passengers. Delta has made safety cornerstone of its pandemic playbook, with blocked middle seats, new boarding procedures, enhanced cleaning, and more. This new service comes after extensive consultations with the Mayo Clinic on how it can bring back more food and drink options without sacrificing safety.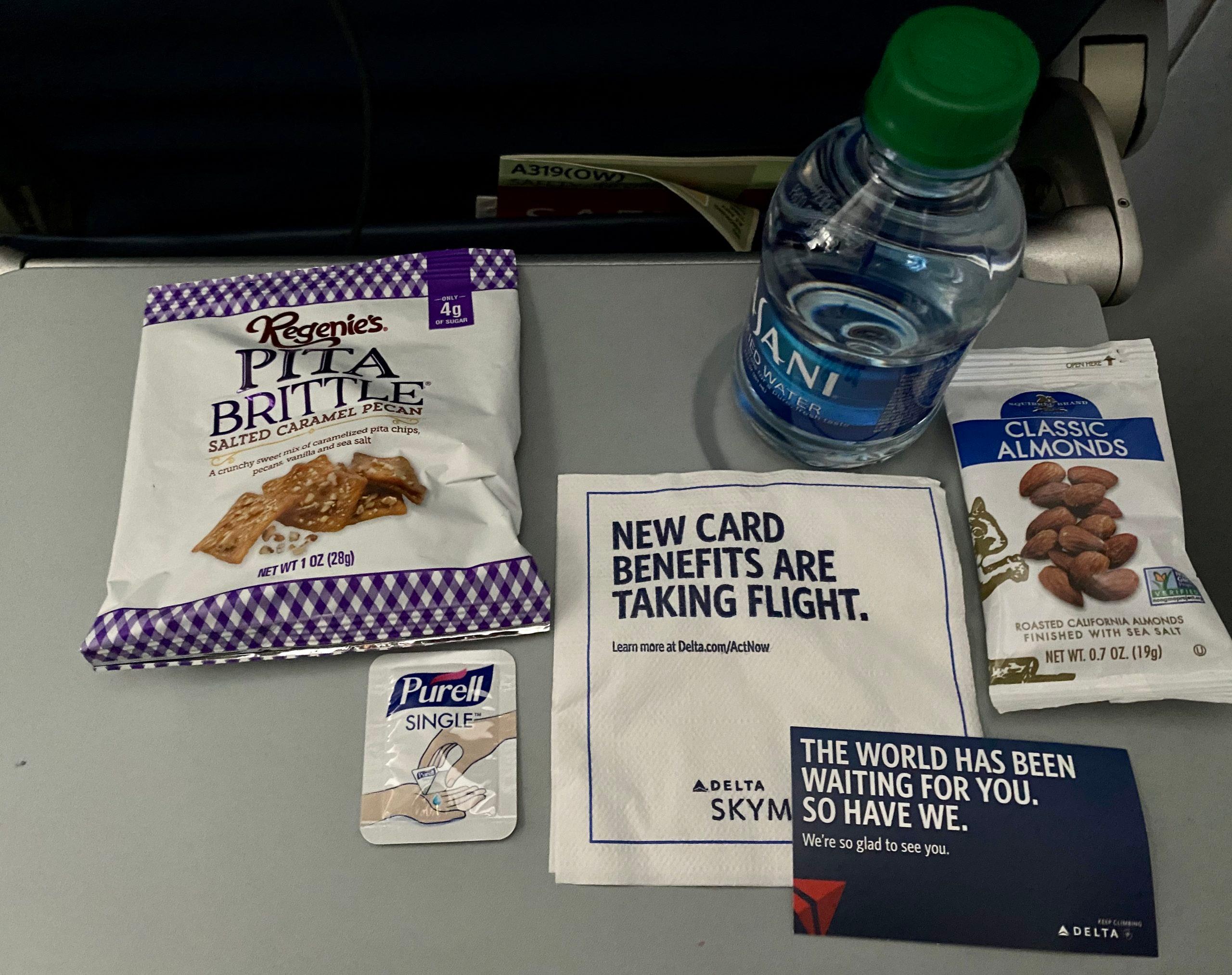 So what will you get on a Delta flight come mid-April?
The usual soda in a cup of ice is out, and mini 7.5-ounce cans of Coke, Diet Coke, Sprite, and Ginger Ale are in as well as juice – with ice only available by request. Delta will resume serving coffee and tea, which has been on pause for nearly a year. And every passenger will get both a sweet and salty snack from a mix of Clif bars, Goldfish, almonds, and fan-favorite Biscoff cookies.
And you'll soon be able to buy an alcoholic drink onboard a Delta flight again, thanks to the carrier rolling out a new contactless payment method earlier this month. For months, only first class passengers have been able to get a free beer or glass of wine. Delta will make beer, wine, and liquor available for purchase back in economy, too – plus canned cocktails from Tip Top Proper, including an Old Fashioned and Margarita.
But you'll have to pay more for it. Delta informed flight attendants that it will raise the price across the board by $1 for every alcoholic drink. Most drinks previously cost $8 to $10 on Delta. It will continue to be free up in Comfort Plus and First Class. Plugged-in Delta flyer and Twitter user @GoldboxATL beat us to the scoop on this new service.

Delta's entire streamlined service is clearly designed around making it as quick as possible, with an emphasis on canned and prepackaged options that can be handed off with minimal contact. It comes months after other airlines like American and United steadily brought back more familiar aspects of the flying experience – yet Delta resisted.
While service on international flights more has changed less since the pandemic, in-flight service on domestic and shorthaul flights remains scant. Some frequent flyers with Delta Medallion status have complained the Atlanta-based carrier wasn't doing enough by not serving coffee and giving out only snack boxes while other carriers have transitioned back to hot meals.
The airline will resume serving hot meals on transcontinental routes come early June. On other routes, First Class passengers will get "fresh boxed meals" starting in early July, Delta said.
Delta brushed off the critiques that it waited too long to bring back more in-flight service and food and beverage options.
"We have not followed other airlines or reacted to the actions of our competitors," Delta explained to flight attendants in the memo. "Rather, we're launching the new snack and beverage service the Delta way – driven by our values, focused on safety and with exciting new offerings our customers will enjoy and appreciate."
Bottom Line
It's far from what you might be accustomed to from your last pre-pandemic flight, but Delta is bringing back some food and drink options to domestic flights come April 14.
Lead photo courtesy of Delta