Delta's plans for overhauling their Boeing 777 aircraft have us positively giddy, and it's not just because more Delta One Suites are on the way. Rather, seat maps released by the airline indicate they will continue laying out Delta economy seats in a 3-3-3 arrangement. That's confounding in a world where airlines are constantly squeezing more seats into economy. It's a huge win for the average traveler.
In our minds, this gives Delta economy a considerable edge over its major domestic competitors, United and American, when it comes to ultralong haul travel. If you're flying economy for 12+ hours or more, chances are your seat will be bigger on Delta.
Basics of Delta's Boeing 777 Plans
Many of the big travel blogs out there are focused on the Delta One Suites on these planes, and business class offerings in general. There's no denying it's an exciting time to fly in business class. The new Delta One suites are a game-changer for domestic airlines. Qatar Airways' new QSuites are universally beloved, and United is slowly rolling out new Polaris seats across its fleet. Every airline is racing to keep their top-paying customers happy, comfortable and well-fed.
However, the average traveler is back in economy. In many cases, these travelers pay the price during aircraft upgrades, sacrificing space so the airlines can squeeze in more seats.
United is in the process of revamping many of its Boeing 777 planes, installing business class seats while cramming 10 seats per row in economy. Nearly all of American Airlines' 777s have 10 economy seats per row.  Even top-ranking international airlines like Cathay Pacific and Qatar Airways are going this direction.
More seats per row equals smaller seats. And on a plane like the 777, a 3-4-3 arrangement typically means a seat that's just 17 inches wide, and sometimes less.
Delta appears to be a notable exception. According to the seat maps of its first retrofitted 777s, the economy cabin will remain nine seats across.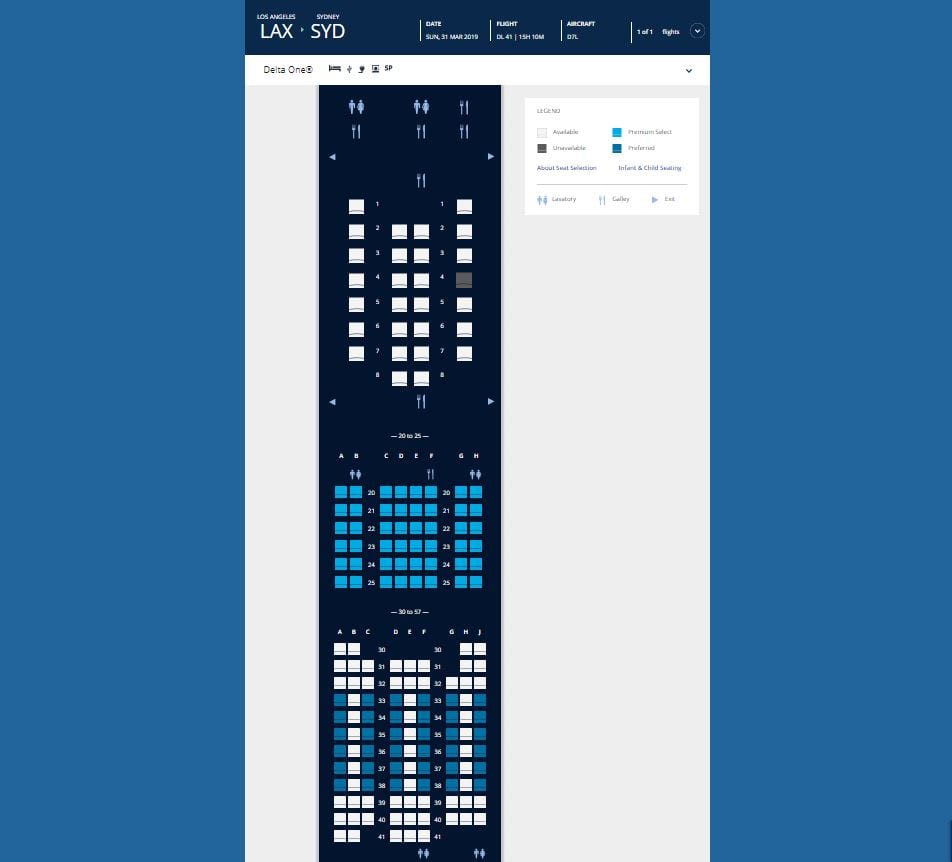 That allows Delta economy to continue offering a seat width of around 18 inches. And while that extra inch over American and United may not sound like much, it can make a world of difference. Especially on the long flights Delta uses these planes for.
Routesonline.com reports the first of these reconfigured 777s will launch on flights between Detroit (DTW) to Beijing (PEK), alternating days from July 2 through July 20. Next up is a 777 making daily flights between Los Angeles (LAX) and Sydney (SYD) starting March 31, 2019. These flights are already bookable. The schedule for upgrading Delta's 16 other 777-200s is unclear.
Note that these revamped 777s have just 28 Delta One Suites. So the flipside for you business class flyers is that business class space will be harder to come by. They will also be equipped with Delta's solid new Premium Select offering. 
Delta Economy Gets a Longhaul Edge
The workhorses of Delta's longest flights – think at least 12 hours from the U.S. to Asia or Australia – are the 777s and Airbus A350s. These planes also fly some popular routes to Europe, like flights to Amsterdam (AMS) from LAX, New York City-JFK (JFK) and Atlanta (ATL).
On both planes, Delta economy has seats nine across. That more generous economy seating arrangement gives it an upper hand over its domestic competition.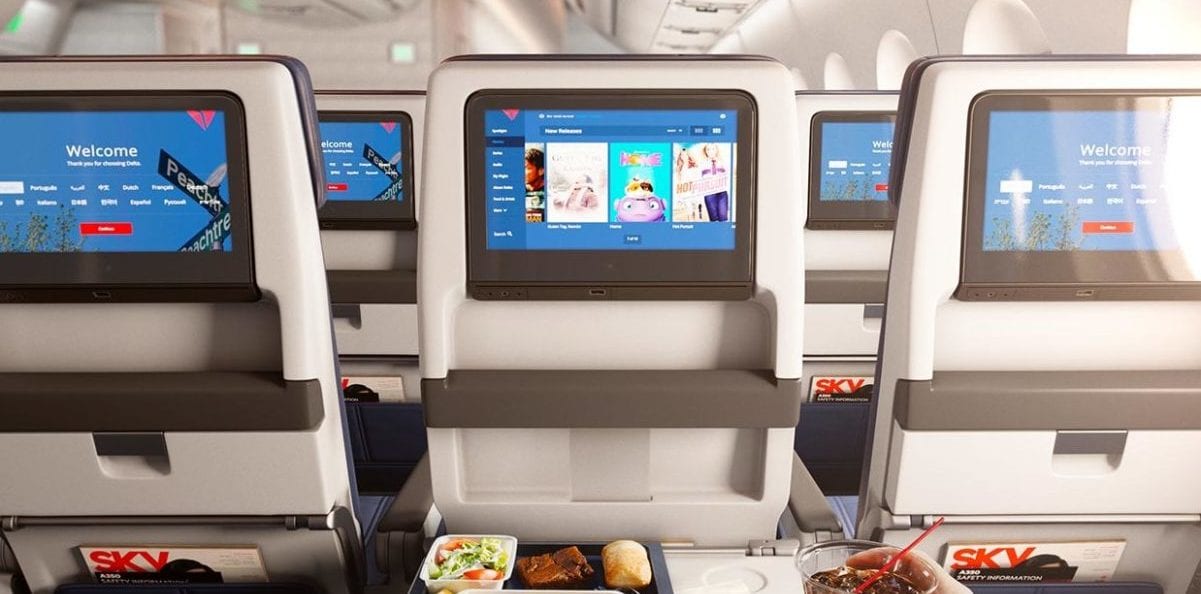 On the same routes, American and United fly 777s and 787s. But nearly all of their 777s squeeze another seat per row in economy. And while the 787s have a similar seating arrangement to Delta's planes, the plane is more narrow so the seats are too. The end result is that on these flights, you can expect a seat that's an inch or more wider on Delta than its competitors. That's huge.
Here's an example: The Big Three all fly non-stop LAX-SYD. You can expect your economy seat on Delta will be about 18 inches wide on a 777. United flies a 787 on this route with seats that are just 17.3 inches wide. It's worse on American: Your economy seats could be just over 16 inches wide.
Over the course of your 15-hour flight, you will pine for that extra inch or two. It's the difference between a reasonably comfortable ride and a cramped one, constantly bumping shoulders with your neighbor. 
To be clear, these planes occupy a small part of Delta's fleet, but given the ultralong routes they fly, it still stands out.
Our Analysis
There's one reason why airlines squeeze more seats into their planes: money. Specifically, they want more of it. Airlines big and small, domestic and foreign have seized on aircraft renovations as a way to squeeze in more seats. But so far, that's not the case for Delta's economy offering.
Maybe Delta has decided that it can stand out by refusing to cram 10 passengers in per row. Or maybe the airline simply couldn't get its economy seats to work with a more profitable – and less comfortable – arrangement. Whatever the reason, it's a big win for the average traveler.
Bottom Line
We're Delta apologists here at Thrifty Traveler. We see a lot of value in SkyMiles where others don't. However, part of our love for Delta is its consistent performance and our belief that they offer a more pleasant experience on board. This decision to stick with a more comfortable arrangement in economy just reinforces that.
Subscribe to our Newsletter, like us on Facebook, and follow us on Twitter & Instagram
Lead Photo Credit: Chris Lundberg – Flickr

Editorial Note: Any opinions, analyses, reviews, or recommendations expressed in this article are those of the author's alone, and have not been reviewed, approved, or otherwise endorsed by any card issuer.