Delta has extended all travel credits set to expire this year all the way through December 2022, the airline finally confirmed on Wednesday after a Thrifty Traveler exclusive last week, a move that gives travelers with credits from trips canceled in 2020 another year or more to use them.
Meanwhile, Delta is also giving travelers another month to book the cheapest basic economy fares with free change and cancellation, extending that window to new tickets booked through April 30. But the news about travel credits is a relief for travelers with money tied up in Delta funds.
Billions of dollars in unused airline credits are set to expire in the coming weeks and months as the world passes a year living with the pandemic –  even after U.S. carriers received more than $50 billion in federal subsidies from taxpayers. And while other carriers like United extended many credits to be used into 2022, Delta's previous policy only extended that window for flights initially booked before April 17, 2020.
Book a hopeful trip in late April that was later canceled? You'd have been forced to use that eCredit within the next month – or lose the money. Those Delta credits typically expire a year from the date the flight was initially booked.
Now, Delta has automatically extended that expiration date for nearly all travel credits. Any ticket purchased from April 1, 2020, and onward, then canceled, will get a credit valid through 2022 – including tickets purchased through the end of 2021 that are later canceled. Of course, travel credits from a trip booked before the pandemic that was upended by COVID-19 will be extended, too.
Delta flyers should see those updated expiration dates on their eCredits. At the same time, Delta also extended companion certificates from top Delta American Express cards through June 30, 2022.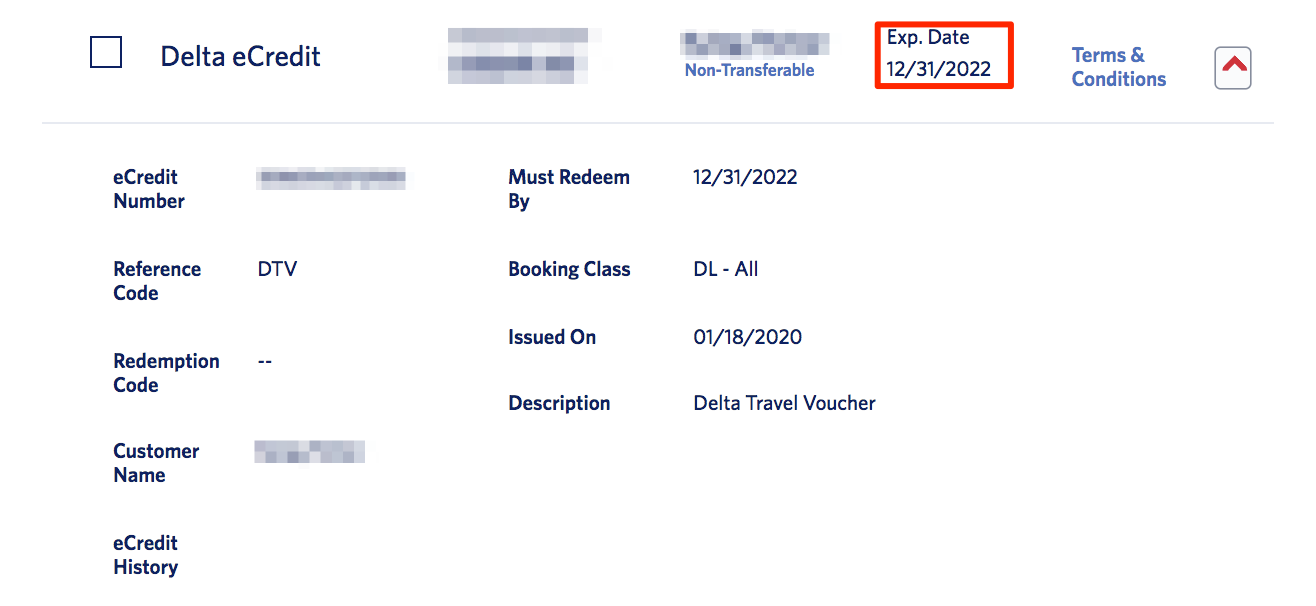 Want to find and use your Delta eCredits? Read our guide!
It's a rapid turnaround for Delta as pressure mounted on airlines to do more to help consumers. Just last week, Delta declined to comment on whether it would extend soon-to-expire travel credits, saying only: "We are continually reviewing and updating our policies, as we've done throughout the pandemic."
And it's a massive sum of money at stake for flyers. Delta estimated it had more than $2.6 billion in outstanding travel credits at the end of 2020, according to filings with the Securities and Exchange Commission. Those same filings show a total of $10 billion in travel credits spread across the four largest U.S. airlines.
The extension comes at a time when travel is at a turning point. After more than a year on hold, Americans are traveling again in record numbers. Yet they're also inundating airline call centers, trying to use airline credits or get them extended.
And Delta's extension of those credits on Friday goes farther than any U.S. carrier to date. That distinction previously went to United, which has extended all travel credits from flights booked through March 2021 through March 2022.
Delta is giving its flyers another nine months of time – plus giving more flexibility to people booking flights through the end of the year.

Lead photo courtesy of Delta