Airbnb has homes for rental. They can elevate your trip with Airbnb Experiences, classes, walking tours, and day trips with a local guide. And now the most recognized name in homestays is going a step further with Airbnb Adventures.
Rolled out on Thursday, Airbnb Adventures are like putting Experiences on steroids. These are full-service tours, ranging from a two-day jaunt to an 11-day trip that includes lodging, meals, and activities. Think two nights of luxury camping in Jackson Hole, Wyoming or a five-day trek across Vietnam by motorbike.
Read on for more on Airbnb Adventures.
What are Airbnb Adventures?
Airbnb Adventures take Experiences to the next level and launch Airbnb into the full-scale tour industry. Adventures are fully guided tours. Here's the lowdown on Airbnb Adventures:
The tours range from two to 11 days.
Adventures include all meals, lodging, gear, transportation, and activities.
Prices range from $99 to a few thousand dollars. All aspects of your trip is included in the price: all you need to do is show up.
Airbnb Adventures is just getting started, but already offers over 200 trips around the world.
Adventures are limited to 12 people or less for a small group setting.
Adventures are available for easy, moderate, and strenuous activity levels.
If you've ever felt lost while planning a trip, wanted a local expert to show you around, or wanted to hand over the trip planning for once, check out Airbnb Adventures.
Thrifty Tip: New to Airbnb? Sign up using our link and you will receive $40 towards your first stay, or $15 off an Airbnb Experience of $50 or more.
Browse Airbnb Adventures
To explore the hundreds of tour options, take a minute to browse the newly added Airbnb Adventures. You can browse the Adventures by region.

Or by your interests, too.
There are Adventure tour options on the low and high end of both time commitment and price. For example, you can do a 3-day homestay and hiking trip in North Vietnam for $121 total per person.
or take an 11-day trip through the top sights in Madagascar for $4,800.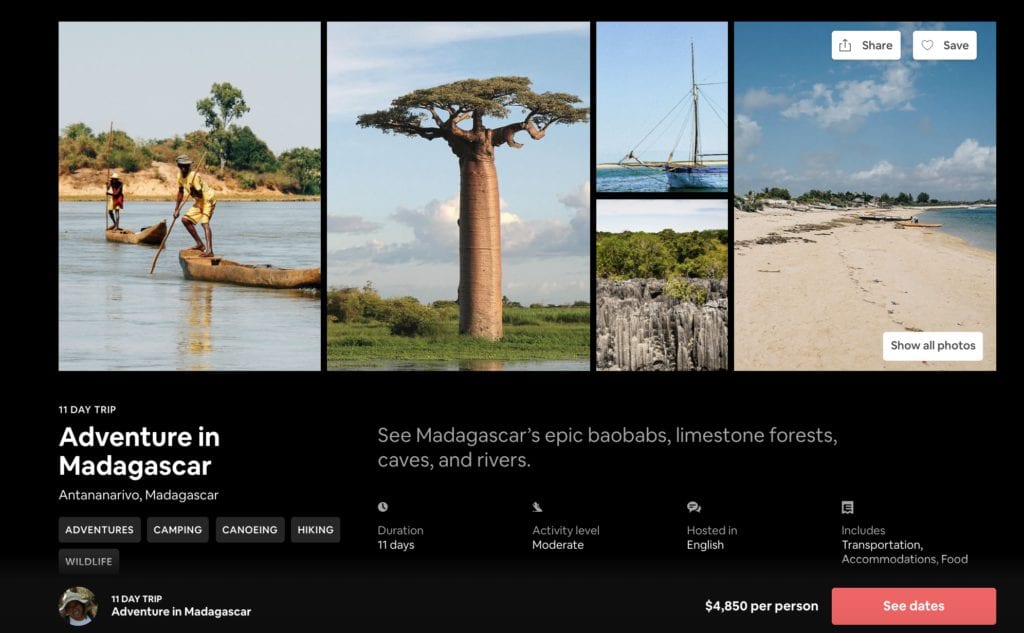 Whatever your budget may be, there are plenty of options already – and more are certainly on the way. All food, lodging, activities, and transportation is included in your booking, so this could be an easy way to plan an entire trip with one click of a button.
How to Book an Airbnb Adventure
Airbnb Adventures are brand new, so there aren't a ton of reviews up for the available tours quite yet. But there are already 200-plus options out there to book.
Let's take an in-depth look at this overnight Adventures trip to hike a hidden cave in South Africa as an example.
The photos, title, and tags will give you an idea of what this tour is all about. Note the duration, activity level, hosted language, and what's included. This Adventure is marked as "strenuous," so just be sure to pick an activity level that is right for you.
Pay close attention to what's included: $210 for transportation, three meals, unique accommodations in a cave, and hiking gear is a pretty good deal!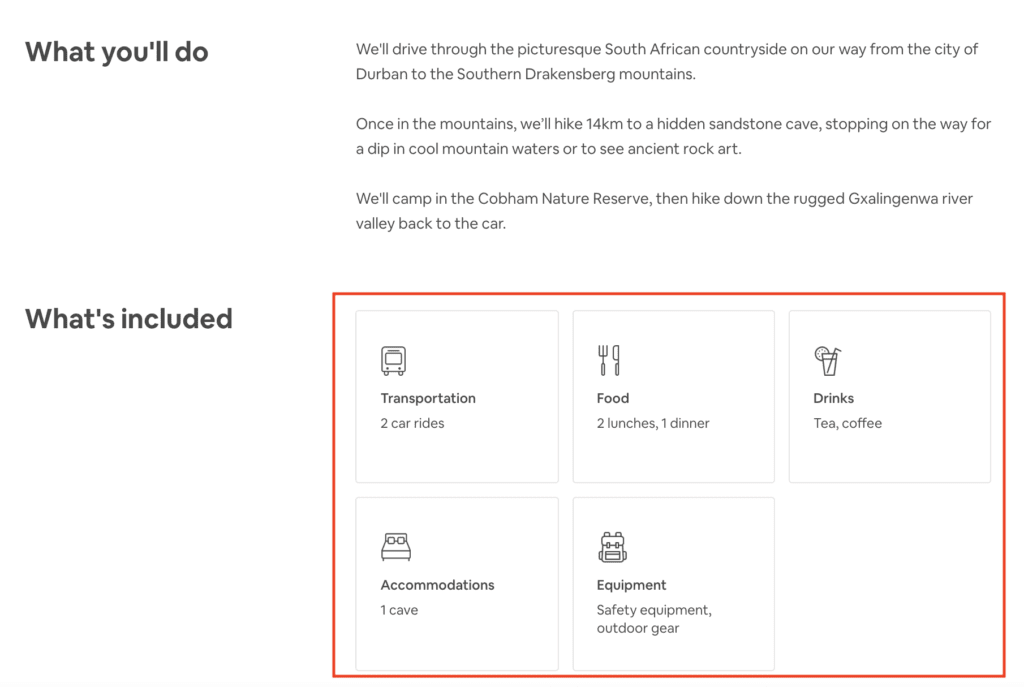 For each Airbnb Adventure, you can see the full itinerary broken down by activity.
Just like with Airbnb, you can read more about your host. Adventure hosts are locals registered with tour companies and typically have years of experience.
And just as you would when booking an Airbnb home, look at the guest photos and take a read through the reviews! Guest photos and reviews are a great way to get a feel for what the experience was like from a guest's perspective.
Bottom Line
Whether you want to glamp in the Sahara, track lions on foot, take a kayaking trip in Sweden, or take a horseback riding trip through Portugal, odds are there's an Airbnb Adventure out there for you. Check out this brand new Airbnb service and see what piques your interest.