Maybe I'm late to the game or this is news to you too, but I recently discovered the amazing Google feature known as Google My Maps. It is an awesome way to create different maps for destinations of interest or upcoming trips. You can categorize your location tags and organize your trips so easily. Google My Maps is handy for organizing and planning your trip, especially if you're like me and want to know what attractions and must-see points of interest are close to each other.
Access your Google My Maps on your Google Maps smartphone app for easy walking, driving, or metro directions to each point of interest. Convinced of the magical powers and ready to learn how to use Google My Maps? Here's how to get started.
Using Google My Maps
Go to Google My Maps via a desktop computer and create a new map in the top left-hand corner. Note that you can share your maps with others. Once your maps are created, you will be able to access them on the Google Maps smartphone app.
Once you've created your map, title your map and begin by adding a layer. I added all my layers before beginning to add locations.
You can organize your trip maps in so many different ways: organize by topic like mine below, by day, by location/neighborhood, and more. Simply click on the title to change the layer name.
To begin adding destinations to your layers, simply search for a restaurant, museum, attraction, street, or a point of interest on the search bar at the top. The location you've searched will show up as a bright green location icon. From there, add to your map and it will populate into the layer you last clicked.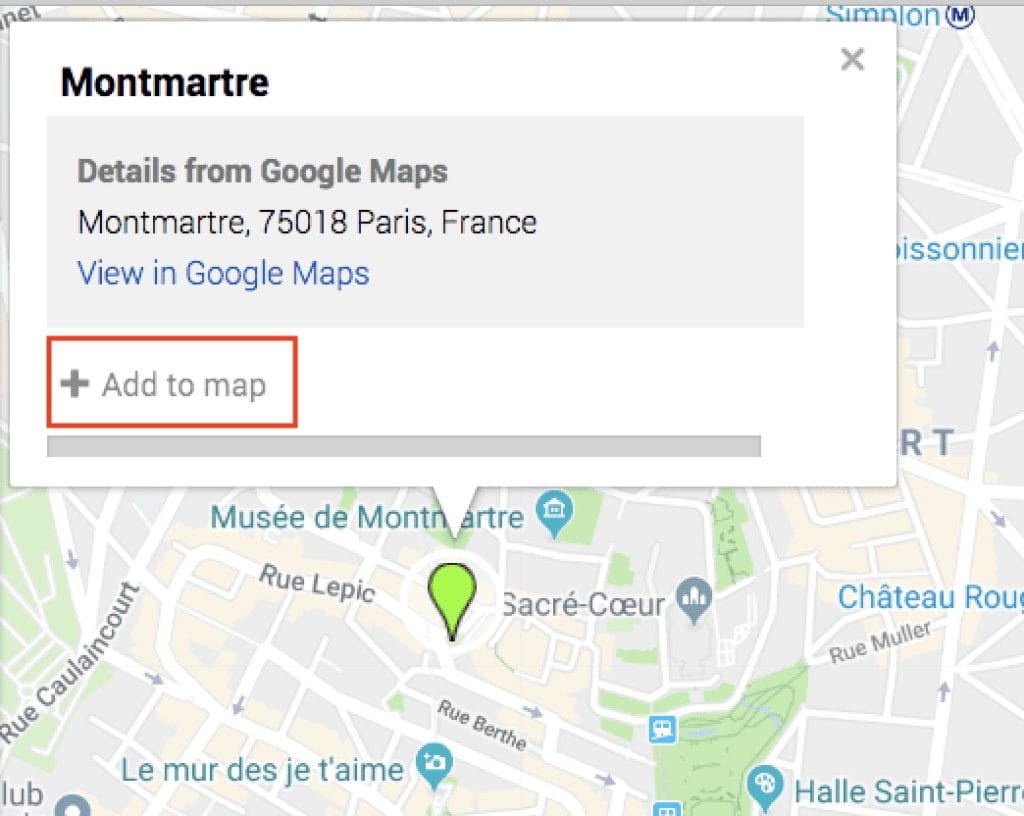 Once this item is on your map, you can further customize this point of interest. In the screenshot below, you can see a red square around the pencil icon. Click this icon to make a note to yourself about this location.
You can see the notes I've added for this restaurant below. Next to the pencil icon is the camera icon: you can drag and drop a photo into this tagged location. I dropped photos into most of the "Paris Views" points of interest I tagged so I could remember which camera angle I wanted to use to photograph from that spot.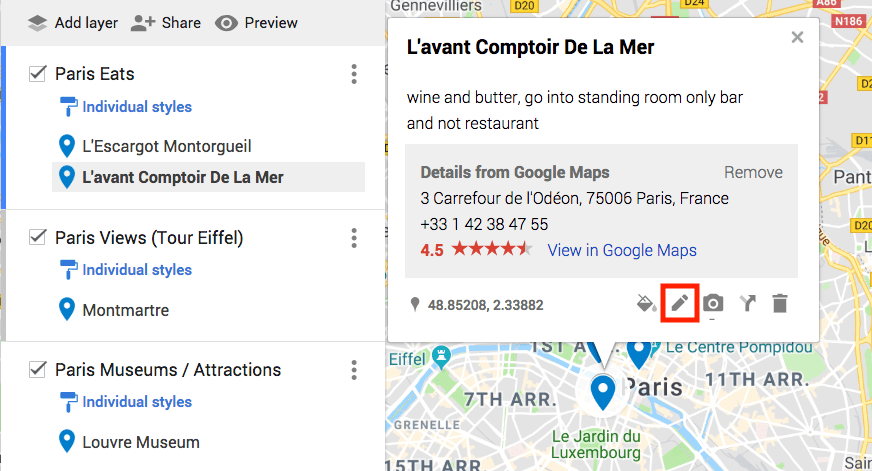 Once you've got all of your points of interest added to your layers, it's time to customize to make the different places stand out. If you've categorized by topic/type of destination, you can use a uniform style (like the one I use below) and make all points of interest the same color and icon.
Below, you can see I've made all restaurants a red fork and spoon icon. If your layers are categorized by day or are not all the same type of attraction, use "Individual style" to change each individual color and icon.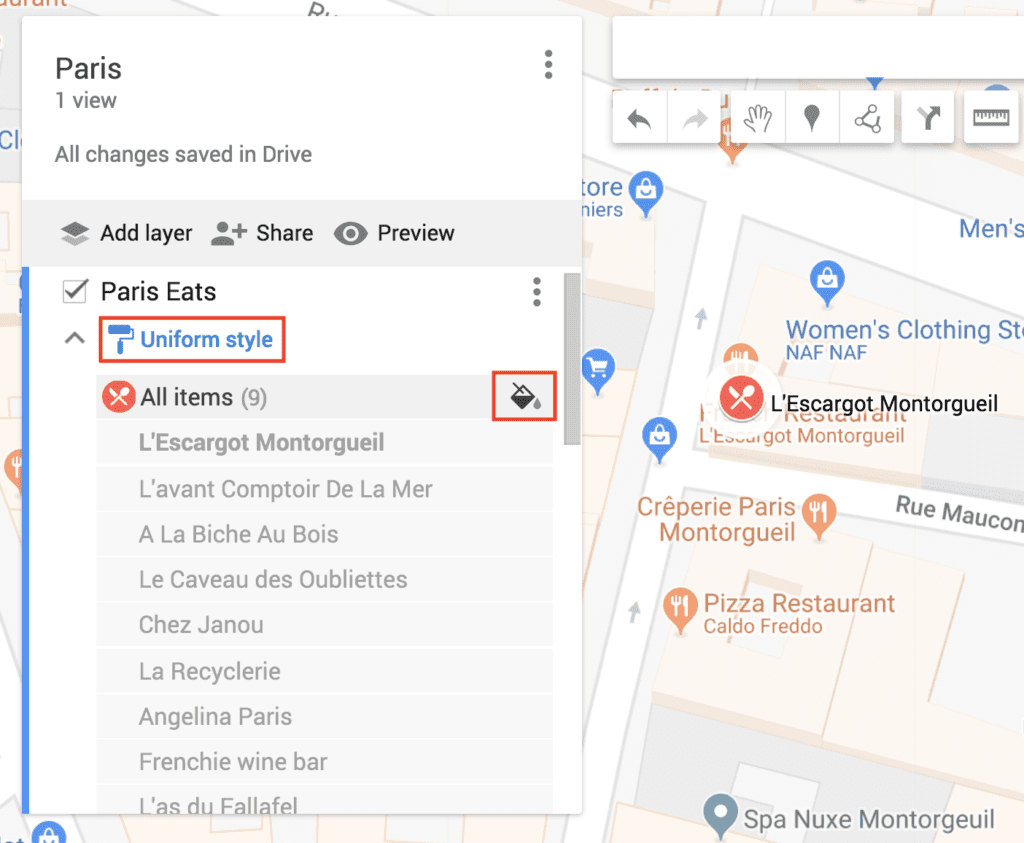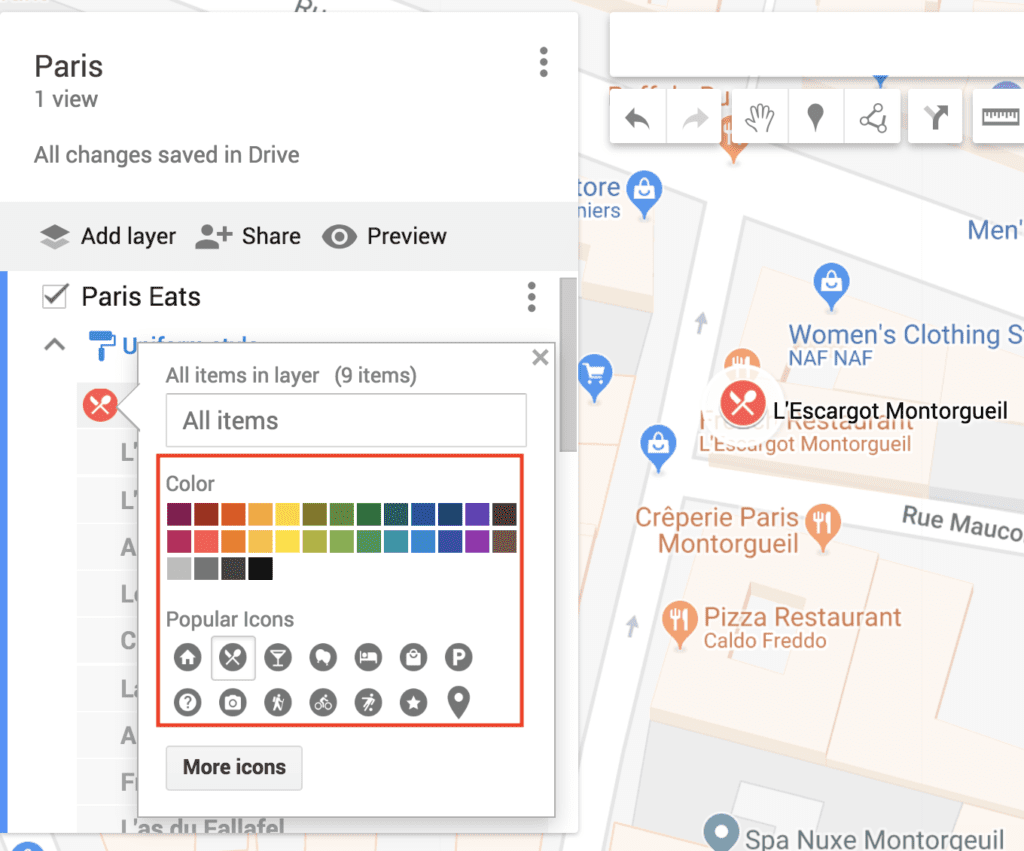 Once you have your points of interest added to organized layers and you've color-coded and assigned icons to your locations, your map is ready to use! Open the Google Maps app on your smartphone and check out your masterpiece.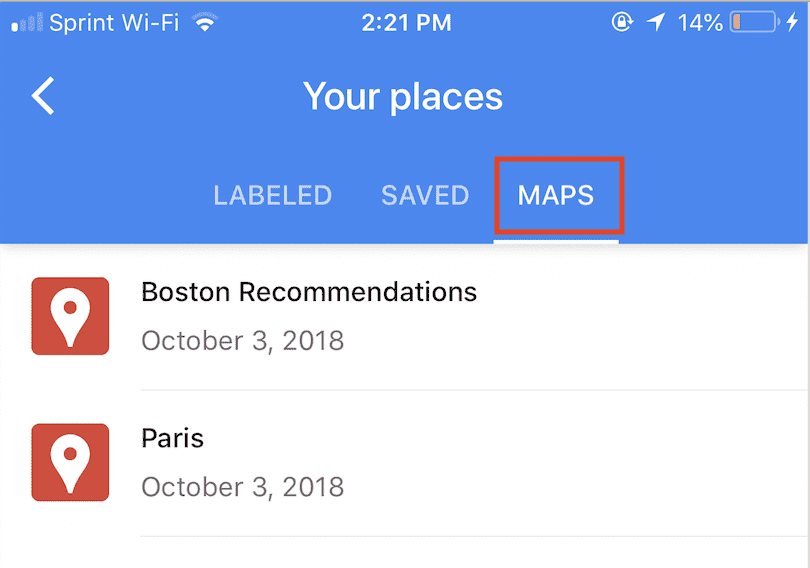 Find your My Maps in the Google Maps Phone App under "Your Places" and "Maps". Make sure you are signed in under the same Google account as the one you used to create your map. The Maps will be stored under your Google Drive connected to that account as well. Look at this work of art! Here, you can see all of the points of interest I added to my Google My Maps.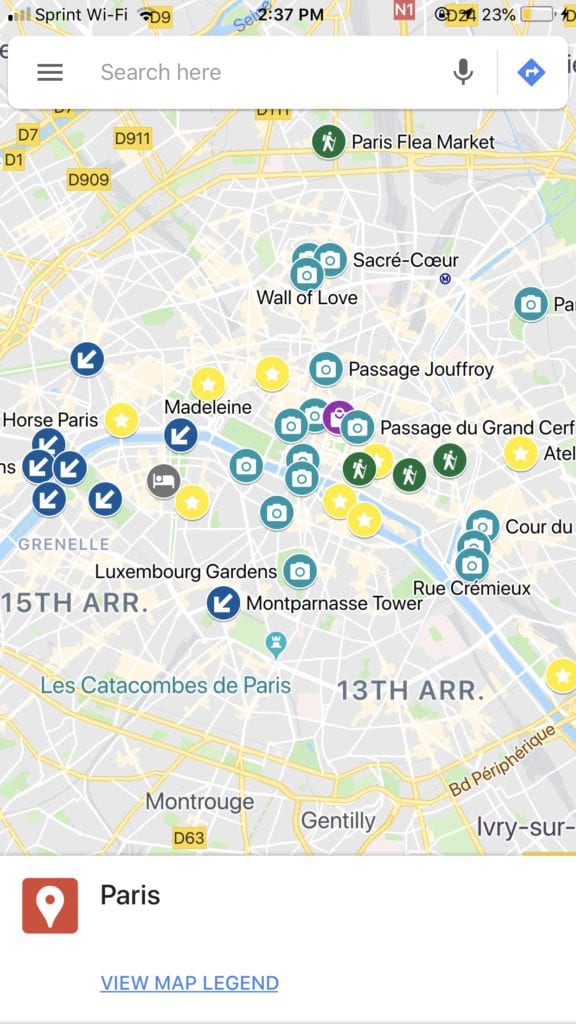 Wondering how I came up with these must-see spots in Paris? I asked the Thrifty Traveler Premium members-only Facebook group for the best food, attractions, views, and hidden gems in Paris, and got tons of awesome recommendations I would have never found just browsing the web.
Thrifty Tip: Learn more about How Thrifty Traveler Premium works here.
I can click on any of the below icons and see the name of the point of interest, any notes or photos I added to the location, and get directions there by foot, public transit, or car. I'm so proud of my finished product!
Example My Maps
Curious what different itineraries can look like in Google My Maps? I've made quite a few now, each for different styles of trips organized in different ways. Here are a few examples:
Paris – organized by type of attraction/site
New Orleans – foodie spots, organized by type of food
Kauai, Hawaii – organized by type: campsite, food, hiking trail, etc.
Iceland – Ring Road road trip camping, organized by day
This is just a taste of what you can do with the different layer categories and color-coded icons. The planning world is your oyster now!
Bottom Line
If you're looking for an organized and effective way to prepare for your upcoming travels, you definitely need to make yourself a Google My Maps. Organize your trip, map out your must-see spots, and easily get directions to the points of interest most important to you.
I hope this guide on how to use Google My Maps was helpful, and you're inspired to make your own map for an upcoming trip. I am officially obsessed with Google My Maps and will be creating a map for every city I visit from here on out.