Between Rome, Venice, Milan, and the Amalfi Coast, it's hard to know where to begin in Italy. But Florence should be on every travelers' list for a trip to Italy. Nestled in central Italy in the heart of Tuscany, Florence was ground zero for the Renaissance. Today, it offers all the art, culture, and gorgeous architecture you want out of a trip to Italy – plus the food and wine you need.
No matter your passion as a traveler, Florence is all but guaranteed to have you covered. It's a great home base to stay for a few days before heading out to explore the countryside of Tuscany, Cinque Terre, or small picturesque Italian villages.
Here's your guide to the top things to do in Florence, Italy.
Where to Stay in Florence
I arrived in Florence via the Firenze Santa Maria Novella railway station from Rome, the main train station for Florence.
If you're heading straight for Florence, most of the major European airlines fly to the Florence (FLR) airport nonstop from their respective hubs. Just grab a 15-minute taxi ride into the city, or else hop on the 10-minute train ride into the heart of the city for less than 2 euro apiece.
Thrifty Tip #1: If you want to save a few Euros and burn some pasta and wine calories, walk from the train station into the Florence city center, about a 15-20 minute walk.
Florence is where I learned the hard way that traveling with a carry on is the only way to go. Cab drivers went on strike, so I had to walk nearly a mile with my huge luggage on cobblestone streets. Lesson learned!
But in general, you'll find Florence is a highly walkable city if you position yourself in the heart of the city center. My stay at the Palazzo Roselli Cecconi was perfectly situated for all my sightseeing. Every spot on my list was a 15-minute (or less) walk.

Get Your Art On
There's so much art to see in Florence. But the two key museums I would prioritize are the Gallerie Degli Uffizi and the Galleria dell' Accademia.
The Uffizi Gallery
The Uffizi gallery is the one you will most likely spend the most time exploring. If you are a Medici family nerd like me, you will be in awe of the corridor of sculptures from the Medici family home in the 1400s.
The museum is almost always packed, so make sure to buy your tickets as far in advance as possible. I had the opportunity to see my favorite piece of artwork here: Botticelli's Birth of Venus.

The Uffizi is close to the heart of the city, while the Accademia is roughly a 15-minute walk heading outside of the city center.
The entrance fee to the Uffizi is the most expensive at 20 euro, but you can spend hours here. Buy your tickets online ahead of time and check out your options for a five day pass that includes the Pitti Palace, or the Firenze Carte that includes 60 museums.
The Gallery dell Accademia
In general, Accademia houses fewer notable works of art than the Uffizi with one exception: Michelangelo's David sculpture, which towers over the museum.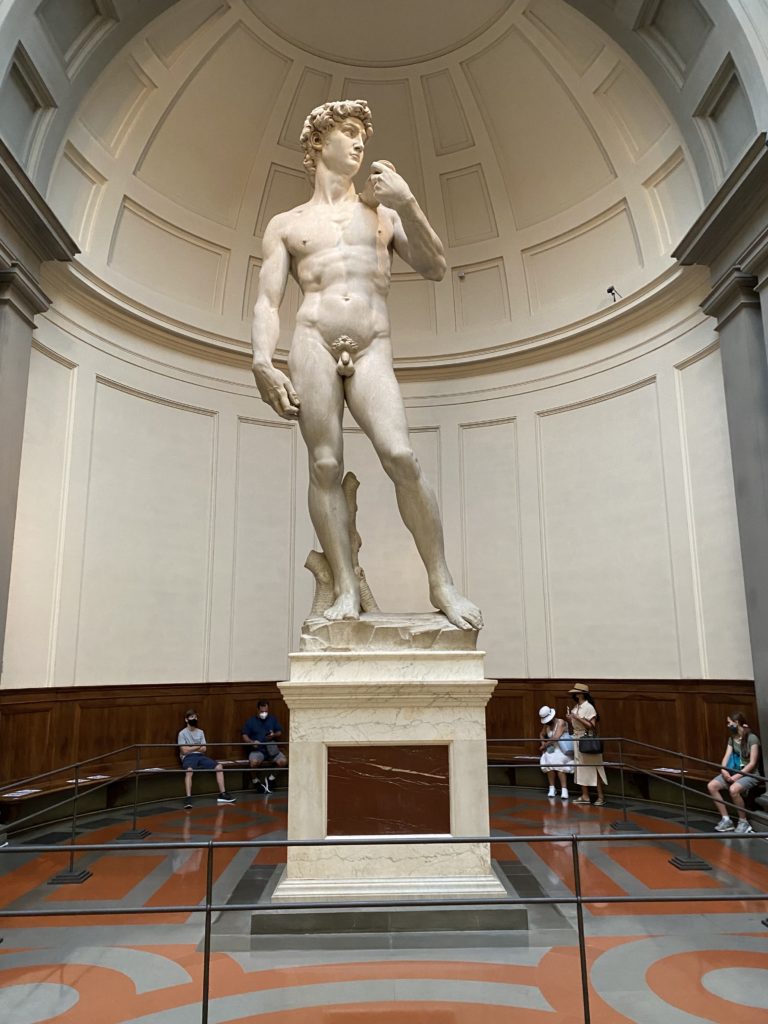 This is an incredibly popular museum, so you'll want to make sure to get tickets in advance so you don't have to wait in line for hours.
The Duomo of Florence and the Baptistry
Some tourist magnets live up to the hype, and others don't. Put the Duomo, completed in 1436, in the "lives up to it" column.

There are a few things to know before you go. The cathedral is free to enter but if you want to climb the dome you'll want to buy tickets in advance of your visit. Brunelleschi's dome has 463 steps up to reach the top and the corridors are small so keep that in mind if you decide to go up.
There is a dress code to enter the cathedral. You will not be allowed to enter with sleeveless tops or short shorts. So keep that in mind, especially if you're walking around on a hot summer day.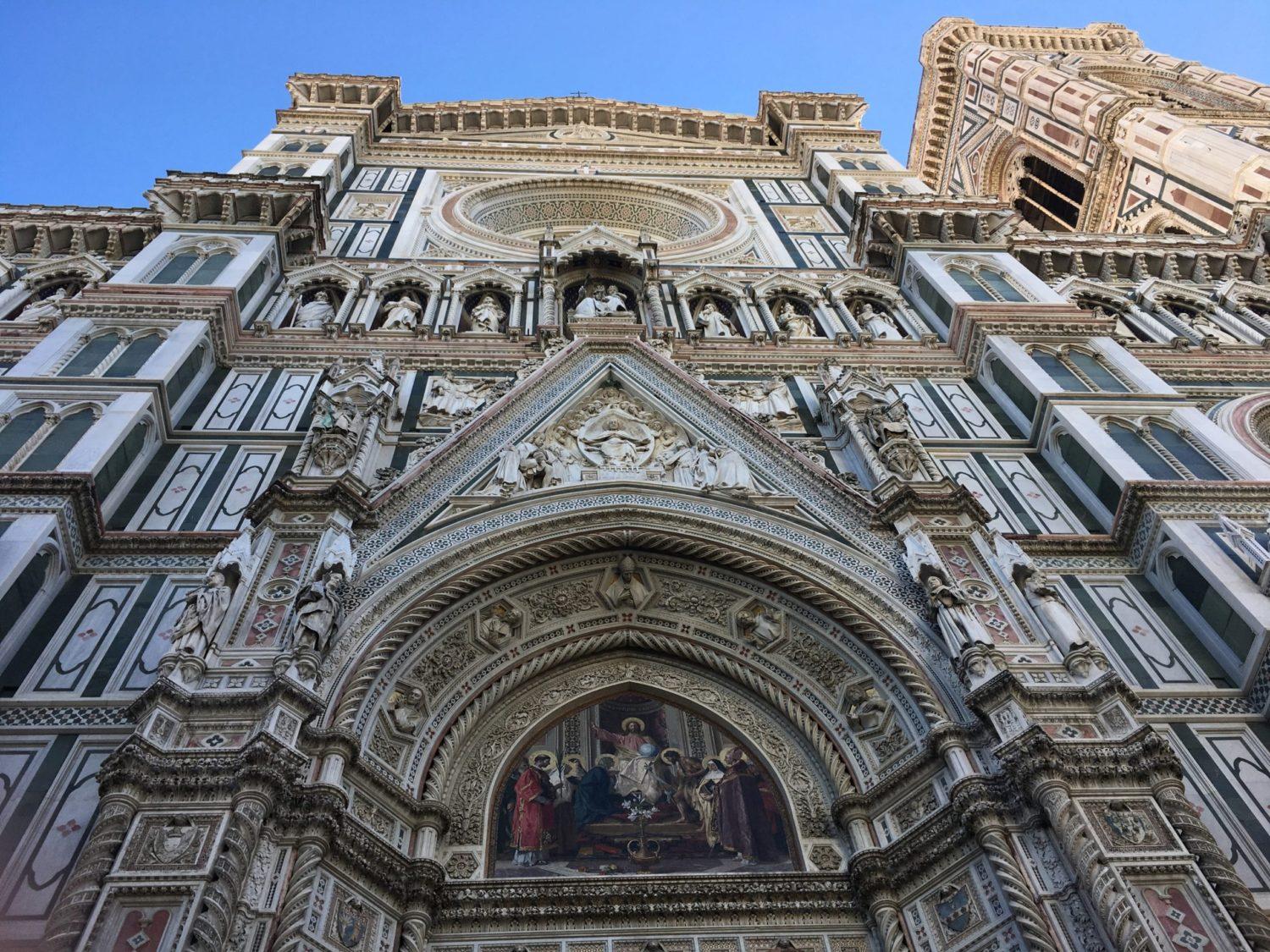 You arrive 30 minutes prior to your climb to the top – and this climb isn't for everyone. The passageways are quite narrow and there are 400-plus steps to conquer. Once you are at the top though, the views of Florence were spectacular. Halfway to your destination, you can take a break and admire the beautiful artwork on the ceiling of the dome from the inside.
After your climb, stick around to tour the cathedral and the main place of worship. Make sure you check the hours of operation. The Baptistry of San Giovanni, or St. John, was built before the cathedra. It was completed in 1128 making it one of the oldest buildings in the city. It is famous for it's set of bronze doors depicting the life of St. John the Baptist. Inside you'll find a gold mosaic dome and many statues and relics. The writer Dante was baptised here and so were many members of the Medici family and other prominent Florintines.
The famous bronze doors are on the outside of the Baptistry but if you want to enter you'll need tickets. It's easiest to purchase tickets online in advance. You can either get tickets just for the Bapitstry or combined tickets for both the Museo dell'Opera del Duomo and the Baptistry.
The Ponte Vecchio
The original Ponte Vecchio, or "old bridge", was built over the Arno river in 1218. That bridge was destroyed in 1345 in a flood and then rebuilt to what you see today. This bridge was the only one the Germans didn't destroy during WWII. It also survived a massive flood in 1966.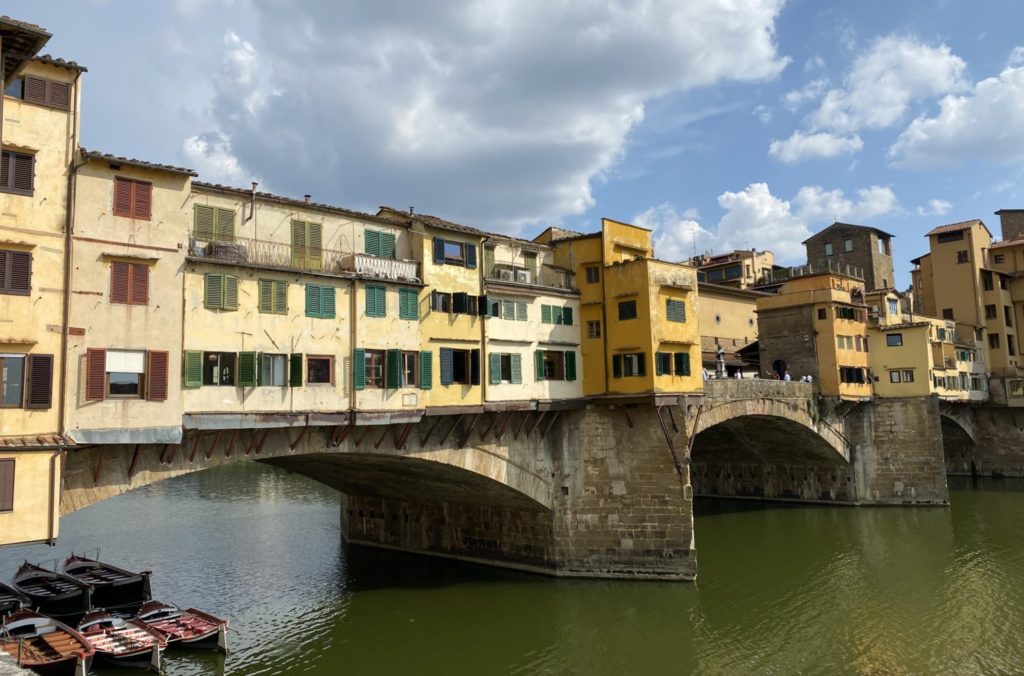 Today, when you walk across the bridge you'll notice that all of the shops are selling jewelry and gold items. There have been shops on the bridge since it was built. In the beginning, there were fishmongers, butchers, and tanneries. But it wasn't until 1565, a few hundred years after it was built, after many complaints concerning the smell in the area, that a law was passed only allowing goldsmiths and jewelers to sell on the bridge.
The Palazzo Vecchio
The Palazzo Vecchio, or "old palace", is the town hall of Florence and it overlooks the Piazza della Signoria which was home to the statue of David – now replaced by a replica.

Palazzo Vecchio is a town hall from the 1200s, a significant building to Florence's history. It now houses town hall offices, the Palazzo Vecchio museum, bell tower, and even secret passages that the Medicis used to hide valuables and escape from enemies.
You can purchase tickets online ahead of time, or you can get the Firzenze Carte for which gives you entrance into many museums.
Palazzo Pitti
The Palazzo Pitti, or Pitti Palace, is just across the Arno on the other side of the Ponte Vecchio. The main part of the palace dates from 1458 and was originally the home of a prominent banker named Luca Pitti. The Medicis bought the Palace in the mid 1500s and it then became the residence of the ruling families of Tuscany.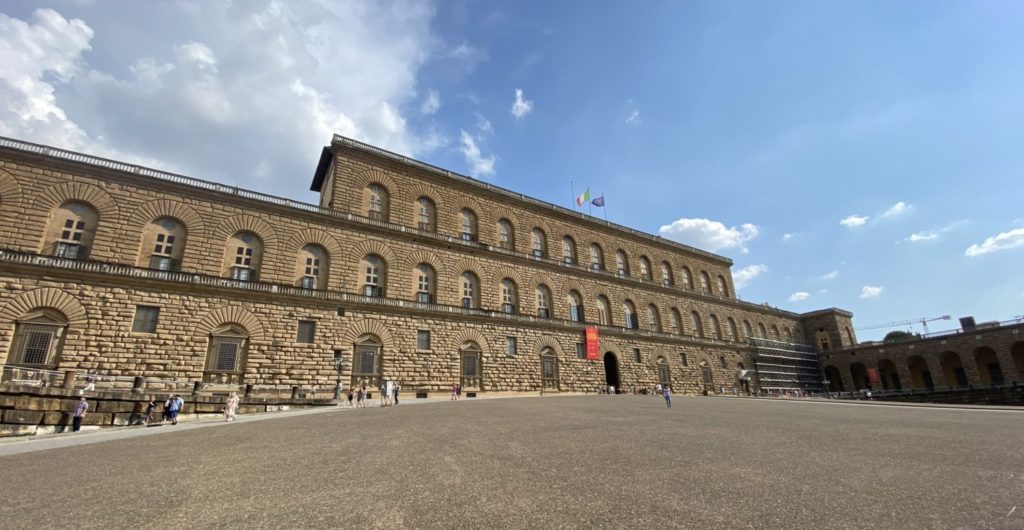 It later became one of Napolean's many residences, and later the Italian royalty took over. It was donated to the city in 1919 by King Victor Emanuell III. In the time the Medicis occupied the Palace, they amassed hundreds of paintings, jewelry, ceramics, and other works of art. In addition the museum now houses notable works by well-known painters Rapheal, Titian, Rubens, and Carravagio. There are dozens of rooms to explore. There is also a large garden, the Boboli Gardens, right behind the Pitti palace but you'll need to purchase separate tickets for the gardens. You can find tickets for both the palace and gardens online.
Thrifty Tip: If you're planning on visiting the Uffizi, the Pitti Palace, and the gardens, you can get a five day pass for all three at a reduced rate.
Is the Firenze Carte Worth it?
The Firenze Carte, or Florence Card, is a museum pass that gets you into 60 different museums around the city. It costs 85 euros and includes sites like the Pitti Palace, the Uffizi Galleries, Academy's Gallery, and the Palazzo Vecchio Museum. It also gets you fast-tracked access into the sites, but some do require reservations in advance. Plus children under 18 get in free with a cardholder.
It sounds like a great deal, so what's the catch? The pass is only good for 72 hours from the start of your first visit. So you will have to decide how many museums you can, or want to, go to in three days and do the math. Entrances to many of these places cost around 7 euro up to 20 euro, but being able to skip the line certainly adds value. It's important to note that children under 18 already get free to most of the sites, so that doesn't end up being an added value.
Other Florence Hotspots
Piazzale Michelangelo has amazing views and it is a great gathering spot for sunset. Grab a bottle of wine, roam the copies of Michelangelo's sculptures, and soak in pure Florence.
Try a cooking class through FlorenceTown or find another option on Airbnb Experiences. You get authentic Italian food and wine while meeting others, sharing your passion for food, culture, and good wine.
What to Eat in Florence
There are so many amazing places to eat and drink all around Florence. Just avoid restaurants around the Duomo and off of the main streets, and you'll be set. Even if the reviews online are decent, I found the food was not very authentic. Wander and be prepared to get lost in the search for a great meal.
One must-visit spot in Florence for food is All' Antico Vinaio. Their sandwiches are legendary and the line stretches around the block. It's a great spot to grab food on the fly during a busy sightseeing day and the sandwiches are only 5 euro!

Check out either Mercado Centrale or Mercato di Sant'Ambrogio for groceries if you have a place to cook where you are staying. Centrale is definitely the busier of the two, but both have a great mix of tourists and locals.
Florentine Steak
Bistecca alla Fiorentina, made from a local breed of Tuscan cattle the Chianina, is not for the faint of heart. One of the most popular Tuscan dishes, this 3lb, 2- inch thick, t-bone steak is cooked on a charcoal grill with olive oil and local herbs.
It can come pre-sliced with the bone or uncut and can be easily shared between four or more people. This is definitely a must-try if you're a meat-eater.
Why is the bread so bland?
At most restaurants in Florence, you'll get a bread basket at the start of the meal and you might wonder why it tastes so bland. Traditional Florentine bread doesn't have salt. In the Middle Ages, Florence and Pisa were constantly at odds. Legend has it that, in an attempt to force Florence to surrender in one of their endless battles, Pisa blocked Florence's salt that arrived at the port, and unsalted bread was born.
Your bread will always be accompanied by a bottle of Tuscan olive oil, and salt and pepper. Put some oil on a small plate and add some salt and dip your bread in. You won't even miss the salt in the bread.
Day trips from Florence
Take a Tour of Tuscany
You can't leave Florence without a visit to the countryside of Tuscany and the Chianti region. There are a few options for wine tours: You can do a private tour (pricey), a small group tour if you are traveling with a group, or you can also find some smaller group tours or a larger group tour which are more cost-effective.

I was solo on my trip, so I opted to join a larger group tour. I highly recommend the tours by Walkabout Florence. It was a phenomenal day, traveling to three wineries, including a three-course lunch at one while ending lunch on a gorgeous patio overlooking the vineyard. There are many wineries to explore, so do your research.
Siena
If you like to maximize your trips abroad and see more, you will want to explore outside Florence and check out some of the small villages across the countryside.

Siena is a small village slightly over an hour outside of Florence. It has a beautiful cathedral to visit called the Duomo di Siena. The entire village is centered around a large piazzo that is great for food, people watching and enjoying some gelato.

San Gimignano
The medieval-looking village of San Gimignano, is a great stop and it's less than an hour from Florence. Make sure to hike around the village a bit and climb up on the hillside for the phenomenal views. Climb the San Gimignano Bell Tower for even more vistas! The historic center of the city has many food and drink options. Fattoria II Piano is a great winery option for your stop here.
Pisa
Pisa is just an hour from Florence by train. From the train station in Pisa, you can walk to the Leaning Tower in Pisa in about 20 minutes. This makes it an easy day trip or even just a morning or afternoon trip. There isn't much else to do in Pisa besides the tower.
Montalcino
It may be a bit farther away, but this tiny hilltop Tuscan town is easily worth the two-hour drive.
Montalcino is located another hour south of Siena, so you'll want a rental car to make it worthwhile. But this small village is easily worth it: It's pure, picturebook Tuscany.

Montalcino is best-known for its Brunello di Montalcino wines, with many beautiful vineyards surrounding the town harvesting and bottling it. Wind your way through the small restaurants and cafes scattered around town, punctuated by breathtaking views of the rolling Tuscan landscape.
Grab a plate of pici (or pinci) pasta, the handmade, rough-shaped noodles this region is also known for. Lunch at Taverna del Grappolo Blu is an absolute must.

Nearby Florence
Cinque Terre
You may think Cinque Terre requires several days to visit in order to be worth the stop. You're not exactly wrong, but Cinque Terre is always worth however much time you can spend – whether that's two weeks or just one night. Make sure you get here.
It's a little over two and a half hours by train from Florence, so it's a bit far for a day trip. You'll want to spend at least one night in one of the five towns that make up Cinque Terre.

Conquer it either on your own or with a tour guide or group tour that will help you navigate the trains and hike between the five cities. Book a boat tour for views of the cities from the water. You can find tours right at the harbor of almost all of the cites.
Whether you spend one night or three, you'll want to come back to this magical place.
Bottom Line
Florence is a definite bucket list city. It doesn't matter if you are traveling solo, with a significant other, or with a group of friends; Florence is guaranteed to leave you inspired and determined to visit Italy again in the future.