No matter whether you're skiing in the winter or hiking in the summer, a trip to Strawberry Hot Springs better be at the top of your list for a trip to Steamboat, Colorado.
This place is an oasis. You can soak in one of the many hot springs of varying temperatures while taking in the stunning natural landscape surrounding the area.
But before you go, there are quite a few things you need to know. Read on for how to get there, what to bring, what to expect, and answers to your questions about Strawberry Park Hot Springs.

Where is Strawberry Park Hot Springs?
Strawberry Park Hot Springs is located just 15 minutes from downtown Steamboat Springs.
You'll find the hot springs at 44200 County Road 36 in Steamboat Springs. This makes visiting the hot springs an easy activity to do during your visit to Steamboat.
But the springs are located about three hours from Denver and Grand Junction, which also makes them great for a quick day or weekend trip.
Entry to Strawberry Park Hot Springs
A visit to the hot springs costs $20 per person for all ages. Note that the facility only accepts cash or check: Credit cards are not accepted! 
Technically, each reservation is for a 2-hour visit. But during a recent trip, that wasn't enforced at all. But you cannot leave the springs and come back later in the day – reservations are only good for a one-time visit.
The springs are currently open daily from 10 a.m. to 10 p.m., even on holidays. But there are very few lights after dark, which makes for great stargazing in a natural setting … but just be sure to bring a flashlight or headlamp if you're visiting after dark.

The springs are open year-round. Note that four-wheel drive with snow tires or chains are required to visit from November 1 through May 1, as the dirt road leading up to the springs is tricky in the snow. Fortunately, you can also book a shuttle to the springs if you don't have the right vehicle for a winter visit.
During the COVID-19 pandemic, Strawberry Park is operating at just half capacity. There are no walk-ups accepted: All visitors must reserve a spot ahead of time. Online bookings are limited to groups of six or less. Spots are very limited, so you'll want to book well in advance by making an online reservation here.
When you arrive, simply check in at the covered truck shed. Once you've paid, proceed down the steps to the hot springs.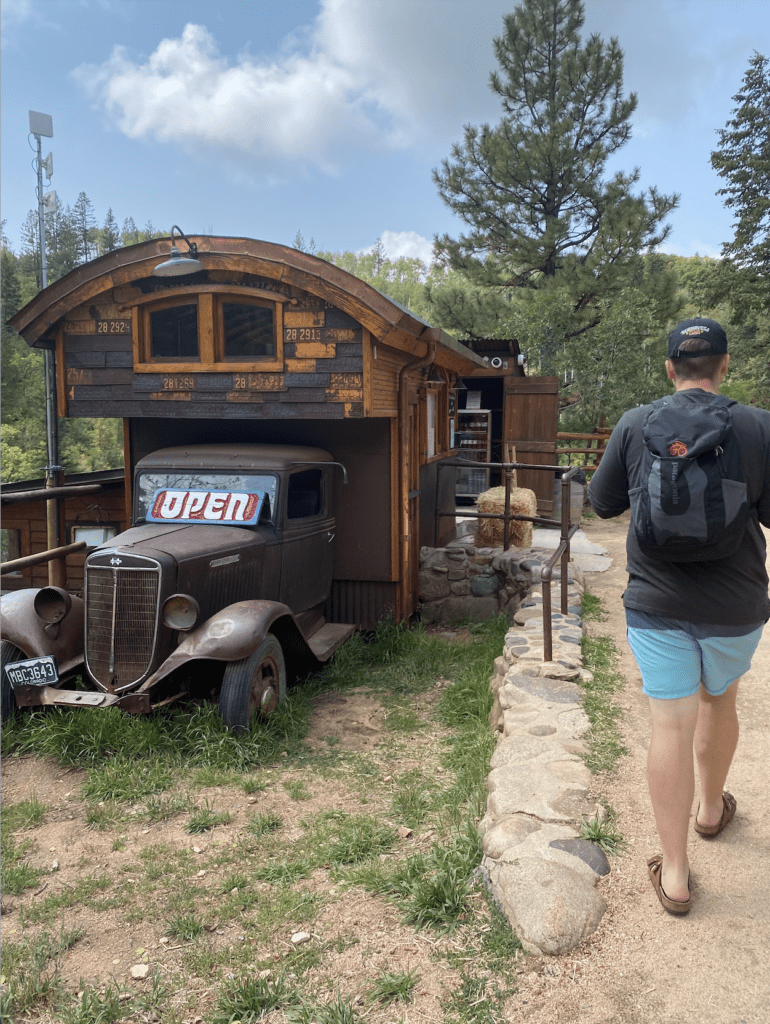 What It's Like at Strawberry Park Hot Springs
As you walk down the steps from the entrance, you'll see the multiple hot spring pools on the property. There are two very large pools, with two smaller pools off to the side.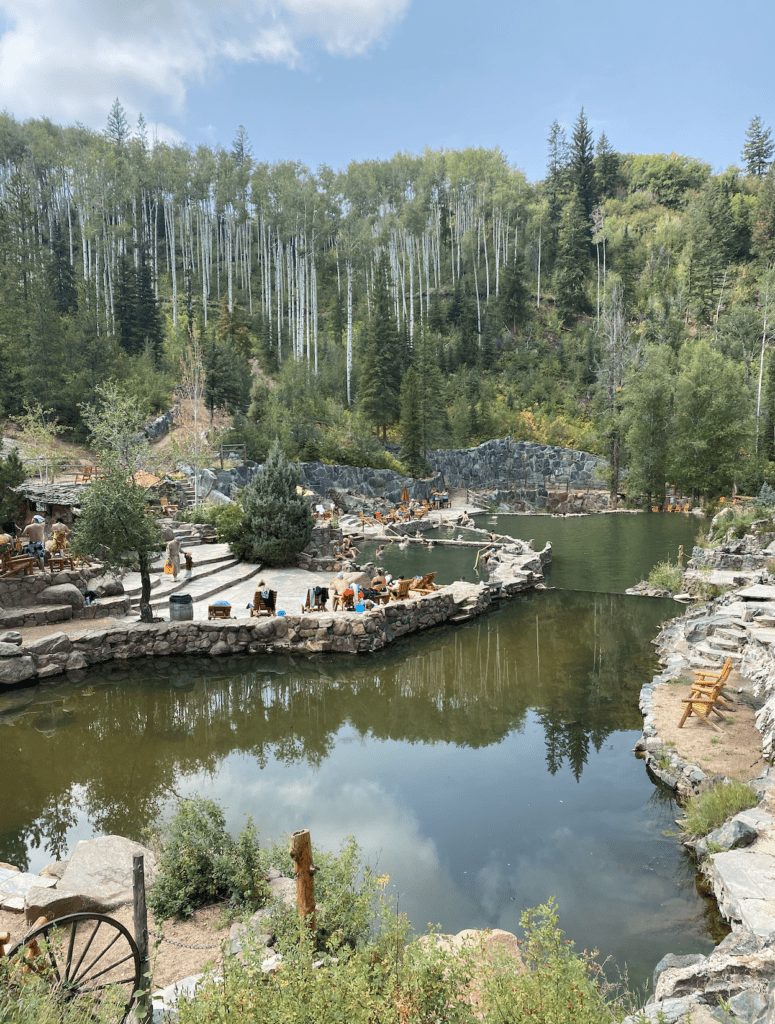 The final large pool downstream is a cooler pool, which is a great place to cool down. Most of the pools are three to five feet deep so you can stand and walk around.

The cooler pool downstream does have a deep area that's over five feet deep. From the edge, you can walk into the cooler pool from the sand. There are plenty of lounge chairs and seating options around the hot springs, and some areas have umbrellas.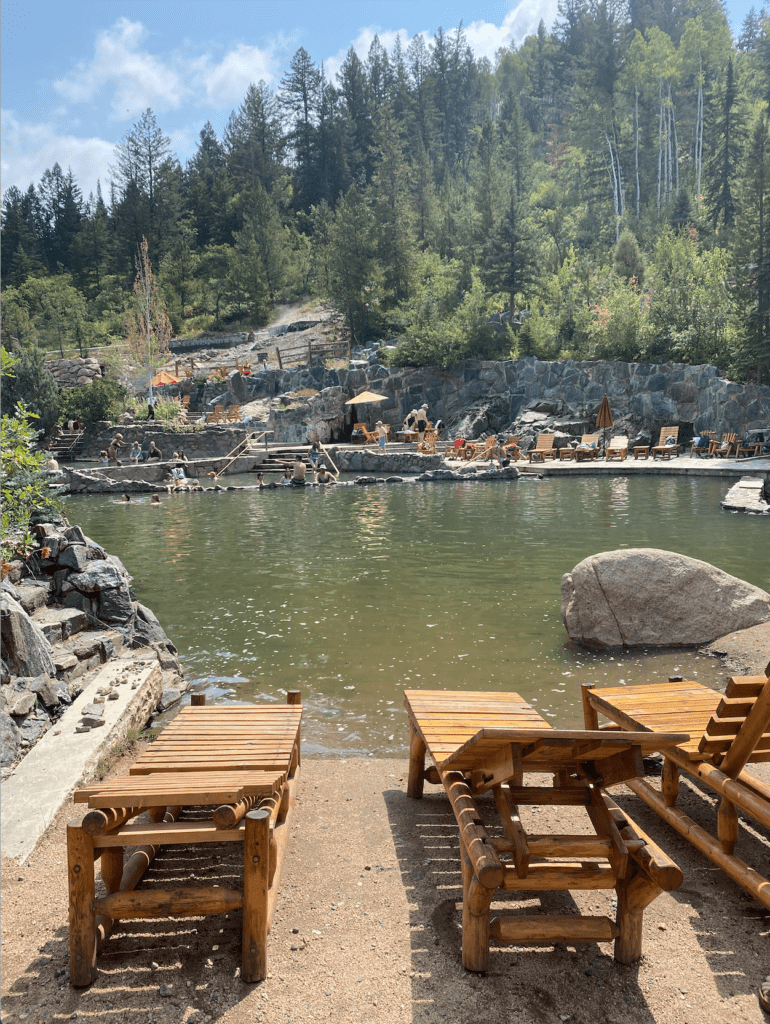 All other pools have steps and railings to enter. The spring pools flow from each other with small waterfall features to regulate the temperature throughout. Generally, the closer to the hot spring source, the hotter the pool. These small hillside pools tend to be the warmest.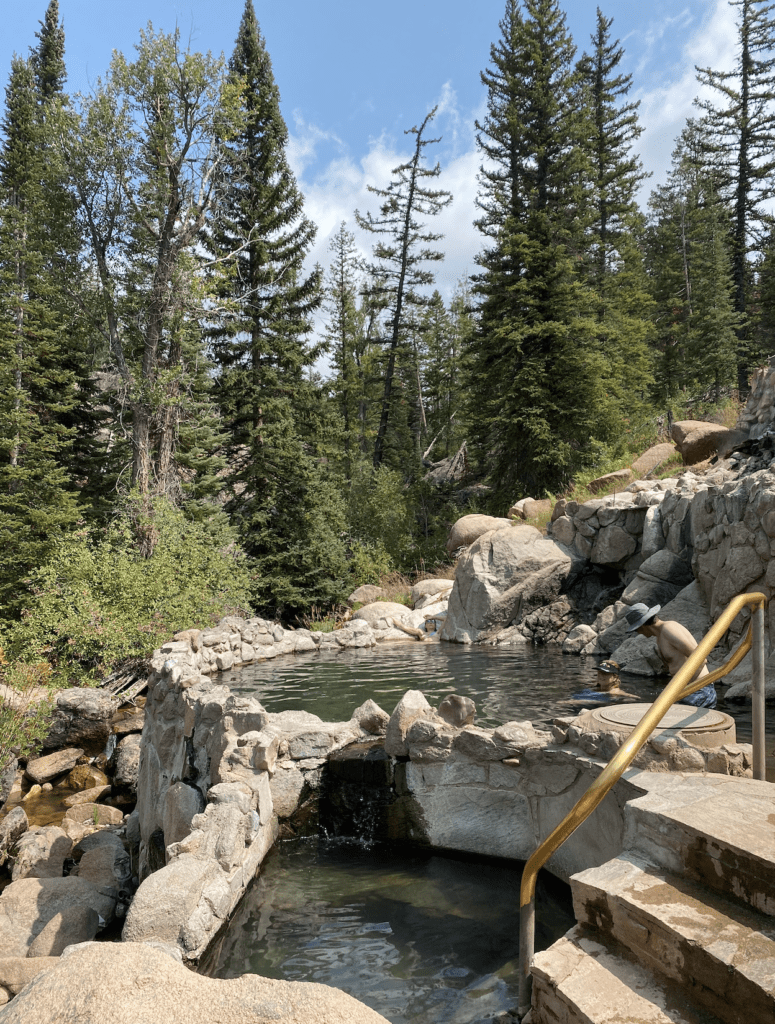 During our recent visit to the springs in August, we visited during the early afternoon and had a great experience. With the springs at half capacity, it never felt crowded in the pools. We found the water very relaxing: just the right temperature with options to cool off.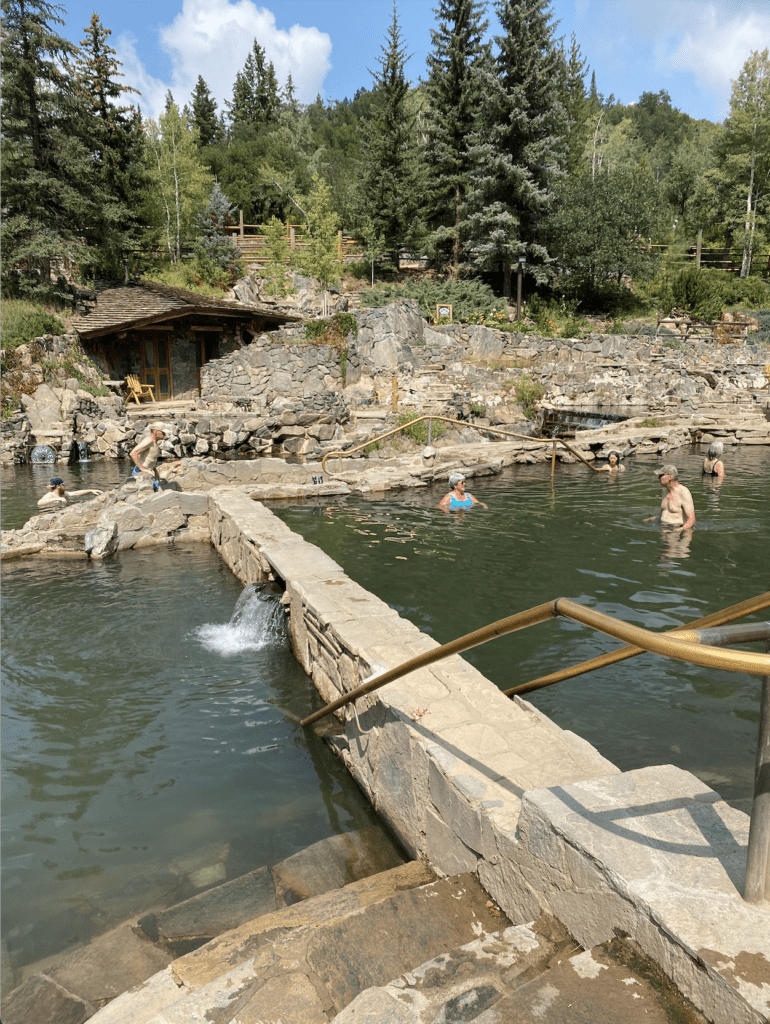 We hopped from pool to pool, testing out all the different temperatures and soaking in each. After an hour and a half of pool-hopping, we were hot spring-ed out. We sat out to dry off and headed out.
Strawberry Hot Springs Amenities
In addition to the hot springs themselves, you can stay onsite in one of many unique lodging options: cabins, covered wagons, or even a caboose.
Tent camping and car camping sites are also available, but no RV camping is allowed. Tent sites are $85 per night, while other lodging options start at $90 a night. Camping and some lodging options are only available in the summer.

But you'll have to plan far ahead: Lodging bookings must be made 90 to 120 days in advance. Payments are non-refundable, and changes must be made at least 14 days in advance.
Due to COVID-19 capacity limits, overnight guests have exclusive access to the springs from 8 p.m. to 10 a.m. daily. Access to the springs during public hours is not guaranteed. No pets are allowed in the lodging or on the springs site.
You can also book a massage in one of the springs-side lodges starting from $70 for a 30-minute massage.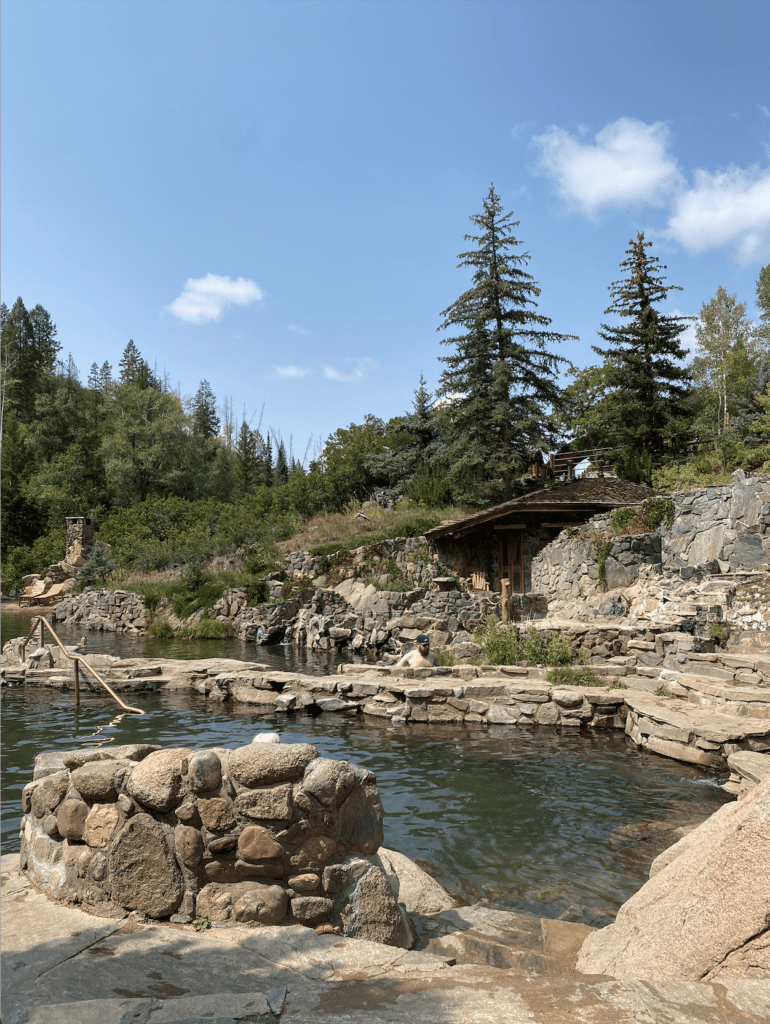 Strawberry Park Hot Springs FAQs
What Should I Wear to Strawberry Hot Springs?
Think of the springs like big hot tubs and pools. That means you'll want to wear your bathing suit.
There are bathroom facilities onsite, but they are not right next to the springs. Towels are not provided. So you'll want to bring your own towels and change of clothes for after your soak at the springs.
And yes, the rumors are true: The springs are clothing-optional after dark.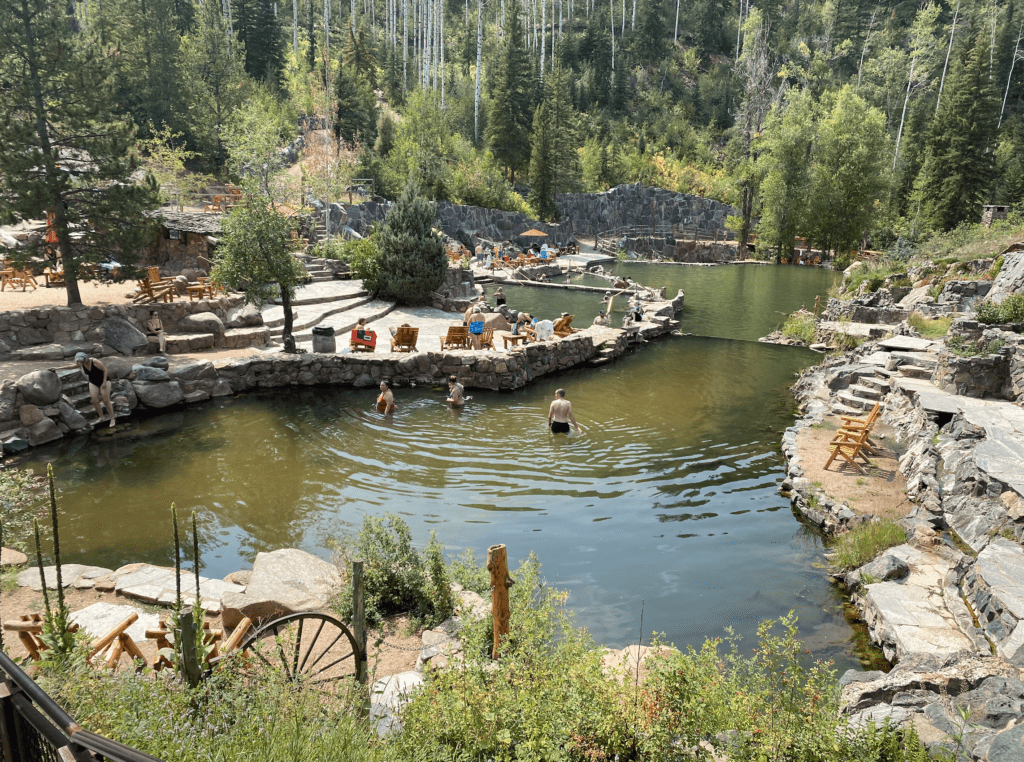 Can I Bring Food & Drinks to Strawberry Hot Springs?
There are also plenty of chairs and a few picnic tables to lounge and hang out outside of the springs. You can bring in your own food and non-alcoholic beverages to eat at the designated picnic tables, but alcohol is prohibited onsite.
There is a small food stand attached to the check-in counter with limited food and beverages for sale.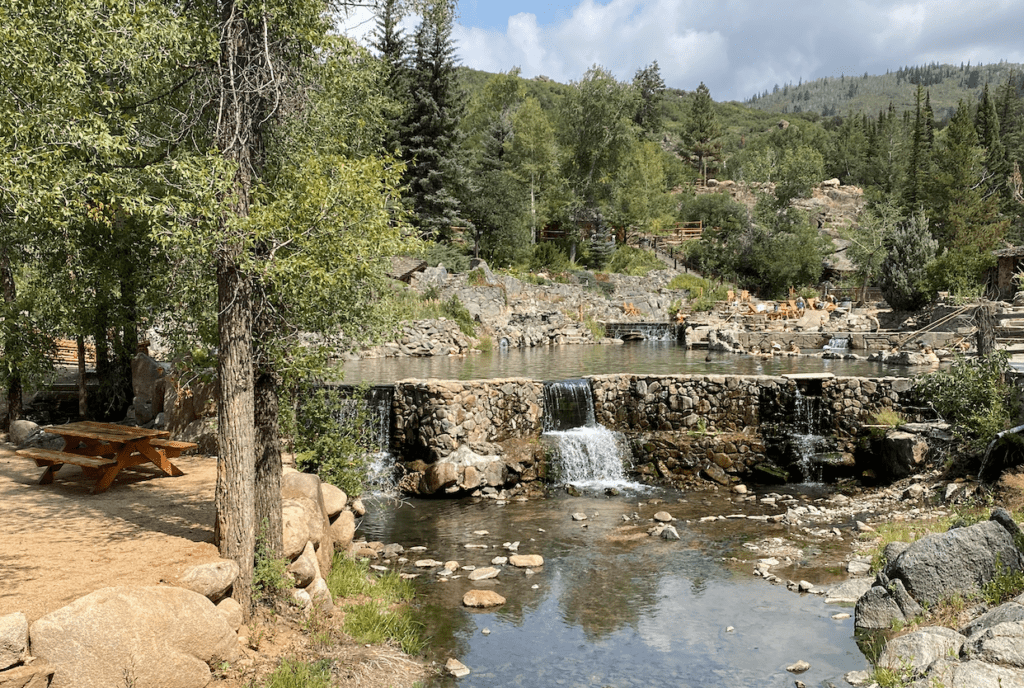 What is the Temperature of the Hot Springs?
The springs vary in temperature, but most are roughly 102 – 106 degrees Fahrenheit. They are monitored by the springs staff to ensure the pools do not get too hot.
The spring pools flow from each other with small waterfall features to regulate the temperature throughout. Generally, the closer to the hot spring source, the hotter the pool.

Is There an Age Limit?
There is not an age limit to visit the hot springs during the day. Minors under 18 must be accompanied by an adult, and children under the age of 3 must wear a swim diaper.
However, no children are allowed to enter after dark.

Are the Hot Springs Clean?
Yes! These natural hot springs were surprisingly clean. During our visit, the water didn't feel dirty and there wasn't too overpowering of a mineral odor like you sometimes smell at other hot springs.

In addition, the springs pools are drained and cleaned every Wednesday and Thursday morning before opening to the public.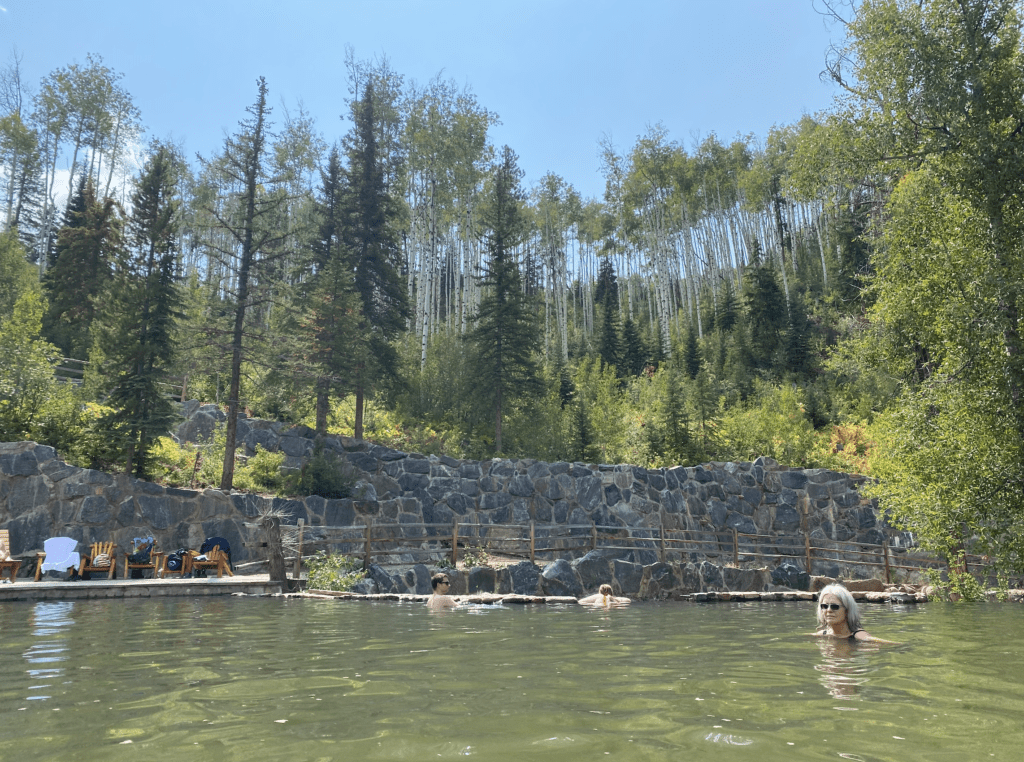 Where to Stay Near Strawberry Hot Springs
Yes, you can stay on the Strawberry Park property. But the area is locked in by a winding dirt road, amenities are very limited, and cell service is non-existent. For easier access to other activities in the area, stay near Downtown Steamboat Springs or the Steamboat Ski Resort area.
Bottom Line
If you're heading to Steamboat Springs, this is one destination you've got to check out while you're there. Soak in nature's hot tubs surrounded by scenic views in any season. Just remember to make reservations well ahead of time, bring your cash, pack your towel, and avoid the after-dark "views" if that's not your speed.