Even if you've never opened a history book, you've heard of Normandy.
Depicted frequently in popular culture because of its critical and strategic role in World War II, Normandy is rife with history. Remnants of a Viking invasion in the 800s, dedications to Joan of Arc, tributes to the Allies, monuments, churches, and museums will surround you as you travel through this idyllic part of France.
Travelers typically come to Normandy for the somber remembrance of D-Day, but they may stay or return for another reason. Normandy is steeped in food culture, great restaurants, cider and brandy, and beautiful beaches forgotten by many tourists who head South instead.
Here is our guide with all of the top things to do in Normandy, an amazing region of northern France.
How to Get to Normandy 
Start by booking a sweet flight deal to Paris, which is perfectly situated to hop up to Normandy.
Begin your tour of the region by booking a train from Paris to Rouen, at about $15-$20 one way. Stay a night or two and then rent a car. It may not be necessary, but your own set of wheels will give you the freedom to experience the region and make impulse stops at cute little villages or apple brandy distilleries along the way.
There are so many great cities and villages scattered throughout Normandy, you'll want to stay in more than one spot. And that's easy, as there are plenty of boutique hotels and tons of reasonable Airbnbs.
When to Go to Normandy
While a trip to Paris makes more sense during the cheaper shoulder seasons of early spring or fall, Normandy is outstanding in the summertime. There are tourists, but far fewer than you'll find in major European cities. And the weather here in June and July is mild, reaching mid to upper 70s in the day and cooling off into the 50s at night.
Just don't head for Normandy in August. Many of the restaurants and shops close for the entire month while owners take off for their annual vacations.
What to Eat and Drink in Normandy
Normandy is not wine country. It's apple country.
So it's no surprise that many of the local products are made from or with apples. It's also rich with pastureland perfect for grazing dairy cows, which means lots of cheese and cream in local dishes. And then, of course, there is the abundance of fresh seafood, courtesy of its coastline location.
This is France, so wine is abundant at every restaurant, but I always recommend drinking local. So you should be ordering cidre (cider), Pommeau, and Calvados. Hard cider is common in the U.S. but there is just something special about Normandy cider. Try a glass or two of cider (just 3-4 euro a piece!) A few things to know when ordering cider: Brut means dry (not sweet), demi-sec means off-dry or just slightly sweet, and doux means sweet, though it's not really that sweet. Try a dry one with your meal and get a sweet one with your Apple tart or dessert crêpe!
Calvados is the local apple brandy, but this isn't your regular apple brandy. It has great finesse and flavor and sometimes will remind you of a good whiskey. There are quite a few distilleries with visitor hours, free tours, and free tastings. Take a little time to make a stop on one of your drives through the region. Christian Drouin is a great product that has a self-guided tour or a guided tour and free tasting of all of their products including Pommeau.
Pommeau is considered an aperitif, or pre-dinner drink. It is fresh apple juice with Calvados added. It's in between cider and Calvados in strength just coming in around 17%  to 20% alcohol. It's a little sweet but tastes fresh and fruity.
There are many local kinds of cheese but Camembert is the most famous. This soft-ripened cheese is gooey, spreadable, and just a little stinky. You may have had Camembert in the U.S. but there's nothing quite like having it fresh in Normandy. It can be a whole meal: Camembert fondue, a whole round heated up and served with potatoes and bread. Or just have it in a galette or on a salad.
Speaking of galettes, it's the savory spin on a crepe meant for the main course. They're made with buckwheat flour and usually served in a square shape. Crepes are always served for dessert in this part of France with anything from cheese and honey to fruit, whipped cream, ice cream, chocolate syrup or caramel.

Visit Rouen 
Once one of the most important port cities in all of Europe, Rouen is the capital city of Normandy. This is where the Vikings invaded and made the seat of what would become Normandy – the name comes from "Norseman" or north man.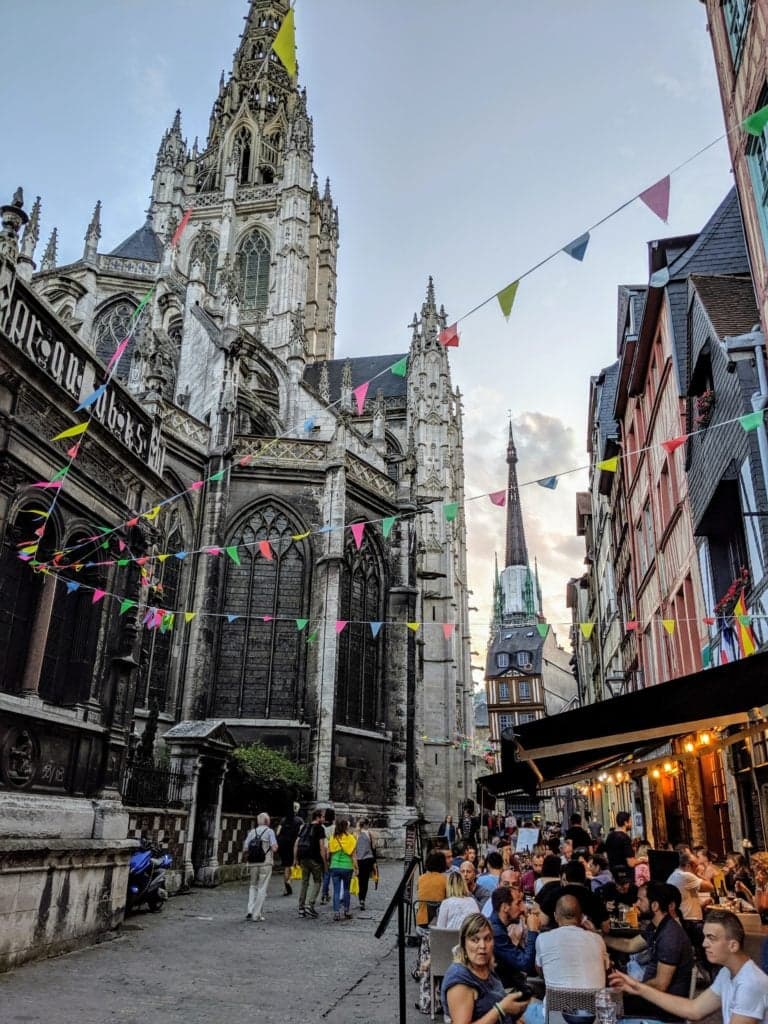 Today, you can still see Scandinavian influences throughout the architecture, new and old. Give yourself at least one full day to explore Rouen.
Start your walk through the city at the Cathedral de Notre-Dame de Rouen. It may look familiar from a series of paintings by Monet, a few of which are in the Musée d'Orsay in Paris. Check out the series of black and white photos of the Cathedral during and after the Allied bombing in WWII. You'll still see how many stained glass windows are missing today.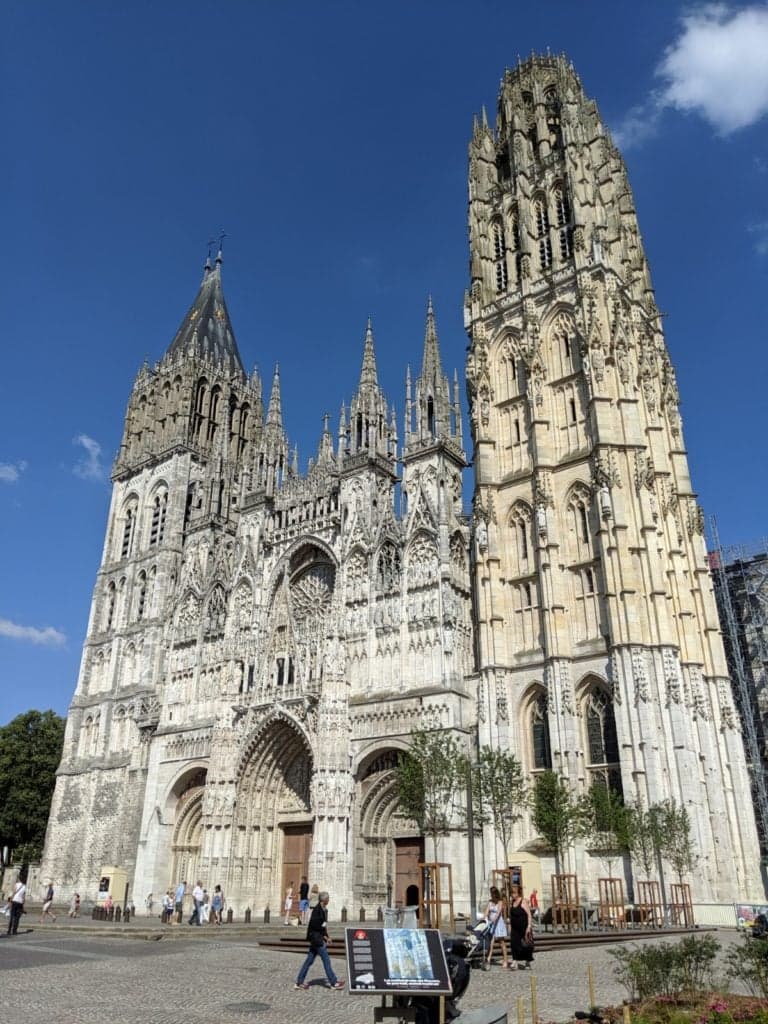 Walk west, away from the Cathedral, on the Rue du Gros Horloge (Street of the Great Clock). Notice all of the medieval half-timbered houses Rouen is known for up ahead. You will soon approach this street's namesake, the Gros Horloge, an astronomical clock dating back to the 14th century. Make sure to look up as you walk under the clock.
The Place du Vieux Marché is just up ahead. Joan of Arc was burned at the stake in the main square here on May 30, 1431. One of the main sites to visit is the modern Church of St. Joan of Arc (L'eglise de St Jean d'Arc), built in 1979 near where she died. If a church visit is on your list, make sure to look up the hours as the visiting times vary by day and by season. Notice the unusual shape of the church as you walk up to it. It was designed to envoke images of flames as well as the shape of an overturned longboat, just as with many early Christian churches.
Just across the way from the church, you'll find an unmistakable restaurant covered in flags and bright red flowers. La Couronne is considered the oldest restaurant in France. Open since 1345, this is the restaurant where Julia Child had her first French meal. This meal changed her life, paving the way to change food across America.
Stop for an Afternoon in Honfleur
The little port town of Honfleur is one of the most picturesque we've seen. About one hour away from Rouen, it is worth a long afternoon stop or an overnight stay.
The 15th-16th-century Vieux-Basin (old harbor) was spared from the bombing in WWII, making it one of the best-preserved towns in the area. Lined with seafood restaurants, cute shops, art galleries, and old churches, you could spend hours wandering around snapping pictures and buying local products. Make sure to stop by the all wooden Church of St. Catherine's.
Make Bayeux Your Home Base
Most D-day and Mont St. Michel tours start from Bayeux (3). Also, there are great restaurants and tons to do in the town itself. Make sure to visit the famous Bayeux Tapestry, the 70-meter long embroidered story of the Norman conquest of England. Every Saturday morning there is a huge market along the main street, Rue Saint-Malo, with clothes, food, spices, furniture, and more.
Thrifty Tip: Head to Epicurien for cheap beer, wine, and cheese and meat plates. The small plate is only 9 euro and was enough for our dinner! It's also important to note that most restaurants are closed Sunday (and sometimes Monday, too). Get a reservation so you don't have to fight the crowds.
Going on a D-Day Tour in Normandy
For most tourists, this is why you're here.
You can visit all of the D-Day sites on your own, but we highly recommend booking a tour. You will get so much more out of it with a guide and it will make it much easier to have someone driving you to the sites versus trying to find your way and find parking. We booked our tour through Normandy Sightseeing Tours, which was fantastic. They do small group tours of up to eight people, which makes the experience feel more personalized.
Watch the first couple episodes of Band of Brothers before going on a D-day tour. While the guides are super knowledgable, it's helpful to have a refresher and a visual in mind of the area.
Follow along below for some of the best stops along the D-Day tour.
Saint-Mère Eglise 
This was a strategic area for the paratroopers to land before storming the beaches.
But paratroopers landed right in town, instead of the surrounding area. And two paratroopers got hung up on the church steeple – that's why you'll see a paratrooper mannequin hanging from the top of the church.
Make sure to walk inside and take a look at the stained glass that memorializing the Allies. There is also a great Paratrooper museum just across the way from the church. If you booked a tour, the ticket price will be included. Take at least an hour to explore the museum, including items left behind during the war and downed planes.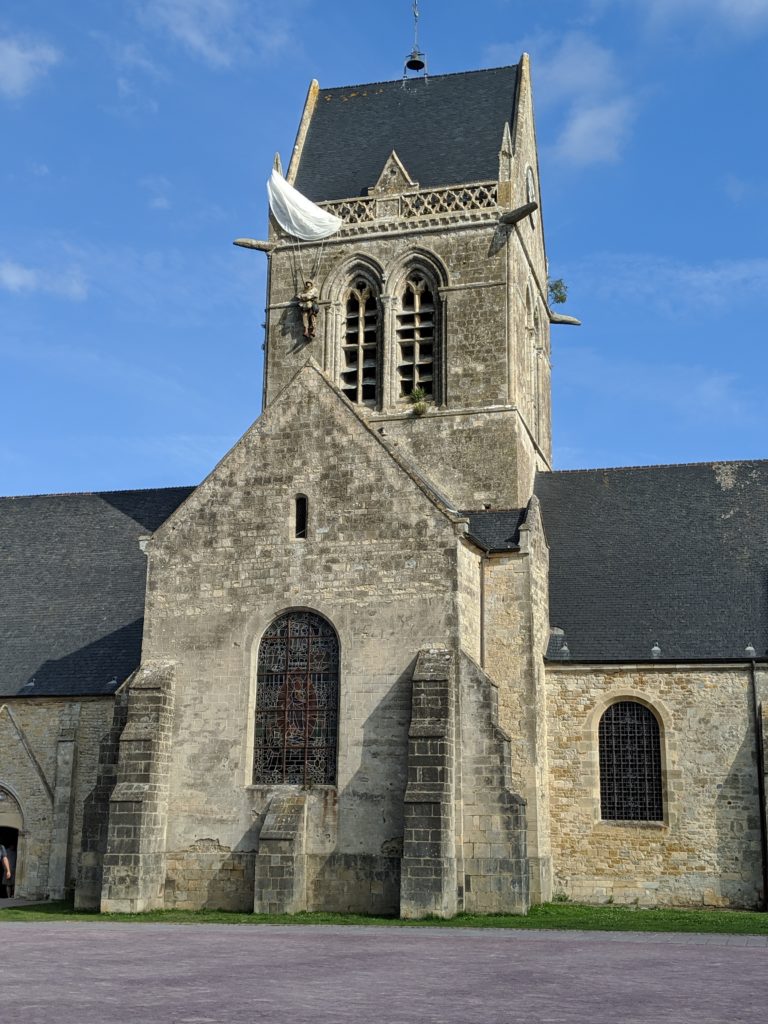 Utah Beach, Pointe du Hoc & Omaha Beach
These were all strategic American landing points on D-Day. Each one has monuments to those who died here along with plaques describing the events.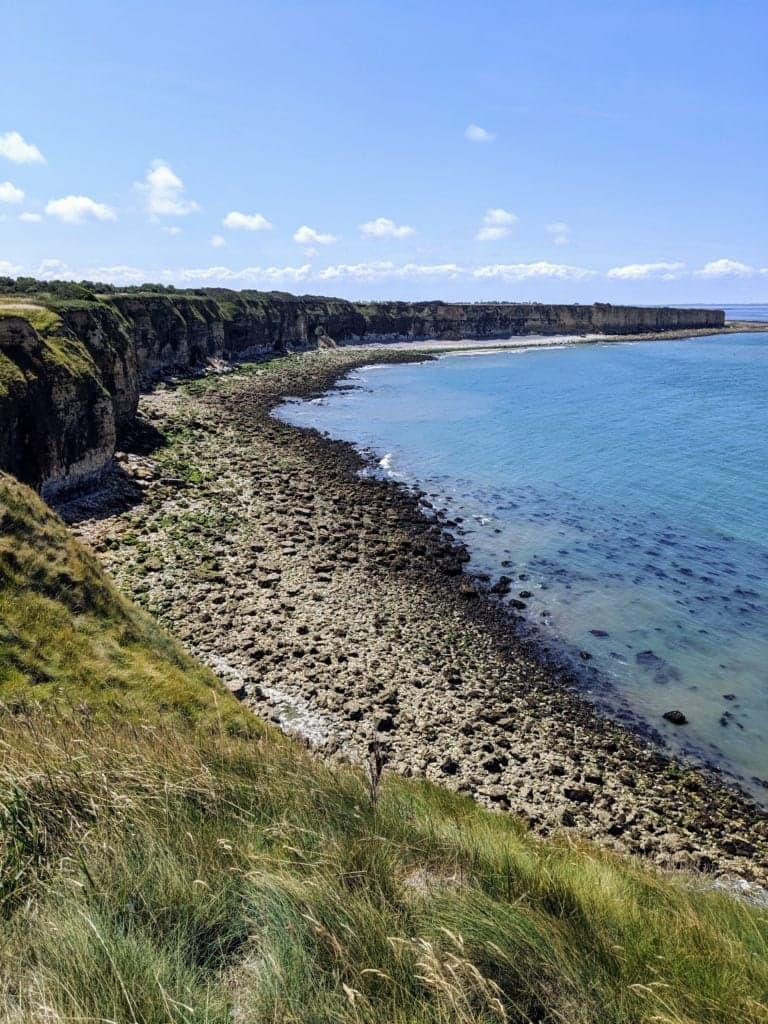 The American Cemetery in Normandy
This cemetery, located just above Omaha beach, is 172 acres of land granted to the U.S. by France. It marks the final resting place for 9,388 American military men and four women. It's a powerful place to visit at the end of your tour and a stark reminder of how devastating the invasion of Normandy was.
Thrifty Tip: Stand by the two flag poles flanking the cemetery at 5 p.m. for the flag ceremony. "Taps" is played over the speaker system as the second flag is lowered.
Visit Mont- St.- Michel 
Mont- St. Michel, a famous monastery, built in the early 700s has been a religious pilgrimage ever since. Only an hour and a half drive from Bayeux, you can do Mont-St.-Michel in a half day.

Thrifty Tip: Go to Mont-St.-Michel early! Beat the crowds that descend around 11 a.m. by getting there around 9 a.m. Purchase Skip-the-Line tickets ahead of time and you'll be able to breeze right through the Abbey. Tickets cost around 11 euros and parking for 2 hours costs about 14 euros.
When you arrive, follow the many signs to the parking lots. Park your car and then walk to the bus pick up area. The shuttle buses are free and run every few minutes back and forth to the island. Walk into the walled town and up the main road. This will take you directly to the abbey. There are free tours in English several times a day – check the schedule beforehand to ensure you arrive on time.
Thrifty Tip: If you don't want to wait for a tour, Rick Steve's Snapshot of Normandy has a great self-guided walking tour with a ton of great information for the rest of your trip.
Walking through the town and the abbey should only take a couple of hours so you will have the rest of the day to explore the area. Saint-Malo, 40 minutes away,  is a great place to grab lunch and wander around for the afternoon. If it's a sunny and warm day bring your swimsuit and enjoy the great beaches that surround this walled city.
Bottom Line
Normandy is a lovely region to spend a week or two. Great food, drink, history, tons of museums, and beautiful beaches, and great mild weather in the summertime makes this a perfect spot to get away from the crowds of Paris.