Thriving, exciting, fascinating, mesmerizing. That's Singapore in a nutshell.
The extra hype of Crazy, Rich Asians has come and gone, but Singapore still feels like a dream. How can one relatively small city contain this much amazing food and jaw-dropping sights?
Singapore deserves much more than 24 hours. But that's all you need to get a taste of this one-of-a-kind city-state and see just what an incredible place it truly is.
Here's how to tackle a short stay in the glitzy metropolis of Southeast Asia.
Soak in the Airport
I'm just going to say it: Singapore's (SIN) Changi Airport is the best in the world.
Like a city within the city, the magic of Changi has to be seen to be believed. Yes, this is really an airport. Yes, you can really swim with views of the tarmac. Or walk through an indoor butterfly garden before your flight. Or hit the spa. Or watch a movie in not just one, but two free movie theaters. Or just admire the Jewel, Changi's latest and greatest terminal complete with a 130-foot indoor waterfall.
But it's time to pull yourself away. While it's immaculate, the city itself is where you need to be. Luckily, the airport is positioned fairly close to the heart of the city. Hop on Singapore's subway, called the MRT, and get almost anywhere in town for under $1.50 USD. Or get in a cab for about $15 each way, and enjoy the half-hour ride through gorgeous vegetation – a beautiful introduction to your home for the next 24 hours.
Thrifty Tip: Download Grab, Southeast Asia's version of Uber, to hitch a quick ride anywhere throughout the city.
Head for the Hawker Centres
Singapore is synonymous with food. And when you're eating in Singapore, you want to be at a hawker centre, the open-air markets with dozens of food stalls selling tasty dishes for cheap. This is where you'll find the world's cheapest Michelin-starred meal.
There are more than 100 throughout Singapore, but the Chinatown Complex Food Centre is an appropriate first stop. This second-floor market is known as one of the best in all of Singapore, filled with some of the tastiest cuisine you'll find in the city – all for cheap. You can find anything from stingray, prawn noodle soup, chicken rice, salads, rice cakes, and satays, just to name a few.
Most plates won't run you more than $2 USD or so. Singapore's famous chicken rice is a great place to start.
Just a short walk from China Town, the Maxwell Food Centre is another great option – it's much smaller, less crowded, and easier to access. While there aren't as many food options, everything here is equally delicious – and of course, budget-friendly. Check out both if you have time.
Marina Bay Sands
You've seen it. It's a major icon of Singapore, that massive hotel topped by what looks like a cruise ship that fell right out of the sky.
It's the Marina Bay Sands, and it's every bit as gorgeous as you hoped for, well worth a visit. While even a night's stay might blow your budget, you can pay roughly $17 USD to get up on the rooftop, all 57 stories in the sky, for a bird's eye view of the city.
Look east, and you'll see lush gardens around the bay. To the north is Marina Bay, surrounded by downtown Singapore's towering skyscrapers. Grab a drink at the bar, snap some photos, and soak it all in. You can't go wrong here.
Get Lost in the Cloud Forest
Just a quick 10-minute walk from Marina Bay Sands is the Gardens by the Bay.
Here you'll find Cloud Forest, which is nothing short of a visual feast. Even if you don't have a green thumb, this place will draw you in. It's a $20 USD entry fee, and it's worth every cent.
The first thing you'll notice when you enter Cloud Forest is the gigantic centerpiece of vegetation with a waterfall splashing down known as Cloud Mountain. As you wind your way up the spiral ascent, you'll be welcomed by too many shrubs, plants, flowers and species to name.
Enjoy the walk and views from the top. On your way down, be sure to stop in the theater for a short video on Singapore's many efforts to save the planet by continuing to plant trees. Cloud Forest is a must-see so make sure you carve out time for this!
Satay By the Bay
It's dinner time. And rather than racing around town to find another hawker centre or try a restaurant in the city, stay near Gardens by the Bay and wander over to Satay by the Bay.
This 1,000-seat food court is loaded with many tasty options. Enjoy a freshly grilled dinner, grab a beer, and enjoy the view of Marina Bay. You can't go wrong with a plate full of chicken satay washed down with a Tiger beer. It's the perfect spot to refuel and take a break after being on your feet in Singapore all day.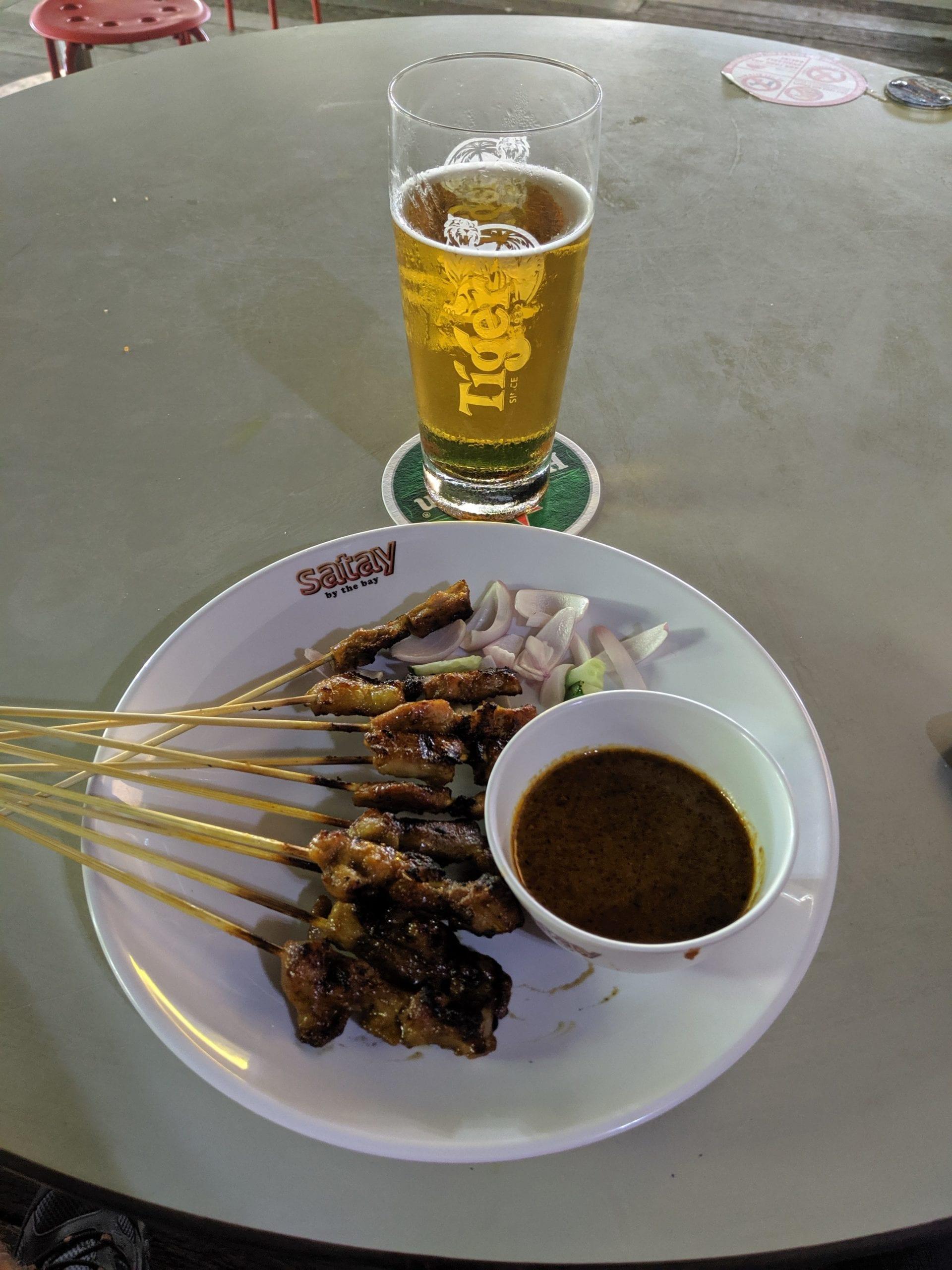 Garden Rhapsody
The highlight of my day in Singapore was Garden Rhapsody.
You can catch this show every night at 7:45 p.m. and 8:45 p.m., and it's completely free. I recommend arriving a little early to snag a good spot with the Marina Bay Sands Hotel lit up in the backdrop. Here's your reward.
The jawdropping show is set to music, clocking in at nearly 15 minutes – not long enough. Take as many photos and videos as you can, as you'll discover this is some truly unmatched entertainment.
Haji Lane for an Encore
Wrap of your whirlwind of a day by checking out Haji Lane.
Here you'll find tons of entertainment: shopping, restaurants, some live music, and of course, more food!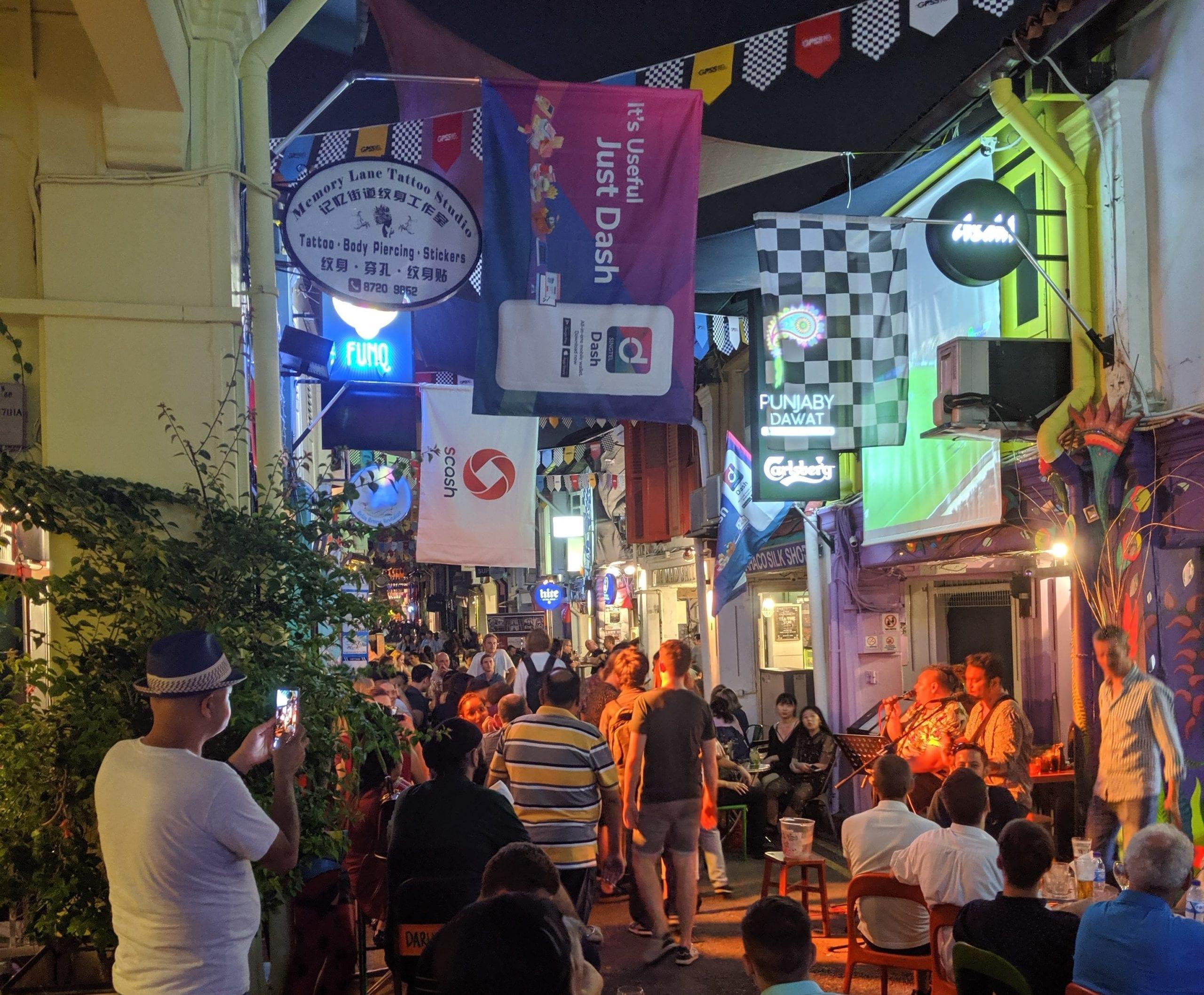 This vibrant, bustling area is a welcoming escape from the skyscrapers of downtown Singapore. Haji Lane manages to be both charming and quaint, yet electrifying at the same time. Stroll around and take it all in, grab a nightcap, and relish this animated stretch of Singapore.
Bottom Line
You could spend 24 days in Singapore, let alone 24 hours.
But when time is short, you need to make the most of this unbelievable city and submerge yourself in its captivating culture. I can't wait to return.