American travel to Cuba is a popular topic of conversation. Americans are curious about the small Caribbean country, which to many remains shrouded in mystery. Discussions with friends and colleagues revealed very few people understand the recent changes in travel regulations with many people believing that tourism is already allowed. While diplomatic ties are on the mend between the United States and Cuba, there is still a long road ahead. The good news is that booking a trip to Cuba has never been easier, but it does takes a little more effort than your typical trip to the Caribbean. Many trip reports advise group tours or expensive flights through Canada to arrive in Cuba. I flew round-trip for less than $150.
As I stated, tourism is not yet legal for Americans. The Obama Administration loosened the requirements in January 2015, so applying for a special license is no longer required before traveling to Cuba but you still must qualify under one of the following 12 categories:
Family visits
Official government business
Journalistic activity
Professional research and professional meetings
Educational activities
Religious activities
Public performances, clinics, workshops, athletic and other competitions, and exhibitions
Support for the Cuban people
Humanitarian projects
Activities of private foundations or research or educational institutes
Exportation, importation, or transmission of information or information materials
Certain export transactions that may be considered for authorization under existing regulations and guidelines.
The purpose for my visit fell under "Journalistic Activities", which is a broad umbrella but aptly described the reason for my trip. As I stated no license is required before your trip so just make sure you have a reasonable explanation for US Customs when you are coming back from Cuba. According to The Points Guy's customs and immigration contacts, no one has been scrutinized or penalized by the US government for justifying their travel under one of the 12 categories.
Brief History of Cuba
Before traveling anywhere it's always good to read up on the history of your destination. This is especially true for Cuba as its current state of economic depression can be traced to very recent history. Check out my post on Cuban History.
With your history lesson concluded let me walk you through our American Travel Guide to Cuba!
Step 1: Booking your Flight to Havana
Update August '16: You can now book flights to Cuba directly through any of the major US airlines!
Booking a flight to Havana can be done a variety of ways but the easiest way is to fly on a chartered flight directly from the United States. Cheapair now allows you to book your flight to Cuba online, with charter flights from Miami at around $450. This option was not available to me when I booked my flight so I chose to go through Cancun as the next easiest and cheapest option.
I booked my flights on Cubana, the Cuban state-operated airline, through the Cuba Travel Network, and it was an easy and straightforward process. I had tried to book through Cubana directly but my credit card was declined. My total flight cost was $340 and I was able to get a $340 statement credit using the rewards miles I had from signing up for the Barclaycard Arrival Plus World Elite MasterCard, which resulted in the ticket costing me nothing. Slightly more expensive flights can be found from Mexico City, but Cancun seems like the cheapest and easiest routing to Havana.
Thrifty Tip #1: When booking a trip through the Cuba Travel Network make sure to use a credit card with no foreign transaction fees. I was required to pay in Canadian Dollars so normally there would be a fee.
Step 2: Arrival in Cancun
Flying into Cancun I took advantage of the day before I left for Havana by enjoying a couple of cold Pacificos on the beach. I stayed at the Westin Lagunamar for 12k Starwood (SPG) points per night, not a bad redemption for the best SPG property in Cancun. I would also highly recommend the all-inclusive Hyatt Zilara as well, which is a great use of the sign-up bonus offered by the Hyatt credit card.
Alternatively, you can find many non-all-inclusive properties on the beach for less than $100 per night.
Step 3: Flight to Havana
Travel to Cuba does require a travel visa regardless of your country of origin. The day I departed Cancun for Havana I found the Cubana air desk (across from check-in) and purchased my Cuban visa there for $20 (USD), alternatively, you can buy it while you are in line for check-in from an agent for $25. I know charter flights out of the United States typically charge $85 for the same visa. Travelers will also have to pay a $25 tax at the airport to fly from Cancun to Havana so make sure to have the cash (USD or Mexican Pesos) on hand. Also be aware that Cubana has an odd policy where you are only allowed to bring one bag on the flight that must weigh less than 10kg or 22lbs. I had two backpacks and was forced to check one.
The quick one-hour flight to Havana was on a relatively new but dirty Airbus 320 aircraft. I will admit I was looking forward to what it was going to be like to fly on a communist state operated airline and I was pleasantly surprised that it was almost as comfortable as any US domestic budget airline. The giant saltine crackers they offer as snacks could use some work though. It is important to note that Cubana does have a reputation for being delayed, so build extra time into your schedule.
Customs on arrival in Cuba was very quick. I arrived to a dimly lit customs area with no lines. My customs agent was maybe 23 years old and dressed rather risque with fishnet stockings. Many of the female customs agents looked like they were ready to go to a Halloween party. She only asked me if I had recently been to Africa and if I wanted a passport stamp, to which I replied yes. They will stamp the travel visa regardless. There have been other reports that state you need to purchase health insurance when you arrive in Cuba for $3-5 per day but no one asked me about it. Waiting for your checked bags was not quick and took a good 30 minutes.
Step 4: Currency Exchange
There are two types of currency in Cuba, the CUP, which is the national currency, and the CUC (kook), which is the tourist currency. The CUC is currently pegged at the dollar so it's on a 1:1 ratio. Americans should be aware that exchanging American currency is subject to a 10% surcharge in Cuba. Canadian currency and the Euro are not subject to the same surcharge. Rumor is that the CUP and CUC will be combined by 2016.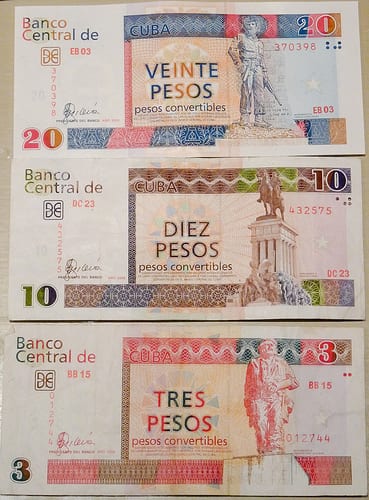 It's absolutely essential for you to bring more than enough cash with you to Cuba! Access to credit cards and ATM machines is very limited, especially so for Americans. As of March 1, 2015, MasterCard has begun offering service in Cuba, but my card was declined everywhere I tried, so it clearly has not been implemented. If you were to run out of money your next best option would be to have someone wire you money via Western Union. Most of the CADECA banks in Havana Vieja (Old Havana) allow you to wire money.
The process for exchanging money is straightforward. It can be done at the airport or in many places in Havana. I would minimize the number of times you exchange money, as there are typically long lines at all banks, including at the airport. I did run into two groups of Americans who ran out of money while on their trip. One group had to wire in money from their parents through Western Union. The other group were asking other Americans for money at the Havana airport because they ran out and could not pay the 25 CUC departure tax. Even I will admit I only had $30 left when I departed from Havana. Do not put yourself in this position.
Thrifty Tip #3:  Bring way more cash than you anticipate spending. You will NOT have access to additional sources of cash in Cuba.
Step 5: Transportation to Havana
There are a couple options for transportation to Havana from the airport. You can get a taxi for around 25 CUC or you can take the bus for much less. The taxi ride was around 15KM and got me to my casa particular (hostel) in about 30 minutes. For only $25 I say go with the taxi, as the buses looked hot and packed. I had the taxi arranged through my Airbnb lodging host. It was a lovely turquoise '52 Chevy with a new Mercedes diesel engine.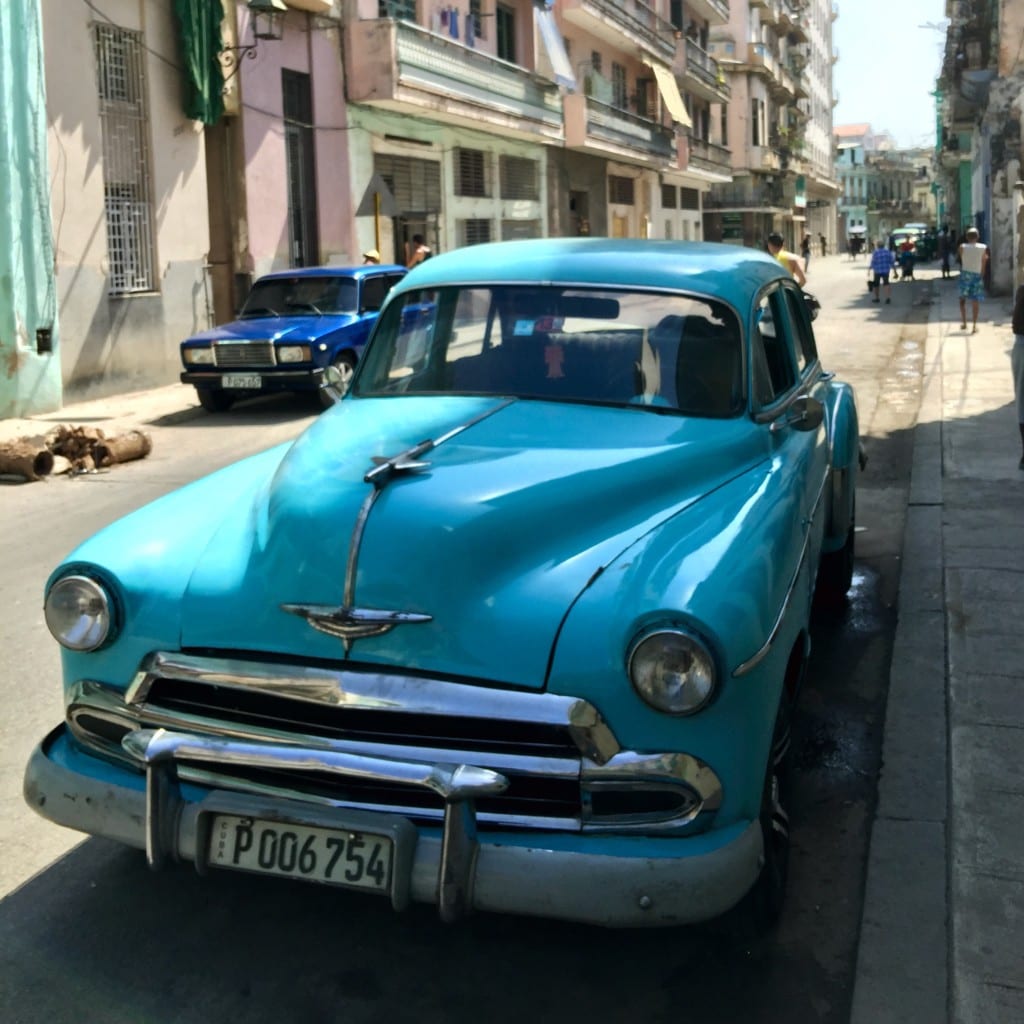 Step 6: Lodging in Cuba (Airbnb)
For detailed information check out my How to Book Airbnb Cuba post!
As of April 2015, Airbnb is now offered in Cuba, so finding a place to stay is incredibly easy. Airbnb is a perfect fit for Cuba since the government has allowed residents to rent out their homes since 1997. I suggest searching on Airbnb for rentals and when you find an acceptable listing to message the host first. Many times it will show there is availability on Airbnb but it is actually sold out.
It's important to note that the internet in Cuba is still very slow, only 56k dial-up speeds in many places, so don't expect an immediate response. I ended up renting a room for $30 a night, just outside of Havana Vieja (Old Havana), which included an attached shower and air conditioning. The hostel I stayed at also served breakfast for 5 CUC per day, which was delicious, filling, and a great deal. I would highly recommend staying in Havana Vieja if you can as I stayed in Havana Centro which was a 10-minute walk and it was not very well lit at night and felt a little sketchy.
Thrifty Tip #4: Use Capital One Venture miles to lower your cost on Airbnb stays.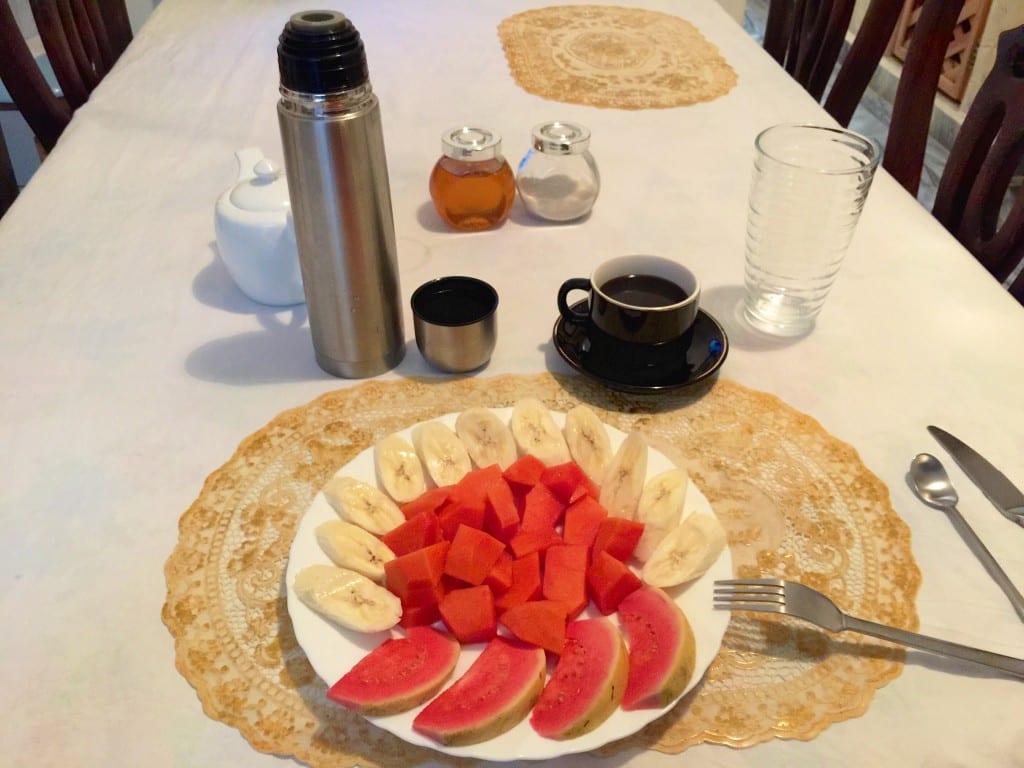 Step 7: Internet
The fastest and most accessible Wi-fi I found was at the Iberostar Parque Central in Havana Vieja. It is located a block or two northeast of the Capitol building. There are two Iberostar hotels, a new one and an old one, which are located right next to each other. The new one has ETECSA Wi-Fi cards for sale to non-guests. You can purchase 1-hour internet cards for 6.50 CUC either at the bar in the lobby or on the second floor near the top of the stairs. The best Wi-Fi reception is on the second floor, where you will typically find 10-20 people browsing the web. The internet was actually pretty fast at around 2 Mbps. I was even able to use T-Mobile Wi-Fi calling on my phone, even though Skype is blocked. It is my understanding that once you purchase a 1-hour internet card it will work anywhere there is Wi-Fi, as it gives access to the state-run internet.
Thrifty Tip #5:  Once you are done using the Wi-Fi enter 1.1.1.1 in your browser and the session will end. You can use the remaining time later.
Once you're done using the internet at the Iberostar walk over to the old building and take the elevator to the top floor where you will find an awesome view of Havana and can enjoy a cold beer or cocktail.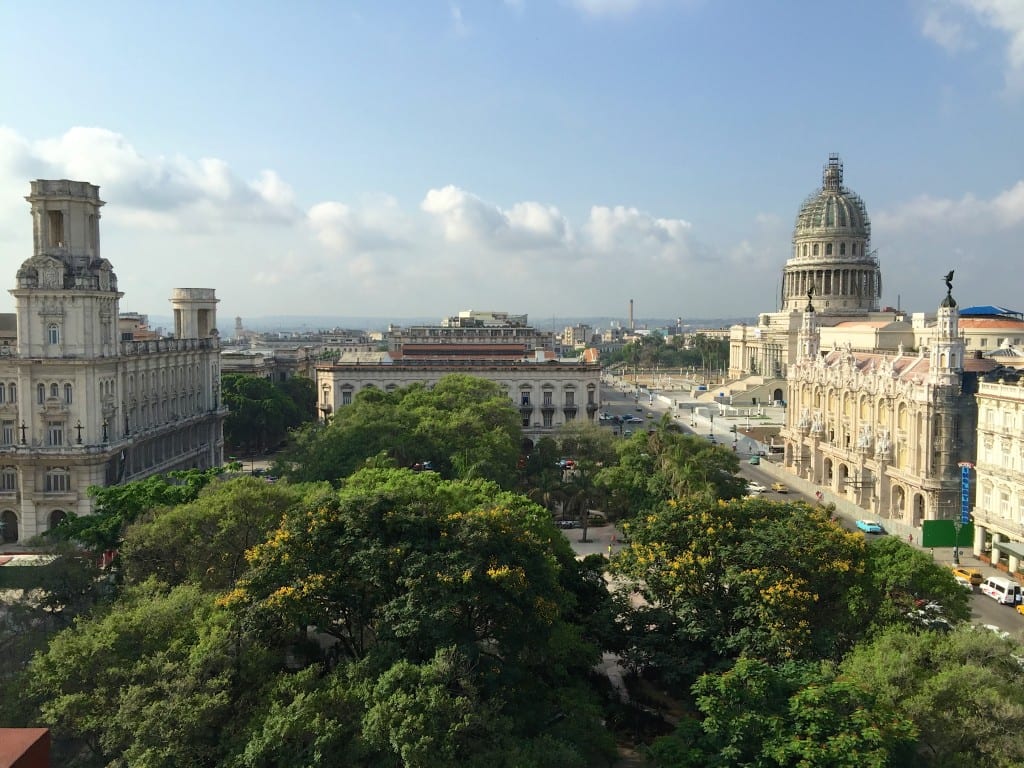 Step 8: What do to do in Havana
Havana is really unlike any other place I have ever visited. It truly is a time warp with hundreds of 1950's American cars everywhere and very limited modern construction. There are newer vehicles but the old ones clearly outnumber them. Havana has been negatively impacted by over 50 years of communism and it's obvious everywhere you go. The amazing architecture still exists but has become run down after years of neglect.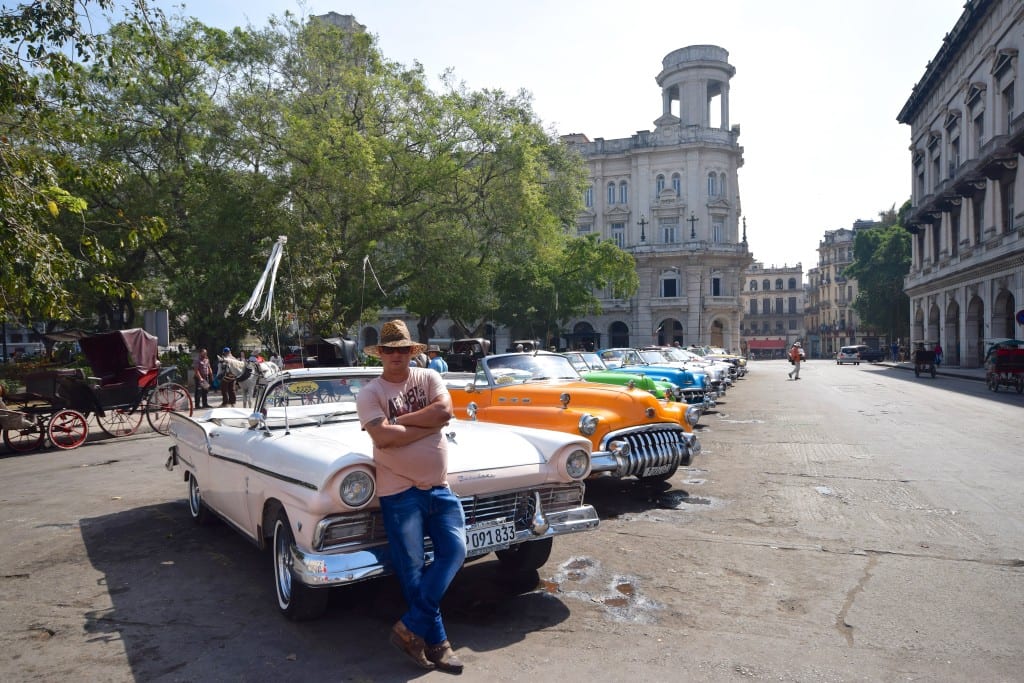 I was only in Cuba for two days so I spent all my time in Havana. I would recommend touring Havana Vieja and all the tourist areas around the Capitol building and Obispo, which is the primary tourist street.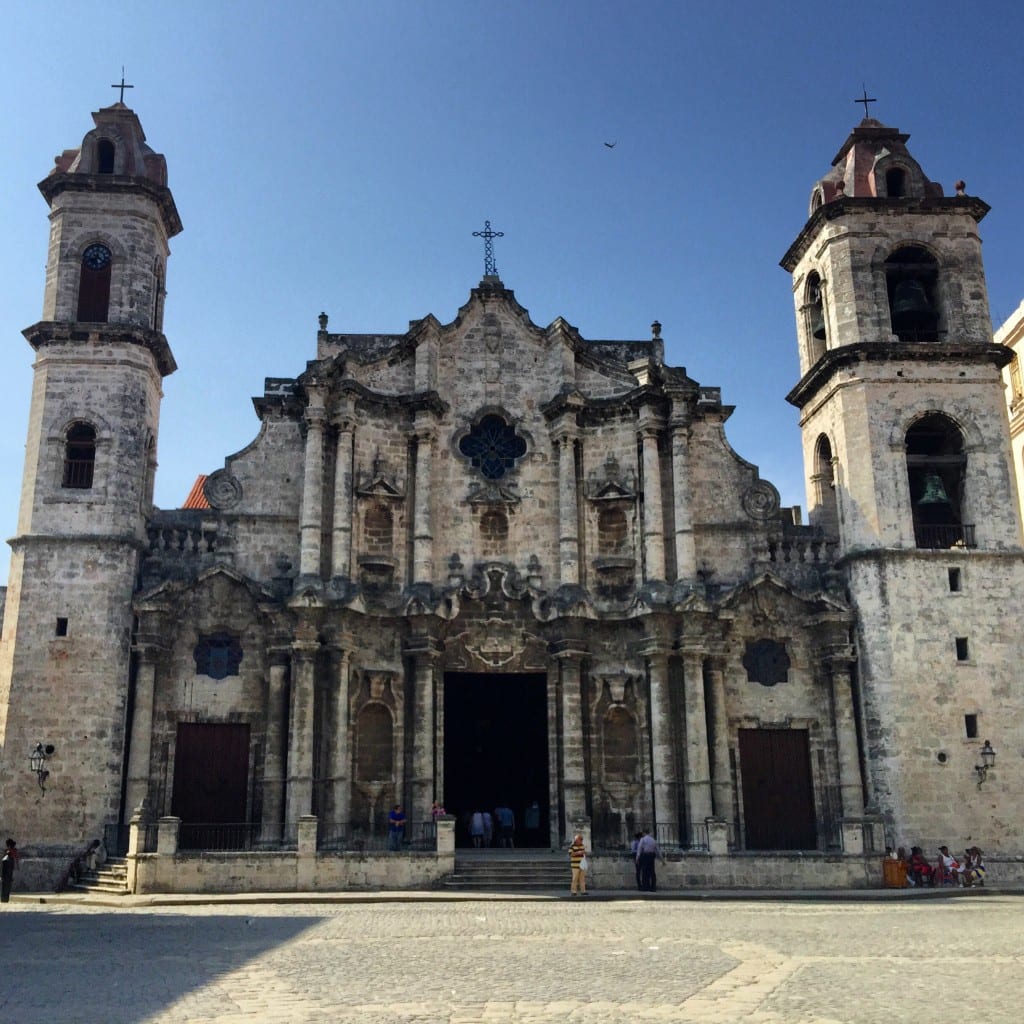 Also check out the nearby Cathedral and take a walk down the Malecón along the ocean. I picked up a cigar and bought a beer from a restaurant on the Malecón and took a nice walk admiring some of the construction along the road. The new US Embassy is at the end of the Malecón.
I would also recommend checking out the Floridita bar, which I will admit is a classic tourist trap. They claim to have invented the daiquiri and it was a famous hangout for Ernest Hemingway back in the 1960's. They have a statue of him seated at his favorite spot at the bar, right next to a bust of Vladimir Lenin. The daiquiri's are decent and made with Havana Club rum but are pricey at 6 CUC. Elsewhere beers (Cristal) are 1.50 CUC to 2.50 CUC with mojitos typically costing 3 CUC.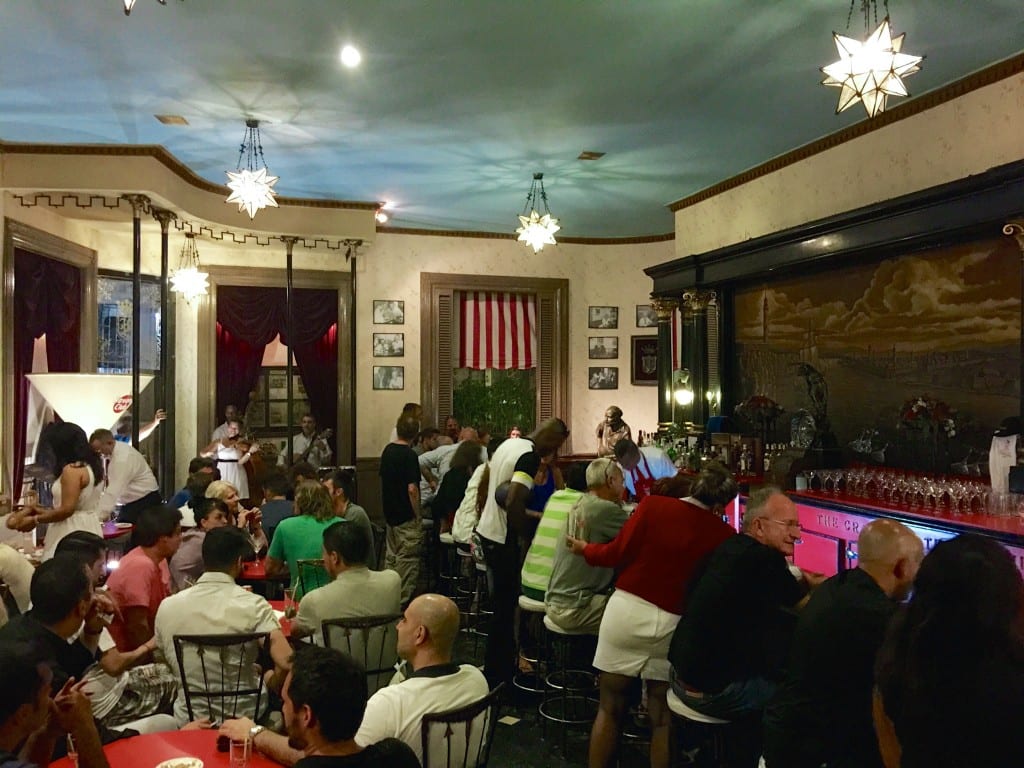 Another famous hangout of Mr. Hemingway is the Bodeguita Del Medio, which is famous for their mojitos. I had planned to grab a mojito but the bar was packed every time I went by.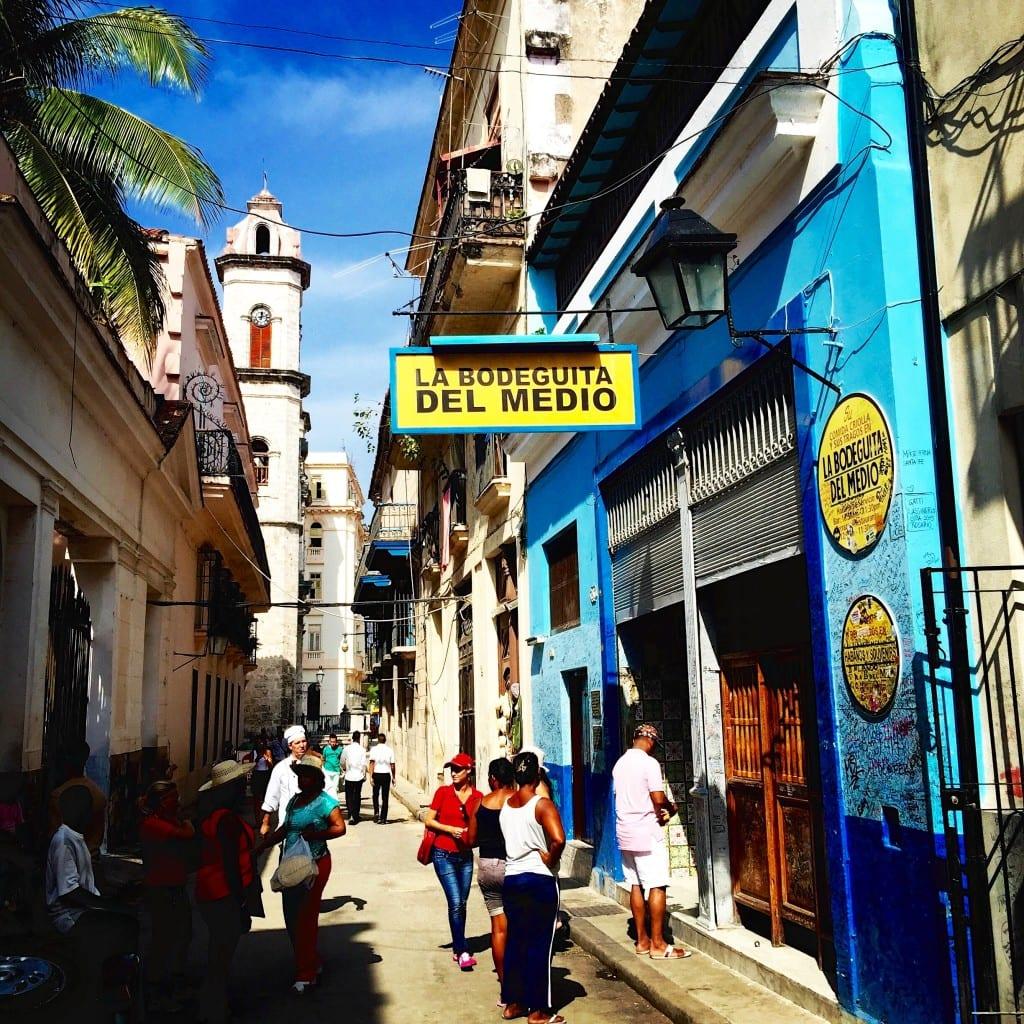 The highlight of my trip was an hour ride around Havana in a beautifully maintained '53 Chevy. You will find the vehicles lined up around the Parque Central with rides typically costing around 30 CUC per hour. I was able to negotiate my ride for 23 CUC, which was not bad for an hour ride in an American classic.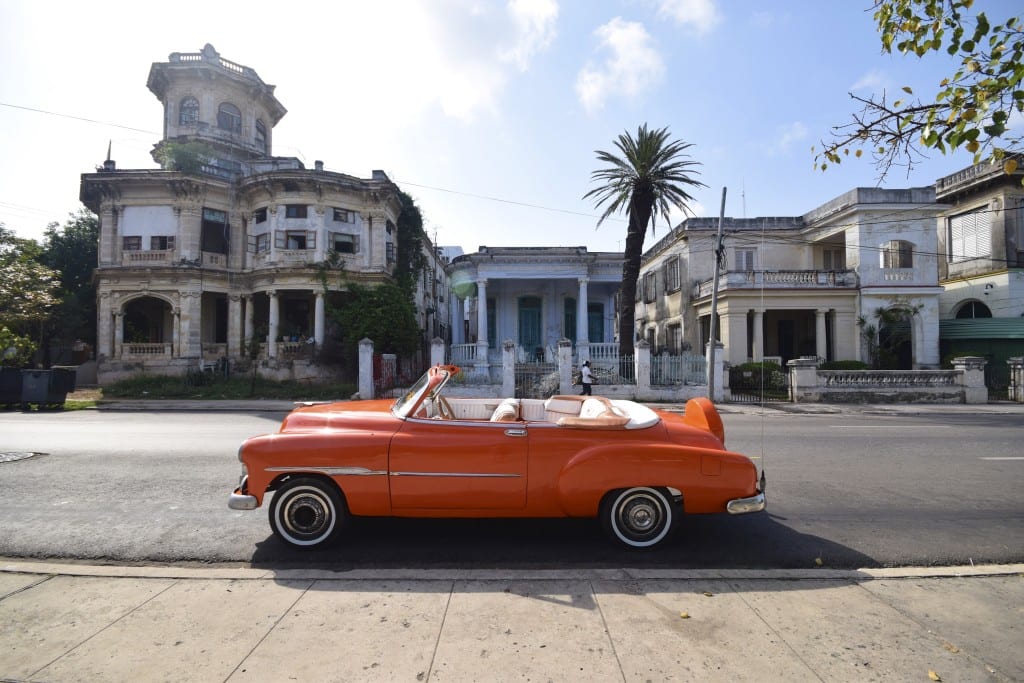 Other transportation options include the bicycle taxi's which cost 2-5 CUC to get anywhere around Havana Vieja or Havana Centro. Make sure you negotiate as they always ask for 5 CUC but you can get them down to 2-3 CUC.
Thrifty Tip #6:  Always negotiate anything bought on the street. If you pay full price you paid too much!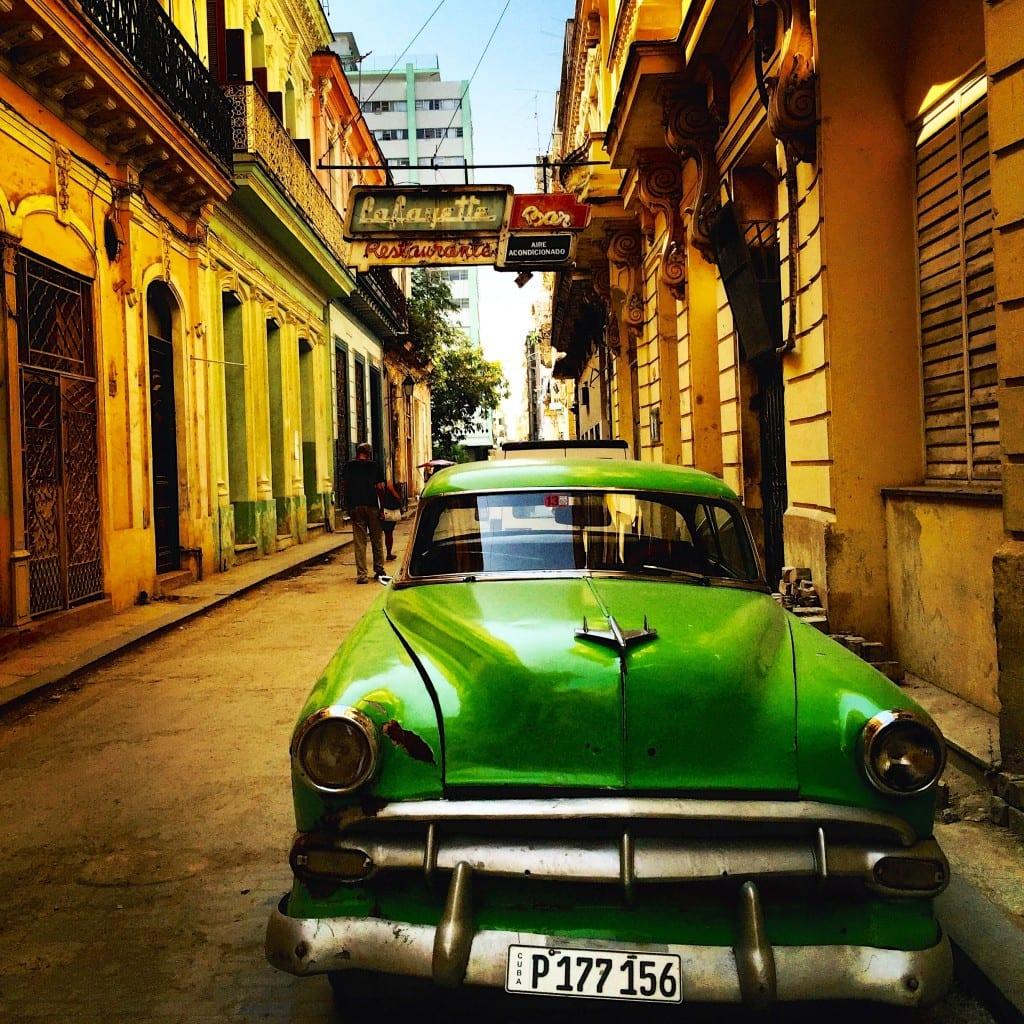 The food in Havana is generally forgettable. Many of the restaurants are state-owned which does not bode well for the food or service. I did find some shining stars though. One such restaurant is Doña Eutimia, which is located near the Plaza de la Catedral in Havana Vieja. I ordered the ropa vieja and it was absolutely incredible. Don't forget to make reservations early as this place fills up fast.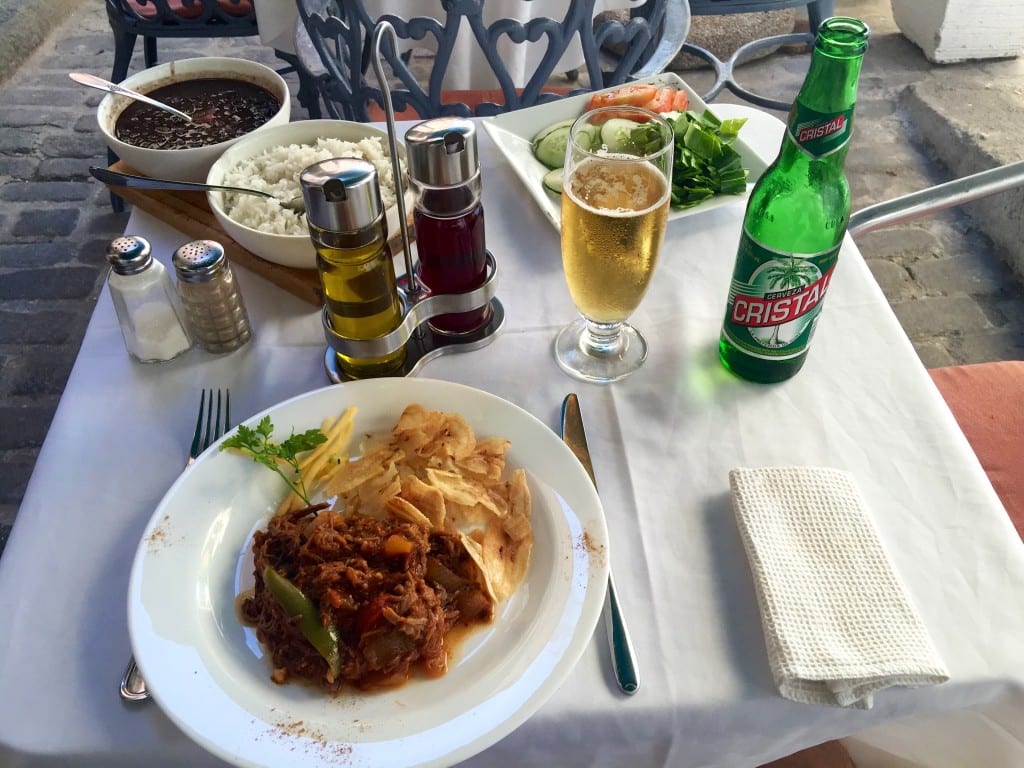 Step 9: Travel Home
My trip home was more difficult than I had anticipated. I flew Cubana back to Cancun and the check-in agent told me that I could only carry-on one bag weighing 5kg (11 lbs), which was different from the 10kg allowed on the way to Havana. I had two backpacks with me and she told me I had to check one, I begged her in my best espanol to let me carry-on and she relented. Had she required me to check a bag I would not have had time to catch my connecting flight which departed 75 minutes after landing in Cancun. I would make sure you have enough time between flights as you will likely have to check at least one bag. My flight out of Cuba departed 25 minutes late, which is pretty good for Cubana's standards. The customs lines in Cancun were massive and slow and I was "that guy" who had to cut in line multiple times. After I cleared customs at Terminal 2, I had to run outside to Terminal 3, which was a ¼ mile sprint. I arrived to my Delta flight, a disgusting sweaty mess, with only 4 minutes to spare. I would highly recommend at least 3-4 hours in between flights.
Step 10: Arrival in Minneapolis
Customs upon arrival in the United States also ended up being more difficult than I had anticipated. I was not asked if I went to any other countries besides Mexico, but the customs agent did ask if I brought anything back. I replied that I had seven cigars, the origin of which he never inquired. This got me a couple big red letters on my customs form and I was sent to secondary inspection. Obviously, the easiest way to go through customs would be not to declare anything, but I wanted to do everything by the book.
When I arrived at the secondary inspection area a different customs agent asked to see what I purchased. When I showed him the seven Cuban cigars I purchased he was not pleased. I asked if this was not typical to which he responded, "no it's not because these are illegal". He then asked where I purchased them to which I replied Havana. At this point, he looked very irritated and asked when I was in Havana and I stated that morning. He then asked to see my special license to which I respectfully replied that no special license is necessary as of January 2015. He told me I was wrong and I needed a license. At that point, he left to get his supervisor.
After a while, the supervising officer finally arrived and asked how I traveled to Havana and inquired to why I had not traveled on a charter flight out of MIA or JFK. I explained the purpose of my trip, which he seemed satisfied with. He did tell me that since I did not travel directly from Cuba that the cigars were not legal. He stated that he would let it slide this once and let me leave the customs area. I did reread the customs regulations after arriving home and it does appear that as long as the cigars are purchased in Cuba you can bring back $100 worth. Purchasing Cuban goods in another country, such as Mexico, is still illegal. Asking for a receipt in Cuba might be the best way to avoid my predicament. Overall, I was surprised that some of the customs officers were unaware of the new travel regulations. I would recommend reading the regulations before you leave so you can correctly respond if you are questioned by customs agents.
Cost Breakdown
| | | | |
| --- | --- | --- | --- |
| Flight to Cancun | 15k AAdvantage miles | $11.20 | taxes |
| Round-trip Cancun to Havana on Cubana Airlines | $340 Barclays Arrival Statement Credit | $0 | |
| Cuban Taxes and Fees ($20 Cuban Visa + $25 entry tax + 25 CUC departure tax) | | $70 | taxes |
| Flight Cancun to Minneapolis | 30k Delta SkyMiles | $60 | taxes |
| |  Total | $141.20 | |
Regardless of which airline programs you are affiliated with, getting to Cancun on a point redemption is relatively easy from anywhere in the United States. This was a great use of points and statement credits to get to a location still generally unknown to the average American for less than $150! I highly recommend this trip and suggest you get to Havana before the gates open to everyone!
If you're new to the credit card points and miles game take a read through my Beginner's Guide to get you started!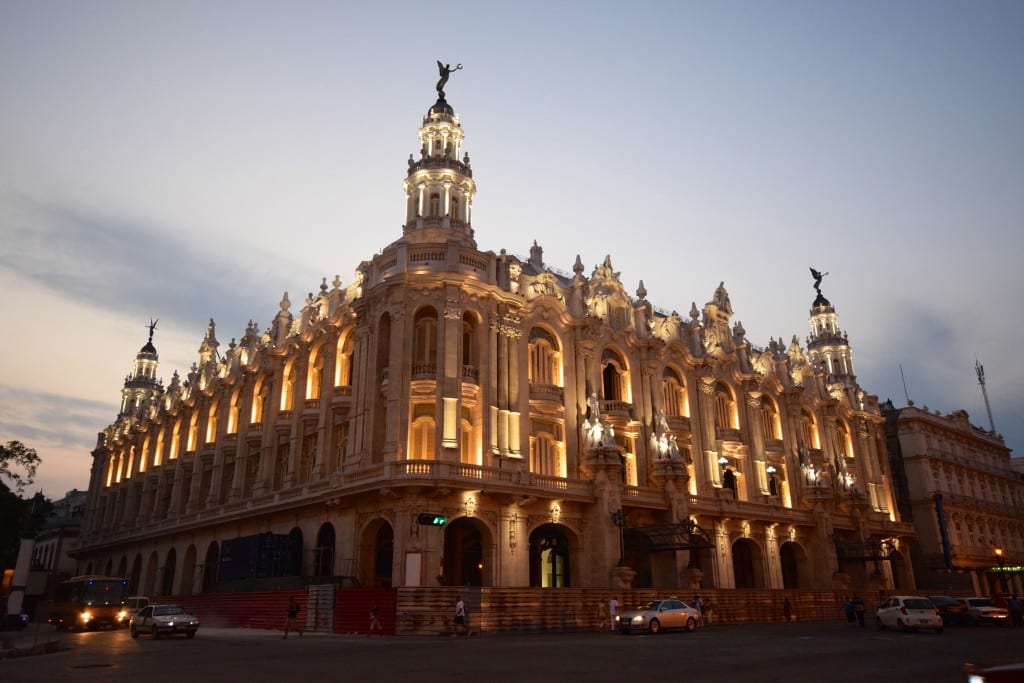 Thrifty Takeaways
Easiest bookings are now through chartered flights, which are the cheapest out of MIA.
Bring more cash than you foresee using, as there is NO access to additional  US cash in Cuba.
Be aware of the $25 entry tax when leaving CUN for HAV, as well as the 25 CUC departure tax when leaving HAV for CUN. This applies to charters leaving out of the United States as well.
Also be aware of the $20-25 Tourist Visa available when leaving CUN for HAV.
Utilize Airbnb to book your stay and I recommend locations in Havana Vieja.
If traveling back to Mexico on Cubana give yourself 3-5 hours coming back to deal with delays, bag check, customs, and switching terminals in CUN.
Get receipts for any items you are bringing back from Cuba. You may be required to prove they were not purchased in Mexico.