Many countries around the world have closed their borders to travelers. Countless others have added onerous restrictions and testing requirements that can be hard to satisfy. It can feel like life is throwing a wrench in your plans for travel this winter.
But don't despair. We've been watching international travel restrictions like a hawk and zeroed in on three warm-weather destinations with less-strict entry requirements. While we still recommend quarantining before and after your travels and getting a COVID-19 test, you won't need to rush to get a test within a 48-hour timeframe before heading to these destinations.
Best of all, airlines have been slashing airfare to these beach destinations, with roundtrip fares dropping as low as $150 or so – the price of a cheap domestic flight! Take a look and see where you can travel cheaply and easily to escape the cold this coming winter and spring.
Mexico
Believe it or not, air travel to Mexico is open, with no restrictions or entry requirements.
While most land travel between the U.S. and Canada remains banned, flights between the two countries have continued. And tourists are explicitly allowed. Passengers arriving at Mexican airports may be subject to health screenings including temperature checks. Popular tourist areas like Los Cabos and Cancún have reopened, too.
And flights to Mexico have been the cheapest we've seen in a long time. We're talking round-trip flights under $200…roundtrip. Check out this Thrifty Traveler Premium deal we found just last week: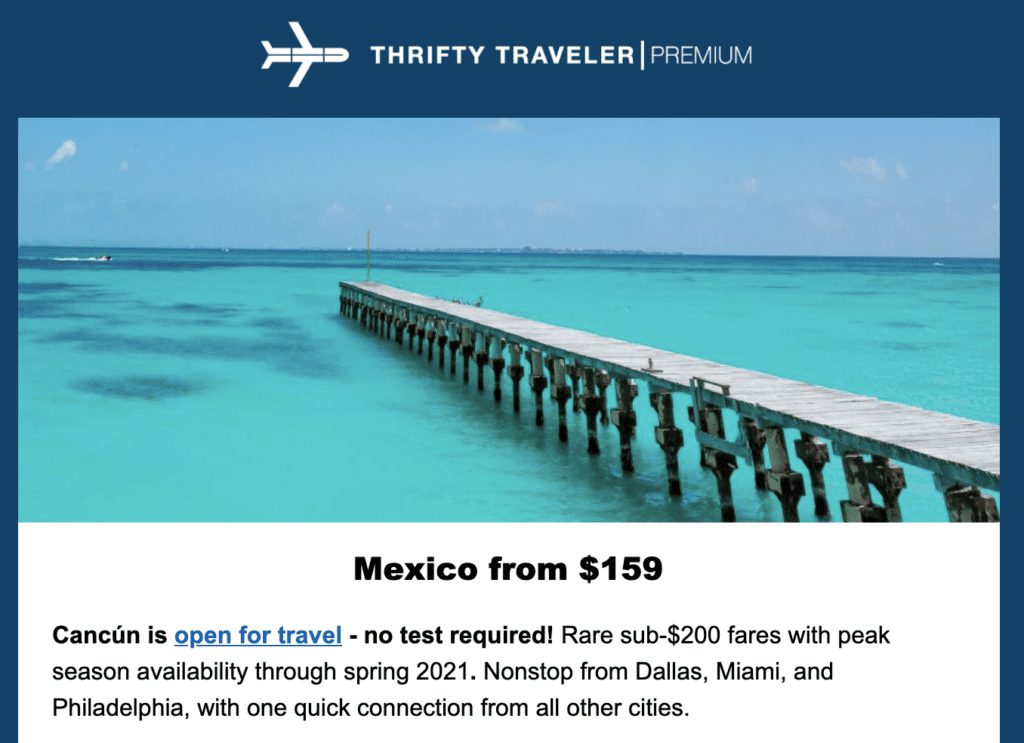 Want dirt-cheap flight deals like this one? Join Thrifty Traveler Premium for just $5.99 a month and get cheap flights delivered straight to your inbox!
These rock-bottom prices during the peak winter season are unheard of. And with Mexico being one of the few destinations available to U.S. travelers without testing requirements, they may just be too good to pass up. It could be worth putting Mexico on your shortlist for a winter getaway – if it wasn't there already.
Don't know where to stay? Stay at an all-inclusive resort for free! Grab the 80,000 point Chase Sapphire Preferred Card offer before it disappears and transfer the points to Hyatt for up to four free nights at a Hyatt Ziva or Hyatt Zilara. We're especially big fans of the adults-only Zilara Resort in Cancún.
Costa Rica
Costa Rica recently eliminated its requirement for a negative COVID-19 test for entry, according to the Costa Rica Tourism Board.
And now all U.S. citizens and residents are allowed to restart travel to Costa Rica. Travelers will need to fill out a "Health Pass" form and have travel insurance with medical coverage for entry.
The problem is that flights to Costa Rica are rarely cheap – until now. In the last few weeks, we've found and alerted our Premium members to some huge savings on typically-expensive flights to Costa Rica.
Peak season flights to Costa Rica can often run you over $700 roundtrip. But we're seeing hundreds-off savings from many U.S. cities through summer 2021!
One of the best Hyatt properties on the beach is in Costa Rica. You can once again use points from the Chase Sapphire Preferred Card to stay for free at the Andaz Costa Rica Resort at Peninsula Papagayo  – and it costs just 20,000 points per night!
Dominican Republic
Like Costa Rica, the Dominican Republic scrapped testing requirements for entry. Instead, authorities are randomly administering quick breath tests to 3% to 10% of all arriving passengers. The government is also granting tourists who stay at hotels through Dec. 31 a free travel assistance plan that covers emergencies, lodging for prolonged stays, and more.
And yes, we've been seeing some sweet deals to Punta Cana, Dominican Republic too!
Got Delta SkyMiles? Just last week, we uncovered an unadvertised SkyMiles flash sale on nonstop Delta routes from just 20k SkyMiles roundtrip and sent an instant alert to Thrifty Traveler Premium members. A flight to Punta Cana is typically well over $750!
The best part of these SkyMiles flash sales: SkyMiles bookings are currently fully refundable. Just cancel your flight online and Delta will redeposit your miles – plus any taxes and fees you paid, too.

And yes, there's also a great all-inclusive resort you can book with points in the Dominican. We haven't been yet, but check out the Hyatt Ziva and Zilara Cap Cana in Punta Cana, which is bookable for 25,000 points per night. Book a cheap flight, escape to the warmth to eat and drink for free – you'll spend less than you would at home!
…And Beyond
These three destinations currently have no COVID-19 testing requirements which should make a trip much easier this winter if you need to escape the cold.
Looking to stay closer to home? We're seeing crazy sub-$100 flight deals to tons of domestic U.S. destinations, including warm-weather favorites.
And if you're looking for other international options, a handful of other countries are allowing U.S. travelers with COVID-19 testing requirements. While some require a negative test taken just 48 hours or 72 hours before arrival (or less!), a few other countries have more lenient timeframe.
Ecuador: 10 days
Jamaica: 10 days
Turkey: No testing, passengers are scanned for symptoms on arrival
Antigua & Barbuda: Seven days
St. Lucia: Seven days
St. Maarten: Five days
St. Vincent and the Grenadines: Five days
Turks & Caicos: Five days
U.S. Virgin Islands: Five days
These travel restrictions are constantly changing. To keep track or get more details on entry requirements, read our country-by-country Guide.
Bottom Line
If you're looking ahead to winter or spring 2021 travel, a few options stand out. And luckily, they're tropical beach getaways.
Best of all, prices to get there are dropping as airlines try to get more passengers on planes to escape the coming snow. Join our flight deal alert service, Thrifty Traveler Premium, for just $5.99 per month to book your next trip for less – much less.