Fried chicken, charbroiled oysters, and jambalaya, oh my! Some of the most delicious eats in the U.S. await you in New Orleans. There are exceptional restaurants to dine on southern comfort food and local seafood specialties around every corner.
Here are a few favorites from my time spent in New Orleans.
Brunch
Carrollton Market
Carrollton Market is the perfect classy weekend brunch spot. They are open 10 a.m. to 2 p.m. on Saturday and Sunday for brunch, with an exquisite menu of southern comfort favorites. You can't go wrong with anything on the menu, but I'd recommend the Oysters Goodenough French Omelet and Crabcake Benedict. They are also open for dinner if you're looking for a classy dinner spot.
Ruby Slipper
I've eaten at Ruby Slipper a few times now — it's a great local staple with several locations around New Orleans. Unfortunately, their awesome brunch isn't a secret, so it can sometimes be a one- to two-hour wait at some locations on the weekends.
Thrifty Tip: Don't want to put your name in and wait around at the restaurant? I recommend using the Nowait feature on the Yelp app. We checked in to Ruby Slipper during Mardi Gras weekend, then waited from the comfort of our home for the wait time to go down. We still had to wait about half an hour once we arrived, but it cut our wait time in the restaurant down by over an hour!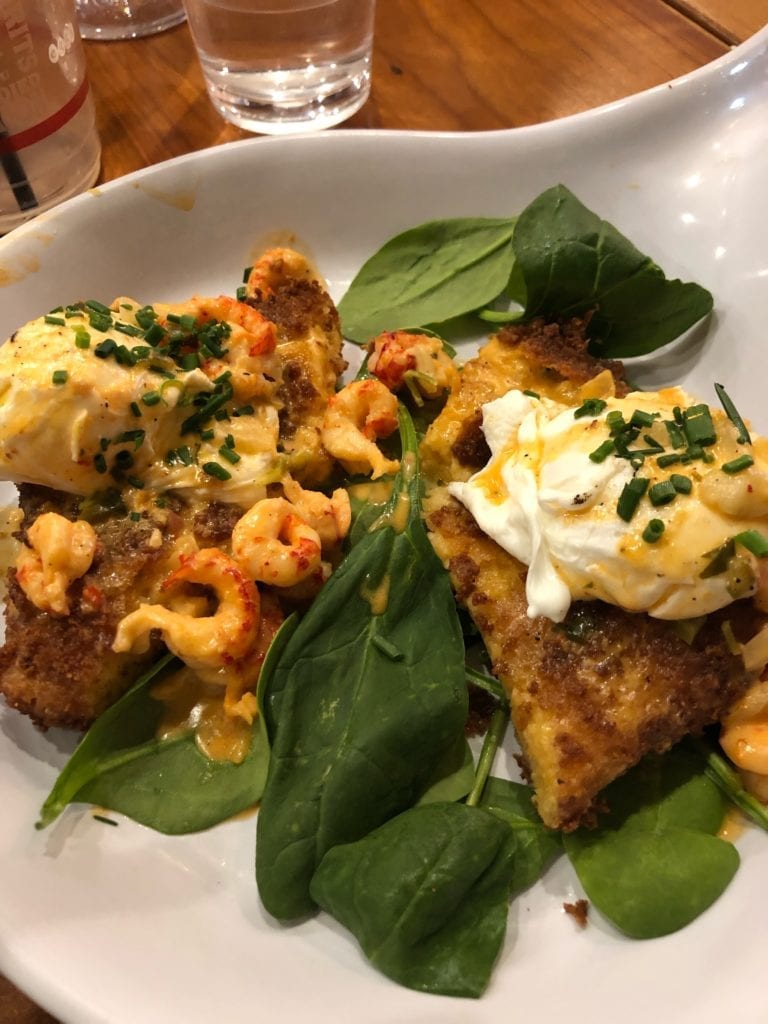 My last visit, I got the Crawfish and Grits Benedict – a Mardi Gras special! They make some other killer bennies, pancakes, and other breakfasts classics with a seafood or southern spin.
Lunch
Willie Mae's Scotch House
When Food Network and Travel Channel voted Willie Mae's Scotch House for Best Fried Chicken, they weren't lying! This fried chicken is unbelievable.
The restaurant itself isn't anything flashy or fancy, but it's what's on the inside that counts, right? The three-piece fried chicken with a side is very filling. I recommend the candied yams and cornbread (pictured below) for sides.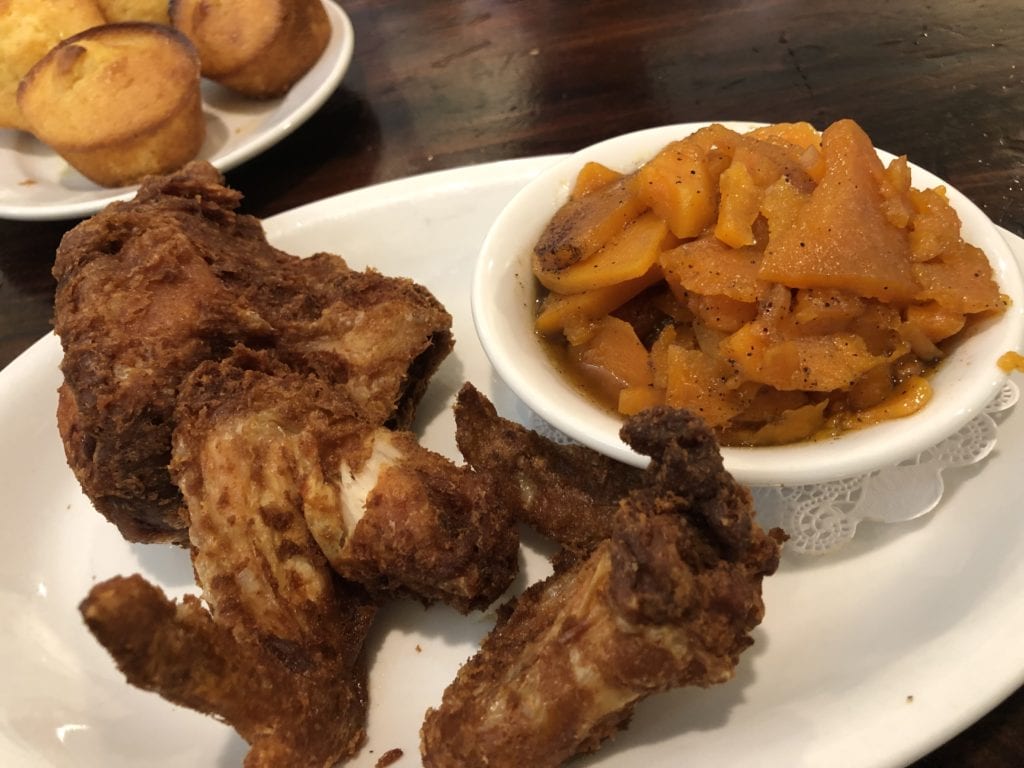 It's a perfect spot an early or late lunch. Peak meal times like lunch and dinner can get so busy here that they have a roped-off queue line outside of the restaurant so hopeful and hungry guests can wait their turn. Be sure to put your fried chicken order in right away — they make all fried chicken from scratch, so it can sometimes take a while.
Killer Po-Boys
It's not a trip to NoLa without a po-boy!
There are plenty of awesome po-boy spots around New Orleans, but this is a local favorite. The original Killer Po-Boys are in Erin Rose Bar in the French Quarte. There's also the new Big Killer Po-Boys is now open on 219 Dauphine Street. You can't go wrong with any of the po-boy options.
Dinner
Neyow's Creole Cafe
Trust me, it's worth the wait.
Neyow's char-grilled oysters are to die for. Honestly, everything on the menu is delicious! I can personally vouch for the Gumbo, Pasta on the Bayou, Stuffed Crab, and Grilled Redfish. The Carrot Souffle and Cornbread Dressing sides are a must! Get Neyow's famous Fruit Punch in a to-go cup on your way out.
Superior Seafood
Superior has the most killer happy hour around! From 4 p.m. to 6:30 p.m. daily, they offer 2-for-1 frozen mojitos, half off house wine bottles, $3 draft beers, and 50 cent raw oysters! Grab a bottle of wine (or two) for the table and some raw oysters to start. Then, split some of their awesome appetizers. If you're a shrimp and grits fan like me, try Superior's for your main course.
Cochon
Sick of seafood? For something different, check out Cochon, a cajun and southern cooking restaurant that specializes in locally sourced meats. The same restaurant group also runs Peche, another spectacular dinner choice.
Drinks
Vaso
This story may be focused on food spots, but I had to add in Vaso. I've been each time I visit New Orleans, and it's an absolute blast every time! A bumping bar on the lively Frenchmen Street, Vaso always has the best live music. You can't help but sing along here!
Bacchanal's Fine Wine and Spirits
Bacchanal sells hundreds of wines from all over the world, but that's not the main event here. Instead, head out to their courtyard for an evening well spent. Eat and drink in the outdoor courtyard while listening to some of the best jazz in NoLa.
Tropical Isle
Okay, this is a fun one. If you're looking to turn up the party during your time in New Orleans, head to one of the Tropical Isles in the city. The most popular one is on Bourbon Street, delivering that wild Bourbon Street time you're looking for. Get the world famous Grenade drink — pay extra for no ice if you want more bang for your buck. If there's a live band playing, submit your song request through the fun capsule tube!
Bottom Line
There is so much to see and do in New Orleans, but food should be at the top of your list.
Headed to New Orleans soon? Check out the Google My Maps I've made of the best breakfast, lunch, and dinner spots. I've also made a separate Google My Maps of the best sweets and drinks, and bars. Use these Google My Maps to find your way to the best eats in NoLa.