Plane, train, or automobile? In Europe, the answer for the easiest way to get around is definitely by train. We've loved each and every train experience we've had in our travels throughout Europe.
There are seemingly endless options to travel by train throughout the continent, changing country by country. We'll outline a few of the best options to get across Europe, including some we've taken ourselves.
Thalys
Thalys is a high-speed train connecting Belgium, the Netherlands, France, and Germany. We loved our trip on Thalys – it's easy to book, quiet and relaxing, and affordable. Thalys offers four tier options: standard mini, standard, comfort, or premium. Standard Mini can cost as little as 67 euros while premium could set you back up to 175 euros. Time of booking, amenities, and seat selection are all factors in their options. And as always, we checked out the espresso bar while doing some blog work during our trip. Thalys was easy to book and affordable. Our trip was quiet and relaxing.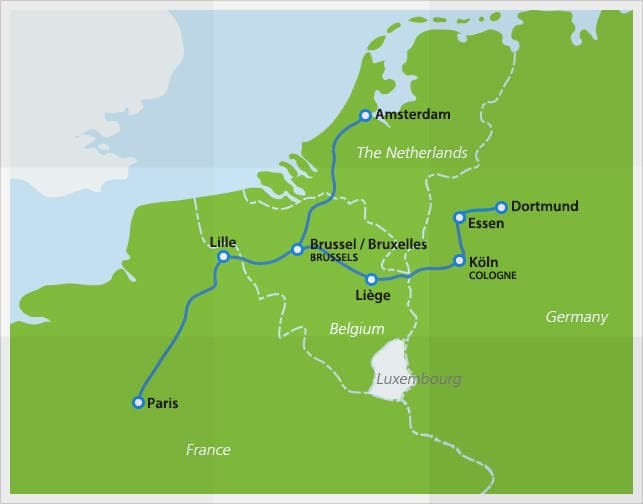 PKP Intercity
We hopped on PKP Intercity from Warsaw to Krakow, Poland. PKP Intercity was clean, comfortable, and had an amazing dining car. These trains mostly travel throughout Poland, but you shouldn't miss them. We ended up having breakfast on our way to Krakow agreed it was one of our favorite experiences. Prices on PKP Intercity range from as low as $20 to as much as $100 on the high end. Prices vary based on time of purchase, seat selection, and the amenities you want.

Eurostar
Eurostar trains travel between Belgium, France, and Great Britain. That includes the perfect route from Paris to London via the Channel Tunnel – aka the Chunnel. Riders rave about the comfortability, space, and speed of this train. Eurostar is best known for being on time with 90%-95% arriving on time or within 15 minutes. Eurostar offers three tiers: standard, standard premier, and business premier. One-way trips can cost as little as $61 on standard all the way up to $381 in business premier.
Thrifty Tip: Children under four years old travel free on Eurostar when they sit on a grown-up's lap.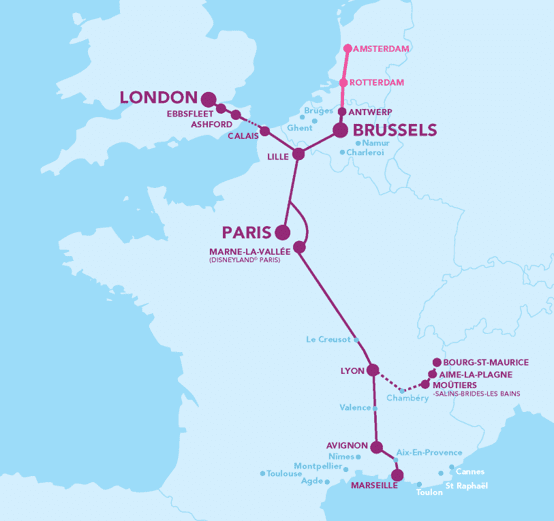 Eurail Global Pass
Along with purchasing individual train tickets to get around, you could opt for a global pass like the one offered by Eurail. Options like this are what make train travel so spontaneous and convenient. With the Eurail Global Pass you will have access to trains in 28 different countries for as long or as short as you'd like. For example, you could get a one-month unlimited pass in second class for one adult for $802. That's unlimited travel for that month, which could be an amazing deal if you're venturing from country to country. Eurail is easy to use: The company lays it out in three nice steps for you here.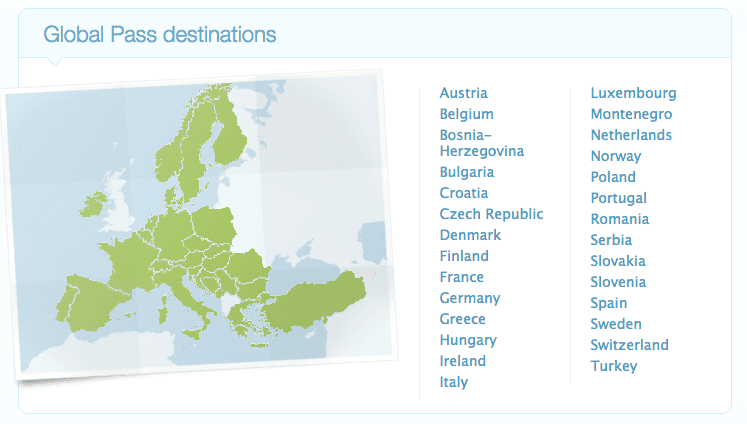 Train Tips
One of the best parts of traveling by train is that they often take off from a central train station location, which also means you will arrive at your destination near a city center. Here are some other factors to consider.
A few great train booking engines include Raileurope.com, GoEuro.com, and Trainline.eu
Consider what class you want to sit in; it could be worth splurging
Seats are generally assigned
Travel light as there is minimal storage for luggage. On the other hand, there's no enforced limit for luggage
Keep your ticket handy as a conductor will make rounds checking
Locate the correct platform, and ask for assistance when you need it
Purchase tickets ahead of time online to ensure availability
Look for discounts on tickets such for students, seniors, young children, or military
There's generally no security at train stations so you don't have to arrive extra early
During our first train experience, we scoped out the train station the night before to check on where we would be headed in the morning. The next morning we arrived way too early as we were unaware of the number of trains coming and going and the fact that there is no security to go through.
No matter how sure you are, it doesn't hurt to ask for help – it's quite easy to hop on the wrong train. And you might not find out until it's too late. Generally, the conductor won't come around checking tickets until the train has departed.
But one of our favorite parts about traveling by train is the mini stands to purchase snacks and espresso during your journey.
Bottom Line
Trains are convenient, affordable, and safe. Why not utilize them? We often find that we need to either plan ahead to ensure there is a train from point A to point B. But if you're feeling more spontaneous, book a train that gets you partway to your final destination and explore a new city or country!
Trains are meant to be accessible to everyone and allow you to travel throughout Europe with ease, so don't hesitate to book.