After that almost-win in the World Cup finals, Croatia has been on everyone's minds. It's for good reason: Croatia is a gorgeous coastal European country with so much to offer. From sailing the coastal islands to exploring the historical ruins, Croatia is one of the hottest new European destinations. Discover the charm of Dubrovnik with this three day itinerary, and make this gorgeous town your next vacation getaway.
Where to Stay in Dubrovnik
For our trip to Dubrovnik, we headed to Airbnb and filtered our options in the city that were in our price range, had the desired number of beds, and were close on the Airbnb map to Old Town. We also filtered for our personal requirements, which included air conditioning and a kitchen.
We save while traveling by preparing our own breakfast, and packing a lunch. We loved our stay at Apartment Previsic, which overlooks Old Town and Lokrum Island. $175 split between 5 people is a great deal, and we were greeted by our host with wine and Nutella crepes!
Getting Around Dubrovnik
If you're staying outside of Old Town like we did, and want a spectacular view, you're in for a mountain of steps. Dubrovnik is built on a steep incline, with the Old Town at the bottom. Local public transportation is bus only and isn't very accessible for tourists.
Instead of walking up the 400+ steps each night after a day in Old Town, we grabbed an Uber from the bottom. Each ride to our Airbnb was under $4, and definitely worth it at the end of a long walking day.
Day 1: Get to Know Dubrovnik
Explore Old Town
Start off your Dubrovnik experience by heading into the historic Old Town. This Old Town may look familiar if you've watched the HBO series Game of Thrones. In fact, the Shame Stairs scene, among other scenes, were filmed in Dubrovnik!
If you're a superfan, several spots around Old Town offer Game of Thrones tours, with a local guide that takes you to each filming spot. Either way, spend the morning walking the Old Town streets and admiring the quaint alleys, local shops, and historic buildings.
Make sure you check out the outdoor market, at which you can buy lavender, candied orange rinds, and other local specialties. Grab some gelato on the main strip and peruse the cobblestone streets.
Thrifty Tip #1: No need to purchase water bottles while in Dubrovnik: the Old Town has multiple fresh drinking water fountains, that are both beautiful and refreshing. Make sure you pack a refillable water bottle.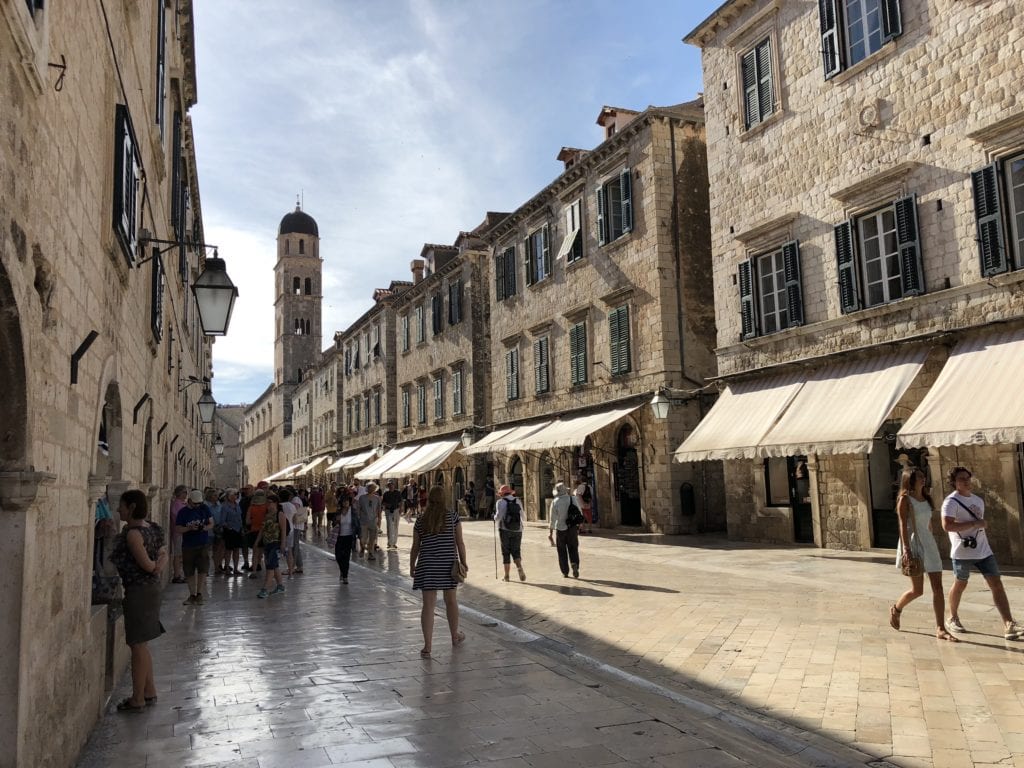 Kayak or Hit the Beach
An active and exciting way to see Dubrovnik's beautiful Old Town walls is to rent a kayak. You can rent kayaks from several locations without reservation, but we rented from Adventure Dubrovnik, located in the cove at the Dubrovnik West Harbor, just outside of the west side of Old Town.
Most kayak rentals in the area cost around $15 per hour. I'd recommend renting a kayak on your own instead of booking a tour to save some money and choose where you explore.
Not feeling up for paddling, or looking for a budget-friendly option? Head to Banje Beach which is just a short walk from Old Town. Bring your own towel, and enjoy an afternoon of sunbathing and swimming in the refreshing salt water.
Dinner at the West Harbor
After an afternoon of sun, scope out a local restaurant for dinner. A few of our favorites were Nautika and Orhan, both near the kayak rental spot at Dubrovnik West Harbor. Both restaurants have patios with a gorgeous view of the Lovrijenac fortress ruins and city walls. Take advantage of the fresh seafood: order the black risotto, a seafood risotto dyed black with squid ink.
Buza Bar for Cocktails
After enjoying a seafood dinner, head to the Buza Bar for a cocktail overlooking the water. Now with two locations, the Buza Bar is a bar built into the side of the city walls looking out to the Adriatic Sea. Because of its unique cliffside wall location, the Buza Bar also often has cliff jumpers enjoying the rocks below their bar. This is a spectacular place to grab a drink and watch the sunset with some free cliff jumping entertainment.
Day 2: Island Exploration
Visit Lokrum Island
On your second day in Dubrovnik, take the quick 15-minute ferry to Lokrum Island. Scenes from Game of Thrones were also filmed on this island, but there's much more to see here. This island is home to a surprising number of bunnies and peacocks. It's a strange combination, but they live together harmoniously.
Head to Fort Royal (a bit of a steep walk) to get panoramic views from the highest point on the island, and snap some pictures of the Dubrovnik Old Town. On the far end of the island, you can find the botanical gardens, a Dead Sea, the famous flat Lokrum rocks (perfect for sunbathing and jumping in the water), and other amazing rock formations to explore.
Thrifty Tip #2: Pack lunch! There are only a few restaurants on the island, and they mainly sell overpriced sandwiches. Save on dining and hit a supermarket before you head to the island.
Dinner with a View
After a day on the island, head back into town (the last ferry is usually around 6 pm – don't miss it!) for a nice dinner in Dubrovnik. If you feel like splurging, I recommend both Above5 Rooftop Restaurant and Restaurant 360.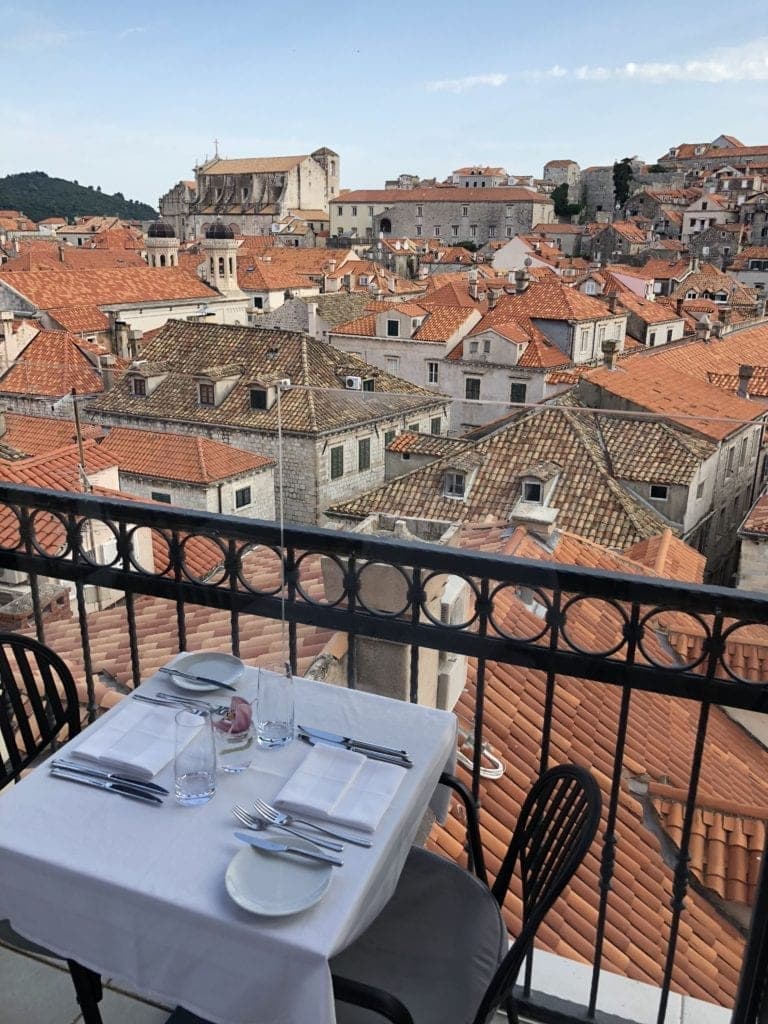 Both were featured in the Michelin Guide 2018, so don't expect a cheap plate, but do expect a fabulous experience. The views of Dubrovnik Old Town in the evening are spectacular! You'll definitely want to make a reservation at either of these restaurants.
Day 3: Dubrovnik from Above
Walk the City Walls
On your final day in the city, wake up early and walk along the city walls of Dubrovnik. You can access the ticket office inside the north entrance of Old Town. Access is available beginning at 8 am, and I'd suggest getting there right at 8. This will help you beat the heat of walking on the ancient brick walls in the middle of the day, and avoid the other tourists on the wall.
The whole walk can take over a few hours, but there are several opportunities to go down the stairs and into the Old Town. Take advantage of the many photo ops and enjoy the spectacular view of Dubrovnik from the wall.
Take a Ride on the Cable Car
This was our absolute favorite activity in Dubrovnik! An adult round-trip ticket is about $20USD but is well worth the trip. This cable car, situated just outside of the Old Town walls, takes you up to the Imperial Fort, the highest point overlooking Old Town.
At the top, you can dine at the Panorama restaurant and enjoy a breathtaking view of the city. However, if you're looking to experience this view on a budget (and without a reservation), do what we did and grab a cocktail table, a round of beers, and wait for the sun to set. The bar tables are right near the edge, giving you spectacular views without the steep bill.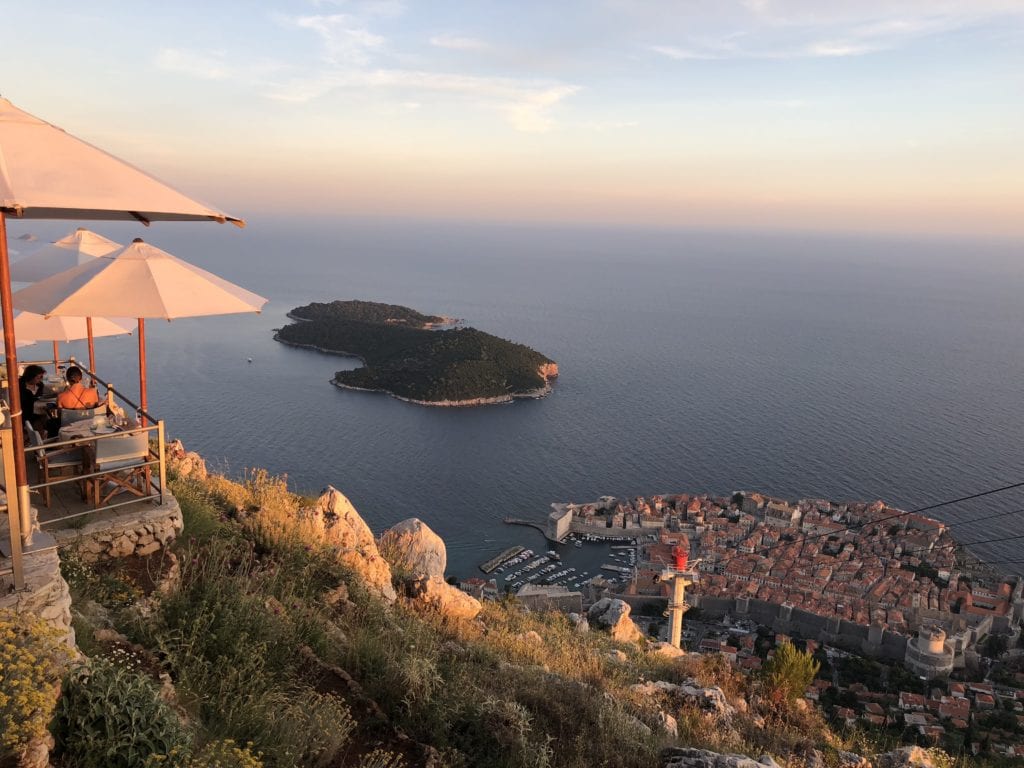 Bottom Line
There are so many islands to explore, sailing adventures to embark upon, and alleys to get lost in here in Dubrovnik. However, if you've only got a few days, spend your time on the activities described above to see as much of Dubrovnik as you can! This magical little town has my heart, and I know you'll love it, too.