Labor Day weekend is right around the corner, and if you haven't booked an end-of-summer getaway yet, your procrastination might have paid off!
Domestic flights have been cheap this summer, and that trend is lingering into the early fall, too. That means even though Labor Day is just a few short weeks away, there are ample opportunities for travelers to still book low fares to some of the best destinations in North America.
Even this week, we've still been finding cheap flights for Labor Day trips and sending them to our Thrifty Traveler Premium members. And there are some other great tools you can use to find a bargain getaway for the holiday, too.
So what should you do if you're looking for a last-minute Labor Day getaway? We've got a few ideas…
Use Google Flights Explore to Find a Cheap Flight
Let us introduce you to one of our favorite tools: Google Flights Explore.
Google Flights is the best airfare search engine out there, and the Explore feature can help you find a flight to the cheapest destinations possible from your home airport, whether your dates are flexible or you're looking specifically for Labor Day weekend.
If you're searching for a Labor Day weekend getaway, just enter the dates you'd like to travel. Labor Day weekend is Sept. 1 through Sept. 4, 2023.

You can similarly tailor your destination. It can be as broad as "United States" or as specific as a given state or city … or, just leave it blank! Move the map and zoom in to see what flight prices pop up.
Once you've zeroed in on a destination, click on the result. You can find the specific flights and even play around with the schedule to see if there are better dates at the same or similar prices.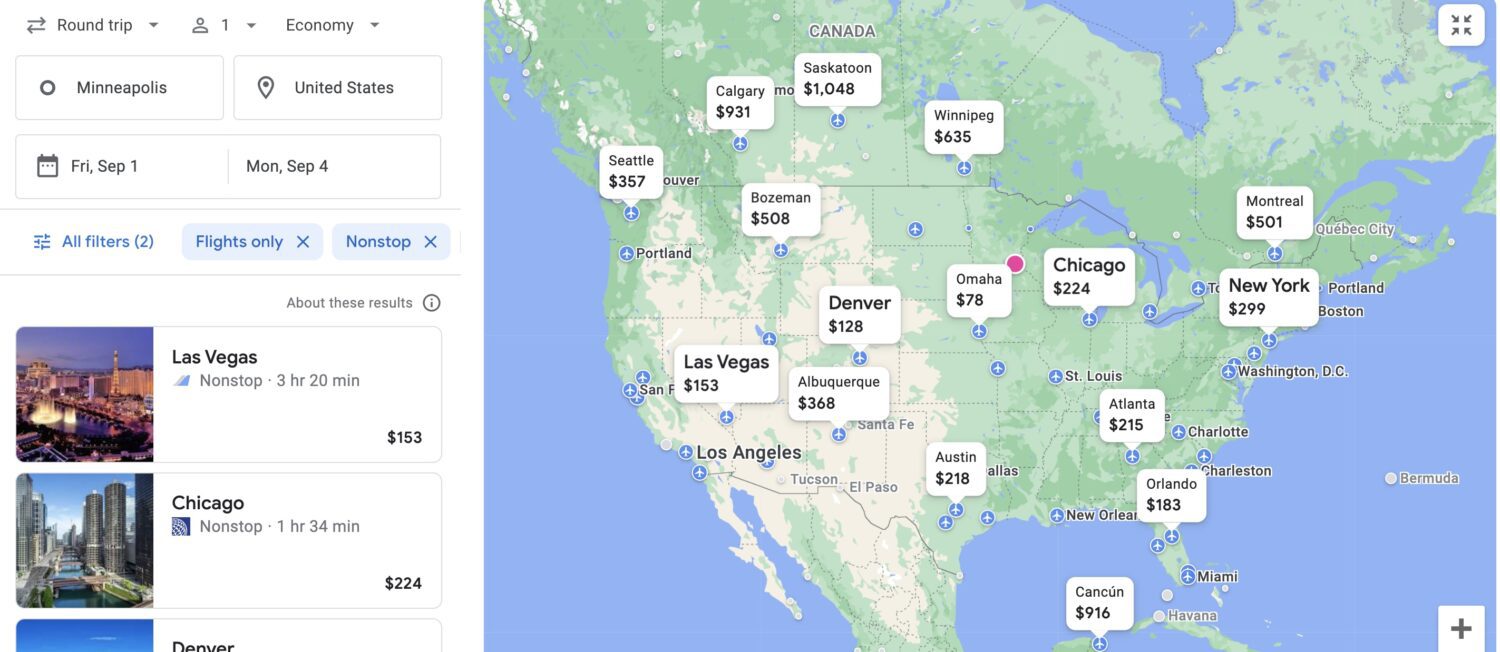 With a last-minute trip (anything less than 30-45 days away), having a little flexibility is going to give you more options for finding cheap flights. Still, you can set some preferences: Filter for a maximum number of stops, maximum price, departure and arrival times, airlines, and flight duration.
Thrifty Tip: While it's not always the cheapest, we know there are some loyal Southwest fans out there. If you're looking for a flight on Southwest Airlines, you won't find them on Google Flights. Southwest flights don't show up in the results, so you'll want to search separately on Southwest's website for those.
Flexible Dates are Your Friend
An important rule of thumb when booking flights is to avoid flying on the busiest days. Typically, Tuesdays, Wednesdays, and Saturdays are the cheapest days to fly and where you're most likely to score a great deal.
So, when it comes to snagging a good deal for Labor Day weekend, looking at Friday to Monday flights is probably not going to yield you the best fares.
Let's say you want to visit the Rockies over Labor Day weekend with a quick trip to Denver (DEN) from your home in Minneapolis (MSP). First, put your search into Google Flights like you normally would, and then click on the dates of travel in the top right of your screen. You see a calendar with a month's worth of fares.
From there, you can tinker with your dates of travel, the length of your trip, and more.

When you click on "Sept. 1" as your day of departure, the calendar view will automatically populate the cheapest roundtrip fares for all the other dates on the calendar. As you can see, flying out on Sept. 1 and flying back on Labor Day, Sept. 4, is your most expensive option. You can save $100 roundtrip per ticket by coming back on Tuesday, Sept. 5 instead.
You can also find really great availability if you fly from Wednesday to Tuesday, Wednesday to Wednesday, or take a long weekend Saturday to Wednesday trip, too.
No matter what, you'll want to tinker with the calendar a little bit to find the best dates. Too many travelers punch in the dates they think they want and try to make it work. Using the calendar will save you hundreds per ticket and keep you from having to travel on the busiest days of the week.
Cheap Flights for Labor Day Weekend
Many of the domestic flight deals we've found and sent to Thrifty Traveler Premium members in the past month have had Labor Day weekend availability. And a domestic trip is the perfect long weekend getaway: No major time changes, no long flights or layovers.
September is an awesome time to visit Colorado for some outdoor activities. And we've found fares into Denver under $200 roundtrip for the start of September, including Labor Day weekend.

This fare from Phoenix (PHX) up into the Rockies takes advantage of the Labor Day holiday and saves you a vacation day. Plus, you should shorten this trip to six or even five days to save even more vacation time on a mountain getaway.

Some travelers don't mind the heat, though. And a quick trip to the desert for Labor Day is exactly what the doctor ordered.

Get alerts for flight deals like this with Thrifty Traveler Premium! 
Recently, we sent these more-than-half-off nonstop fares to Phoenix from all over the country. Our subscrivers in the Pacific Northwest could have taken advantage of this one, for instance.

On the East Coast, Labor Day flights are even more abundant. Cheap flights all up and down the eastern seaboard (and even extending into the middle of the country) are as cheap as we've ever seen them for Labor Day travel.
This flight deal down to West Palm Beach, Florida had golfers and beach-goers salivating this week.

You can skip the busier Fort Lauderdale (FLL) and Miami (MIA) airports with a straight shot into Palm Beach International (PBI) this Labor Day weekend.

The same thing goes for Washington, D.C., where the extensive route networks from both Reagan (DCA) and Dulles (IAD) connect most of the country to our nation's capital.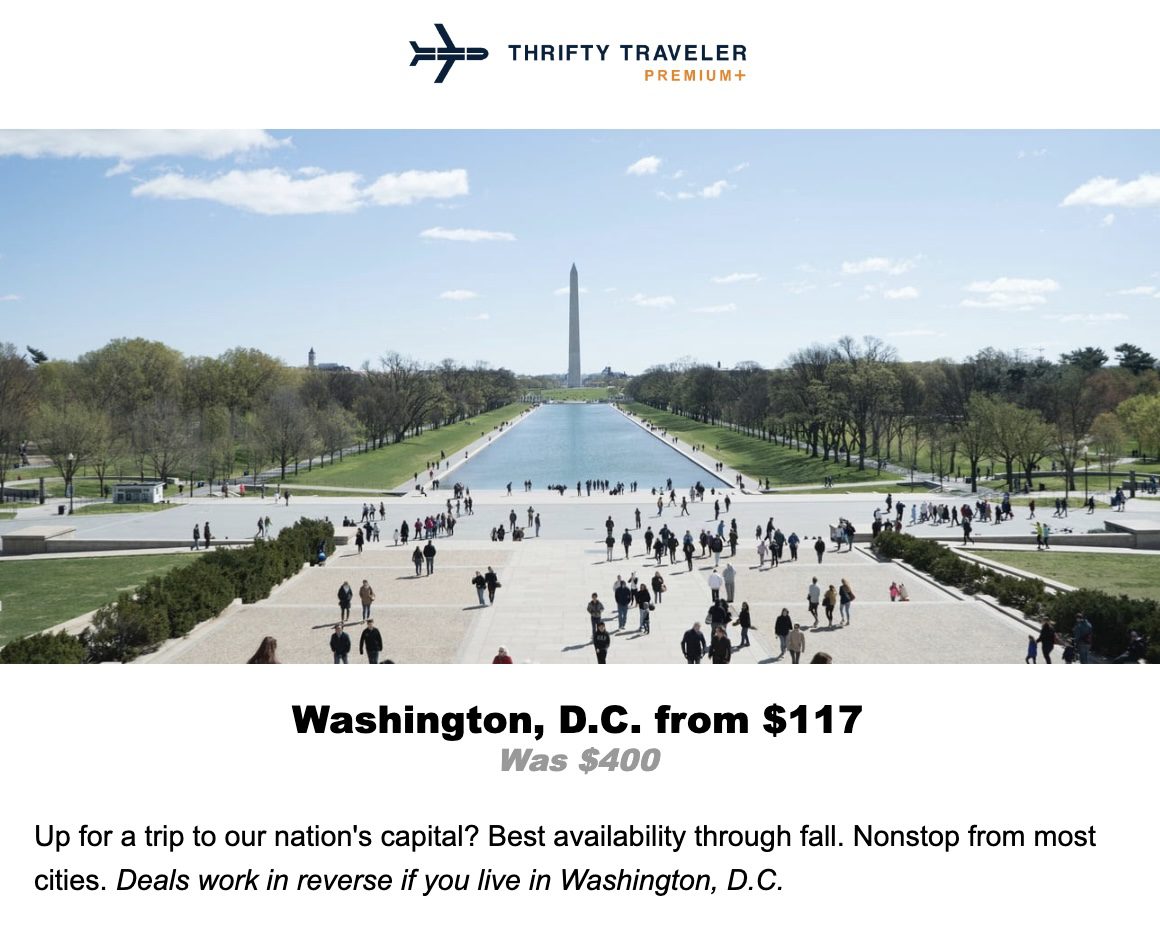 This flight deal from Cleveland (CLE) to DCA is a perfect example. This is for a weeklong trip over Labor Day, but you could shorten it to five or six days and still find the same or similar fares.

Finally, you might even be able to dust off the passport for a last-minute Labor Day trip! Montréal is like a little slice of Europe just over the border in Canada. And cheap flights to Montréal (YUL) haven't been too hard to come by lately.

New Yorkers looking to get out of dodge for Labor Day weekend could jump on this quick, cheap flight to Quebéc to do so.


From Phoenix to Quebéc and all throughout the country, cheap flights for Labor Day weekend are out there. Just ask Thrifty Traveler Premium members!
Bottom Line
If you're looking for a last-minute Labor Day getaway, don't fret! Domestic flight prices have been ridiculously low this summer as everyone heads abroad, and we're still finding some cheap fares for the holiday weekend.
Take advantage of the long weekend and use Google Flights Explore and the Google Flights calendar tool to find the cheapest destination city from your departure airport, or book a cheap Thrifty Traveler Premium flight deal.