For more than a year, our dreams of croissants, baguettes, and long lunches at sidewalk cafes across France were put on hold. But finally, in June, France reopened to vaccinated (or COVID-tested) Americans.
Wherever you go across Europe, it's bound to be trickier than just a few years ago as some countries impose even stricter entry requirements – plus you need a negative COVID-19 test to fly back home, too. France has now made it harder for Americans to get in and now requires proof of vaccination to enter the country and enter most indoor establishments, including restaurants. You can no longer enter the country with a negative COVID-19 test.
So we set out for France last month. Extra hoops and some hiccups aside, we had a great trip. Read on for experience and what you need to know for your next trip to France.
What are France's Entry Requirements?
To put it simply: You need to be fully vaccinated to get into France.
France is using a ranking system called the "stoplight system," which assigns countries a color: green, orange, or red, based on  COVID-19 health indicators. As reported by CNN, the U.S. is now designated orange, downgraded from green. This means that all travelers must be vaccinated to enter France without quarantining.
Travelers from "orange" countries, must have been fully vaccinated at least two weeks prior to arrival in France with the Pfizer or Moderna vaccines – and a full four weeks with the single-dose Johnson & Johnson vaccine.
If you are not vaccinated you can only travel to France if you have pressing grounds for travel. The list of pressing grounds is set out in the certificate of international travel drawn up by the Ministry of the Interior. You must present a negative PCR test taken less than 72 hours before departure or a negative antigenic test taken less than 48 hours before departure. Then upon arrival, you must self-isolate for 7 days. You may also be subject to a random test when you arrive in France.
Are there additional requirements to enter France?
Yes. But it's easy.
Every traveler must fill out a sworn declaration that you can download from the Interior Ministry's website. You must fill this out and have it on hand before boarding your flight to France.
Arriving in France
Our experience arriving in France is likely different than what most Americans will have.
Rather than flying directly from the U.S. to Paris-Charles de Gaulle (CDG), we flew into France from Germany. We weren't allowed to check-in online. Instead, we had to check in at the airport and show our vaccine cards at the check-in desk in order to get our boarding passes.
But once we got to France, our vaccine cards weren't checked again upon arrival – borders are open between most countries throughout Europe.
If you are flying directly from the U.S. to France you will have to show your vaccine card to board your flight. Though some airlines have started to bring that functionality online, that means you may also be required to check in for your flight in person at the airport.
Read more: What It's Like Flying to Europe – A Firsthand Account
And once you land in France, you will most likely have to show your vaccine card or test when going through customs.
The French Health Pass
In mid-July, French President Macron announced that a health pass or pass sanitaire showing your vaccination status or a recent negative COVID-19 test would be required to enter most establishments, including restaurants.
That requirement took effect Aug. 1. The French Health Pass is similar to the digital Green Pass in use across much of Europe: Upload your documents and get a QR code that you can use to enter restaurants, cafes, and other indoor establishments.
But unlike the digital COVID certificate in use elsewhere in Europe, this health pass is only for France. And in this case, American travelers can get it… or at least they should be able to.
How do you get a Health Pass to travel in France?
In its initial stages, the health pass was only available to EU residents. Then they announced a way for Americans to get the French Travel Health Pass with an online application. For many, the online application process didn't provide the health pass in time.
But now, as of October 31, the French government has changed how U.S. citizens are able to get the  French Health Pass. Under the new system,  travelers can get the health pass designated pharmacies for a fee of up to 36 Euros. Here is the list of designated pharmacies.
Travelers will need to bring their passport and the original paper version of their vaccination record to the pharmacy. The vaccination card needs to show the traveler's name, DOB, vaccination date(s), the number of doses, and the country where the vaccination occurred.
If you are unable to obtain a health pass with your vaccine card you can get a temporary (72 hours) health with a negative COVID test performed in France. Rapid tests are available on a walk-in basis at many local pharmacies, with results in under 30 minutes. You will receive a QR code along with your results. The pass will expire after 72 hours and then you will need to take a new test.
Read More: Digital Green Pass? Health Pass? How to Get a COVID-19 Pass for Europe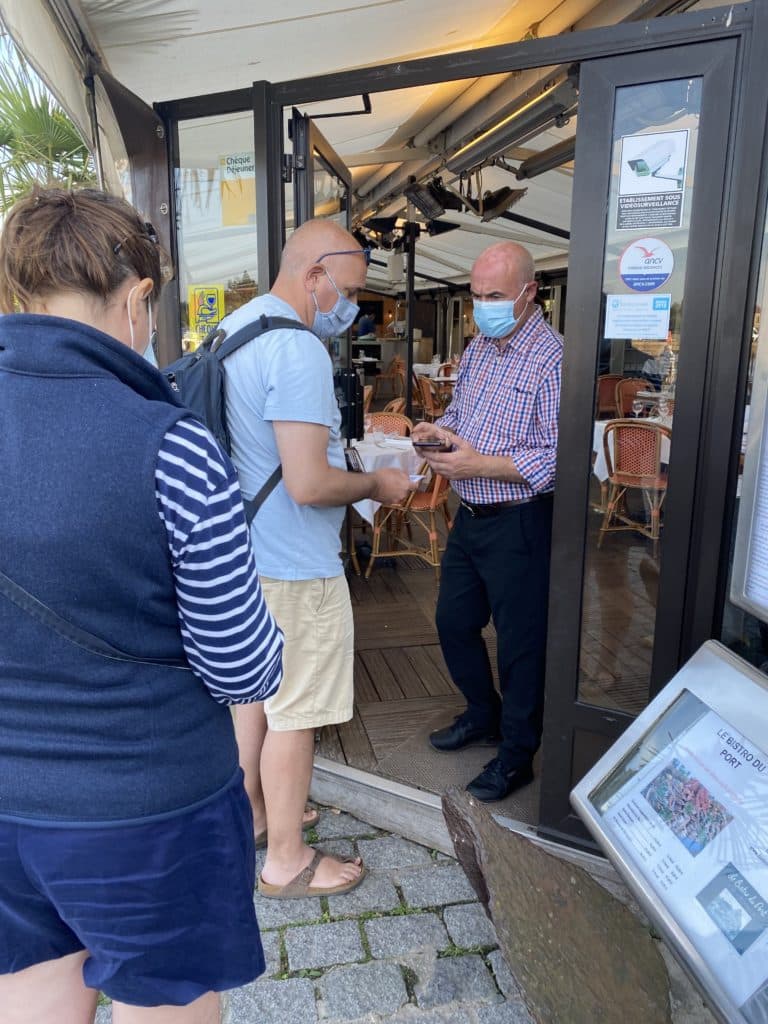 Where Will You Need to Present Your Health Pass or Vaccine Card?
Expect to be asked to show your "pass sanitaire" (health pass) or vaccine card at restaurants, whether you want to sit inside or outside. You will also need it to enter museums and tourist sites.
Most restaurants had signs in the window telling guests they would need the pass to enter. There were other restaurants without a visible notice that still required the pass.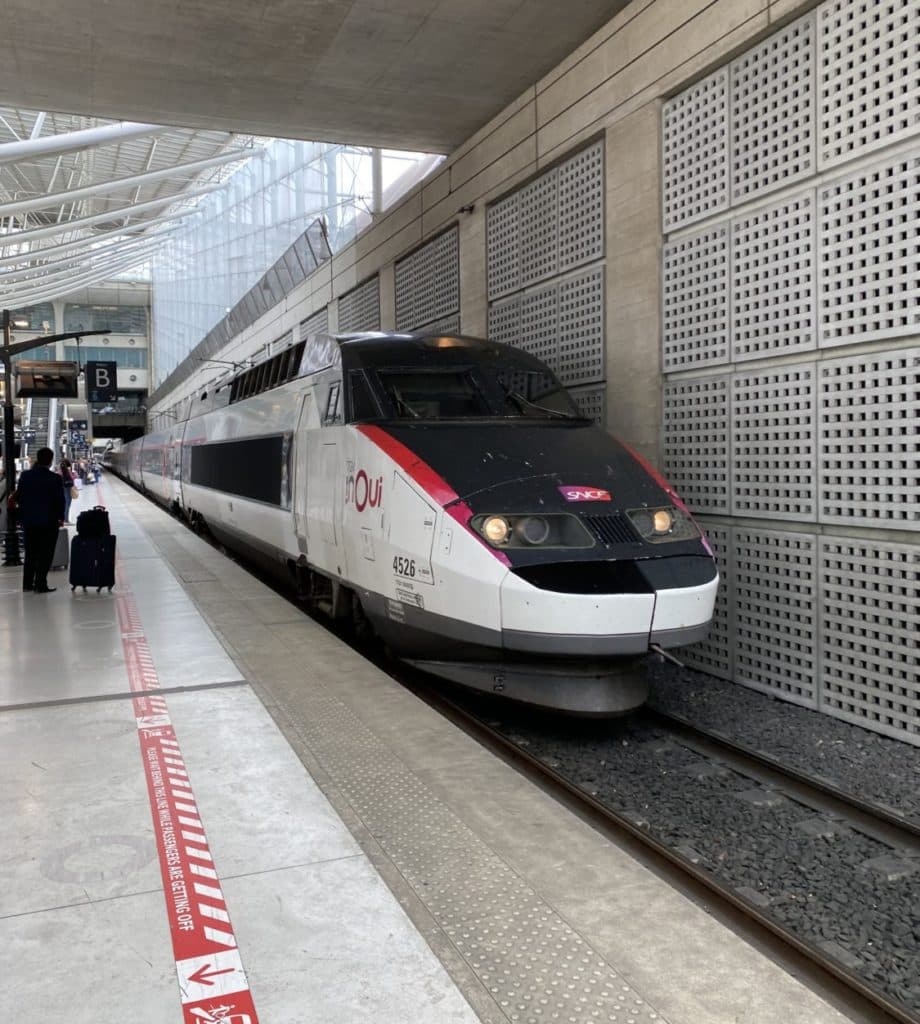 You are also required to have the pass to travel by train. We were never asked to show it.
Do You Have to Wear a Mask in France?
Yes, masks are required to be worn indoors, unless you are eating or drinking. Mask wearing is heavily enforced in churches, museums, restaurants, and on public transportation.
In Paris, as of November 26, masks are required outdoors in many circumstances. You must wear a mask at outdoor festivals, markets, if you're waiting in a line, and crowded outdoor spaces.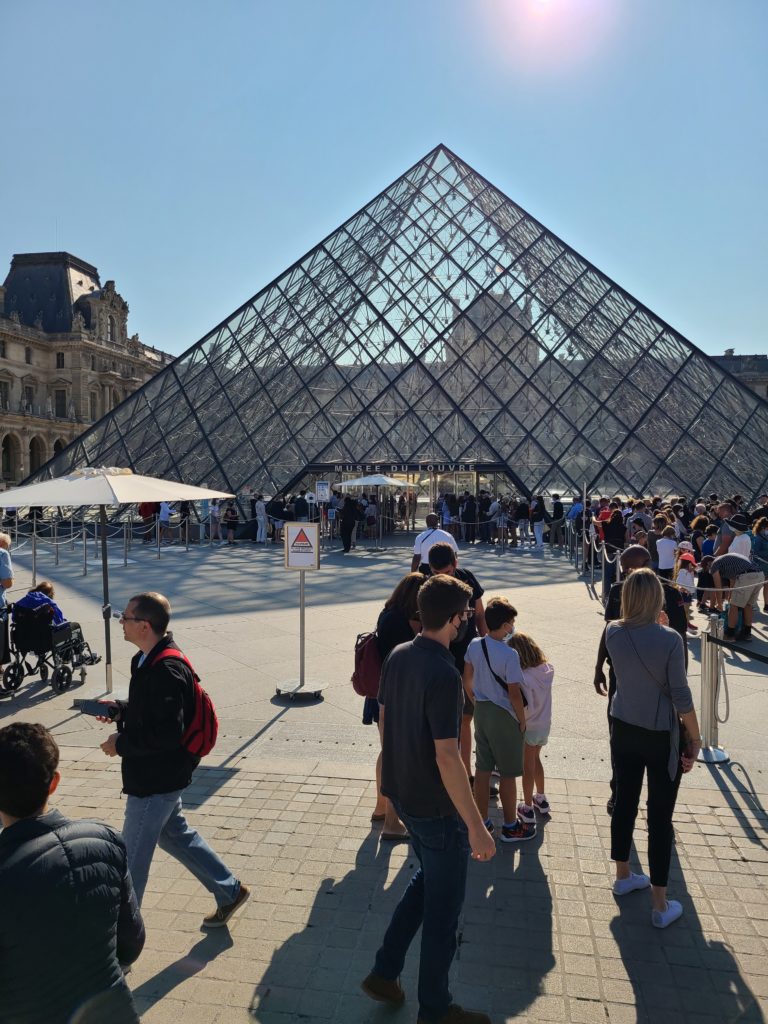 What About Tourist Sites and Tours in France?
For our trip, we mainly spent our time outside and didn't go to many tourist sites. Some family members visited sites like the Louvre, where you must book tickets in advance, wait in line, and show their vaccine cards to enter.
Inside the museum, it was more crowded than they expected. But everyone was masked up.
Some tour companies across France are back up and running, but there seem to be fewer tour companies operating. If you're interested in taking a tour, you'll want to book at least a month in advance. But be sure your tour is fully refundable – just in case!
We booked two tours in Strasbourg: a walking food tour, and an Alsace village tour. Both were fully refundable up until 24 hours prior to the tour.
The walking tour was just us and our guide – that's it. Our guide checked to make sure we had the health pass or vaccine cards before we started. We didn't wear masks walking around outside but did have to put them on at any stops at restaurants and shops.
We were also the only people on the tour to nearby villages. The driver checked our vaccine cards and reminded us to wear our masks every time we got into the van. He also wore a mask unless we were outside.
Are Restaurants and Bars Open in France?
Yes, restaurants and bars are open but you need to present your health pass or vaccine card to enter. You also have to wear a mask unless you're seated.
Other than that, restaurants and bars are open for business – and they are busy. For dinner, you will want to make reservations. If the restaurant doesn't have online reservations, ask the concierge at your hotel or even your Airbnb host if they will make a reservation for you. If you're comfortable, you can also call yourself!
What is the COVID Situation in France?
At the time of publication, France reported 14,835 cases per day in the last week. This is a decrease in cases of 32% from the daily average just two weeks ago.
More than 60% of the country is fully vaccinated and 73% of people have had at least one shot.
You can find the current COVID data for France here.
What About Getting Tested Before Coming Home?
Regardless of your vaccination status, you still need to get a negative COVID-19 test before flying back to the U.S.
The U.S. requires a negative COVID-19 test (either a PCR or rapid antigen test) no more than three days before your flight home. Despite the rapid vaccination campaign and travel restarting, the U.S. has not yet dropped this requirement for international travel.
Read more: 'What if I've Had Covid-19?' and More About the International Testing Requirement
And that means you'll have to find a place to get tested in France before you head home.
Where Can I Get a COVID-19 Test in France?
We brought an at-home test along just to try it out and it worked well. If you go for an at-home test, not just any test will do. It must be authorized by the FDA and include a supervised telehealth appointment.
That leaves you with just two options:
Fortunately, there are plenty of other options to get COVID-19 tested throughout France. There are labs, pharmacies, and COVID-19 testing sites at airports and some train stations. There were even rapid testing sites set up at some major tourist sites like the Eiffel Tower. Tests cost around 50 euro or more, depending on the type of test and the location.
Here's a look at a testing site at the Paris-Charles de Gaulle (CDG) airport.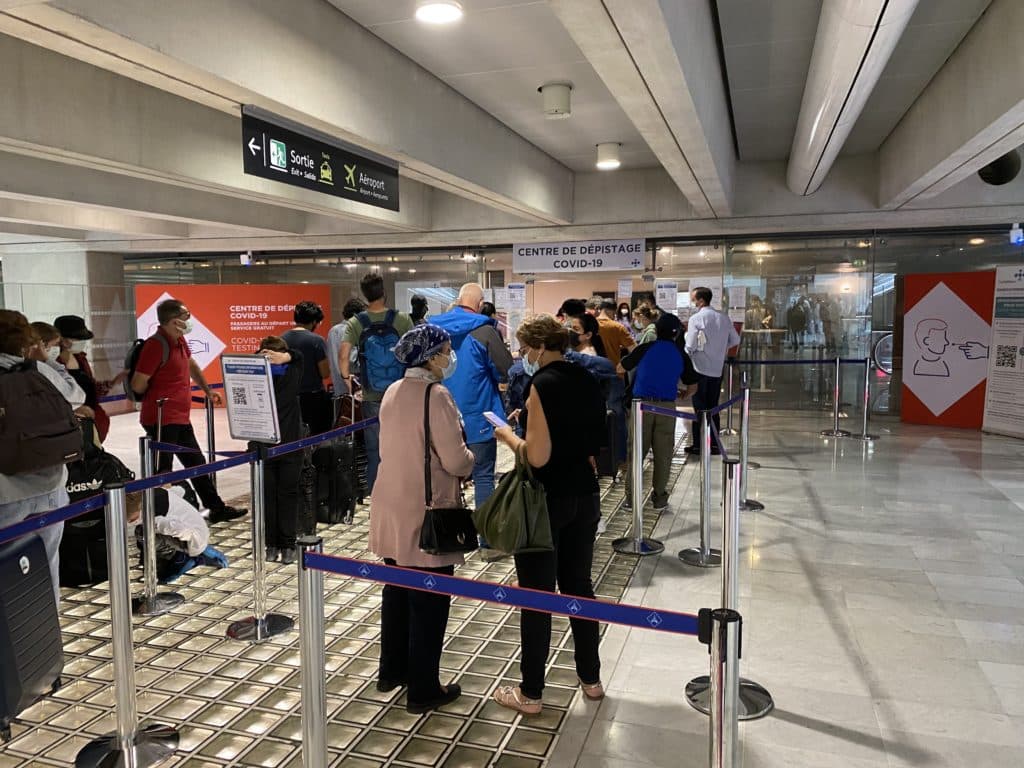 There were two lines: One for those with an appointment and one for those without. As you might expect, the line for travelers without an appointment was much, much longer.
Even in smaller towns, it may not be an issue. We were attending a family wedding in a small town, where some of my family had no problem getting a PCR test at a small clinic in town. Within three hours, they received an email with their negative test results.
To find a testing site in France consult the U.S. Embassy in France website for all of the information you need.
Bottom Line
It may not be the right time for everyone to go to France. But don't let the requirements to get in or the Health Pass deter you from going to France.
Restaurants, bars, and museums are ready for tourists. Even with a few extra steps to get in it's worth it. There's no place like France.