Delta variant or not, much of Europe is open to Americans today. But between proof of vaccination, providing a negative COVID-19 test, or both, the entry rules vary from country to country.
On top of that, countries across the continent have cracked down as case counts have climbed with new requirements to enter restaurants, museums, and other visitors. To get into the country and to get around, countries like Italy and France tell visitors to use the Digital Green Pass or Health Pass to prove their vaccination status.
But for Americans heading abroad, these options aren't quite clear yet. Here's everything you need to know about the Digital Green Pass, the Health Pass, and what you need for a trip to Europe.
Read more: Europe Travel Restrictions for Americans: Everything You Need to Know
What is a Digital Green Pass or Digital Green Certificate?
The EU Digital COVID Certificate is digital proof that someone has either been vaccinated against COVID-19, received a negative COVID-19 test, or recovered from COVID-19.
Many countries across have implemented this digital solution for safe travels. Once the relevant document is uploaded, the pass provides the user with a QR code. This allows entry into certain EU countries and venues that require vaccination or a negative COVID-19 test for entry.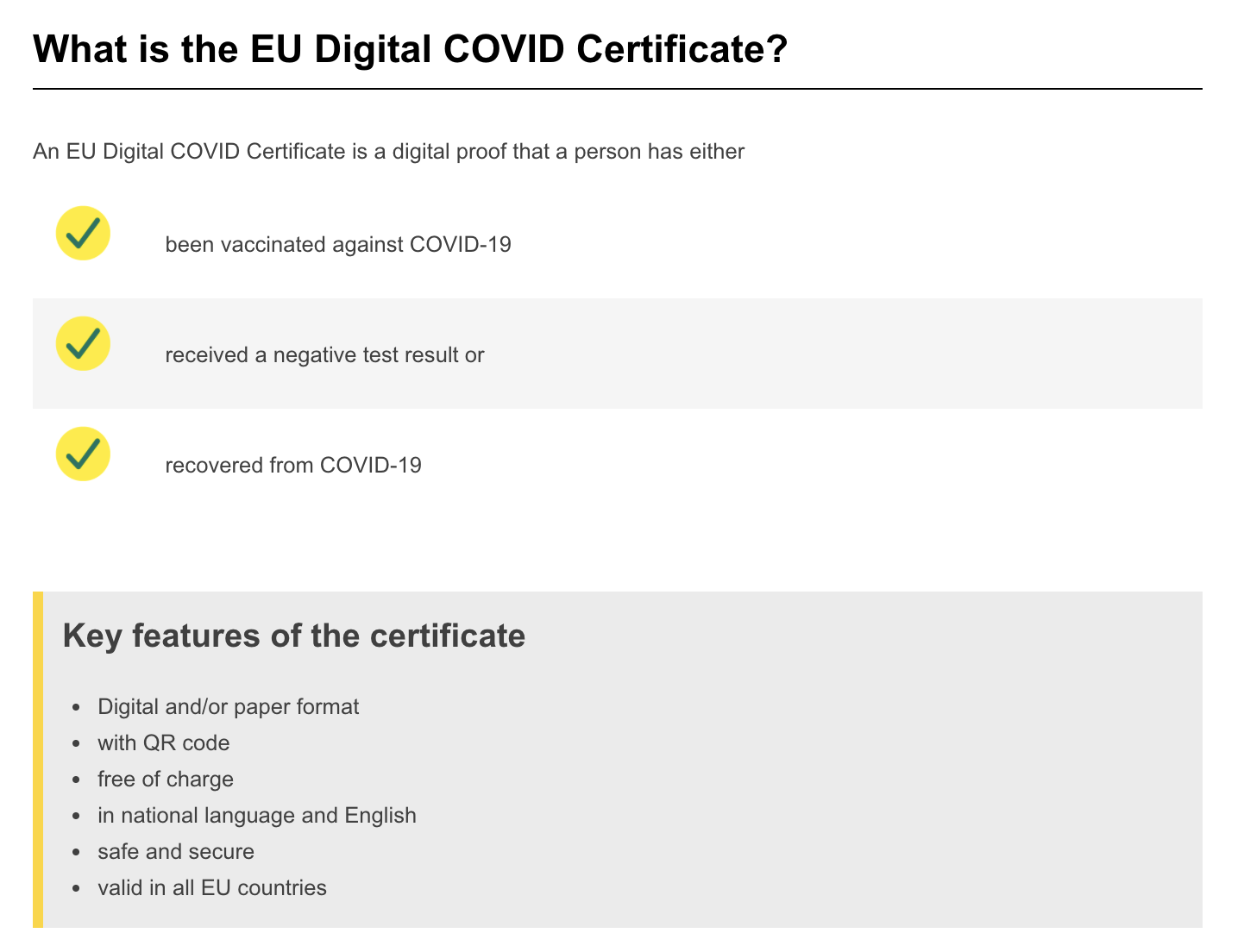 How Do You Get a Digital Green Pass or Digital COVID Certificate?
Currently, the E.U. Digital COVID Certificate is only available to E.U. citizens.
In almost every case, those countries requiring a digital COVID certificate recognize the standard Centers of Disease Control and Prevention (CDC) vaccination card from the U.S. as an equivalent form.
Digital Green Pass FAQs
I am going to Italy. The rules state I need a digital Green Pass. What do I do?
Currently, Italy requires its Digital Green Pass for entry into restaurants, museums, events, and more. Fortunately, they are also allowing CDC vaccination cards and paper or digital COVID-19 test results for entry.
"It is possible to enter Italy without the self-quarantine requirement for travellers departing from the USA, Japan, Canada and Israel if they are in possession of the certificates issued by their respective countries, which can be presented in paper or digital format," Italy's government regulations say.
Travelers also need to fill out a passenger locator form (PLF) to enter Italy.
And as of early August, everyone over the age of 12 must present a Green Pass or equivalent certificate to get into certain venues, including:
Indoor dining at restaurants and bars
Performances open to the public, sporting events, both outdoors and indoors
Museums and tourist sites
Swimming pools and gyms
Festivals and trade fairs
Spas and fitness centers
Gaming halls and betting shops, bingo halls and casinos
Starting Sept. 1, that list will grow to include:
planes on all flights to, from, or within Italy.
ships and ferries
trains used in Inter City, Inter City Night and High Speed ​​passenger service
buses used for passenger transport services,
If you are unvaccinated, the COVID-19 test results for entry into all of the listed venues need to be recent to be valid. That means a PCR test taken within 72 hours or a rapid test within 48 hours. There are plenty of locations to get COVID -19 tests but they cost between 25 euros and 50 euros each.
The rules to enter my destination say I need a digital certificate. What do I do?
The rules for entry can be very confusing to follow, but rest assured: Your CDC vaccination card will suffice.
What About the French Health Pass?
In mid-July, France's President Macron announced that a health pass or pass sanitaire showing your vaccination status or a recent negative COVID-19 test would be required to enter most establishments, including restaurants, starting August 1. The health pass is similar to the digital green pass in that it provides a QR code to be used to enter certain establishments. Unlike the digital green pass, the health pass is only for use in France.
How do you get a Health Pass in France?
In its initial stages, the health pass was only available to EU residents. Then they announced a way for Americans to get the French Travel Health Pass with an online application. For many, the online application process didn't provide the health pass in time.
But now, as of October 31, the French government has changed how U.S. citizens are able to get the  French Health Pass. Under the new system,  travelers can get the health pass designated pharmacies for a fee of up to 36 Euros. Here is the list of designated pharmacies.
Travelers will need to bring their passport and the original paper version of their vaccination record to the pharmacy. The vaccination card needs to show the traveler's name, DOB, vaccination date(s), the number of doses, and the country where the vaccination occurred.
If you are unable to obtain a health pass with your vaccine card you can get a temporary (72 hours) health with a negative COVID test performed in France. Rapid tests are available on a walk-in basis at many local pharmacies, with results in under 30 minutes. You will receive a QR code along with your results. The pass will expire after 72 hours and then you will need to take a new test.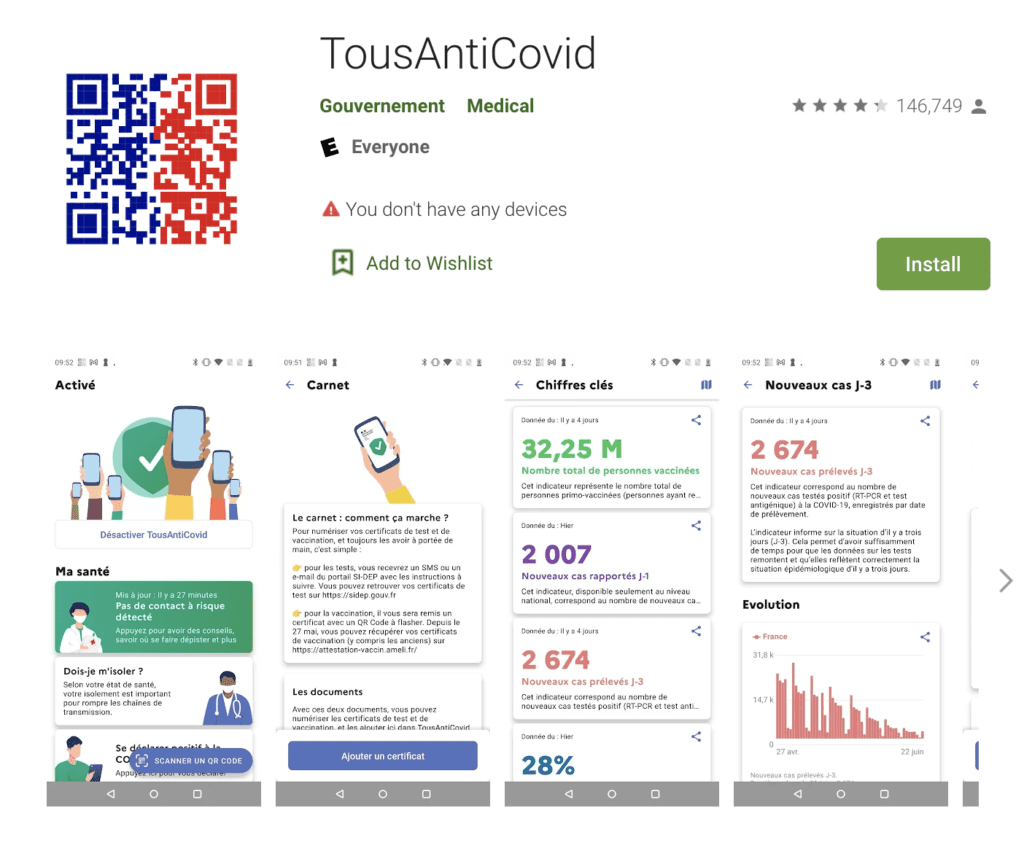 Once your application has been reviewed and approved, you will receive an e-mail with a QR code. You can print it out or you can add it to the TousAntiCovid smartphone app.
The applications for the health pass are all sent to one email address for travelers from the U.S and are processed by the travel date of arrival. But it seems they are getting overwhelmed by applications into a brand new system: Some travelers are not getting their QR codes returned in time. 
That means you'll want to carry your vaccination card with you, just to be safe.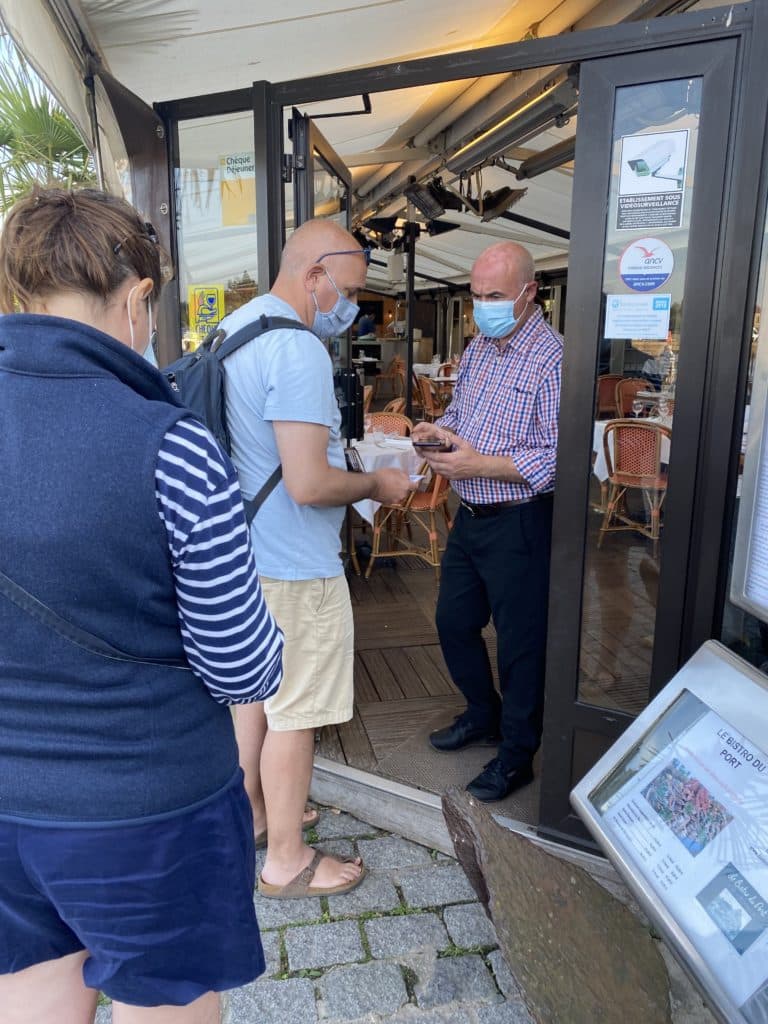 We recently arrived in France without receiving our health pass, so we have been carrying around our vaccination cards. Every restaurant we've been to has asked to see our health pass, and most have accepted our vaccine cards instead.
In one case, a restaurant turned us away because we didn't have a QR code and they didn't recognize our vaccination cards. That's certainly a possibility as you get farther away from heavily touristed areas, so just have a backup plan for another restaurant or cafe in mind.
Some travelers have reported that they have gone into a pharmacy and shown their vaccine cards to get a QR code issued by the pharmacist. However, it seems that you have to find one willing to do this for you. It isn't a guarantee.
France Health Pass FAQs
What if I am not vaccinated? Can I get the Health Pass or COVID certificate?
You cannot apply for a COVID certificate ahead of time. But a temporary QR code can be generated by a healthcare professional following a negative COVID-19 PCR or antigen test taken within the last 72 hours. Results will be available by email and text message with a QR code that you can use for 72 hours.
Tests will be at your own expense and will cost around 50 euros depending on what type of test you get. You can find testing locations near you with Sante.fr.
The test will only remain valid for 72 hours. That means you will have to get another test if you need another QR code during your trip.
How long will it take to get my QR Code?
Some readers have reported hours to a few days to over a week to get their QR code back from the French government. Because you need to put your arrival date in the subject line, it's safe to assume they are processing applications by travel date.
The website specifically states they are receiving a large amount of requests. Always make sure to check your email spam folder, just in case.
What if I don't receive my QR code in time?
A temporary QR code can be generated by a healthcare professional following a negative COVID-19 PCR or antigen test taken within the last 72 hours. Results will be available by email and text message with a QR code that you can use for 72 hours.
Tests will be at your own expense and will cost around 50 euros depending on what type of test you get. You can find testing locations near you with Sante.fr.
You can also present your CDC vaccine card for the time being and many – but not all – establishments will accept it.
Where in France will you need to use the Health Pass?
You should expect to have to use your QR code (or vaccine card) to enter most establishments including restaurants, museums, and possibly some hotels. You will also need a QR code to travel by train.